25 octobre 2012
Bonsoir !
Merci à toutes pour vos derniers messages sur ma petite carte Halloween, et souhaits de rétablissement rapide pour mon otite. Rapide je ne sais pas, mais aujourd'hui enfin, peut-être un léger mieux ! J'espère que je tiens le bon bout !! Mais j'envisage sérieusement de me faire opérer pour tenter de résoudre mes problèmes ORL, à suivre donc.
J'ai quand même réussi à finir une petite page d'AJ, encore sur le thème d'Halloween. On ne le fête pas spécialement pourtant chez nous, encore que mes petites dernières iront sans doute chercher quelques bonbons déguisées en sorcières ! [:D]
Ma page participe à deux challenges que j'ai combiné avec énormément de plaisir, un challenge du blog Infinimentscrap, et un autre du blog de challenges Stampotique Designers. ça m'a fait du bien cette page assez fun encore, j'y ai puisé un peu de réconfort.
Un grand merci donc à Laury et à France, qui sont vraiment à l'origine de mon HORIBBBBBLLLLE page que j'aime beaucoup, je la leur dédie !! (heu... j'espère qu'elle va leur plaire, c'est pas sûr, hum...) :)

Pour le challenge spécial proposé sur le blog d'Infinimentscrap ici, il fallait réaliser un fond de page avec des encres, des tampons, de la poudre, des chutes de livre collées, du gesso, etc. en suivant le tuto de Laury. Un superbe tutorial, j'ai adoré la technique du fer à repasser pour retirer la poudre embossée !!! Il est encore temps de participer à ce challenge si vous avez envie, et les tampons de la boutique ne sont pas obligatoires. Je crois que je n'en ai pas mis d'ailleurs..

Et pour le challenge Stampotique Designers #71 là, proposé par Jenn, il faut s'inspirer d'une réa d'un membre de la DT.
J'ai choisi de m'inspirer d'une géniale page d'AJ de France Papillon que j'ai largement "copité" tellement je l'aime cette page, mais dans un esprit très différent. Elle m'avait vraiment tapé dans l'oeil il y a quelques mois ! J'ai d'ailleurs depuis craqué sur les 2 tampons fleurs qui sont au centre de ma réa, qui sont des marguerites dessinées par Janet Klein, vraiment magnifiques je trouve.
Hello !
Today I have a new AJ page to show, on the theme of Halloween. I enter it into two different challenges I like very much:

-

Infinimentscrap blog challenge

is proposed by

Laury

. I loved her tutorial to make a very beautiful mixed-media background... She's a very talented DT member !
- Stampotique Originals Designer Challenge #71 Case Study. Here's the theme proposed by Jenn: "..Today I have a very inspirational challenge for all of you, that is we want to be your inspiration! Yes, the challenge is to use us (i.e. the Stampotique Originals Designers) as your inspiration. Pick any one of our cards, journal pages, 3D projects or altered items as the inspiration for YOUR original piece. Some people refer to it as "casing" others call it "to case study".
In fact I really love a lot of creations from all the DT members I discovered a few weeks ago during their great blog hop, so choice could be very difficult in normal situation. However, as soon as I saw the theme I immediately thought of this AJ page from France Papillon issued from its "Journal on Monday" lessons, I totally fell in love with it a few months ago, and funny annecdote, it was almost the beginning of my love story with Stampotique Originals stamps too !
By the way, I remember asking her the name of these so beautiful flower stamps... and she answered me soon kindly ! After that, of course I couldn't resist a long time... and I bought both large and small flower designed by Janet Klein, only these two stamps, so nice and so interesting !!!
Voici ma page. Les photos sont un peu sombres, car prises sans soleil hélas. C'est dommage, car on voit mal l'effet craquelé des fleurs du coup.
Le journaling de France disait "N'oublie pas de sentir les fleurs, même si elles ont l'air ennuyeuse". Je l'ai transformé en: "N'oublie pas de sentir les fleurs, même si elles ont l'air terrifiantes" !
J'espère que vous aimerez bien ma version assez sombre de la page originale (qui est d'un très joli rose...)
Here is my page. Photos are not very good I'm sorry, I took them without sun... We don't see well the crackle effect on flowers, ooh.
France's journaling said: "Don't forget to smell the flowers, even if they might seem dull." For me, it's: "Don't forget to smell the flowers, even if they seem spooky" !
Hope you will appreciate this dark version of the original beautiful pink page of France !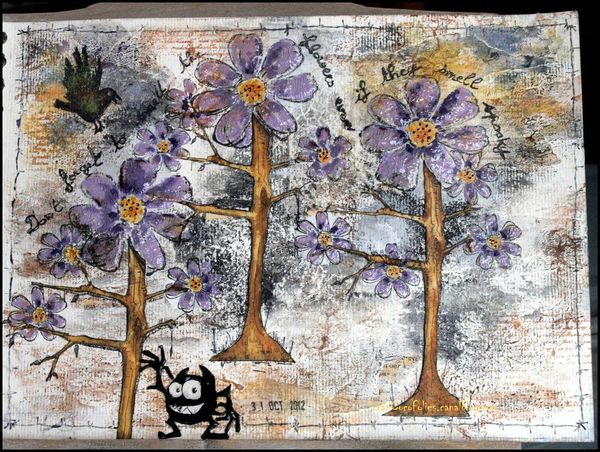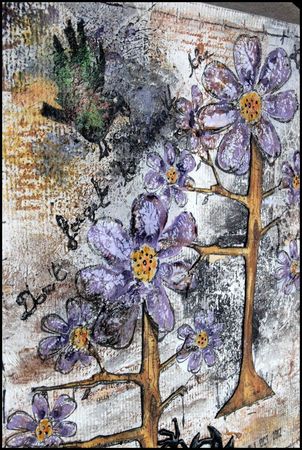 At first, there was no Crackle Accents on the flowers, but when I showed my creation to my thirteen girl, she told me: "yes, its's beautiful mum, but I'm not affraid !!". So I decided to add crackled accents (on each flower), and also the black bird on the left upper side !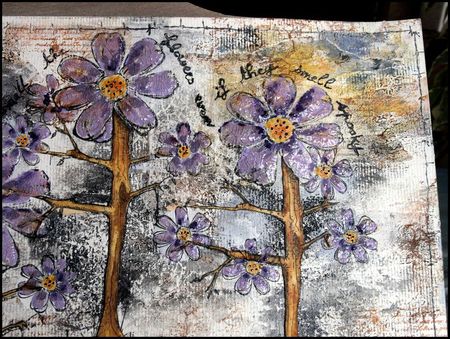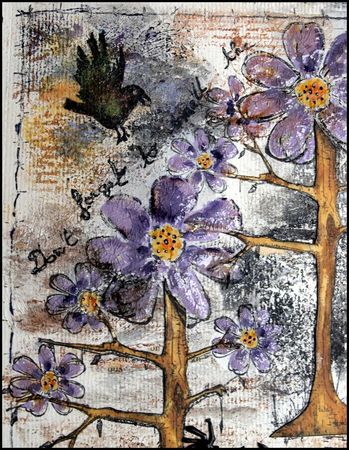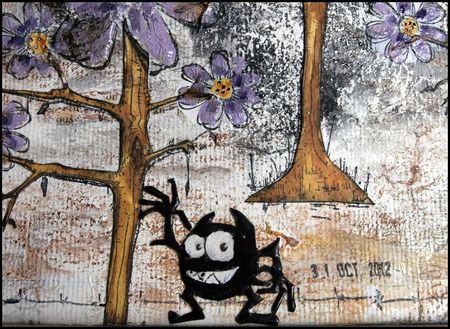 My spider is embossed using two layers of black Utee, and a Versamark pen since this stamped image was offered by my friend Sandra, thank you Sandra, I love it ! And the spider looks like a true one like that, berkkkk !!!

J'ai embossé ma grosse araignée offerte par Sandra à l'Utee noire, en utilisant un feutre à encre Versamark. L'effet est garanti, on dirait une vraie beurkkkk !!!
The bird is colored using black soot distress ink, and additional perfect pearls..
I hope you're not too much frightened !!
J'ai colorisé mon oiseau à l'encre distress noire principalement, en ajoutant des poudres perfect pearls.
Et voilà, j'espère ne pas vous faire trop peur quand même !!!
Materials:

Stamps: Stampotique (Carol's flower, large and small, Tree), Crafty Individuals (CI-361 and CI-213), The Girl's Paperie,
Spider (?) -> thanks you Sandra !!
Watercolor paper
Golden gesso
Fresco Paints (Lilac, Eggplant, Pansy and Haystack)
Neocolors II yellow, black and brown
Fixative for pastels
Archival ink: coffee, sepiaStazon ink: black
Versamark

Distress ink: walnut stain, brushed corduroy, rusty hinge
Transparent embossing powder
Black Utee, Crackle Accents, perfect pearls
Posca black pen, roll white pen, India ink, pen

Thank you for your visits and little comments (in english or french as you prefer), they are always a great pleasure. And thank you also to my new followers, I hope you will enjoy you'll see ! Have a fab week, xoxo
Merci pour vos visites et vos petits mots (en anglais ou en français, comme vous préférez...) qui sont toujours un réel plaisir ! Et merci aussi à mes nouvelles abonnées, j'espère ne pas vous décevoir ! Bonne semaine à toutes, bisousss
Coco(nut)
Commentaires sur Une page d'AJ, "Don't forget to smell the flowers even if they smell spooky" !