13 janvier 2013
Hello,
Deux posts dans la journée, je sais c'est beaucoup... mais j'essaie de mettre un peu mon blog à jour avant le début de semaine au boulot...
Pour changer des cartes de voeux, voici une carte d'anniversaire qui vient tout juste de partir vers sa petite destinataire qui fêtera son anniv' samedi, donc elle devrait arriver à temps pour une fois celle-ci je suis contente ! Je lui envoie de gros bisous par avance, ils passeront par sa maman que j'embrasse aussi au passage... ;). Elle est tellement mignonne et rigolote que j'ai bien aimé mettre le petit texte "Thank you for being you" !
Une carte avec mes nouveaux tampons Stampotique que j'ai enfin reçus de Linette et ses préventes, Un immense OUF.... Et je les adoooooore, merci Linette ! [:D]. J'ai bien ri en faisant ma carte....
Du coup, j'en ai profité pour recommencer à participer aux challenges du blog Stampotiques Designer, ça faisait un petit moment et ça me démangeait ! Pour ce challenge proposé par Astrid, il fallait utiliser des découpes de dies ou de perforatrices. J'en ai utilisé plusieurs sur cette carte: l'ovale festonné sur lequel j'ai tamponné le Happy Birthday (Fancy Tags), la grosses fleur et ses pétales (Flowers Creations), et la jarre (Bell Jer). J'ai utilisé une ancienne collection de papiers Prima.
I'm so happy to participate again to the challenges of Stampotique Designers blog ! Thanks to Astrid.
For my card I used the Bell Jar from Sizzix, the Flowers Creations and one of the three Fancy Tags from the Shapeabilities Spellbinders.
And I could resist no more of course to try my new Stampotique stamps "Hanging Hearts", "Daniel's Hearts", and my pet, the "Daniel's Tree Topper" (the small "angel" hanging he little heart on top of the bell). So cute Lol!!! This card gaves me a lot of fun.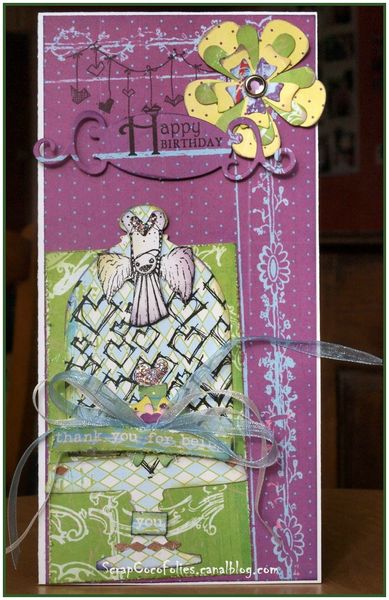 Merci de votre petit coup d'oeil, je ne m'attarde pas cette fois... Bises les filles, passez une bonne semaine !
Thanks very much for looking, xx

Coco(nut)
Commentaires sur Stampotique Designers challenge #82: Die-cuts and Punches