29 mars 2013
Bonsoir !
Me revoilà déjà Mdrrr !!!! Non, non, je ne suis pas encore partie rassurez vous, Version Scrap n'est que la semaine prochaine. En vérité je ne pensais pas avoir le temps de faire encore quoi que ce soit en scrap, mais hier, c'était mon dernier jeudi de liberté, alors j'ai craqué ! Je suis contente car j'ai réussi à finir un skinnie pour un échange sur Libertyscrap que je vous montrerai plus tard, et j'ai pu aussi finir un tag qui me permet de participer au challenge en cours cette semaine sur le blog Stampotique Designers, un challenge où il fallait utiliser des pochoirs... C'est Jane qui nous le propose. il me faisait bien envie ce challenge !
Je vous laisse en compagnie d'une jeune fille que je ne vous ai pas encore présentée: Sheer.... flanquée de ses deux encombrantes copines !!! Un tampon Crafty Individuals de la collection Alice Palace que j'aime beaucoup.
Jane is hosting the new week's challenge at the Stampotique Dt challenge blog....STENCILS. Here are her words: "I have an incredible love for stencils like a lot of creative bloggers do these days! I also think the images from Stampotique look awesome stamped over a stenciled back ground. So, for this weeks' challenge I am asking you to pull out one of your favorite stencils and use it on your creation with a Stampotique image." A good way indeed to take some of our stencils we don't often use !
Here's my creation, a tag I like much, with the Stampotique stamp Sheer I used for the first time (always great fun !!), flanked by its two associates, another stamp I really love too from Crafty Individuals (Alice Palace collection).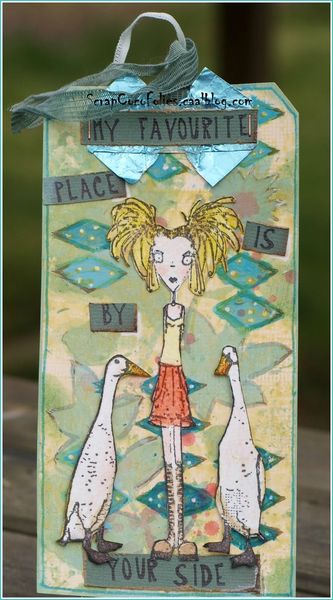 I used three different stencils to make the background with the help of gesso, dabber (Juniper) and fresco finish paints (Mermaid, ..). The characters are stamped in black Versafine on scraps of watercolor paper. I used brushes Distress inks to colorize them. The two gooses are mounted on foam glue pads for a slight 3D effect. Finally, the most original thing maybe is my special blue knot at the top of the tag below the ribbons, done with an cheese & fun product ("apericube" in french !) that my youngest girl offered me for my crafty works !!! Good girl ! [:D]
J'ai utilisé trois différents pochoirs pour faire le fond de mon tag, à l'aide de Gesso, de peintures Dabber (Juniper) et Fresco Finish (entre autres le beau bleu soutenu "Mermaid"). Mes trois personnages sont aquarellés au pinceau et aux encres Distress, et j'ai monté les 2 oies sur des carrés de mousse 3D assez fins. Mais le plus original sur cette réa, c'est mon noeud bleu métallisé en dessous du ruban ! C'est un petit papier d'apéricube que Salomé elle-même m'a fabriqué en noeu pour mon "scrap" !!! Quelle choupette, j'en ai de la chance n'est-ce-pas ! [:D]


Voilà, ça m'a mise de bonne humeur malgré le froid infernal qui règle encore... alors j'espère qu'il vous fera aussi un peu sourire ! Je vous souhaite à tous et à toutes un bon week-end de pâques, et une bonne chasse aux oeufs si vous avez des petits dans votre entourage !!!
This tag had done me good, I felt in good spirit after that ! So I hope it will help you to smile a bit... despite the terribly bad weather we all have yet everywhere I think !!! Have a wonderful Easter and great week-end !!! XOXO
Coco(nut)
Commentaires sur Un tag pour Stampotique Designers Challenge #SDC93