27 juillet 2013
Morning all ! Here the sun shines with a cool breeze, it's an incredible summer (at least in Brittany LOL !..) and I fancied doing a little summery scene, with bees and honey, Yum-Yum !!.. I chose altering a wooden frame I bought for 1 Euro in a discount shop. So happy with it miss Coco LOL ! A frame 100% recycling thus... Trendy and soooo funny !!!
Bonjour ! Ce matin il fait encore assez beau avec un petit vent frais, c'est un été comme on n'en a pas eu depuis longtemps (au moins en Bretagne LOL !...), et j'avais envie de créer une petite scène estivale, avec des abeilles et du miel, miam !... J'ai choisi d'altérer un cadre en bois, acheté pour 1 euro chez Noz. Trop contente la miss Coco ! Une réa 100% récup donc, tendance et réellement chouette !! :)
Voici mon petit tableau (assez grand en fait...) que vous pouvez aussi admirer sur le blog de Tando.
Here is my frame (rather large in fact...) that I blogged also over the Tando site.

Et je suis partie de.......ça !!!!!! And I started from..........that !!!!!
J'ai laissé cette image (assez moche il faut bien l'avouer !...) au verso, et j'ai choisi de travailler l'arrière que je trouvais beaucoup plus intéressant.
I returned this front-end image (quite awful I must confess !...) to become the back-end, and chose instead to paint and decorate the opposite side much more interesting !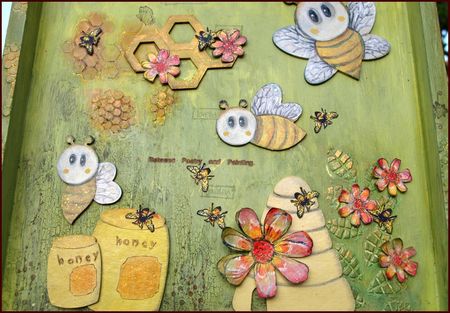 Et voici le pas-à-pas si vous voulez le refaire un jour. Here's the step-by-step if you want to do a similar frame one day.
Pour le fond, j'ai d'abord recouvert d'une couche de Gesso l'ensemble du cadre et les bords intérieurs et extérieurs. Ensuite j'ai ajouté de la texture avec mon mask feuillage de Tando (en bas à droite) et un mask nid d'abeille + Grunge Paste. Une fois sec, j'ai commencé à peindre tout le fond et les côtés en vert clair opaque (Dabber Willow) + un peu de vert un peu plus soutenu. Après j'ai rajouté plusieurs couches de peinture verte translucide à différents endroits, en jouant avec les nuances de vert... Pour finir j'ai aussi rajouté du Crackled Glaze qui donne un effet craquelé que j'adore, sur une partie du fond, peinte en couleur plus sombre au préalable, puis repeinte en vert clair (Willow + Zesty Zinc) après séchage du Crackled Glaze. J'adore cette technique, une fois qu'on a pris le coup de main le résultat est vraiment génial !!!
For the background, I first covered the plain frame with a coat of white Gesso at every inner and outer visible place. Then I added a bit of texture with Grunge Paste using my Tando Leaves 2 Mask and an honeycomb one. Once dry, I started to paint the background and all the sides with the remainings of my opaque Dabber Willow paint, with a bit of Lettuce colour. After drying it off with my heat gun, I added layers of translucent paints, either on large parts or on very small spaces. I played with several shades of green paints, especially my Fresco Finish Hey Pesto and Zesty Zinc colours that are translucent paints, nice effect guaranteed ! To add interest, I also covered some large parts rather on the bottom with dark green colour (Espresso Dabber), and used my Crackled Glaze after that. Dry off the whole frame between every layer ! And then, I put again some Willow paint + Zesty Zinc on them... Yo can see the light and nice crackling effects at the bottom in particular, I love this technique !!!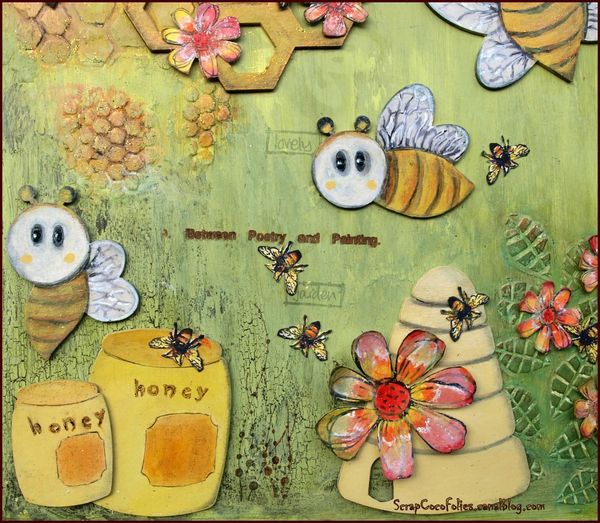 Enfin, j'ai pris un petit mask papillon de Tando, que j'ai encré à l'encre distress Peeled Paint, et tamponné aussi quelques mots avec la même encre pour un effet ton sur ton. J'ai aussi patiné au doigt les feuilles et nid d'abeilles + les bords de mon cadre avec du Treasure Gold. A ce moment, je considérais mon cadre fini !! C'était trop beau hum...:) Ensuite j'ai commencé à peindre mes petits abeilles et autres éléments, qui viennent de 2 paquets Tando coordonnés. Ils sont en carton très résistant, ce sont vraiment des produits extras à travailler je vous le promets ! Si un jour vous craquez pour certains de leurs produits, vous ne serez pas déçue. J'ai utilisé mes peintures Fresco Finish (principalement Haystack, Smoked Paprika et Vanilla) et rajouté des ombres (notamment autour des yeux!) avec un peu d'encre Pumice Stone, et j'ai dessiné à main levée au feutre noir fin les ailes avant de les peindre très légèrement. Bien sûr j'ai ajouté un peu de paillettes pour qu'elles brillent !! J'ai aussi ajouté le mot Honey sur mes 2 pots avec des lettres tampons Aladine et de l'encre Archival Coffee.
Pour finir j'ai détouré mes petites abeilles et mes fleurs Stampotique tamponnées à l'encre noir sur du papier aquarelle, et peintes elles aussi, en diluant un peu les couleurs (Peintures Haystack et Smoked Paprika). Un peu de stickles pour finir et hop !
I also introduced a small butterfly mask from Tando that I inked with my Distress ink Peeled Paint, and stamped some JOFY words using the same ink for a tone-on-tone effect, then I put some treasure Gold patina with my finger to highlight the edges and the textured parts. At this stage, I considered my background as finished !! (But it was badly knowing me haha...) :) Well, I could start painting my bees and their lovely combined elements... I chose one big and two small bees, and one large honeycomb and hive from my two Tando bees grab bags. I used lots of paints again (mainly Haystack, Smoked Paprika and Vanilla) + my Distress Pumice Stone for the shades and the funny eyelids around the eyes (I love them ! aren't they cute ?!..). I drew the wings using a thin black marker and slightly painted them, then highlighted them using a white pen for a bit of transparency. I also added the word "Honey" on the two jars in Coffee Archival ink, using a set of very small wooden stamps letters from an alphabet Circus I have for ages (Aladine).
My Stampotique flowers and small bees were stamped in Black Archival on scraps of paper. Next I painted all my bees in Haystack and Smoked Paprika (a bit watered down), with some stickles for the finishing touch !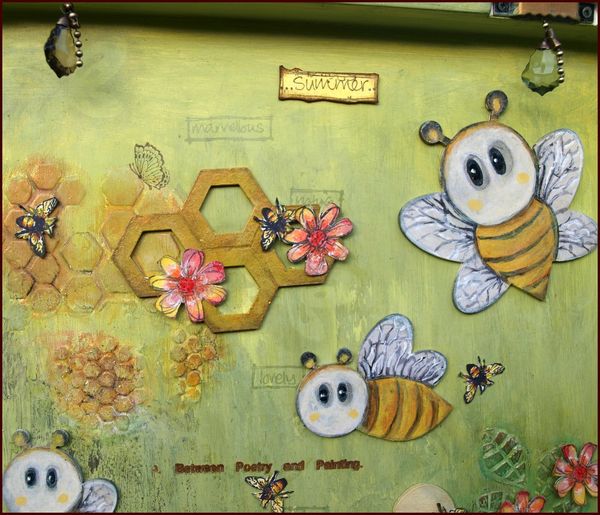 On peut voir le petit papillon en haut à gauche sur cette photo...
We can see the small butterfly at the top left on these picture..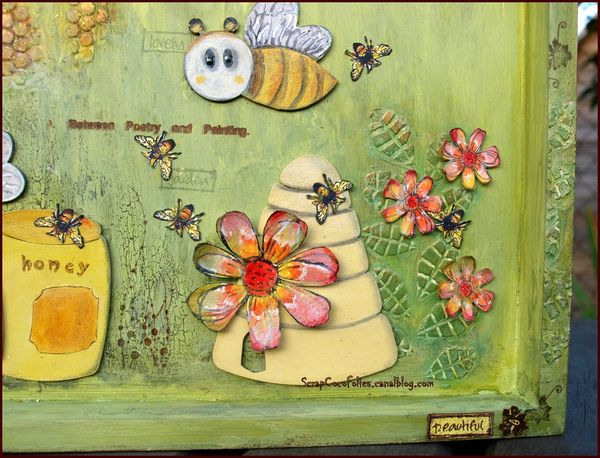 Pour les fleurs, j'avais envie d'introduire une petite touche de rose; J'ai utilisé plusieurs couleurs de peinture que j'ai dégradées à l'aide d'un pinceau fin, parfois sur plusieurs couches superposées. Et au centre de ma fleur, j'ai mis aussi un peu de Stickles.
For the flowers, I wanted a touch of rose; Finally, I used a lot of colours !!! (I love colours...!): I took my Fresco Finish Paints Rose, Smoked Paprika, London bus, Hey Pesto, Guacamole, Zesty Zinc. and a fine brush to colour them. Several layers here also... and a bit of Spun Sugar Stickles at the center too. :)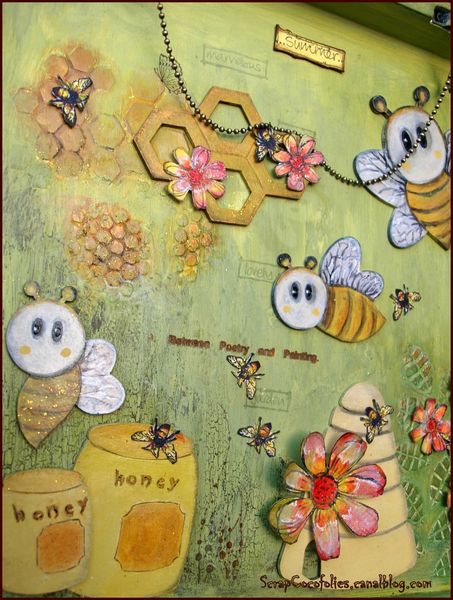 Et tout à la fin, j'ai ajouté 2 pendants et un morceau de chaine pour l'accrocher... et encore quelques petits tampons supplémentaires, héhé !!
To finish, I added two pendants and some ball chain for hanging my frame... and some more floral stamps again hee hee !!
Materials:
Chipboards Bee Set Large, Bee Set Small (Tando Creative)
Masks Leaves Mask Set of 2, Butterfly Mask (Tando Creative),
Nid d'abeilles (Caravelle Studio),
Stamps Wisteria Lane, (Chocolate Baroque), Jofy JM15, 11 (Paper Artsy), Large and Small Carol's Flowers, Small Bee (Stampotique),
Alphabet Circus (Aladine),
Watercolour paper, Distress inks, Coffe and Black Archival inks,
Fresco Finish paints Rose, Smoked Paprika, London bus, Hey Pesto, Guacamole, Zesty Zinc,
Dabber Willow, Lettuce, Espresso
Gesso, Grunge Paste (Paper Artsy),
Treasure Gold, Gloss and Crackled Glaze (Paper Artsy)
Distress stickles spun sugar, orange peel, yellow,
Beads, Tim Holz ball chain
Signo Uni ball white Pen, Distress markers Pumice Stone, Brown and black markers,
Glossy Accents, Varnish for paints spray,
Heat Gun
I also link my frame to new Monday's Simon Says Stamps challenge: Ode to Sunshine ! Go and see, you will admire fabulous inspirational makes by the DT !
Many thanks for popping by and leaving a comment if you feel you would like to, your time and thoughts are so appreciated, wether good or bad !!! Huge Hugs xxx
Un grand merci pour vos coup d'oeil et vos petits mots et avis toujours appréciés, bons ou mauvais !!! Gros bisous
Coco(nut)
Commentaires sur Summer Bees Frame for Tando Creative: "Winged Things"