29 juillet 2013
Hi all ! Me again, two posts in two days, a record for me LOL !!
This week on the Tando Blog we are all about the Hearts and Swirls theme. I couldn't miss this theme, sooooo perfect for nice girls like my little niece, whose birthday is coming soon. She is adorable and very girly !!!! So I made a pink and colourful scrapbook page for her, with a beautiful Tando flourish and a lot of little hearts stamped on a jar. I'm pretty sure she will LOVE it !!! The photo of her was taken during our last Summer holidays, on the day of...... her last birthday LOL !!!
Coucou ! C'est encore moi, deux posts en deux jours, pour moi c'est comme battre un record !!! :)
Je reviens vous montrer une petite page très girly et colorée, parfaite pour l'été ! Une page que j'ai réalisé pour ma petite nièce qui fêtera bientôt son anniversaire... avec une photo prise l'été précédent, le jour de ...... ben tiens, son anniversaire LOL ! Je pense qu'elle va bien l'aimer cette page toute rose... mmmmm !!!

If you can join us on Tando Creative blog this week, you will see different projects on the theme: "Hearts and Swirls". I start the week using a beautiful chipboard flourish (from Large Flourish 8) that is really fabulous and perfect for such scrapbook page !

C'est une page multi-défis. Réalisée pour Tando Creative, dont le thème cette semaine sur le blog est: "des coeurs et des courbes". J'ai utlisé une belle arabesque en chipboard que je trouve magnifique, et très adaptée à ce genre de page !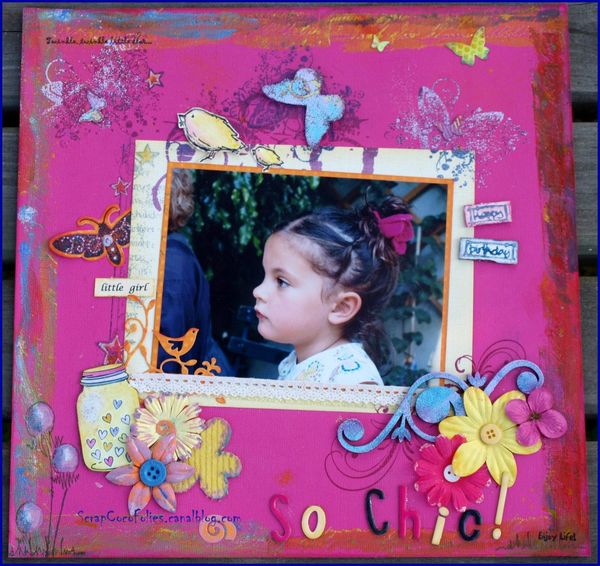 I had tons of fun with this layout ! My edges are done with a text stamp (with black background) and some remainings of paints let by my kids I didn't want to waste, but they put paint everywhere !!!!! They made two very beautiful masks I will show you later maybe as they are not completely finished...
Je me suis énormément amusée avec cette page. Mon contour est fait avec avec un tampon Ecriture (fond plein) et des restes de peinture de mes filles pour ne pas les gaspiller, elles en avaient mis partout !!!!!! elles ont peint deux bien jolis masques que je vous montrerai peut-être plus tard, ils ne sont pas tout à fait terminés...
This page also enters a Duo challenge on Libertyscrap forum, I received a page from Lilou64 to to scraplift.
Ma page répond aussi à l'épreuve Duo proposée par Maméloup sur Libertyscrap. ça faisait un petit moment que je n'avais pas participé... je regrette vraiment de ne pas faire plus de challenges ou tournois amicaux, mais je manque de temps pour être présente partout où j'aimerais, en plus de vous suivre fidèlement pour certaines !
Pour cette épreuve, je devais lifter la page de Lilou64: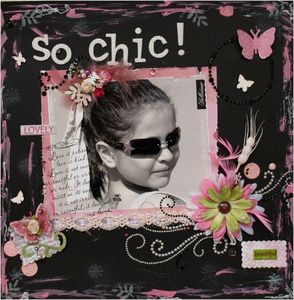 Some details in images now. / Les détails en images à présent.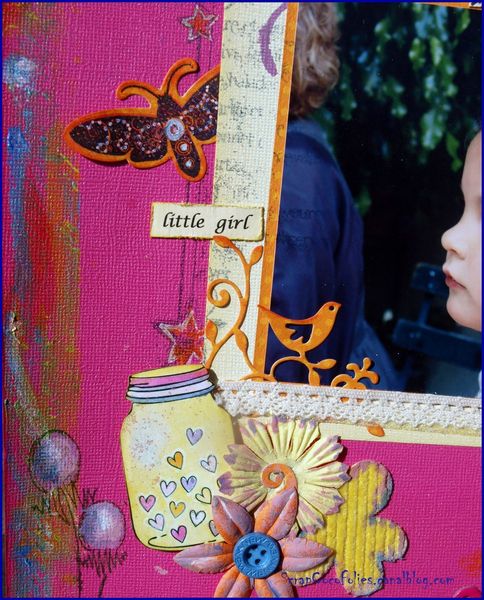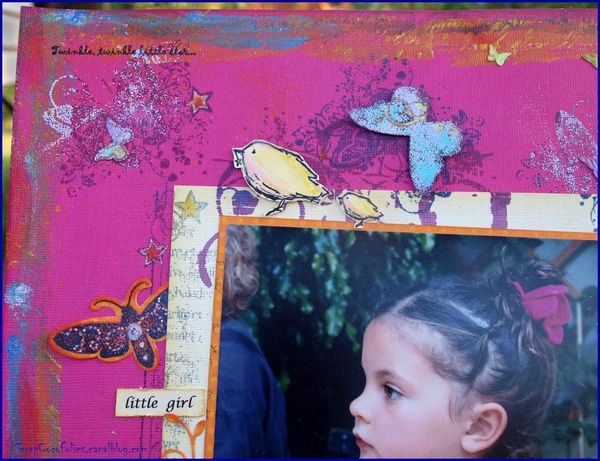 La belle arabesque Flourish 8 Large que j'ai embossé à chaud de différentes couleurs est vendue par deux dans ce format large, mais le format plus petit existe aussi, ce qui peut permettre de les assembler si besoin.
I used one of these beautiful Tando flourishes: Flourish 8 Large. I inked my swirl it with Versamark and then covered it with small amounts of different embossing powders in shades close to the colours I fancied. I used Dusty Concord Distress powder, Zing Lavender (American Crafts) and "Bleu Layette" (Aladine). I heat embossed the mixed powders (don't forget the edges as this beautiful chipboard is rather thick). Then I took my Perfect Pearls Forever Blue and using my Versamark pen and a thin brush I applied it in subtle ways.
Et comme ma page contient deux tampons texte et un tampon image de Stampotique Originals, je la fais aussi participer à un challenge sponsorisé par Stampotique Originals sur le blog norvégien de Scrapping.no, le défi consistant à inclure dans sa réa au moins une image et un texte Stampotique. J'ai jusqu'à ce soir minuit pour participer donc je me dépêche ! Le gagnant recevra un bon d'achats de 30$ sur la boutique Stampotique... Mmmm... :)
And as my layout contains two text Stampotique stamps (Enjoy Life and Twinkle, Twinkle...) and one image (Starbird with chick), I also participate to current Scrapping.no forum's challenge sponsored by Stampotique Originals. The winner will be offered a 30$ gift certificate on the Stampotique shop, Mmm... and deadline to enter is tonight !!

Matériel/Materials:

Tampons/
Stamps
: Starbird with chick, Enjoy Life, Twinkle... (

Stampotique Originals

)
Papillon et bordure étoilée/

Butterfly and starred border

(StampEnjoy)
Volute fine, Grande volute fine (Florilèges Design), Digital stamp jar (LimeCitron)
PaperArtsy JOFY collection, Handwriting (Stampington)


Encres/Inks: various Distress inks, Archival Black

Peintures/
Paints
: A

crylic paints and

PaperArtsy Fresco Finish
Poudre à embosser/

Embossing powders:

Bleu Layette (Aladine), Zing Lavender (American Crafts),


Distress Dusty Concord (Ranger)

Dies: Victoria Corner (Crafty Individuals), set of mini butterflies (Stamping Up), butterfly (PaperArtsy)
Embellissements/
Embellishments
: Paper flowers (Florilèges, La malle aux fleurs,...), buttons, lace, chipboard lettres/
Letters
(Toga)
Feutre blanc fin Posca/
White Posca marker,
Paillettes/
Glitter
Ultra fine Yellow (Pastel Glitter)
So glad that you took time today to stop by. I appreciate both your visits and your comments !!
Commentaires sur Tando Hearts and Swirls - A Layout "So chic" !