26 juin 2014
Hello, I'm sharing a simple birthday card I have made some time ago for a young boy to celebrate his 10th year.
I shall enter this card in the Stampotique Designers Challenge SDC153. Kim is the hostess this week, she asks us to think about creating art around an anniversary or love theme.
Usually I do not lift cards or layouts, but this time I made an exception. I have been very inspired by one card from Kaz with Stampotique's stamp Eric she made a long time ago. I had loved her card, she always makes so perfect clean cards, very clever. For mine, I have used scraps of papers from my stash (an old collection designed by the French brand 'Papiers de Pandore'), and the following Stampotique stamps: Eric, Daniel's Hearts, and Splatter long.
I have also decorated the envelope on the same theme and stamped a cute imp at the back... I was told that the little boy who received this card has loved it, so I'm very happy. :)
Bonsoir !
Je vous montre juste une petite carte d'anniversaire aujourd'hui, elle répond au challenge Stampotique SDC153 de cette semaine. Un challenge proposé par Kim sur le thème de l'amour, du mariage ou des anniversaires en général.
Je lifte rarement, mais là je me suis largement inspirée d'une carte faite par Kaz avec ce même tampon Eric (vous savez, ce grand gars un peu dégingandé à l'allure de benêt idiot gentil...) qui est le personnage vedette, sa carte m'avait beaucoup plu quand je l'avais vue la première fois! En même temps, toutes ses cartes sont superbes dans son style plutôt clean où elle excelle.
Cette carte m'a été commandée par une amie pour les 10 ans de son filleul. Je l'ai réalisée il y a pas mal de temps, mais je l'avais un peu oubliée celle-là j'avoue..! En tout cas elle a bien plu au petit gars qui l'a reçue, c'était l'essentiel. :)
J'ai utilisé des chutes de Papiers de Pandore et des tampons Stampotique (Eric, Daniel's Hearts, Splatter long), le tampon Joyeux anniversaire est d'Aladine et il y a aussi un petit tampon de marque Alpha Stamps je crois sur l'arrrière de l'enveloppe...


J'en ai profité pour décorer aussi l'enveloppe... I also decorated the envelope...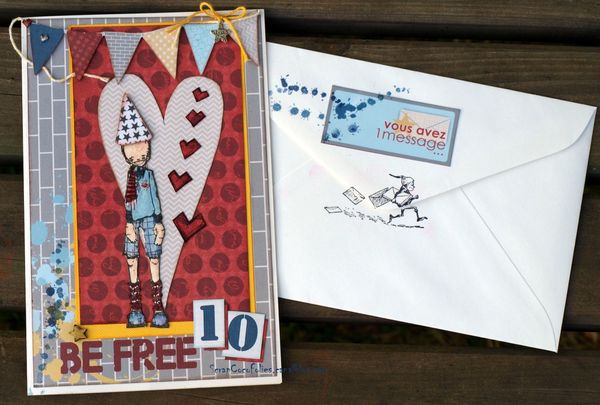 I have a photo of the supplies I used (except papers) to show you:
Je vous ai fait une petite photo du matériel que j'ai utilisé en dehors des papiers:
Merci de votre fidélité à mon blog, et de tous les messages que vous prenez le temps de m'écrire de temps en temps ou régulièrement. J'apprécie les deux !! Passez une bonne soirée et un très bon mercredi les filles !
Je vous dis à demain j'espère, avec d'autres cartes... Bises

Thanks for coming by and for taking the time to leave a comment if you can. I do appreciate both!
Wishing you a lovely evening or Friday, Hugs
Coco xoxo
Commentaires sur Stampotique Designers Challenge SDC153 - A birthday card for a boy / Une carte d'anniversaire