01 septembre 2013
Helloooo, at first I wish thank everyone for all your messages on my box with my little angel. i know that a bit of courage is likely required to watch and then, to comment ! You're lovely ladies all who took time to read and see my last post... Well, I can't do nothing to change life, so let's continue to show you now my last crafty project....
Today I'm still with tin boxes recycling. Here's a a tin square push button box that initially was full of delicious chocolates ! I don't know yet if I will let it like that, or use it to store all my hand-made buttons !! It was to illustrate the Buttons theme on Tando's blog this week. Since I don't have the Tando's mini bag of buttons that still exists, I've used one wonderful Tando mask really suitable for this theme ! This is the Mask Tangled Yarn by Neil Walker. Neil has designed several fantastic masks/stencils very versatile you can see here, and so much fun to work with. So far I have only this one, but I will certainly take the others!!
Bonjour, avant tout je vous remercie infiniment de tous vos messages sur ma boite avec mon petit ange. Je sais que ça demande un peu de courage de regarder et puis, de commenter surtout ! Donc un grand merci à vous tous et toutes pour continuer à me suivre même dans ces moments/réas là.
Je continue sur ma lancée des boites en métal altérées, avec aujourd'hui une petite boite carrée qui contenait de délicieux chocolats Valhrona, que j'ai entièrement repeinte et transformée en boite à boutons... Je ne sais pas encore si je vais la laisser telle quelle, ou m'en servir pour y stocker tous mes boutons fait-main !! Je l'ai réalisée pour illustrer le thème de cette semaine sur le blog Tando Creative. Je me suis servie d'un super beau mask de marque Tando Creative pour la faire, le mask Tangled Yarn par Neil Walker. Si vous aimez, allez faire un tour pour voir l'ensemble des masks qu'il a dessinés pour Tando ici, ils peuvent être utilisés de multiples manières (notamment pour faire de fabuleux fonds marins par exemple...) et le résultat peut être vraiment extra. Je n'ai que ce mask-ci pour le moment de lui, mais j'en prendrai certainement d'autres du coup, car j'ai eu beaucoup de plaisir à le tester !!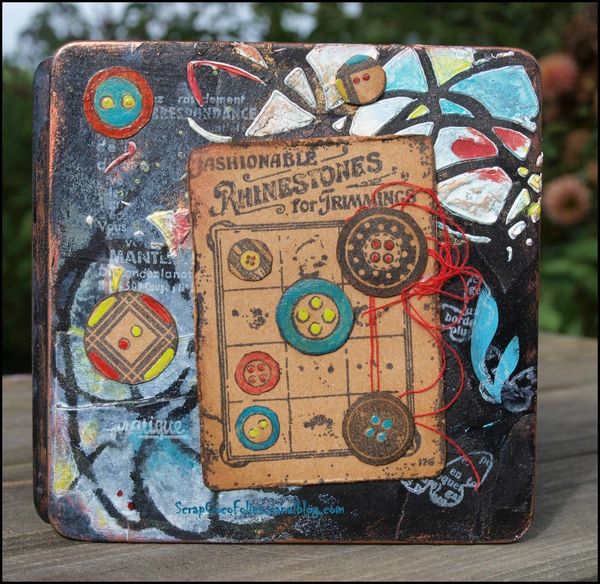 I chose to alter a small tin box originally full of very good French chocolates from Valrhona brand, yum! And decided to just play with my mask, grunge paste, some paints and mistable inks. First I black gessoed my tin box as a base-coat, and then directly put into it - as Gesso can also be used as glue - some scraps of old book pages, trying not to cover the entire surface for more interest. I lightly covered the whole with another coat of black gesso. I did it on all faces and let dry. Then I took the TANGLED YARN mask and added some Texture Paste in two opposite corners of the outer faces at the top and the back. Coloring of all parts was done using several Treasure Golds, mistable inks and Fresco Finish paints ( the colour is brighter in this last case) until I was happy with the result.
J'ai réalisé le fond et l'intérieur de ma boite principalement avec de la pate de texture Grunge Paste, des peintures acryliques Fresco Finish and diverses encres en spray. J'ai d'abord passé une couche de Gesso noir sur toutes les surfaces. Avant que ce soit sec, j'ai déchiré des morceaux de pages de livre et les ai disposées directement sur le Gesso, il faut savoir que ça remplace très bien la colle dans ce cas précis. J'ai recouvert le tout d'une nouvelle couche de Gesso diluée à l'eau. Une fois sec j'ai pris mon mask TANGLED YARN et j'ai appliqué ma pate de texture dans deux coins opposés sur le devant et l'arrière de la boite. Je me suis amusée à coloriser les parties en relief (et le reste!) avec mes patines Treasure Gold, des encres en spray et des peintures (la couleur est plus vive dans ce dernier cas).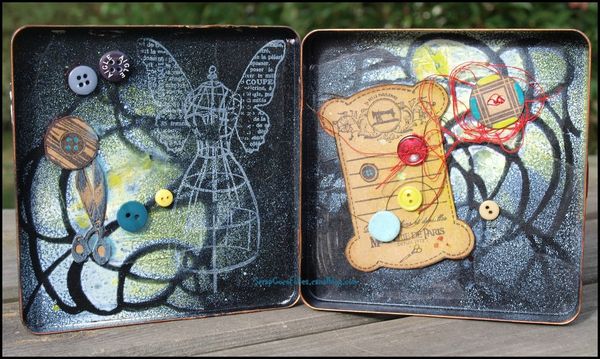 The inside was made mainly by spritzing white and Lemon inks on the mask. (As this latter is longer than the box, I pressed some parts of it with the fingers of one hand to keep it in place while spritzing with the other hand). After this step, I stamped some sewing images using my Brilliance Moonlight White ink, and heat them to help all the ink and paint to adhere to my tin support. I also rubbed around all inner and outer edges Treasure Gold in Ruby colour. I finally stamped a beautiful buttons border and other sewing stamps on a piece of kraft paper, cut them out, then inked the edges with my Distress Vintage Photo and glued them all firmly with Glossy accents after having painted some of them with some leftover paint. To finish, I added some red sewing thread here and there, and true buttons ! (since my goal at first justifying the choice for me of this theme was to get rid of some of my old buttons that take up my drawers !!! Well, I managed to place..... no more than eight buttons ah ah !!!) [mdr]
J'ai décoré l'intérieur en vaporisant des encres blanches et jaune pale sur des coins du mask, que je maintenais appuyé d'une main pendant que je pshittais de l'autre car le mask est beaucoup plus grand que la boite et donc bien sûr il ne peux pas être maintenu à plat sans aide ! Ensuite j'ai ajouté des tampons couture estampées soit directement à l'encre Brilliance blanche (attention à bien laisser sêcher par contre !!), soit sur du papier kraft et détourés et collés ensuite aux endroits voulus à la colle Glossy Accents. J'ai aussi peint quelques boutons avec des restes de peinture... Et pour la touche finale, j'ai rajouté du fil rouge et choisi quelques vrais boutons ! (parceque quand même, le but de la manip à l'origine justifiant ma réa sur ce thème était de me débarasser de quelques-uns de mes vieux boutons qui encombrent mes tiroirs !!! Bon, j'ai réussi à en caser...... huit ah ah !!!) [mdr]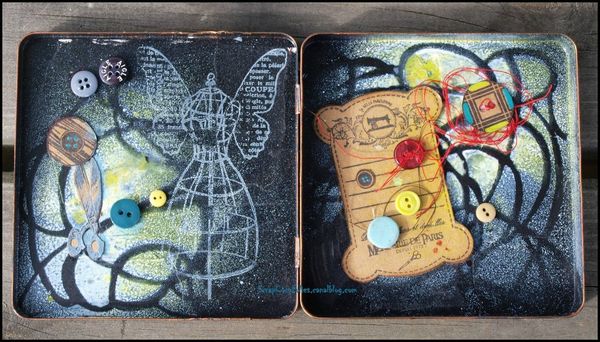 A close-up on the back to end: / Un aperçu du dos pour finir: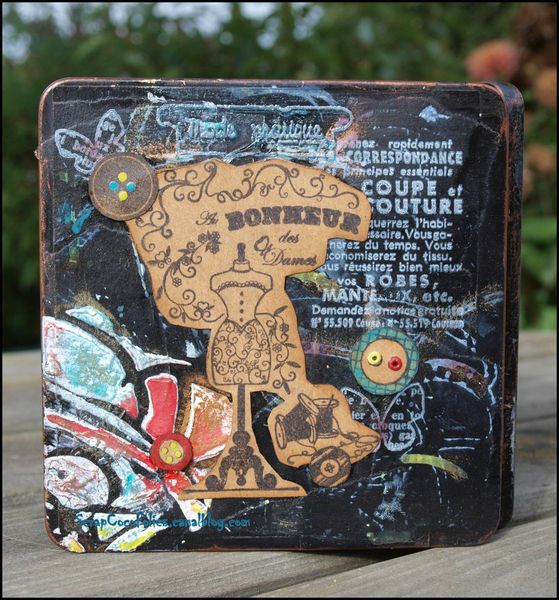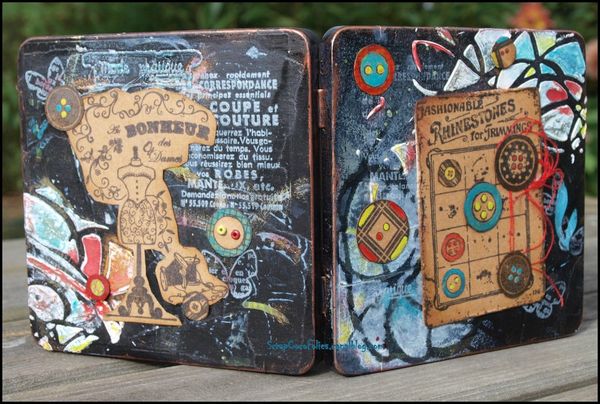 ! I love my tin box !!!
Bon, vous l'avez compris, j'adore ma boite... :D
I wish to enter my tin box in Fashionable Stamping Challenges on the kind advice of Nicola, thank you so much... it's my first participation to this challenge, and I saw that the design team is a very talented one !
Matériel/Materials:
Mask: Tangled Yarn by Neil Walker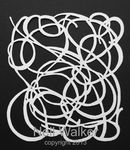 Tampons/Stamps: Bordure Boutons, Mercerie de Paris (Florilèges), Button Card (Jenni Bowlin),
Coupe et Couture (L'encre et L'image), Bonheur des Dames (InfinimentscrapDesign)
Encres en spray/Misting inks: Calico white (Mister Huey's), Postbox Red (Dylusions), Chalk mist Pastel Pastel Lemon
Grunge Paste, Black Gesso, Kraft paper
Treasure Gold Emerald, Sapphire, Florentine, Ruby, Treasure Copper
Peintures/Paints: PA Fresco Finish Limelight, Beach Hut, South Pacific, London Bus
Encre Brilliance Moonlight White, Stazon Black Soot, Distress Vintage Photo
Fil rouge/Red thread, mini eyelets, boutons/Buttons
Autres/Others: Glossy Accents, Vernis fixatif (Fixative varnish)
Thank you for popping by, take care, HUGS xxx
Merci beaucoup de votre visite et de tous vos petits mots qui me font toujours très plaisir. Bisoussssss

Coco(nut)
Commentaires sur A tin push buttons box/Une boite à boutons décorée - Buttons week on Tando's blog