11 septembre 2013
Hellooooo!!!!
I was off my blog these last days sorry, very busy to craft however !... I will have several things to show you in the days and weeks to come, but every thing in its time. I hope you are going well all, and that the day back to school for those who have small children has been good ! For me it has been a bit heated, but now all is ok phew! Place to crafty things now, with a frame to share with you that took me a lot of time, but I love it and hung it into my living-room...

Its been a tad chilly here in France now, as well as in the U.K too I suppose! So the new Challenge over at Tando Creative Challenge's Blog this month is coming at the perfect time! That's.............LETS LEAF IT. I love the colours of Autumn and the images crafting on it, so I really enjoyed doing something on this theme. And I'm also really looking forward to seeing what you may come up with!

I used some lovely Tando pieces that I combined on my project to build an autumnal dimensional frame, especially a pack of two gorgeous large leaves and lovely owls... Also, I love so much some new stamps of the JOFY and Lin Brown collections at PaperArtsy in that time that I wanted to put them too on it.
This is a long and photo-heavy post I fear - since my frame went through many, many layers in development... So please, if you have time and feel you'd like to, it's maybe a good idea to take a good cup of coffee or tea and comfortably sit down...

Coucou!!!!
Pas très présente en ce moment sur mon blog je m'excuse, pourtant je scrappe !... J'aurai plusieurs choses à vous montrer dans les jours et les semaines à venir, mais chaque chose en son temps. J'espère que vous allez bien et que les rentrées de vos enfants se sont bien passées pour celles qui ont encore des petits (ou des grands) à l'école ! Moi ça a été assez houleux, mais tout est rentré dans l'ordre à présent, ouffff.
Place au scrap, voici déjà une réa qui m'a bien occupée, et que j'adore, je l'ai mise dans mon salon du coup...

Il fait un chouia frisquet chez nous maintenant, comme en Angleterre je suppose, donc le nouveau défi du mois sur le blog de challenges de Tando Creative arrive à point ! Le thème c'est… heu… dur à traduire, si quelqu'un a une bonne traduction en tête je suis preneuse ! J'ai retenu le thème des…. FEUILLES ! J'aimerais bien vous voir participer mes copines françaises pour une fois, je serais vraiment contente… vous pouvez faire ce que vous voulez en plus, carte, tag, home déco, et je vous rappelle que vous n'êtes pas obligée d'utiliser des produits Tando, juste des feuilles !!
Sur ma réa (à la base un cadre basique de chez IKEA), j'ai utilisé des chipboards Tando que j'ai associés pour créer un joli cadre dimensionnel d'automne, en particulier un pack de 2 superbes grandes feuilles et deux mignonnes petites chouettes... Et aussi, comme j'adore les tampons que j'ai ramené de VS l'an passé de chez PaperArtsy, mes collections JOFY et Lin Brown, j'avais envie de les y intégrer aussi toutes les deux.
J'aime mieux vous prévenir quand même que c'est un long post aie… avec pas mal de photos et un pas-à-pas, donc si vous avez le temps, c'est peut-être le bon moment pour vous asseoir confortablement avec une bonne petite tasse de thé ou de café…



Quelques gros plans.. / Some close ups...
Fournitures/Supplies:
Dies: Sizzix Grass and Tim Holz Alterations Autumn Gatherings, Tapered Fringe
Watercolour paper, scraps of brown and green Bazzil
Tampons/Stamps: JOFY 09, 10, 11, Mini JM15, JM20, ELB01 (Paper Artsy), French Foliage (Stampin'Up), Fougère (Florilèges Design)

Pastels à la cire aquarellable/Water-soluble wax pastels Neocolors II: Flame Red, Spring Green, Yellow, Emerald Green, Chinese Green, Orange, Brown, Azurite Blue, Scarlet

Grunge Paste, White Gesso, Crackle Glaze
Treasure Gold: Emerald, Florentine, Ruby, Treasure Copper, Luster rub-ons kit#4
Peintures/Paints: PEBEO Acrylic paints coloris 34 (Feuille de Chêne), 36 (vert acidulé), and Brillant Gloss white + mélanges de peinture brun-rouge et jaune orangé fait-maison/brown-red and yellow-orange home-made mixed paints
Fresco Finish PA paints: Holly, French Roast, Zesty Zinc, Brown Shed, Smoked Paprika, Autumn Fire, London Bus, Haystack, Toad Hall, Beach Hut, Chocolate Pudding, Pumpkin Soup, Nougat, Hey Pesto
Encres/Inks: Archival Black, Distress Pine Needles, Walnut Stain, Forest Moss

Autres/Others Supplies:
Colle/Glue Glossy Accents, Tackly glue, strong carpet scotch, Vernis fixatif pour peintures acryliques/Fixative varnish for Acrylic paints, Ranger black Enamel Accents, Brayer, Posca white pen, petits ciseaux fin/small scissors, pinceaux/brushes

And a couple of other things to tell you...
For once, I'd like to link up my frame to the current Paper Arsty challenge hosted by Alison Bomber this week. I have been following Alison's blog words and pictures for a while now, and I love her FABULOUS projects, they are utterly gorgeous and full of lovely details. So I'm really happy to enter her first challenge ! Now, to be honest I must confess that I didn't follow any one of her great step-by-steps of the week, I would not have enough time for that, really! But my project combines several of the techniques she used this week, and from the time I've been following her I'm sure I've been influenced and inspired by many of her great makes and the poetry of her world ! She loves Nature, it is visible on every of her creative makes, with beautiful stamped flowers and flying things I really love too. So I think I can share my frame on Leandra's blog today, hope you will enjoy it Alison!

Added the 01/10/2013:
If not too late, I also wish to enter my frame in Fashionable Stamping Challenges #57 on the theme of Autumn colours... it's my second participation to this very inspirational stamping challenge that meets a lot of super talented ladies !


And finally here is my link over to the Tando challenge blog which always has lots of good proposals for challenging you! This week I share this project with the one of Karen, so you can look at mine again and also discover hers at once here for more leaf inspiration!
Quelques petites choses encore à vous dire...
Pour une fois, j'aimerais participer au défi hebdomadaire sur le blog de Paper artsy et entrer ce tableau dans le challenge proposé par Alison Bomber, qui est la première invitée créative sur leur blog ce semestre. Je suis Alison sur son blog (words and pictures) depuis assez longtemps maintenant, et je peux vous dire que tous ses projets sont exceptionnels dans les moindres détails, et qu'on apprend beaucoup grâce à elle !!! Maintenant pour être honnête, j'avoue que mon projet ne suit pas spécialement l'un de ses projets de cette semaine (pourtant magnifiques allez voir..), je n'en aurais franchement pas eu le temps! Mais mon projet combine plusieurs des techniques qu'elle a mis en oeuvre cette semaine, et depuis le temps que je la suis je suis sure que j'ai été influencée par son univers poétique et sa manière de tout expliquer, photos à la clé ! Elle adore la nature ça se voit sur chacune de ses réas.. tout comme moi. Donc je partage mon joli cadre sur le blog de Leandra, j'espère faire aussi plaisir à Alison !

Ajout du 01/10/2013:
Je participe aussi s'il n'est pas trop tard au challenge FSC #57, sur le thème "Couleurs d'automne". C'est un challenge dédié aux estampes (non digitales), organisé par une équipe internationale de filles super talentueuses.

Et enfin voici le lien sur le blog de challenges Tando. Cette semaine je partage ce project avec celui de Karen, vous pouvez les retrouver tous les deux ici ensemble, pour plus d'inspiration sur ce thème des feuilles !
******************************
Are you ready for a little step-by-step tutorial? yes?... So here are the steps I followed to do it:

Un petit pas-à-pas, ça vous tente ? Oui?... Alors, voici les étapes que j'ai suivies:
I started to create a textured background on watercolour paper. At the end I glued it in the top level part of my frame.
At first, I applied a thick coat of Gesso on a large sheet and folded it up in two. And then I opened it again, and you can see on the photos below how this simple way of doing can give a fabulous relief !… Lets well dry all the night.
J'ai commencé par créer un fond texturé sur papier aquarelle. A la fin je l'ai collé aux ¾ dans la partie supérieure du fond de mon tableau.
Pour faire ce fond, j'ai commencé par déposer une couche assez épaisse de Gesso sur une grande feuille de papier aquarellable, que j'ai ensuite pliée en deux. Je l'ai réouverte, et là miracle, on voit bien sur les photos le relief que ça permet d'obtenir, de façon très simple ! Bien laisser sécher toute une nuit par contre…

I cut my sheet in two parts, and put aside the other part for a future project. I chose to colour my background using my pastel Neocolor II, penciling here and there lightly in subtle ways… You need also a watercolour brush (or any other wet brush with water), some kitchen roll (or an old cloth) to absorb the surplus of rich colours, optionnaly a brayer like me, and that's all…
J'ai coupé ma feuille en deux et mis de côté un des fonds pour plus tard. J'ai choisi de coloriser mon fond aux crayons pastels Neocolor II, en « crayonnant » tout simplement par ci par là… Il vous faut aussi bien sûr un pinceau aquarellable (ou un pinceau que vous trempez régulièrement dans l'eau), un peu de saupalin (ou un vieux chiffon) pour absorber le trop-plein de couleur, éventuellement comme moi un brayeur (rouleau spécifique aux encres et peintures), et c'est tout voilà…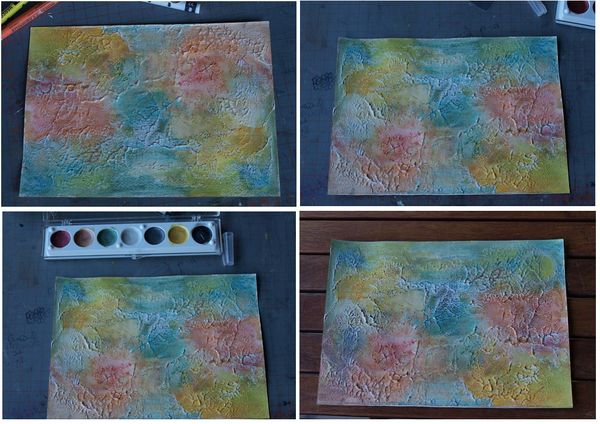 As long as you are not totally satisfied with the result, you can repeat the operations! That's what I did, and I got a brilliant and colourful background at the end. I also applied some rub-ons at the end on the textured parts to highlight them, and drew a kinda sun at the top right side (you can see it on the last photo !). You can also lighten some parts using a white roll pen like me, e.g. around the sun.

Répétez ces opérations jusqu'à obtenir un fond qui vous plaît, assez riche en couleurs. A la fin, j'ai ajouté un peu de pommades lustrantes pour mettre en valeur la texture. J'ai aussi dessiné un soleil, que j'ai ombré avec un feutre Posca blanc (tout autre stylo gel blanc peut faire l'affaire). Vous pouvez l'apercevoir sur la dernière photo !
Now the frame! I chose a simple but dimensional frame from our Sweden friend… J Be careful; don't forget to sand well the edges before start as those frames are varnished! I then painted it with an old mixture of Terracota paints I had for ages, but a bit modified here for the occasion as you can see on the next photos. You can choose any colour you like, or a mixture of them like me if you don't have the ideal shade!
A présent, le cadre! J'ai choisi un cadre vitrine tout simple de chez notre ami suédois… Mais attention à bien poncer avant de commencer, car ces cadres sont vernis. Je l'ai ensuite repeint avec un vieux mélange de peinture couleur Terracota que j'avais gardé, un peu modifié pour la circonstance (voir les photos suivantes). Opter pour deux couches par sécurité.
Vous pouvez bien sûr choisir n'importe quelle couleur de base ou comme moi, opter pour une couleur issue d'un mélange maison si vous n'avez pas la bonne !
During a playing session with paints with my little twins (LOL!!), I managed to make some beautiful leaves using paints too. I used the plate PA ELB01 from Lin Brown that I love, these large flowers and leaves are so beautiful and easy to use!!! I took a black cardstock as she recommends, a piece of Cut'n'dry, and I applied a first coat of white paint, and then a second one using the green and brown remaining paints of my girls, to not waste them. Put the darker shades at the external sides of the leaves. I finally cut out each leaf or leaves branch when I was satisfied with the result. I set out my watercoloured background and some leaves inside my frame and put aside.
Pendant un atelier peinture avec mes deux pépettes (si, si !!), j'en ai profité pour réaliser des feuillages à base de peinture moi aussi, en utilisant la planche de Lin Brown PA ELB01. J'ai pris un Cardstock noir comme elle le conseille, un morceau de Cut'n'dry et les restes de peinture de mes filles. J'ai mis d'abord une couche de blanc, puis re-tamponné chaque empreinte au même endroit avec une couche de peinture de différents verts, en introduisant aussi un peu de rouge ou marron; Les couleurs les plus foncées sont mises vers l'extérieur des feuilles. J'ai ensuite détouré chaque feuille ou branche de feuilles. Puis j'ai disposé mon fond comme sur la dernière photo ci-dessous, et préparé les éléments à suivre.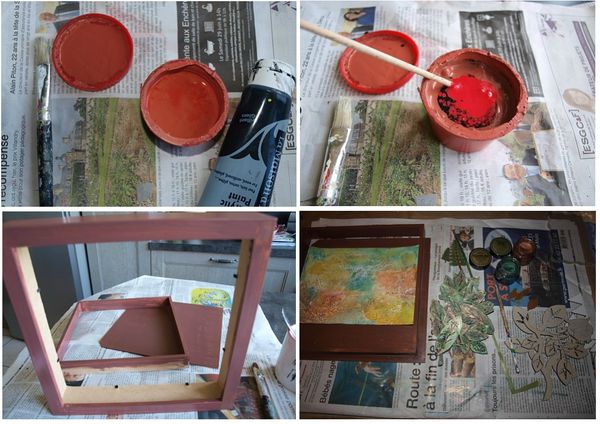 I coloured all my stamped images using various Fresco paints and a thin brush and water, cut them out then put aside. Next, I coloured my Tando chippies (leaves and banners) with my Neocolors II like my former background, as I wanted to combine them to form an harmonious display. In parallel, I also prepared a full – in watercolour paper - sheet of stamped images with Black Archival ink from another of my favorite PA collections: JOFY.
The second photo above shows that I applied Treasure Gold patinas using a thin dry brush on all the edges and parts of my leaves. I also put some Treasure gold all around chipboards and frame.
J'ai colorisé toutes mes images tamponnées à la peinture acrylique et au pinceau fin (Fresco Finish paints ici), et je les ai détourées puis mises de côté. Ensuite, j'ai travaillé mes chipboards Tando (feuilles et bannières) également aux crayons Néocolors II dans un esprit d'unité avec mon fond, et parce que je trouvais que ces couleurs ressortaient bien dans ces tons de jaune, jaune-vert et jaune-orangé !! J En parallèle, j'ai préparé toute une planche de tamponnades à l'encre Archival Black en utilisant aussi une autre de mes collections favorites : JOFY .
La 2ème photo ci-dessus montre que j'ai appliqué au pinceau fin des patines Treasure Gold sur mes feuillages détourés, aux bords et à différents endroits, par exemple la ligne mediane. J'en ai appliqué aussi sur les contours de mes chipboards et de mon cadre.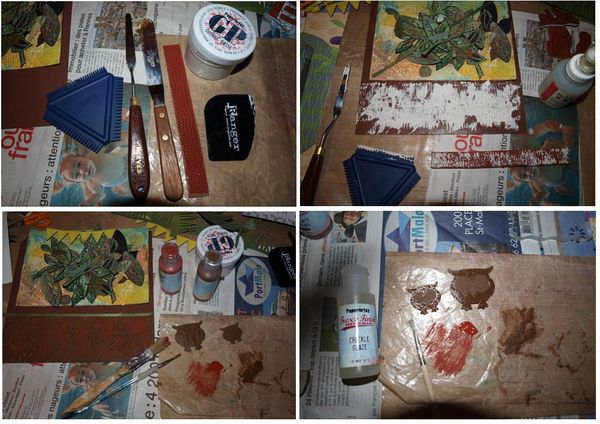 At this stage, I decided to add some texture to the bottom of the inside of my frame. I put a large coat of Grunge Paste here and there, and then, first I ran my paint comb through it. Let's dry a bit… And slightly applied also in it some beautiful border stamp from JOFY 10! I love the result!!
On the last picture above and on one of the following, you can also see how I did my small owls in plain chipboard from Tando Creative. I first painted them in brown colour (I used Fresco paint Chocolate Pudding), then I put a thin coat of Crackle Glaze (avoid the eyes and the beak). Once dry, I covered them with white paint (Fresco Nougat) and also painted at the end the beak in orange (Smoked Paprika) and their eyes in yellow (Haystack for me) but letting the external edges in brown for a wobbly look... And for a final touch, I added a very small drop of black Enamel at the center for a beautiful iris in relief!
A ce stade j'ai décidé d'ajouter de la texture dans le bas de mon décor de fond. J'ai mis une bonne couche de pate de texture (de la Grunge Paste qui sèche assez vite, mais vous pouvez sans problème en utiliser une autre). Laissez un peu sécher… et appliquer un tampon bordure de type barrière ou grillage comme le mien (j'ai utilisé un tampon de la planche JOFY 10). Le résultat est superbe !!
Sur la dernière photo ci-dessus et l'une des suivantes, vous pouvez voir aussi comment j'ai réalisé mes petites chouettes en carton brut à la base (Tando Creative). Je les ai d'abord peints en marron, puis j'ai mis une couche de Crackle Glaze (en évitant les yeux et le nez). Une fois sec, je les ai recouvertes de peinture blanche (Fresco Paint Nougat), puis j'ai repeint le nez en orange et les yeux en jaune, en laissant une petite bordure externe en marron. Et pour finir, j'ai ajouté juste une petite goutte d'Enamel noir au centre pour faire un bel iris en relief!
Finally, I used small leaves (see the last picture) to enrich my scenery. They come from the Tim Holz die: Autumn Gatherings. I got them using some scraps of brown and green Bazzil papers, and covered them with Treasure Gold as I did previously for my larger leaves too. And for a more realistic look, I decided to stamp them also with a nice set of leaf stamps (Stampin'up).
Lastly, I arranged all the elements and glued them firmly (I used either Glossy Accents and Tackly glue for the elements, and strong carpet scotch for the background!). I then applied the whole background inside my frame.
Les petites fleurs finales (voir dernière photo) que j'ai utilisées pour enrichir mon décor viennent d'un die de Tim Holz : Autumn Gatherings. J'ai utilisé deux chutes de papier Bazzil pour les faire, une verte et une marron. Elles sont recouvertes partiellement de Treasure Gold comme mes grandes feuilles, et je les ai aussi tamponnées de beaux motifs feuilles (Stampin'up) pour un rendu final plus réaliste.
Tout à la fin, j'ai arrangé tous les éléments de mon décor et je les ai collés un par un sur mon fond (colle Glossy Accents ou bonne colle blanche type Tackly Glue). Quand au fond, j'ai utilisé tout simplement du scotch pour moquette pour l'encoller avant de l'insérer en un bloc dans mon cadre!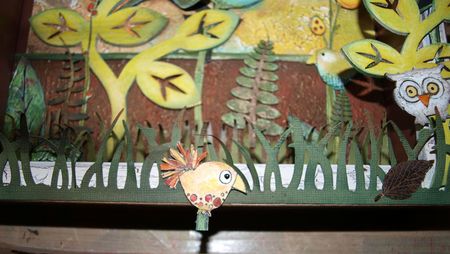 To end, I had the idea to glue a small strip behind my sparrow to freely insert it between the frame and the outer bottom edge. Like that, it can easily stand erect alone and even walk LOL !!!
Et pour finir, j'ai eu l'idée de coller une petite languette derrière mon piaf pour l'insérer librement entre le cadre et l'entourage. Il tient tout seul et peut meme se promener LOL !!!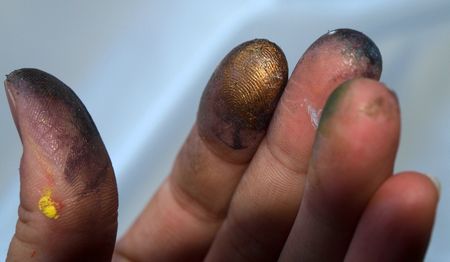 That shows you the state of my fingers at the end of project… haha!!! Very hard to clean without pain after that ouch! :(

ça, c'est juste pour vous montrer l'état de mes doigts en fin de projet....!!!! Dur à décaper après sans douleur hélas! :(
Sorry to show you so many pictures of my frame, but I always love to see how someone has achieved an end result - I tell me that maybe you do too! I also wonder which products and techniques are used, that's how I learned myself from some of you since I started to craft. I think the share of our techniques and experiences via our blogs is a great way to progress, even if it can never replace playing ourselves of course !...
Désolée pour le nombre de photos très important sur ce tableau, mais comme j'adore voir comment on obtient un résultat en décortiquant l'œuvre, je me dis que vous aussi peut-être ! Je suis aussi toujours curieuse des produits et techniques utilisés, étant donné que c'est la manière dont j'ai le plus appris moi-même depuis mes débuts en Scrap. Je pense que le partage des techniques et expériences via nos blogs est un super moyen pour progresser, même si ça ne remplace pas l'expérimentation par soi-même bien sûr !... :D
Thank you very much for popping by and leaving me a comment if you feel you would like to, I enjoy them so much.
Huggle Hugs xxx
Merci beaucoup de votre visite et de tous vos petits mots qui me font tellement plaisir. Gros bisoussssss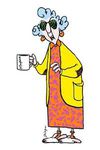 Coco(nut)
Commentaires sur An autumn frame and its tutorial ! / Un tableau d'automne et son tutoriel !