27 octobre 2013
Hello, Bonjour,
D'abord un grand merci pour tous vos messages précédents, vous savez comme je les apprécie... et puis c'est le meilleur moyen pour moi de savoir si ce que je fais et partage sur mon blog plaît ou pas !
Aujourd'hui je vais faire court, je suis tellement en retard pour poster mes nouveaux projets !!... Et hier, mes deux petites dernières ont fêté leurs 6 ans avec 10 autres petits loustics dans leur genre... Je vous laisse imaginer l'ambiance à la maison ! Mais tout s'est bien passé, et Salomé et Constance étaient ravies de leurs cadeaux hihi!! Donc ça valait la peine de le faire... :)
A first a big thank you for all your previous messages, always really lovely and that I appreciate much.... And that's the best way for me to know if what I do and share on my blog is pleasant or not !
Today will be a very quick post, because I'm so late in posting my new projects... And yesterday my two last little daughters were celebrating their 6 years birthday with ten other tiddlies... I let you imagine the atmosphere at home LOL ! But all things have ended well, and Salomé and Constance were really thrilled with their gifts tee-hee !! so well worth organizing it :)
So, I want to show you my second entry for the Stampotique month challenge over at the Craftorij Facebook page. It was all about numbers. As I am rather in a period of Tags & ATCs (you should see a series of them very soon if time enough to show them !) I decided to make just a funny ATC (Artist Trading Card for those who don't know it yet) with various numbers on the background:
Voilà un petit ATC qui répond au 3ème challenge Stampotique sur la page Facebook du groupe Craftorij. Il fallait utiliser des nombres... Comme je suis plutôt dans une période Tags et ATCs (vous devriez en voir toute une série prochainement si j'ai le temps de les mettre sur mon blog...), j'ai décidé de faire juste un ATC (Artist Trading Card, pour celles qui ne connaissent pas), avec différents numéros sur le fond: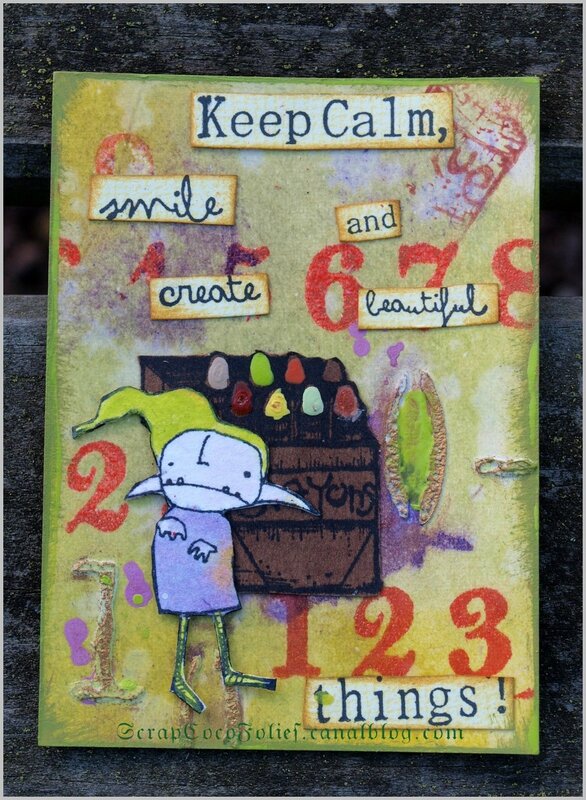 J'ai utilisé deux types de nombres: les chiffres oranges sont un tampon Tim Holz que j'ai encré à la Stazon (Pumpkin) et embossés en transparent vernis, et les plus grands chiffres viennent du pochoir long Code Breaker de chez Tando Creative, très chouette ce pochoir. J'y ai appliqué un peu de Grunge Paste, et mis aussi de la patine Treasure Gold par endroits, que j'ai frotté ensuite avec un chiffon. Mes tampons sont de Stampotique Originals (Tools Cube, Keep Calm, et Gog Lin).
I used two types of numbers: the orange ones are stamped in Stazon ink Pumpkin using my wooden stamp Numbers (Stamper Anonymous), I have just embossed them also using transparent powder. And my larger Zero and One are from Tando's long stencil Code Breaker by Andy Skinner. I added Grunge Paste over them, and a bit on two different Treasure Gold patina. My stamps are all from Stampotique Originals (Tools Cube, Keep Calm, and Gog Lin).
I also enter this ATC into the first challenge of Sprinkle of Imagination that distributes Stampotique stamps in UK now, love the imposed combo and all these colours !!!
Mon ATC participe aussi au tout premier challenge de la boutique Sprinkle of Imagination, distributeur de tampons Stampotique en Angleterre, j'en profite, car j'adore les couleurs du combo imposé !!!
Thanks for stopping by ! Have a good Sunday, here in France we are lucky we grapille one hour more hehe !!! Huge Hugs
Grosses bises à tous et toutes, bon dimanche ! On gagne une heure aujourd'hui, c'est chouette !!!
Coco(nut) xxx
Commentaires sur An ATC with numbers / Un ATC avec des nombres