06 novembre 2013
Hi all, Coucou !!
Un passage rapide par mon blog aujourd'hui pour vous montrer ce que j'ai eu la surprise et la joie de recevoir ces derniers temps... Trop trop contente de ce que j'ai reçu, c'est noël avant l'heure pour moi !!!!
De Brenda, une artiste que j'admire beaucoup et qui fait toujours de merveilleuses créations, j'ai reçu tout un ensemble de choses fabuleuses: un Skinny personnalisé et son enveloppe entièrement décorée que vous pouvez aussi admirer plus en détails sur son blog ici et là, un grand Tag Halloween, et de jolies petites serviettes en papier... je vous laisse apprécier... J'avais gagné son enveloppe sur son blog, et elle a eu la gentillesse de me rajouter plusieurs réas ! J'ai bien failli ne rien avoir d'ailleurs car mes mails atterrissaient dans sa boite noire et étaient bloqués... Heureusement j'ai pu contacter Nicola, une personne extrèmement gentille dont je vous ai déjà parlé, qui a bien voulu jouer les intermédiares. Sans quoi, je pense qu'elle aurait fini par remettre en jeu son lot, LOL !!! Encore merci à toutes les deux !!
I make a short post today to show you all what I have been enough lucky to win and receive those last days, lucky me, it's like Christmas before the date !!!!
From lovely Brenda who does always amazing creations I've received a wonderful and delicate set of creations: a personnalised Skinny ICAD you can see better on her blog here, inside its amazing envelope, entirely decorated on all sides that you can also see here, which she offered as a give-away on her blog a few weeks ago. Also a great large Halloween TAG that I really love and some nice English paper towels.
And I was all the more glad with my package as at first my emails didn't get through to her, even after she had emailed me too after some time without reply from me (at least she thought I didn't reply, as my email address was blocked out !!), Thank goodness our common friend Nicola of Paper Profusion acted kindly as a 'go-betweener' and helped us to sort out the problem ! LOL !! Thanks so much Nicola too !
Here is some photos of her fabulous works and gifts: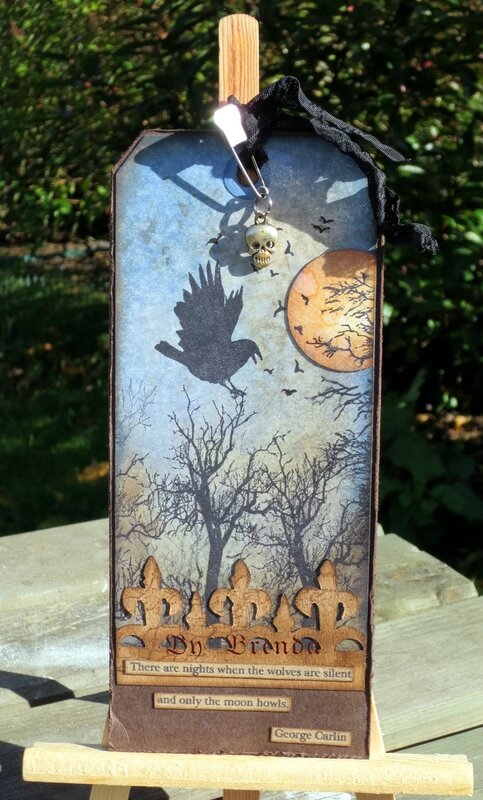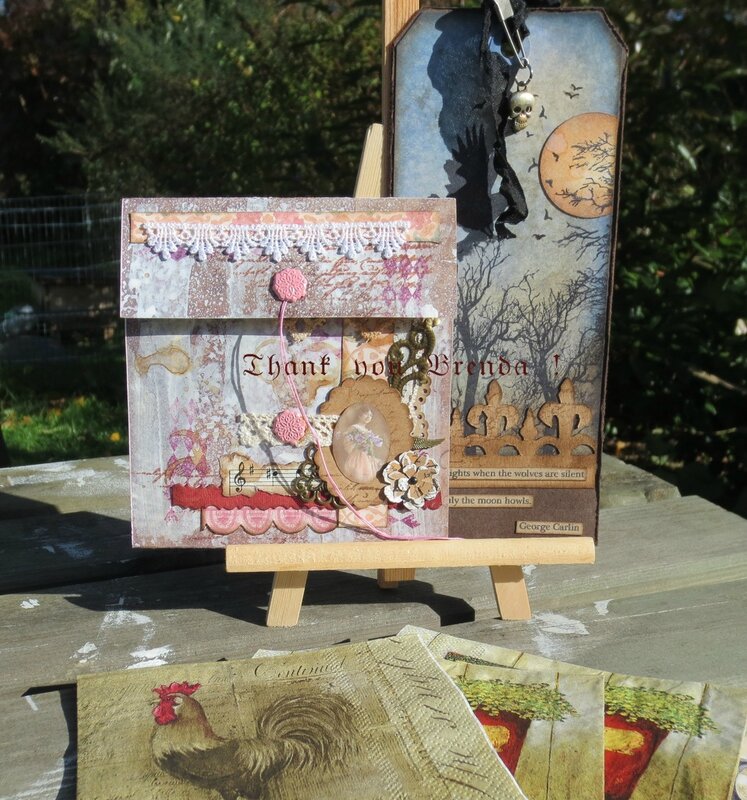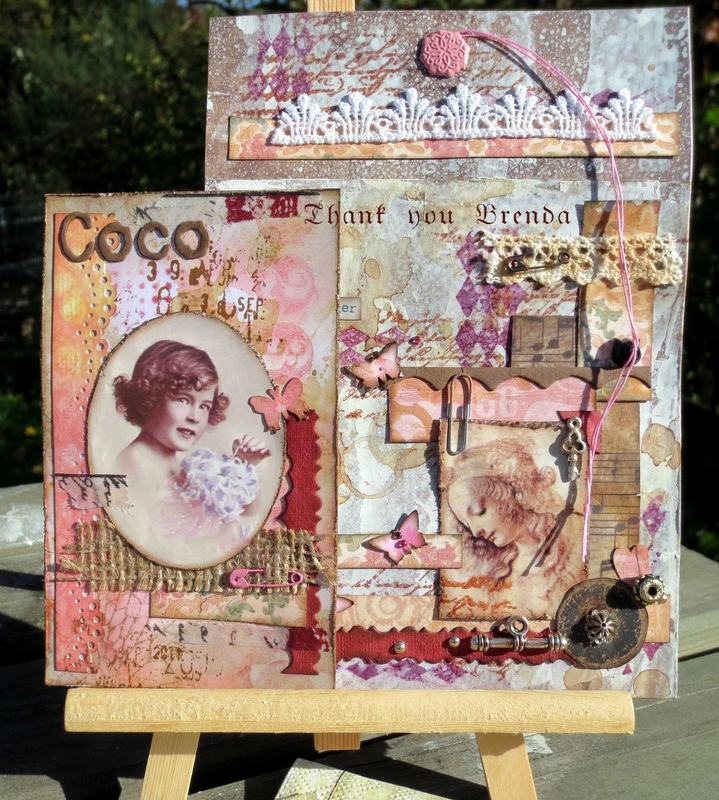 A VERY BIG THANK YOU again Brenda... !!!
Et secondo, j'ai eu l'énome surprise et plaisir d'être l'une des deux gagnantes d'un superbe lot de tampons de Noël offerte par Jean Hardy, la propriétaire des tampons Crafty Individuals, une marque que j'adore.... Et comme Jean est une personne extrêmement gentille et généreuse, elle a encore glissé dans mon paquet un lot de tampons non montés, et je n'en avais aucun !! Whaaah, quel beau cadeau de noël avant l'heure pour moi !!!
And secondly, I've just had the tremendous good fortune to be one of the two lucky winners of a fabulous Christmas giveaway offered by Jean, the owner of Crafty Individuals Stamps, and many of you know how much I love her stamps... And she is always so generous, she offered 8 great A6 stamps plates and many extra unmounted stamps... I didn't have yet any of them ! WOW, what a wonderful Christmas win !!!! I show you all what I've received to thank her as she deserves:



Et je suis encore plus ravie pour finir, car mon projet Hocus Pocus qui participait au challenge Crafty Individuals du mois d'octobre figure parmi les 5 réas favorites pour ce challenge, c'est sur son blog aujourd'hui, ce qui fait que je gagne encore un tampon supplémentaire de mon choix ! Je suis très fière de cette victoire car j'adore mon Hocus Pocus, bref, Hourra pour tout ça !!! Un grand merci à Jean pour sa générosité !!!

And I'm also THRILLED to advise that my 'Hocus Pocus' project entering her last October challenge was selected among the top five lucky ones on her blog today, so I also win an extra stamp of my choice ! whoot ! whoot !!
Thank-you so much to all Jean, you're a lovely lady !!!
Je vous dis à très vite, car encore beaucoup de choses à vous montrer... Passez un bon mercredi, je file car j'ai beaucoup à faire encore aujourd'hui... Ne m'en voulez pas si je déserte un peu vos blogs dans les semaines à venir, je dois absolument commencer mes réas de noël que je n'arrive pas à attaquer !!!! Je me rattraperai dès que possible, promis !... Bisessss

Have a good Wednesday, gotta go now as I have still a lot of things to do today... Don't worry or upset if I'm a bit away of your blogs in the weeks to come, I absolutely and URGENTLY need to start my Christmas makes that I didn't have tackled yet !!! I will catch up with all of you after I promised !... Hugsssss
Coco(nut)
Commentaires sur Some giveaways received... I'm a very lucky winner !! / Des cadeaux reçus.. !!