15 novembre 2013
Helloooo ! Bonjour !
I'm currently far away from home for my job so it's a planned post today...hope all will be ok :-)
Vous l'avez peut-etre compris, je suis en déplacement professionnel, donc c'est un post programmé... j'espère qu'il n'y aura pas de soucis, car je ne suis pas la reine de l'organisation moi lol ! :-)
This week on Tando's blog we have a Paint Effects theme, and I chose to do a scrapbook page, as a good way to show how we can use paints over it ! I love adding paints on anything so it was a very inspirful theme for me.... I combined it with the last page I had to do as Guest DT for the blog capdescrpperca a few weeks ago, following a simple sketch. I had great fun to do it... hope you will like it !! I used a photo of my twins Salomé and Constance playing with small games.. The photo has been taken during our last Christmas holidays, that's why I made a kinda snowy page.
Cette semaine sur le blog de Tando, le thème est La peinture et ses effets... J'ai choisi de l'illustrer sur une page, ce qui m'a permis aussi de le combiner avec la dernière page de scrap que je devais faire pour capdescrapperca en suivant un sketch imposé, il y a déja quelque temps. Je sais, je ne suis pas très rapide Grr... mais je n'y peux rien !!!
J'ai fait une petite page sur la magie de l'enfance a partir d'une photo de Salomé et Constance en train de jouer, une photo prise pendant nos dernières vacances de noel... du coup je l'ai volontairement enneigée en pshittant de la peinture blanche diluée directement sur mon fond, et en accentuant le bas du décor donnant sur la ville. Et j'ai créé tous mes embellissememts a base de peintures: les fleurs sont faites de chutes de papier peintes grossièrement et superposées, j'ai peint et tamponné a la peinture aussi des morceaux de Bazzil unis avec des tampons texte (de chez Florilèges et L'Encre et L'Image), j'ai peint mes chipboards Tando.... Une page 100% peinture donc (et papiers et chipboards aussi quand meme Lol... Les papiers viennent d'une ancienne collection des Papiers de Pandore, je les avais gardés précieusement) !!!! Je me suis bien amusée, j'espère que vous aimerez !!
Here's my page: voici ma page:
And the sketch: Et le sketch: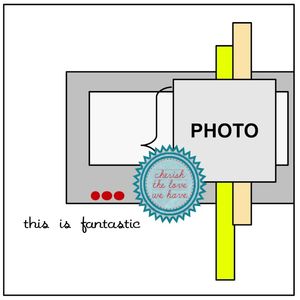 Here are some close-ups on my painted embellishments, but if you think you would like to know the details of how I made them or the little story of my layout, please pop over to Tando's blog.
Et en détails: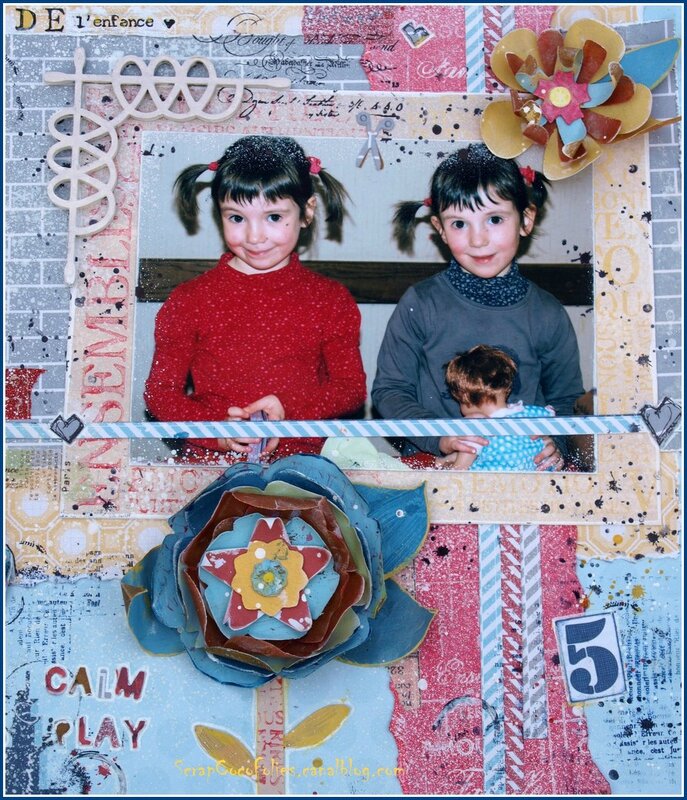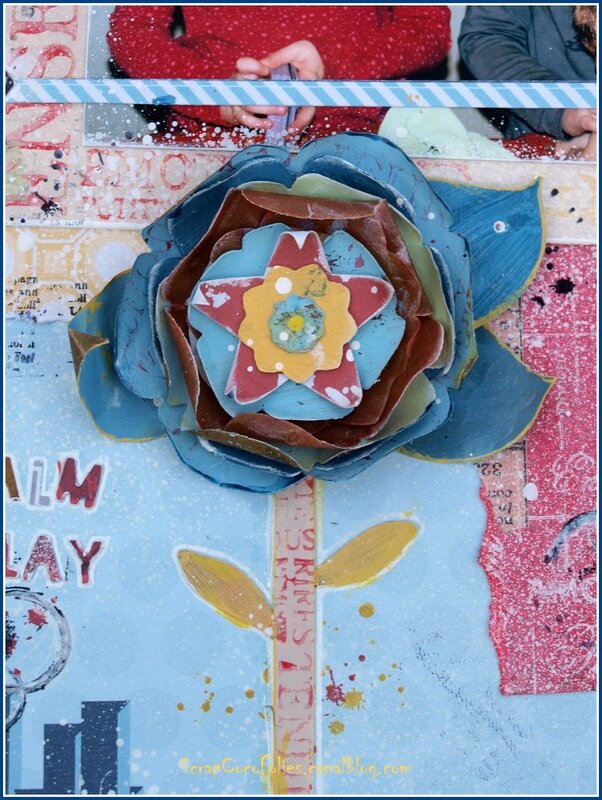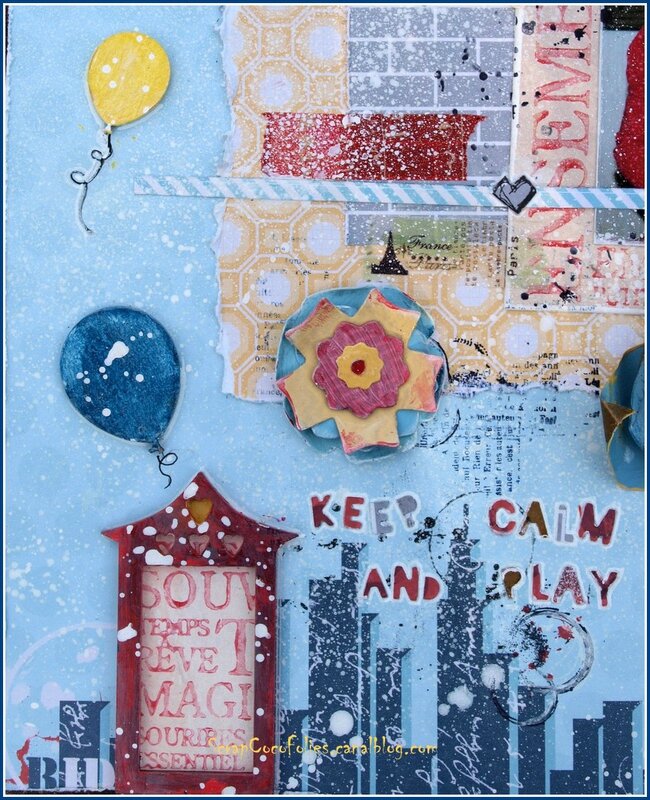 Je vous montre les embellissements de chez Tando Creative que j'ai utilisés, vous pouvez cliquer dessus si besoin.
I loved my page, so I framed it... and of course I also painted my frame haha ! But sorry, I had no time to make a new photo before going away... I chose translucent red and cream paints. It's a pity to not show you the final stage because the page looks really nice with its painted frame ! !
Je l'aimais bien cette page, je l'ai encadrée ! Mais je n'ai pas eu le temps de refaire une photo avant de partir.. C'est dommage, car le cadre est rouge translucide et crème, et le rendu final est vraiment joli !
A huge thank you again for your previous visits and all your lovely comments, I appreciate each and every so much.... See you very soon ! Hugsssssss
Encore un grand merci pour tous vos messages précédents, toujours tellement appréciés... A très vite ! Bisesssssss
Coco x
Commentaires sur The Magic of childhood