23 novembre 2013
Morning all !
First of all, thank you so much for your amazing feedback on my last previous projects, I appreciate them a lot... That also really boostes me to continue !! So thanks again to the ones who still take time to leave lovely comments, as I guess you are all now very busy like me !
I am up today on the Tando blog and it's a FREE FOR ALL week. Such "Anything goes" week is ideal to show you some cute projects that are not fitting to any particular theme. Today is one of those cute projects I think ! It's a mini album I created a few weeks ago for my goddaughter, who celebrated her seven years this month. I'm really happy with it, she wanted something with pastel colours - she told me ALL the colours she love, I think I didn't forget any of them haha ! -, and I had in mind to do a small album similar to the one I've made for my eldest daughter, that you can see also here if you have missed it and wish to have a look too. I think the step by step written for the first time is more complete, so please don't hesitate to follow the link if you want to read all the technical details.
This is a mini book in oval done from scratch on watercolour paper and covered with two oval Stampbords, and once open we can read a short story in it. It is decorated on both sides. I used mainly my Distress inks and some Perfect Pearls, a lot of Stampotique stamps, and no less than 4 Tando Creative stencils ! The sentiments are from Dyan Reaveley's collection. Most of the stamps have been designed by Maryse Carrier.
To start I inked a long strip of watercolour paper cut in oval with a set of pastel Distress inks: Spun Sugar, Shabby Shutters, Squeezed Lemonade and Tumbled Glass mainly. Cosmic Shimmer powders were added at some places, on my leaves in particular or in the center of my flowers.
Bonjour à tous et toutes !
D'abord je tiens à vous remercier une fois encore pour vos super petits mots et tous vos retours positifs sur ma dernière page de scrap, et aussi sur précédentes réas, ils me font toujours autant plaisir... et me boostent aussi pour continuer !!
Aujourd'hui je vous montre un mini-album ovale créé sur sur papier aquarelle qui se lit comme une petite histoire. Il est fait sur le même modèle que celui que j'avais réalisé il y a quelques mois pour ma grande, que vous pouvez revoir ici si vous avez envie et si vous voulez connaître toutes les étapes de réalisation, je crosi me souvenir que j'avais fait un pas-à-pas assez complet.
J'en ai soigné chaque détail avec d'autant plus de plaisir qu'il était destiné à ma filleule, qui vient de fêter ses 7 ans (et à qui il a bien plu, OUF...! :D). Une version un peu différente et plus douce, je l'ai voulu en couleurs pastel pour lui faire plaisir. Pour le réaliser j'ai pris mes encres distress et des perfect pearls, mes tampons Stampotique, et pas moins de 4 pochoirs/masques de chez Tando Creative ! Les citations sont de la collection Dylusions de Dyan Reaveley, et la majorité des tampons sont de Maryse Carrier.
Mon petit mini est aussi visible sur le blog Tando ce même jour, si vous avez l'envie et le temps d'aller faire un petit tour sur le blog de la DT aussi... C'est une semaine où on peut montrer ce qu'on veut, donc en général ce sont des projets assez complets et assez jolis !! D'ailleurs, on peut aussi commenter en français. Je dis ça, je dis rien, hein.... :)))
J'ai encré ma bande de papier aquarelle découpée en ovale avec un ensemble d'encres pastel: Spun Sugar, Shabby Shutters, Squeezed Lemonade and Tumbled Glass principalement. J'ai ajouté des poudres Cosmic Shimmer à certains endroits, sur mes feuillages notamment ou au coeur des fleurs.
Allez, le voici.... Je vous laisse apprécier les citations et leur illustration... [:D] La première photo est le devant de l'album. Il est fermé par le ruban à gros grain de droite.
Here is my miin-album.... I let you appreciate the quotes and their illustration... [:D]
Firstly the front cover, closed with the right side ribbon.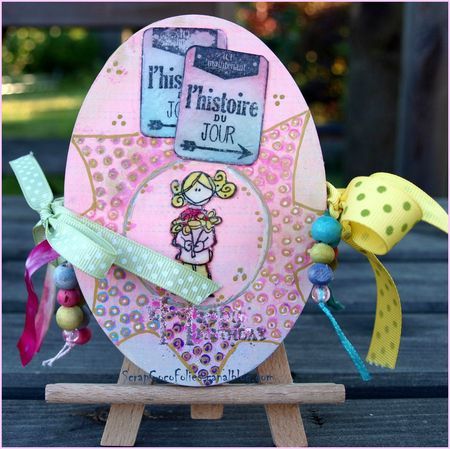 I didn't have any Tando's sturdy oval chipboard, so instead I used two Stampbord ovals I had for ages in my stash for my covers. Stampbord has an incredibly smooth texture to work with inks especially, this is a great material but much more expensive that plain cardboard !! Tando's large chipboard pieces can easily replace it most of the times ! :)
My small girl with flowers was watercolored with distress inks and covered with glossy accents... I love the bright finishing texture that Glossy Accents gives to anything. And I framed this image thanks to the "Dotted Star" stencil/mask, really great... it can be used in many ways !!

J'ai utilisé des stampbords pour faire mes deux couvertures, je les avais achetés en soldes sur le Craft Barn mais jamais testé encore... j'ai adoré la matière qui ressemble à du bois, mais qui est très douce à travailler avec des encres en particulier ! Par contre c'est un produit assez cher, et vous pouvez facilement le remplacer par des chipboards de large taille comme ceux vendus dans la boutique Tando Creative, disponibles en différents formats. Mais là, je n'avais pas de pièces ovales... Et c'était l'occasion d'utiliser ce produit que j'ai dans mes tiroirs depuis pas mal de temps !!!
Mon petit tampon central a été d'abord aquarellé au pinceau puis recouvert de Glossy Accents, c'est ça qui lui donne cet aspect si brillant. Je l'ai encadré grâce au pochoir/masque "Dotted Star", un pochoir réellement extra... on peu l'utiliser de plein de façons différentes !!
Ici, j'ai utilisé le second mask Leaves 2: Je l'ai positionné sur une chute de papier aquarelle au milieu de mon tapis en teflon, et j'ai utilisé mon spray d'encre Dylusions marron (Melted Chocolate); j'ai ensuite détouré quelques fleurs en laissant un léger contour brun autour de chaque fleur.
Avec les restes d'encre pshittée j'ai simulé des petits cailloux sur le sol. Comme les gouttes étaient fines, j'ai essuyé légèrement ces gouttes en appuyant le bas de mes ovales dessus.
Pour mes feuillages je me suis amusée avec mes trios d'encres Brilliance et mes feutres Posca blanc et Distress aux couleurs pastel.
Le mini album déplié... recto:
The mini-book unfolded on the first side:

Au verso, j'ai glissé deux petites photos de ma filleule et d'elle avec ses petits cousins... Une belle brochette de petits, hein..?!!
and now, the reverse-side panels and back cover. On the back I put two photos of my goddaughter, alone and with her cousins... Aren't they cute...?!! :-)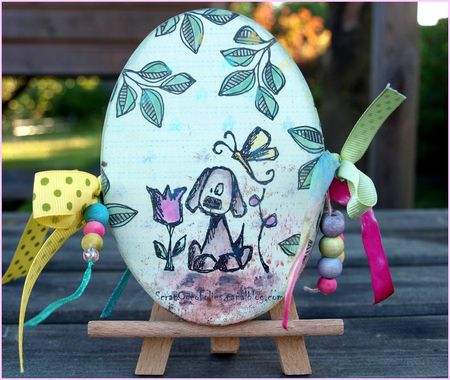 At the end I coloured using the same set of distress inks some basic wooden beads, and when dry I tied them to some of my ribbons.
Pour finir j'ai rajouté des perles en bois que j'ai colorées avec mon set d'encres distress, et accrochées aux extrémités de mes rubans.
Materials/Matériel:

Stencils:
Burning Rubber, Dotted Star, Baroque, Leaves 2 (Tando Creative),

Stamps:
- Stampotique stamps: Flowers for you, Best Buds, Don't Fence me in, Puss Puss, Line Up, Dandelion Duo, Funky Striped Leaves
- Background stamps: Trois points (Florilèges Design)
- Others: Dylusions Quintessential Quotes (Ranger), Curly leafy flourishes (StampingBella)
Inks and other materials:
Distress Squeezed Lemonade, Shabby Shutters, Spun Sugar, Victorian Velvet, Tumbled Glass, Dusty Concord...
Brilliance Trio , Distress markers, White Posca pen
Dylusions Melted Chocolate, Distress Stains Milled Lavender, Picked Fence
Archival Ink Plum, Coffee
- Cosmic Shimmer powders: Crimson Ultra, Marine Ultra, Tropic Violet, Tropic Yellow, Topaz Ultra
Two oval Stampbords
White Gesso, Glossy Accents
Wooden Beads, ribbons

Je vous souhaite une super bonne journée et un excellent week-end, j'espère qu'il fera un peu moins frois que ces derniers jours...Brrr. Et merci d'avance de vos petits mots que j'ai tant de plaisir à lire ! Bisessss
Wishing you a lovely day and happy week-end, I hope the weather will be a bit less cold than the last couples of days Brr! thanks for stopping by and leaving a message if you feel you would like to ! HUGS xxx
Coco
Commentaires sur A small oval mini-album for Tando Creative, "L'Histoire du jour"....