10 décembre 2013
Coucou! D'abord un grand merci à vous toutes pour tous vos messages précédents qui m'ont fait énormément plaisir!!...
Aujourd'hui, je n'ai pas de réa de noël à vous montrer, mais c'est quand même jour de fête... :) Cette semaine c'est Party Time sur le blog Tando Creative, et je peux enfin vous montrer toutes les décos faites pour la petite fête d'anniversaire de mes pépettes avec leurs copines pour leurs 6 ans! Je vous offre aussi un petit pas-à-pas, si vous avez envie de refaire quelque chose de similaire pour vos enfants ou petit-enfants... Attention, c'est un post assez long, prévoyez un petit café si vous voulez tout regarder! :-)
Hellooo! At first a big thank you all for you previous messages, they really made my day!!...
Today I have no Christmas make for you, but it is still a festive day as the theme this week on Tando's blog is Party Time... I can at last show you the whole set of decorations I've made to celebrate the 6 years of my twins with her mates! I have a small step by step for you if you wish to do again something like that for your kids or grandchildren one day.
Mmmm... maybe it's the good time to have also a cup of tea or coffee if you want to see all as it is quite a long post, sorry!... :-)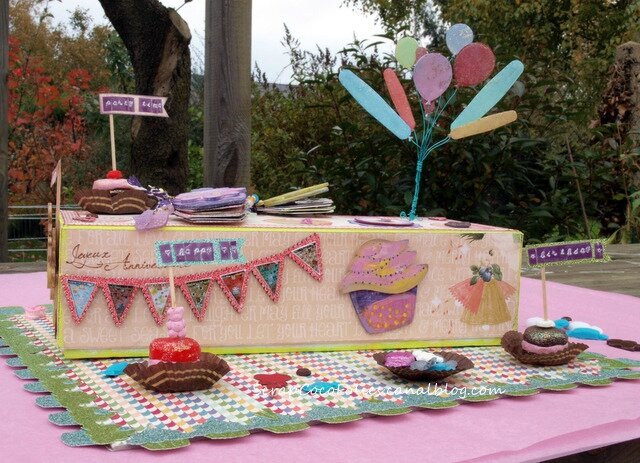 Instructions:
J'ai commencé avec ça... une ancienne boite de cartes pour apprendre à lire.
I started with that... an old box with cards to learn to read from my children.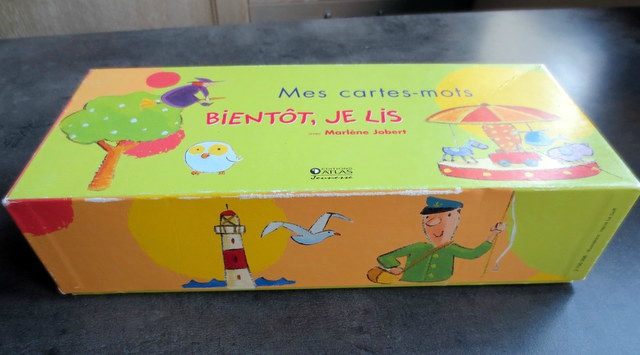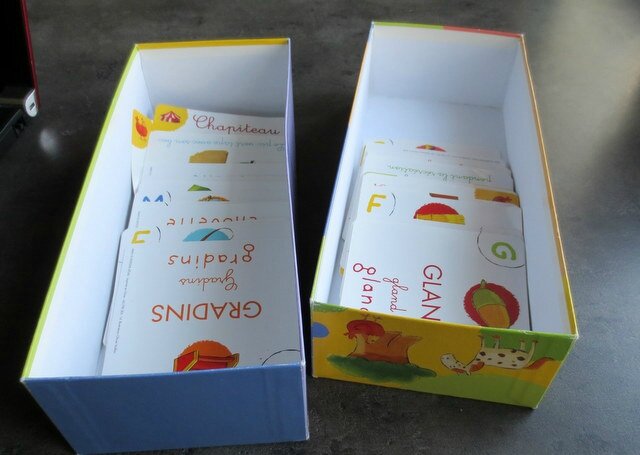 J'ai gardé les cartes au cas où, et j'ai passé ma boite au Gesso (Seulement les bords, elle va être recouverte de papiers).
J'ai aussi passé un peu de Gesso sur des chipboards "ballon" de marque Tando Creative. (vous aviez deviné...? LOL)
I kept the cards for another usage maybe later and gessoed the box on the edges only as I wanted to cover it with papers.
I also put a light coat of Gesso on my balloons which are chipboards from Tando Creative (did you guess that..? LOL)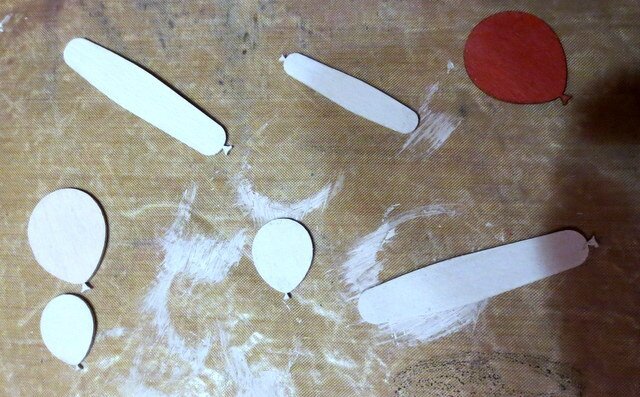 J'ai créé des petits fanions dans des chutes de papier Webster's Page d'une ancienne collection "Sweat Season", dans mes stocks depuis longtemps, et qui collait bien avec le thème! J'ai collé des cure-dents sur l'arrière avec de la Glossy accents.
I decided to make small flags with scraps of papers. I used an old collection from Webster's Page "Sweat Season" which was in my stash for ages and perfect for the theme! I glued toothpicks on the back with my Glossy Accents.


J'ai fait différents essais d'embossage sur une chute de papier aquarelle. Je voulais être sure des couleurs, pour embosser les contours de ma boite dans des teintes coordonnées aux papiers. Je garde ces petits bouts précieusement, ça peut toujours resservir!! L'idéal, c'est peut-être de les coller directement sur les pots. Mais comme je ne suis pas toujours super organisée, je ne l'ai pas fait, en tout cas pas encore ah ah...
I made different embossing tests on a scrap of watercolour paper, as I wanted to emboss all the edges of the box in colours that will match my covering papers. I keep these samples preciously as they can be reused later! The best thing to do would be to tie them to the lid of embossing powders, but as I'm not always a well-organised lady, I did not! At least not yet haha...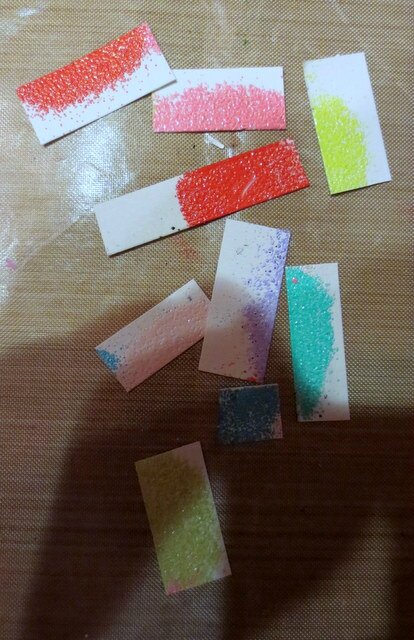 J'ai colorisé mes petits ballons avec mes trios d'encres Brilliance... et j'y ai rajouté des paillettes bien sûr.. :-) un petit mélange maison de paillettes dorées et argentées. Je ne me souviens plus si je les ai appliquées aussitôt avant que l'encre ne sèche ou si j'ai utilisé mon pad de colle pour paillettes.. A vous de tester !
I coloured my small balloons with some trio Brilliance inks... Also added glitter of course!... :-) A mix of gold and silver glitter dusts. I don't remember if I applied them before the ink was dry, or if I used my glue pad to better fix them! You will have to experience by yourself if you want to do the same.
Puis je les ai recouverts d'une couche de medium Matte Accents de Ranger (j'ai pris le Matte par mégarde au lieu du Glossy, mais au final l'effet est assez doux et j'aime bien !)

Then I covered all with medium Ranger Matte Accents (I took the Matte by mistake as I wanted the Glossy one but finally I like the smooth effect of the Matte!)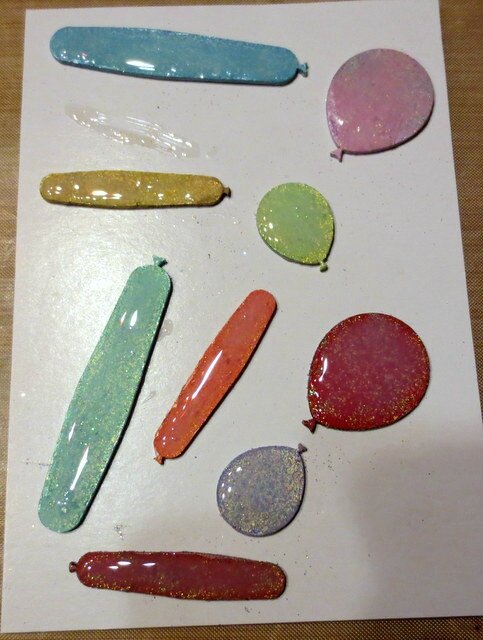 Une fois secs (attention il vaut mieux attendre quelques heures!!), j'ai collé sur l'arrière des bouts de fil métallisé bleu avec la même colle.
Once dry (wait for a couple of hours to be safe!!) I glued at back side small lengths of blue metallic wire using the same glue.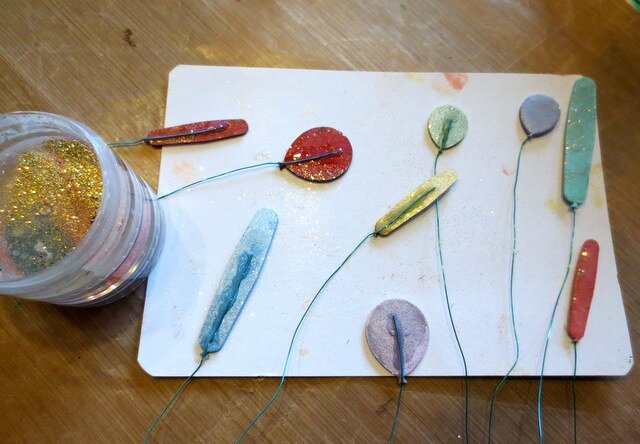 Et voilà le résultat après assemblage, un beau bouquet de mini ballons que j'ai réunis...
And here's the result, a beautiful bunch of ballons...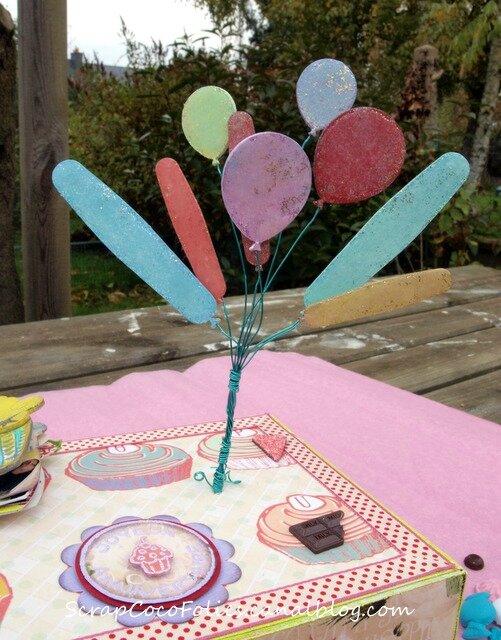 A présent, le plateau qui va me servir de support... J'ai découpé dans un carton gris une planche de la taille d'une page de scrap, soit exactement 30,5 x 30,5 cm. J'ai collé par dessus (au rouleau et à la colle blanche) cette belle feuille de la collection "Sweet Season Frosting" de Webster's Page. Petite astuce: j'ai également encollé le dessous de mon carton avec une autre page de scrap, pour éviter qu'il ne gondole... ça permet d'absorber les distorsions du carton sous l'effet de la colle, c'est très efficace!
J'ai décoré les bords en créant une bordure avec un die Cupcakes de Sizzix, coupée dans deux papiers glitterisés différents. J'avais ce die acheté en soldes et jamais encore utilisé, c'était vraiment l'occasion! Mais vous pouvez bien sûr choisir une tout autre bordure, ou encore simplement du ruban... Plus simple peut-être à appliquer (les papiers glitterisés se collent mal entre eux!!), et le rendu sera probablement tout aussi joli. :)
Now the tray... I cut in thick greyboard a square board of 30,5 x 30,5 cm (12x12 inches). I glued on one side a festive scrap paper from the collection "Sweet Season Frosting" by Webster's Page, using white PVA glue.
Tip: Glue on the reverse side another scrap paper. That will absorb the distortions of cardboard under the effect of glue!
After that I edged my tray with four strips of cupcakes cut out from two glittered papers. I used a Sizzix strip die - Cupcakes I have for quite a long time, but never used yet.. Of course you can replace it but anything, like a beautiful ribbon, washi-tape, etc.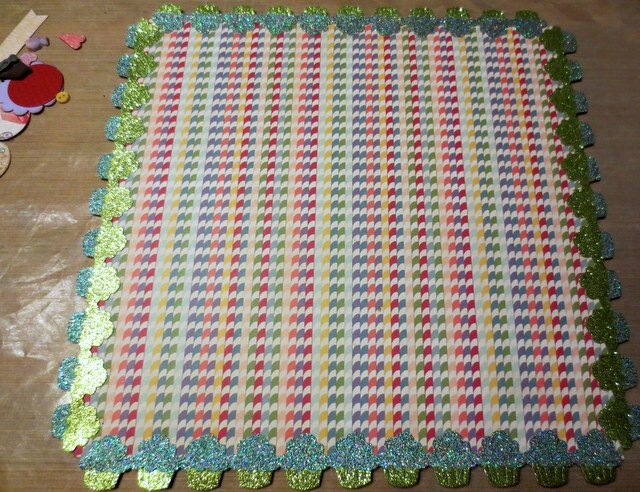 Et voici la pièce finale, le plateau et sa boite décorée sur toutes ses faces, et les petits embellissements gourmands fait en pâte Wepam ou Fimo. C'était la première fois que je m'y essayais, franchement j'ai trouvé ça hyper facile et rigolo!!! Je n'ai pas de photos de cette étape par contre, désolée… Je ferai peut-être un post spécial un jour sur ce type d'embellissements!
And here are all the finished parts and the final piece, the tray with the box decorated on all its sides and the small gourmet mini-cakes and sweets made using Polymer pastes (Wepam and Fimo). First time I tried to do some embellishments in Polymer, I found that really easy and funny to do!!! Sorry, I forget to take some photos at this stage... Maybe one day I will do a special post on this type of embellishments!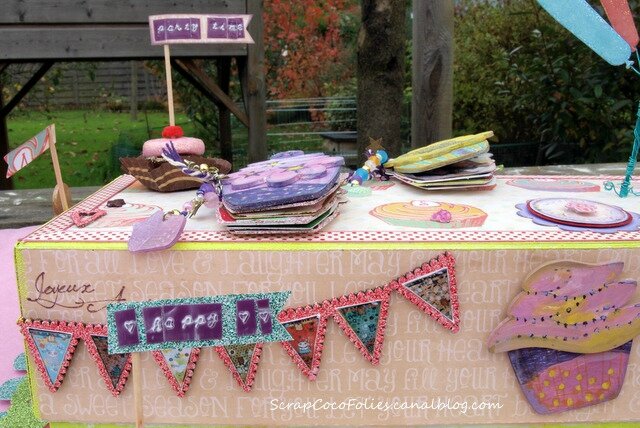 J'ai embossé à chaud (en Rose Enamel) ma petite bannière de Tando, et j'y ai collé des photos miniatures de la bannière de fanions que j'ai aussi réalisé pour l'anniversaire de mes filles... une combinaison assez sympa! :)
Vous avez peut-être aussi reconnu les deux petits albums en forme de Cupcake que je vous avais montré il y a quinze jours dans ce post?... J'ai collé sur l'arrière et sur le couvercle de la boite des bouts de Velcro, ce qui me permet de les retirer facilement pour les ranger !
I heat embossed with Frantage aged rose embossing enamel my small banner, also by Tando. I glued on each flag a tiny reproduction of an extra-large banner of flags also created for the occasion... That was a perfect combination as I had exactly 7 scalloped flags in both banners! :)
Did you also also notice the two Cupcake albums showed a couple of weeks ago in this post?... I put on their back and on the lid of the box a few bits of velcro. By this way I can easily withdraw or affix them as desired!
J'ai utilisé le restant de mes chipboards Cupcake pour décorer les faces de ma longue boite, combinés à quelques jolis tampons de La Scraposphère... Je les ai peints dans différentes couleurs.
I used the remaining Tando's Cupcakes from the grab bag to decorate the sides of the box, combined to a few stamped images from La Scraposphere. I used different colours of paints to embellish them.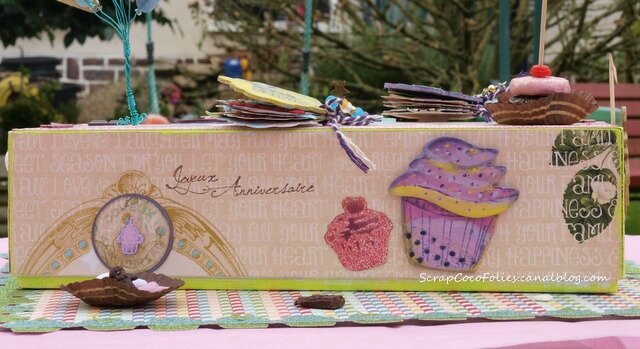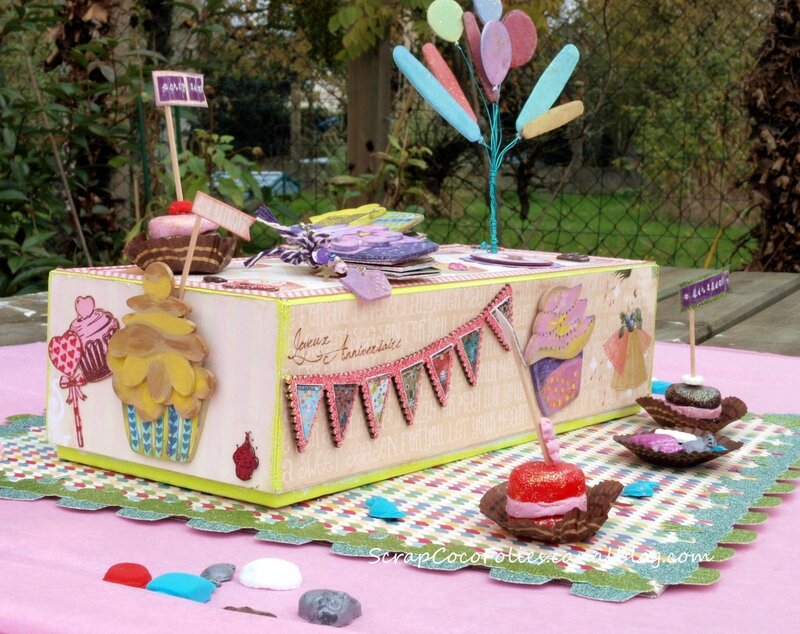 Une vue du dessus, pour finir... / A top-view to end…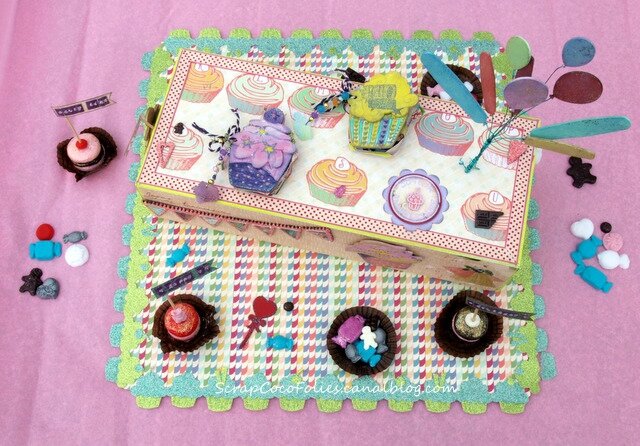 Et voilà c'est fini... J'ai refermé ma boite, avec les mini-albums et tous les embellissements Cupcake à l'intérieur. J'aurais pu extraire les ballons et les ranger aussi, mais finalement j'ai trouvé plus simple de les replier simplement. Le tout emballé dans le papier de soie rose, en attendant l'année prochaine!
At the end..... all can be stored in the box haha! :-) Even the balloons can be withdraw if needed.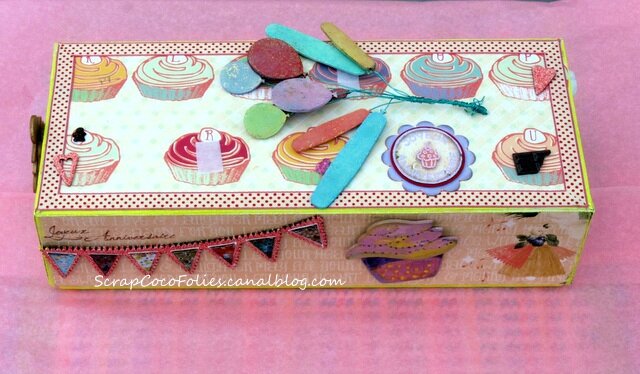 J'espère que ce projet vous aura plu, même s'il est pas spécialement de saison... Cela dit, je pense qu'on peut tout à fait l'adapter pour en faire une belle déco de table de noël!!!
Avant de vous quitter, je vous montre rapidement la bannière de fanions en papier que j'avais aussi fabriquée pour l'occasion. Comme je l'ai dit, j'ai remis une reproduction de ma guirlande sur le devant de ma boite, pour que mes deux minettes en profitent plus longtemps!
Hope you like this funny project, even if is not a Christmas one... But I think it can easily be adapted to do a beautiful Christmas table, don't you think so?...
Before leaving, here is some photos of the large banner I also created in complement...
Produits utilisés de la boutique Tando Creative / Products from Tando Creative:
Thank for your visit and lovely comments, they are always so much appreciated!
See you soon here and there on Craftyblogland... Hugssss
Merci de votre visite et de vos commentaires toujours autant appréciés! A bientôt sur mon blog ou ailleurs... Bisousssss
Coco xxx
Commentaires sur Fête d'anniversaire et ses décos / Birthday party and its decorations!!