12 décembre 2013
Bonsoir!! Evening all!!
Merci à toutes celles qui ont bien aimé mon dernier projet de fête d'anniversaire, et qui ont pris le temps de me laisser un petit mot... Je ne suis pas sure d'avoir fait l'unanimité avec ce projet, en particulier chez nos amis anglosaxons, car sur le blog de ma DT Tando, il y a eu très peu de visites et presque pas de com' ni même de "j'aime" ce jour là... Voilà, une petite considération un peu tristounette et des sentiments en demi-teinte ce soir sur le rôle de DT, pas toujours facile de l'être car on donne beaucoup de sa personne et l'on n'a pas toujours le retour que l'on aimerait ! Mais bon, je continue l'aventure car je me fais plaisir quand même bien sûr, ainsi qu'aux personnes qui m'ont fait confiance et à toutes celles fidèles à mon blog qui apprécient ce que je fais dans l'ensemble malgré tout (du moins j'espère Lol!). C'est l'essentiel !! :)
Je passe en coup de vent ce soir... J'ai beaucoup de choses à vous montrer, et pas seulement des projets personnels... Ce soir, je partage avec vous une série d'ATCs que j'ai reçus en échange des miens, faits pour ma part sur le thème d'Halloween car j'étais en plein dedans à l'époque où je les ai faits !!
At first I'd like to say thank you to all of you that liked my last big birthday party project and took time to leave a comment... Sadly, I did not get unanimous approval on this one I guess, on my DT Tando's blog there was very few visits and neither any comment nor even any "like" the day of publication... We don't have many comments usually on tando's blog, but this time it was even worse Lol!!! Maybe it's just because it is a bit out of season... or maybe it was just considered as an ordinary or conventional project, don't know in fact. In the absence of feedback we can imagine anything!!! Well, being part of a DT is not an easy task every day as we give a lot of ourselves to do our very best, and we do not always receive in exchange as much feedback as we would expect sometimes! :)
But I love the venture, and I love the friendly people that regularly and kindly continue to visit my blog and leave me really lovely messages, so let's go on of course!! It is the most important!... :)
Tonight I'm sharing a set of swapped ATCs. Mine are on the theme of Halloween, as all my ATCs have been done during this period of time!
Tout d'abord, un échange d'ATCs sur le forum Libertyscrap, proposé par Chouquette.
J'ai reçu les ATCs de Repart, Marinette et MCScrap: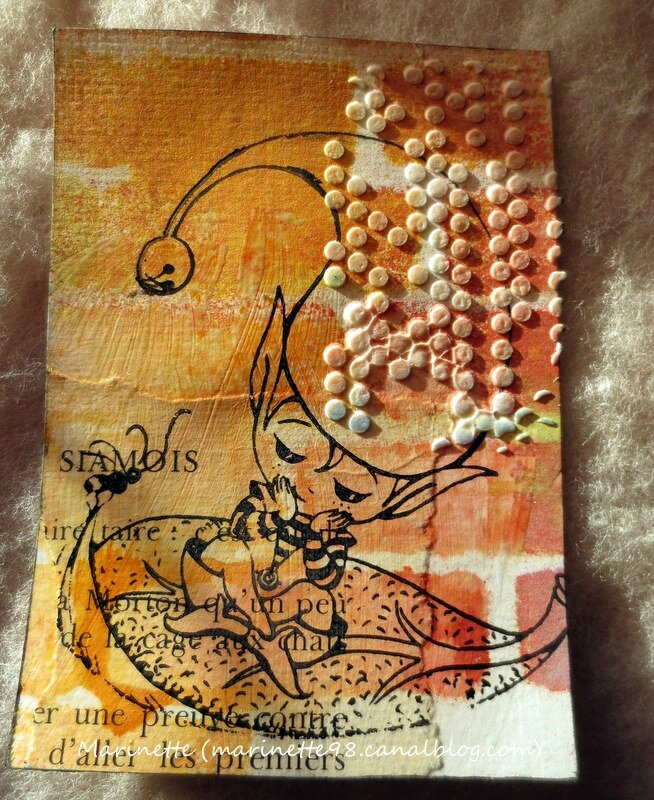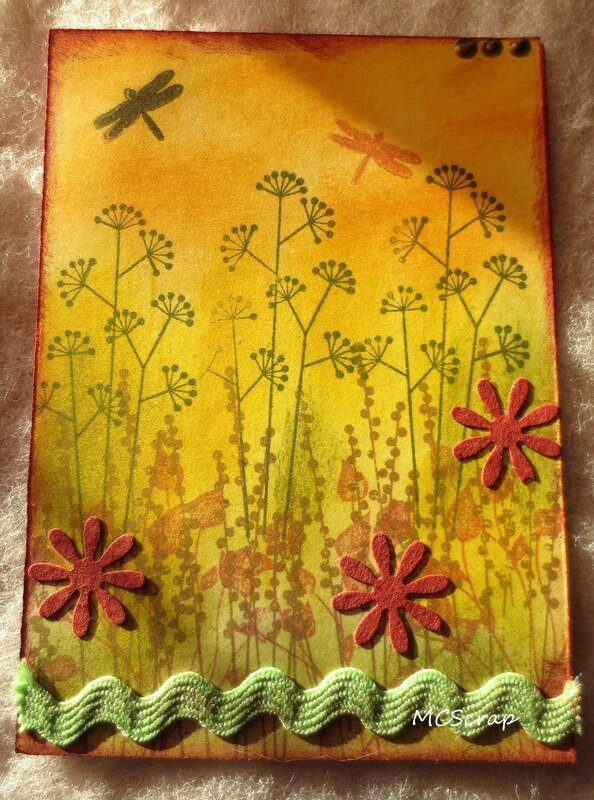 Ils sont beaux, hein?... Merci les filles !!!
En échange, elles ont reçus ces trois ATCs: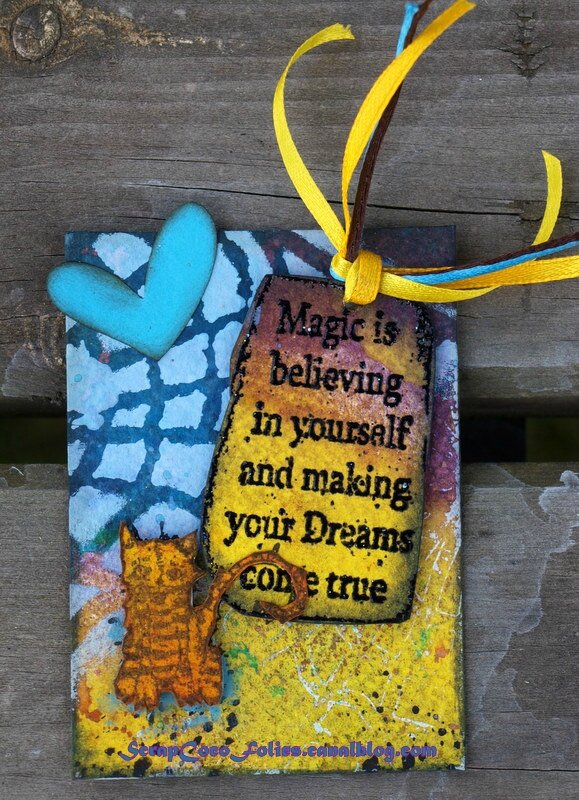 A présent, un autre échange d'ATC avec MC77, qui me l'avait demandé à l'époque d'Halloween. Je manque de temps pour en faire plus souvent, mais là je l'ai fait avec grand plaisir dans ma lancée sur ce thème qui m'amusait bien, d'autant plus que celui que j'ai reçu en retour est superbe, merci encore Marie-Christine !!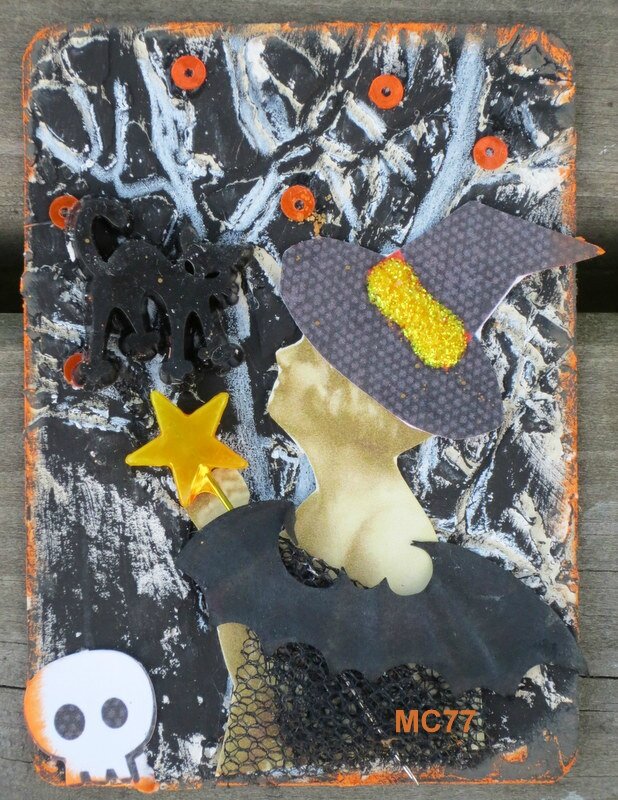 Et voici le mien, Brrrrrr hihi!! :).
Le crâne est fait avec un beau pochoir d'Andy Skinner de Tando Creative, et de la pâte de texture, + de la Treasure Gold sur les reliefs... le fond est fait aux encres et tampons, si mes souvenirs sont bons !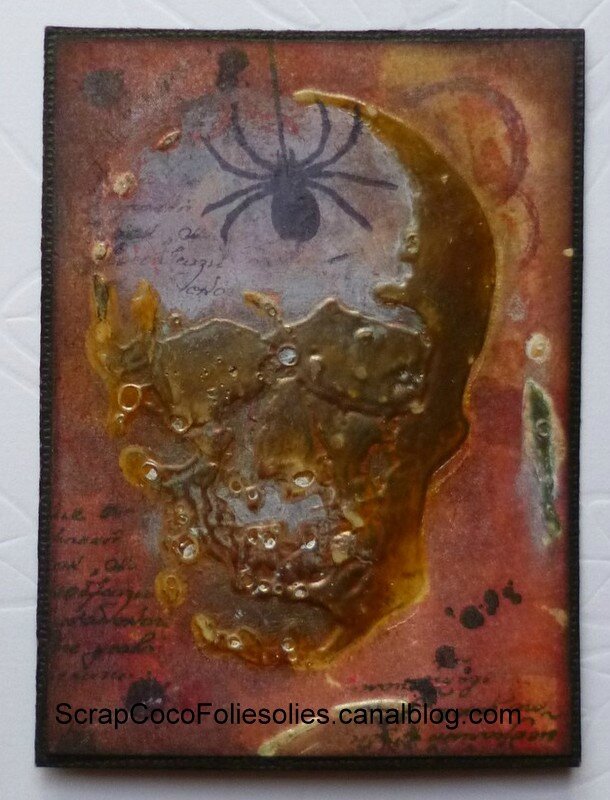 Encore un grand merci, j'adore ces échanges, et j'ai été très gâtée... :D
A tous et toutes je souhaite une bonne fin de préparatifs de noël...
Et merci d'avoir pris le temps de vous arrêter sur mon blog ! Bisesssssssssss

I wish you a good end of Christmas preparations...
Thanks to find a moment for stopping by today amongst all your festive creations and decorations! HUGSSSSS
Coco(nut)
Commentaires sur Echange d'ATCs / Swaps of ATCs