25 décembre 2013
Bonjour !! Helloooo!!

J'espère que vous vous apprêtez tous et toutes à passer une belle journée en famille !... Je vous montre une dernière petite réa festive - en dehors de mes cartes - faites pour illustrer le thème du challenge de ce mois sur notre blog de challenges Tando. Le thème est "Etincelant", et je rappelle que vous n'êtes même pas obligé(e)s d'utiliser des produits Tando pour participer ! Il vous reste une semaine, allez-y car vous pouvez gagner un lot de produits Tando Creative par simple tirage au sort... Ce serait quand même sympa comme petit cadeau supplémentaire, non? Bon, à vous de voir... en fonction de votre temps dispo aussi bien sûr :)
Pour ce post programmé, j'aimerais vous faire rêver un tout petit peu... J'ai entièrement peint et décoré un petit kit sapin de noël en carton de chez Tando Creative, qui est absolument magnifique, même brut. Sa taille est d'environ 30cm de haut. Je l'ai voulu volontairement assez sobre, car il est si beau qu'il se suffit presque à lui même ! J'ai seulement ajouté des petites boules, des bottes de noël et des 'tits cadeaux.. Je vous le montre en même temps que mes décos faites l'an passé, et mon vrai sapin !... ça vous dit??... Installez vous bien car il y a pas mal de photos !
Hope everyone is ready to have a sweet and wonderful day with the family! I'm here with a last festive project - except my cards - for my Design Team contribution to this month's Tando challenge. The theme is "Let's Sparkle" and this is the last week you can enter it. We're looking for a bit of sparkle on your projects, it can be anything you wish and it can include or not Tando products, if you don't have any of them you can still participate... It would be great to see you there my regular followers who I love (and the not regular ones too of course Lol!), it's still time!!
For this scheduled post on the Christmas day, it is my hope to make you dream a little bit... I painted and decorated a small 3D Christmas tree from Tando Creative, which is really awesome, even in unprocessed cardboard. Its overall size is approx. 30cm high. I volontarily let it quite sober since it is so beautiful already by itself! I just added small baubles, mini gifts and other festive decorations, all by Tando. Here are some photos of my 3D Christmas tree and its set of baubles and other decorations, among some other festive projects I did last year, all put on my sideboard... You will see also my true Christmas tree beside. Apologies in advance for this post being photo heavy, I really do not expect you to take in all the photographs with you all being so busy yourselves... But hope you will like them anyway if you decide to make a short break in your preparations...

ça ne se voit peut-être pas trop sur la photo, mais j'ai peint mon sapin de deux verts différents !!! Les panneaux vert sapin sont alternés avec des panneaux vert pomme...
For more interest, I used two different shades of green (one light and one deeper) to paint my Christmas tree and I alternated the panels when mounting my tree.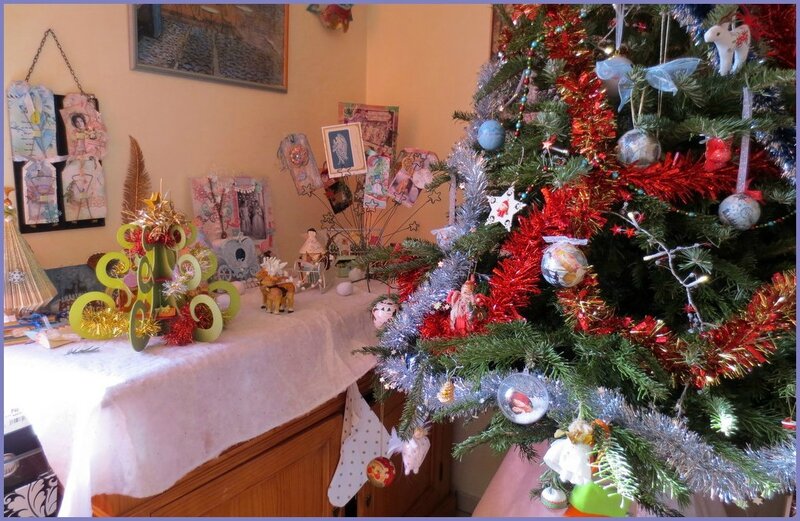 Gros plan sur les décos de mon petit sapin...
Some close-ups on its decorations...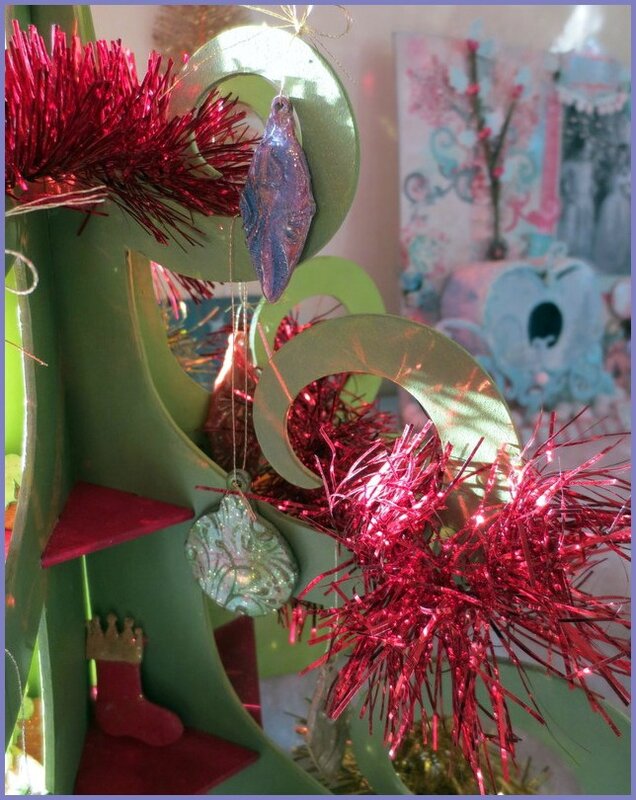 Sur cette photo, vous avez peut-être reconnu (à l'extrème droite) la mini scène d'hiver que j'ai fait récemment avec un autre petit kit Tando Creative, une réa que j'ai détaillée ici. Et mes petits rennes, je les avais montrés et expliqués en détail là si jamais vous êtes intéressés par les voir en plus grand, avec le traineau.

On this photo, did you recognize at the right-most side the mini winter Scenelit done with another fab 3D product by Tando and showed recently?.. I have detailed this project here. and for my small deers already created last year, you may want to learn how I painted them. If yes, hop over here to have the details.
Et voici l'ensemble de mes petites décos....
Here is the whole set of my mini decorations...
Pour faire mes boules je me suis carrément inspirée de celles de Glenda - la propriétaire des tampons de marque Chocolate Baroque - tellement j'avais été bluffée et subjuguée par les siennes !! Vous pouvez les voir ici si vous voulez. Du coup j'ai craqué sur les mêmes tampons que ceux qu'elle avait utilisés, pas donnés bien sûr car ce sont des tampons d'art, mais ils sont vraiment géniaux et se prêtent à toutes les fantaisies !
J'ai encrés mes boules à plusieurs reprises, embossés à chaud et tamponnés dans l'UTEE (Clear) encore chaude... J'ai aussi ajouté un peu de Perfect Pearls et de Treasure Gold sur les reliefs pour les mettre en lumière.. et quelques paillettes pour la touche de brillant finale ! Bon ça parait simple comme ça... mais évidemment, ça demande un peu de temps quand même et de patience... Mais vous allez voir, le résultat en vaut la peine je pense, donc je vous encourage vraiment à essayer si vous ne connaissez pas encore cette technique !!!!
For my baubles and small gifts, I have been very inspired by my new stamps from Chocolate Baroque and the stunning and wonderful baubles showed by Glenda - the owner of Chocolate Baroque - here!!
After a light coat of Gesso, I blended all my decorative elements with my opaque inks (I used Izink inks which have a very good colour coverage!). Then I triple embossed them using clear UTEE. After that, applying Versamark at first on a selected set of stamps - to prevent bad glueing effects -, when the layer was still warm I pressed each stamp of choice from Abstract and Nature Fragments into it. Then I applied some Perfect Pearl powder in the relief which gives it a lovely shine, and also some Tresure Gold an a bit of Glitter for the final touch.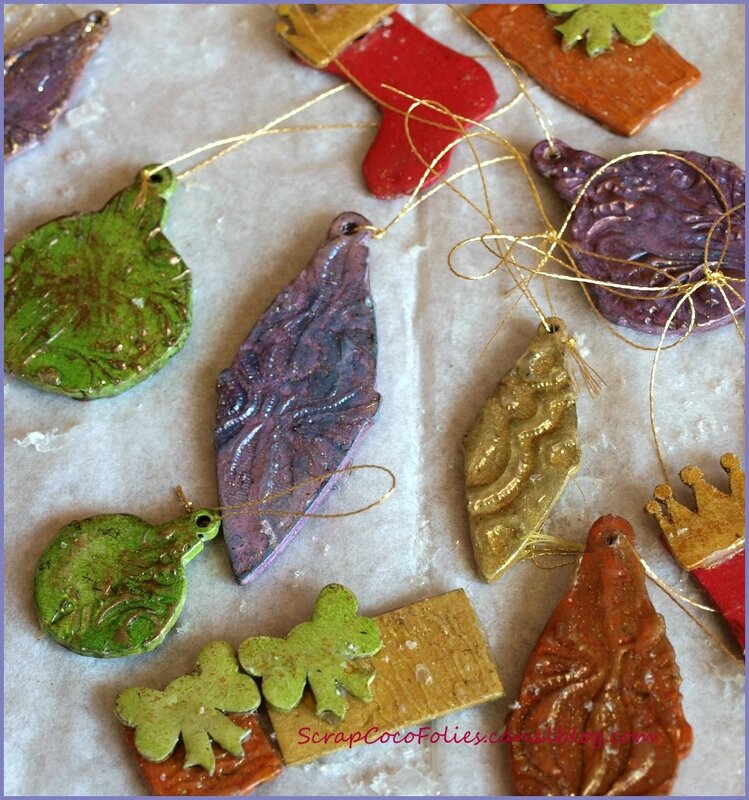 Je vous montre aussi mon grand sapin pour finir... il contient quelques-unes des boules que j'avait fait l'an passé, et deux petites boules dans les tons bleus faites par mes minettes!
Here's also my tall Christmas tree this year. It carries some of the baubles I did last year, and two small baubles in blue shades made by my girls!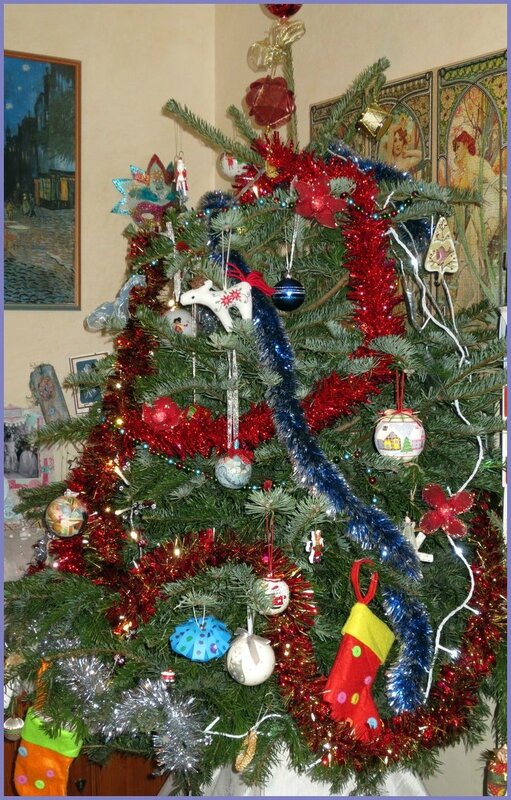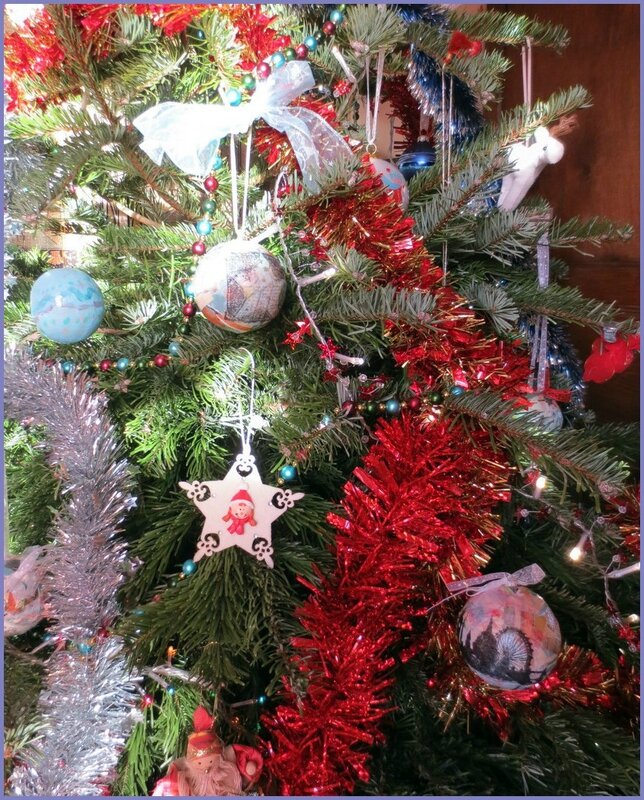 Et voilà c'est fini... j'espère que vous avez apprécié cette petite balade un peu festive sur mon blog !


Produits Tando Creative (vous pouvez cliquer sur l'image pour avoir le lien direct):

Pour finir, un grand merci pour votre fidélité à mon blog et tous les messages que j'ai reçus cette année, qui m'ont énormément boosté et fait plaisir... J'espère que vous passez tous et toutes de bonnes fêtes de fin d'année... Je vous souhaite de tout coeur un....

JOYEUX NOEL A TOUS ET TOUTES !!!
A BIG thank you for stopping by today and to all of those who have visited me over the last year! All the messages received have enabled me to progress and they mean so much for me...Hope you are having all a joyous festive Season...

WISHING YOU ALL A MERRY CHRISTMAS !!!
Coco xxxx
Commentaires sur Petit sapin et ses décorations de noël ! / A small Christmas tree and its festive decorations...!