02 janvier 2014
Bonjour!! Hello!!
Tout d'abord, tous mes voeux pour 2014, bonne année à tous et toutes!!!! la santé avant tout, du bonheur, de la créativité bien sûr, et toutes les bonnes choses que vous pourriez souhaiter... un monde meilleur, plus facile et plus juste aussi peut-être...?
J'ai deux nouvelles cartes de Noël à vous montrer aujourd'hui (et plein d'autres en attente Aie...), que je partage aussi sur le blog de Tando Creative aujourd'hui. des variantes de la précédente puisque j'ai utilisé le même tampon "Adorable Christmas Angel" de chez Crafty Individuals comme image centrale.
At first and again maybe, but it is my first post of the year so... Happy New Year!!! I hope that 2014 brings you health, happiness, creativity of course and all the the good things you may wish.... Also a more peaceful and better world maybe if possible...?
I have two new christmassy cards to show you! You can also see them on Tando's blog today. They are some variants of my previous card as I used the same Adorable 'Christmas Angel stamp' from Crafty Individuals for my central image, and the same lovely tree than before but in a larger size!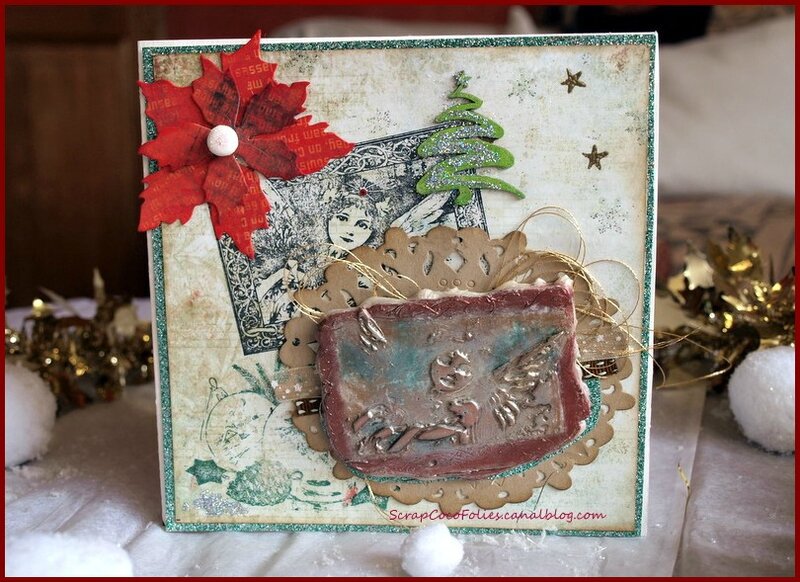 Sur cette carte-ci j'ai collé mon tout premier embellissement fait avec mon Melting Pot de Ranger ! (pour celles qui ne connaissent pas, il s'agit d'un creuset qui permet de faire fondre des poudres enamel ou de la cire... Il existe de nombreux examples sur la toile, je vous encourage à aller voir). C'est la première fois que je l'utilisais alors que je l'ai depuis pas mal de temps déjà... Ne me demandez pas pourquoi! Moi-même je me le demande encore car c'est vraiment génial ce qu'on peut faire avec cet outil, combiné avec des poudres UTEE (ou encore de la cire d'abeille (Beeswax), mais je n'ai pas encore testé...) !!! Je me suis amusée à mélanger de l'UTEE Clear et Pearl, j'aime bien la couleur finale. Je l'ai colorisé aux encres et cires Treasure Gold.
J'ai ajouté un sapin de chez Tando Creative qui me restait de ma précédente carte.
On this first card I glued my very first embellishment made using my Melting Pot by Ranger. This is the first time I had actually used my Melt Pot, don't ask me why I don't know why myself! It's great fun and I love the texture and dimension such enamelled piece gives to a project, in complement to my Tando's chippies ready for use. Be careful if you combine UTEE and stamps, don't forget to ink your stamp with VersaMark Ink before pouring melted UTEE, that will prevent any enamel sticking on your stamp.
I played with a mix of two UTEE powders: Clear and Pearl, the resulting colour is beautiful... I coloured it with inks and some Treasure Gold Gilding Wax.
I also added a single Brush Stroke medium tree from Tando as an embellishment of choice in addition to my enamelled piece of art! This tree was a remaining one from my previous card, and it was so easy to put it back here to add extra dimension.
Une seconde carte à présent, assez rapide à faire, et qui reste très jolie je trouve... Je me suis servie des restes de mes découpes de poinsettias, et j'ai rajouté un petit chipboard traîneau que j'ai juste glitterisé.. Mon ange est tamponné à l'encre Stazon noire sur un ATC en canvas.
The second one is a simple card, made in the hurry with the leftover paper of my poinsettias die-cuts. Quick and easy to do, but sometimes the less is more, and I think this card is beautiful in its simplicity, isn't it?.. As a unique embellishment I added at the bottom right side a mini sleigh from my Tando's Mini Santa's Slighs grab bag, just covered with silver Glitter. My angel was stamped using Black Stazon on a canvas ATC.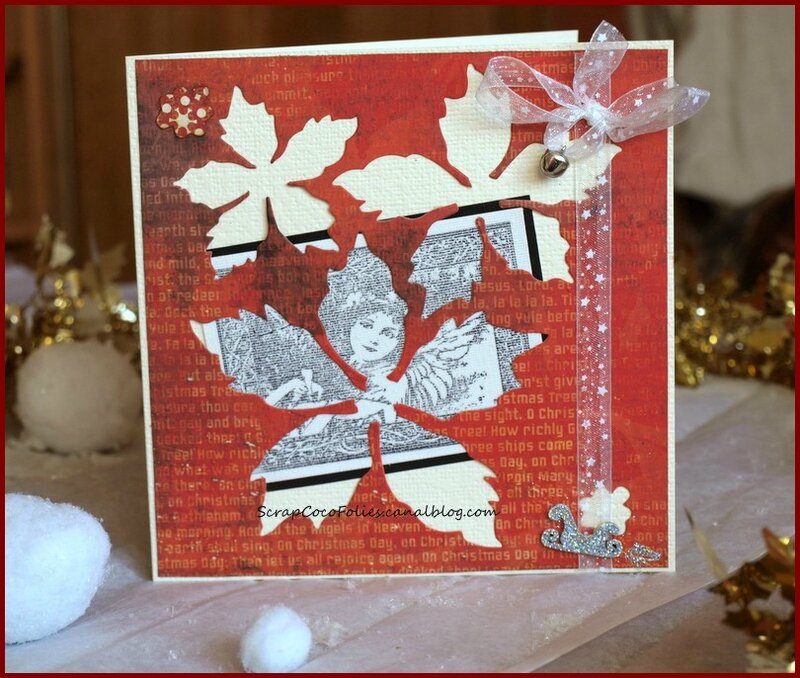 Voilà, deux cartes que j'aime beaucoup et qui sont déjà parties vers leurs destinataires... Qu'en pensez vous ?
I liked much these two cards which are flying towards their recipients... Hope you like too, what do you think?

Matériel Tando Creative: / Tando products:
Je vous remercie de votre visite, à très vite car j'ai beaucoup de choses à vous montrer... passez une bonne soirée!!! Bises
Thanks so much for stopping by, see you soon as I have a lot of things to show you... Enjoy your evening!!! Hugs

Coco(nut) xxx
Commentaires sur Deux cartes de Noël / A couple of Christmas cards