So I chose to combine it with the December challenge still open at A Sprinlke of Imagination:

a sprinkle of colour

....
a palette of the following colours: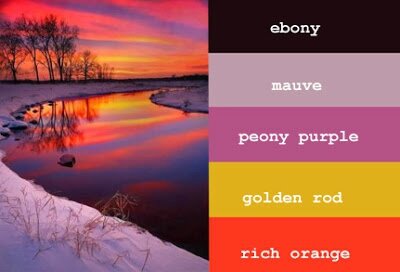 And that was the inspiration for my card and the start of my creative process! To do my background and coloring I grabbed a lot of stuff in my stash: Some Gesso - and my recently bought Pebeo painting knive with comb-shaped blades, a great texture tool! -, Distress inks, Brilliance inks, Paddy Rico Design little stick of fat inks in orange and gold, Treasure Golds Gilding Wax, White gel pen, a watercolour brush, ... As I did it in the hurry, I forget to note all the materials sorry!
Ma carte participe aux deux challenges anglais dont vous trouverez les liens ci-dessus si cela vous intéresse... Il est encore largement temps d'y participer!
Le combo imposé par celui de
A Sprinkle Of Imagination
et la technique d'ombrage requise pour celui de
Craft Stamper Make It- Take It Challenge
m'ont servi d'inspiration... Et sinon, pour faire ma carte j'ai utilisé par mal de matériel que j'avais sous la main: du Gesso, un beau couteau à peindre avec une lame crantée pour créer de la texture (de chez Pépéo), des encres Distress et Brilliance, des Treasure Gold, des petits batons de chez Rico Design en orange et doré, un pinceau à réserve d'eau... Comme je me suis dépêchée de la finir, je n'ai pas eu le temps de noter tout le matériel désolé !