20 janvier 2014
Bonjour, Hello all!
Pour commencer, merci pour tous les petits mots que j'ai pu lire déjà au sujet de mes difficultés à continuer à faire des cartes de voeux et à montrer toutes celles que je reçois... Cool! Vous devez savoir aussi que mes cartes me prennent parfois de longues heures de travail, et que je ne peux en faire à tout le monde à chaque occasion malheureusement, même si j'aimerais vraiment pouvoir le faire.
Cette semaine sur le blog Tando, le thème est libre... c'est l'occasion de vous montrer une série d'ATCs faites pour ma DT Tando Creative. Je les ai groupés car ils ont un point commun... Andy Skinner ! J'ai en effet utilisé deux de ses masks/pochoirs absolument géniaux (vous en verrez aussi bientôt un nouveau sur l'une de mes dernières réas, j'espère avoir le temps de partager tout ça prochainement).
Je vais vous faire sourire je pense car mes deux premiers ATCs sont plutôt mignons, mais les deux autres pas du tout lol!!!
Today I share with you a set of ATCs (Artist Trading Card) made a few weeks ago for my Tando Creative DT, some are cute and some others not at all!!! On Tando's blog we have a "Free For All" week again, and that was the perfect occasion to show you this series... Indeed, there is a common point between them all... This is Andy Skinner, as I used on top of each a stencil designed by this stunning Artist.
Sur mes deux premiers ATCs, j'ai utilisé le pochoir Children. Il est très beau celui-ci, d'autant plus qu'il s'adapte parfaitement à la taille d'un ATC (6,4 x 8,9 cm). Sur l'ATC ci-dessus, j'ai utilisé différemment mon pochoir, je l'ai recouvert de pâte de texture avant de le travailler aux cires dorées (PA Treasure Golds).
Si vous allez vous balader sur le blog de challenge de Tando Creative, vous pouvez voir le premier de ces ATCs sur le blog en ce moment... Il illustre notre challenge du mois de Janvier, sur le thème "Bold and Bright"... Un thème assez facile je pense, et il n'est pas trop tard pour participer, vous avez jusqu'à la fin du mois !
On my two first ATCs, you may have recognized the beautiful Children stencil... It fits perfectly the size of an ATC which is 2 1⁄2 by 3 1⁄2 inches (64 × 89 mm). On the second ATC I used my stencil in a very different way, spreading out some textured paste over it before adding some Treasure Golds Gilding Wax.
If you are a regular follower, you must have viewed this first ATC on the challenge blog too, posted by Carol last Wednesday to help to inspire you for our "Bold and Bright" challenge this month. Don't forget it, this is an easy challenge I think and it's not over!
Bon... Au chapitre des bonnes résolutions, j'en ai pris une de taille... celle de mieux m'organiser quand je scrappe, en prenant le temps de noter toutes les étapes de création au fur et à mesure (au dos de ma réa tant qu'à faire, quand c'est possible !). Histoire de ne pas tout oublier hyper vite, comme ça m'arrive assez souvent... :) Je suis contente, car j'ai au moins réussi à suivre ma bonne résolution sur ce coup-ci !! Pour preuve, la photo du dos de mon ATC, où vous pourrez lire tous les détails si ça vous dit (ben oui, vraiment trop cool hihi, pas besoin de répéter, ça m'arrange car vu l'heure je suis juste MOOOOOORTEEEEE là !!!).
Hum.... là vous allez surement bien rigoler, je me rends compte que je n'ai rien écris du tout au dos des 3 autres ah ah ah!!!
Well... As a first good New Year's resolution, I have decided to try organizing myself better and to take time to write down (directly on the back when I can) all the steps of creation during my creative process. I'm happy it's been successful this time at least!... So here's the how-to for my second ATC only (I just discovered that I wrote nothing for the others hahahaha!!!!).
I did my background with leftovers of Cosmic Shimmer (rose and violet) and Dylusions inks (red). I added texture over my Children stencil using cheap fine textured paste. I usually prefer a textured paste that dries quickly, but this time I was in no rush, so I let it dry all the night and it was okay. I covered almost all the parts with Treasure gold.
I edged my ATC with Distress Dusty Concord, and also added a bit of Mustard Seed at the top right side. The quote is from "Quintessential Quotes" by Dyan Reaveley. it was inked using Eggplant Adirondack ink on scraps of patterned paper, and heat-embossed using pearly transparent powder. A bit of intense Fuchsia colour was also added in the middle behind the children using a drop of alcohol ink (Rasberry), to add pink colour shades and extra dimension.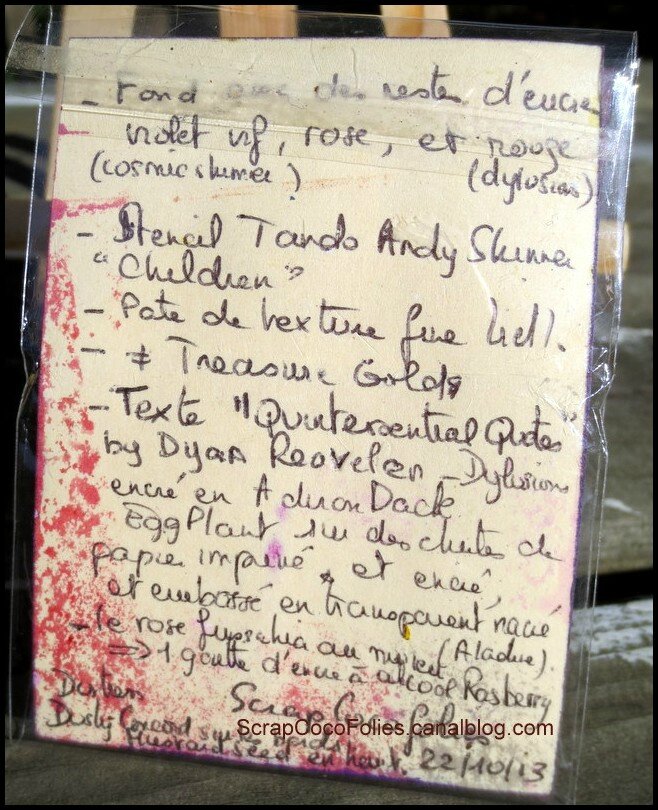 For the other ATCs, they have been done for quite a long time, being also used to mop up ink and paint remainders from other bigger projects and spillages, so even if I'd like to I couldn't be sure about all the ingredients I used I'm afraid!...
On the next ATC, I used one of my fave stencil/masks forever from Andy: Skulldugerry.

Comme vous semblez avoir bien aimé mon dernier petit ATC avec ma tête de mort, et que je ne l'ai plus puisqu'il a fait l'objet d'un swap avec MC77, j'en ai refait un autre du même style, si si j'ai osé hihi!!!! Le voici...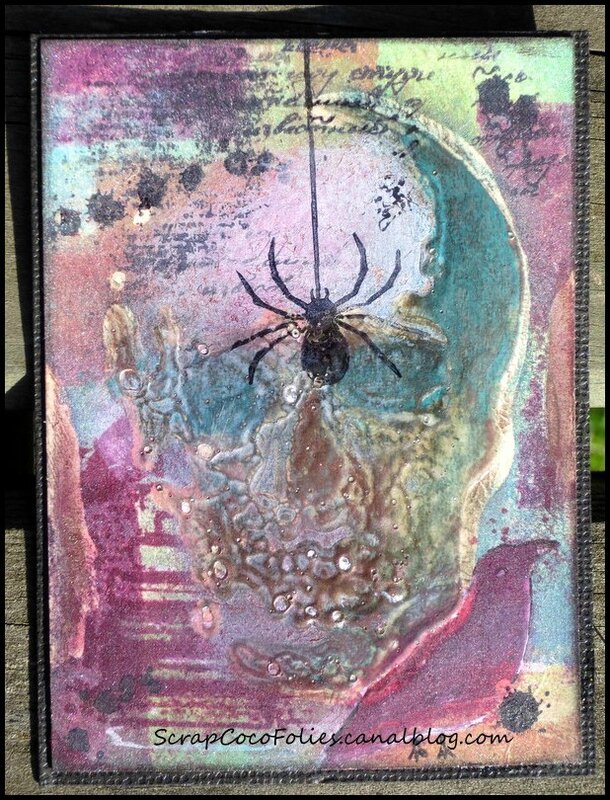 Et pour rappel, il fait l'ensemble avec celui que vous pouvez revoir ici. Sur ces deux ATCs là, j'ai joué avec ma Grunge Paste, mes Treasure Golds, différents tampons, des encres et des peintures... Je me souviens d'avoir un peu "gratté" la surface du crâne pour un aspect encore plus réaliste. Ce sont les petits trous blancs que vous voyez...
You can see again the other I made in the same style for a swap with a crafty friend on the theme of Halloween here on my blog, or on my Tando's blog post today. There are lots of (Grunge) paste, Treasure Golds gilding wax, stamps, inks and paints over them... I remember I also sanded the surface of the skull (The beautiful blank "holes" you can see here and there are done using this simple technique, done with pressure at some places to make a little hole).
Ce dernier ATC ne contient pas de produit Tando, mais j'en profite pour le montrer, il a été fait en même temps que mes crânes...

This last ATC does not include any Tando supply, but I take the opportunity to show it also as it was done in the same period of time for Halloween. I did it with some remaining inks and stamps that were lying about.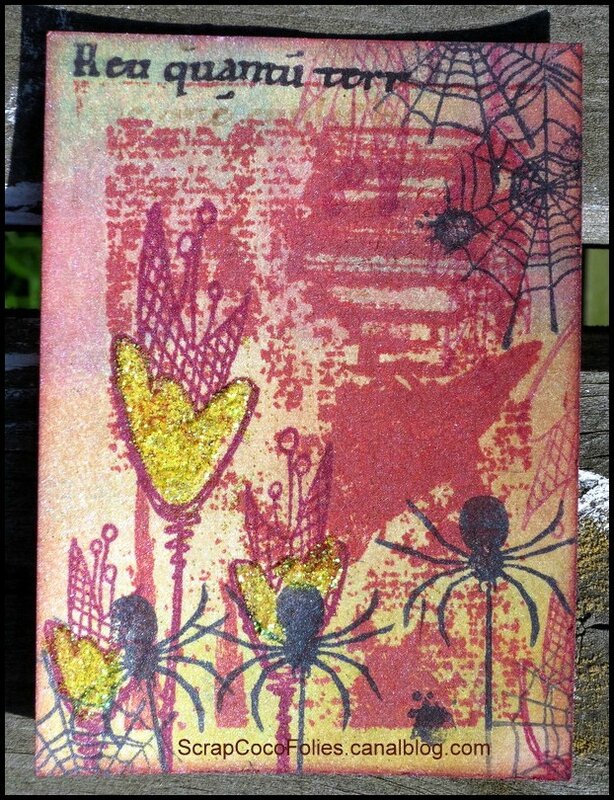 Astuce: Si comme moi vous n'avez pas encore eu le temps de vous fabriquer une boite pour ranger vos ATCs (si vous en faites), vous pouvez réutiliser les emballages de vos long dies Sizzix éventuellement, si vous en avez bien sûr.. Ils ont la taille idéale pour en ranger jusqu'à 4 !! Je vous montre en image, j'y ai mis les ATCs que je viens de vous montrer, pour les protéger.
Tip: If like me you don't have any ATC box yet and do not feel you will have time to make one in the next short while.. you can reuse the packaging of your long Sizzix dies (if you have some), they have the perfect size to store up to 4 ATCs!! Here's my strip of ATCs, I put the 4 ones I showed you inside to protect them.

Voici les produits Tando Creative utilisés:
Alors, lequel préférez-vous...? J'ai adoré les faire moi en tout cas, tous sans exception donc je n'ai pas vraiment de préférence ! Merci de votre visite, bonne journée et bonne semaine à vous tous et toutes !! Bizzzz
Which one do you prefer...? I had a great fun to do all these ATCs, so couldn't choose between them!
Thanks for stopping by and leaving a comment if you feel you would like to and have time to do it of course.
Have a great day and lovely week ahead, take care !! Hugs xxx
Coco
Commentaires sur Une série d'ATCs / A series of ATCs !