11 février 2014
Bonjour, helloooo!!
Je vous montre aujourd'hui ma première réa faite spécifiquement pour ma nouvelle DT Crafty Individuals. J'ai eu beaucoup de joie à la faire, j'espère que vous aimerez le résultat et qu'il vous inspirera de jolies cartes de romance ! C'est le thème choisi par Daniele pour le challenge de ce mois de Février sur le blog de Crafty Individuals (le blog de Jean Hardy), un challenge qui vous permettra d'économiser 25% de votre facture simplement en participant !!! En plus, si vous faites partie des coups de coeur de Daniele, vous gagnerez aussi un tampon de votre choix... Donc si vous avez ne serait-ce qu'un seul petit tampon de cette marque, seule condition pour participer, je vous encourage vraiment à le faire, ça vaut le coup, les tampons de cette marque sont tellement beaux je trouve... il y en a pour tous les goûts.
Over on the Crafty Individuals' Blog there's a new challenge running this month chosen by Daniele, with the theme 'A Fine Romance' perfect for February! Lovely choice by Daniele, I felt great joy in doing my first make for my new DT with it! If you participate you will get an incredibly generous 25% of anything you order from Crafty Individuals just for entering, and a chance of a fabulous prize in addition, being the stamp of your choice.
Pour ma réa je me suis inspirée de celle de ma scropine Cathy, qui avait suivi ce tutorial et qui a réalisé ainsi un très bel ensemble de cartes de bonne année dans leur écrin. Vous pouvez admirer sa version ici. J'ai bien aimé cette idée d'un set de cartes réunis dans une boite en papier décorée... J'ai adapté les dimensions, ma boite et mes cartes sont plus grandes.
To do my project I was inspired by the one of my crafty friend Cathy, following this tutorial. Recently she made a beautiful set of greetings cards in their box, and I liked the idea of putting together a set of cards of celebration in a showcase decorated on the same theme. I adapted the sizes as it's easy to adapt, my cards and box are larger.
Voilà ce que ça a donné chez moi, sur le thème de l'amour romantique !!!
Here is my romantic version !!!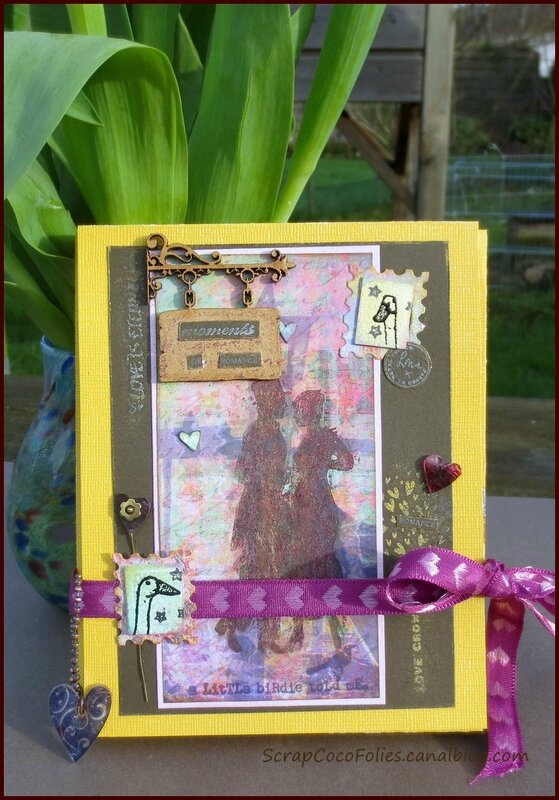 La couverture d'abord...
J'ai tamponné ce beau couple de danseurs (CI-377) sur un rectangle de papier imprimé de chez Crafty Individuals, le paper book 5 'Travels en Italy', et ça ne se voit pas trop sur la photo, mais il brille.... Je l'ai recouvert de colle glitterisée 'Sparkle Medium' (extra!) qui vient aussi de la boutique Crafty Ind. Je me suis aussi amusée à créer deux petits timbres et des embellissements en plastique fou, des coeurs bien sûr !
Ensuite je me suis lancée dans la décoration intérieure LOL! J'ai choisi une sélection de mes tampons préférés Crafty individuals et j'ai imaginé trois scènettes d'amour pour fabriquer 3 cartes, aved un petit décor comme j'aime... :) J'ai aussi décoré le devant intérieur de la boite, à l'aide des tampons CI-031 et CI-382.
For the cover, I stamped the couple dancing (CI-377) onto a large piece of Crafty Individuals 'Travels in Italy' background paper. I matted this paper onto pastel pink card after inking the edges in brown. I applied with a small brush (also my finger) Sparkle Medium in Antique Pink over the couple and on my wooden embellishment.. I used another piece of the background paper for cutting out two little postage stamp shapes using a Sizzix die. And I really enjoyed creating some lovely hearts using shrink plastic to embellish my cover!
Then I went to town with the inside! I chose a selection of my favourite Crafty Individuals stamps to imagine three lovely scenes for my cards with a small decor as I love to do... :) I also stamped the upper inside panel using CI-031 and CI-382 (directly or on separate cards as you will show next) and coloured them.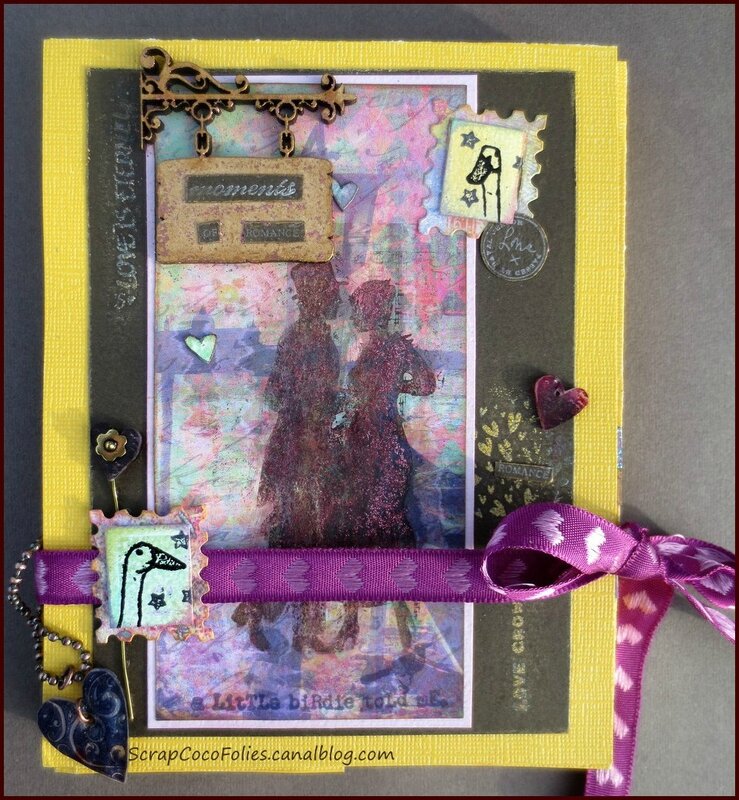 Et voici le contenu... j'y ai rangé 3 cartes doubles, et décoré l'intérieur de la boite.
And here are the contents... I put within it three double cards, and decorated the inside of the box.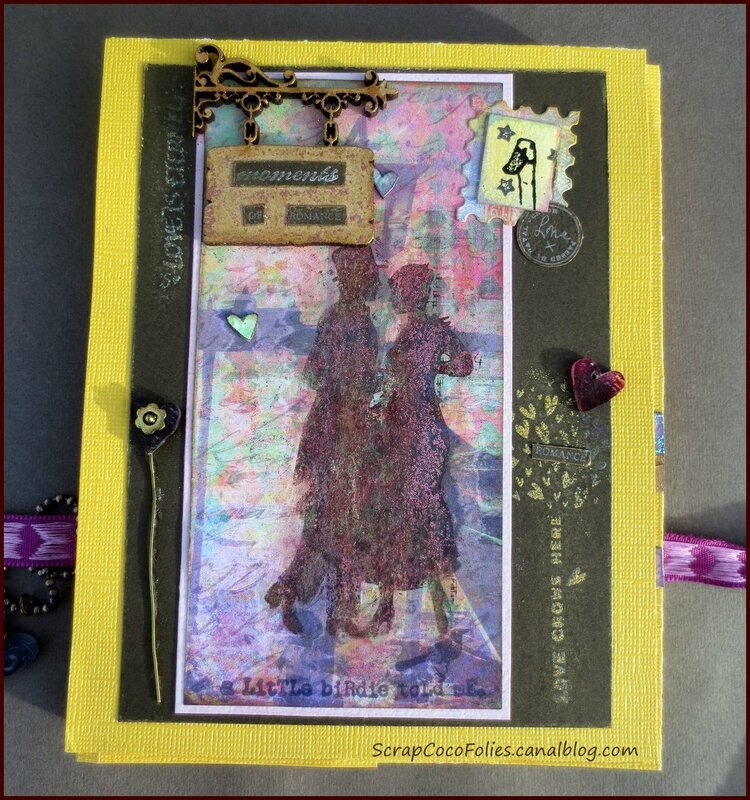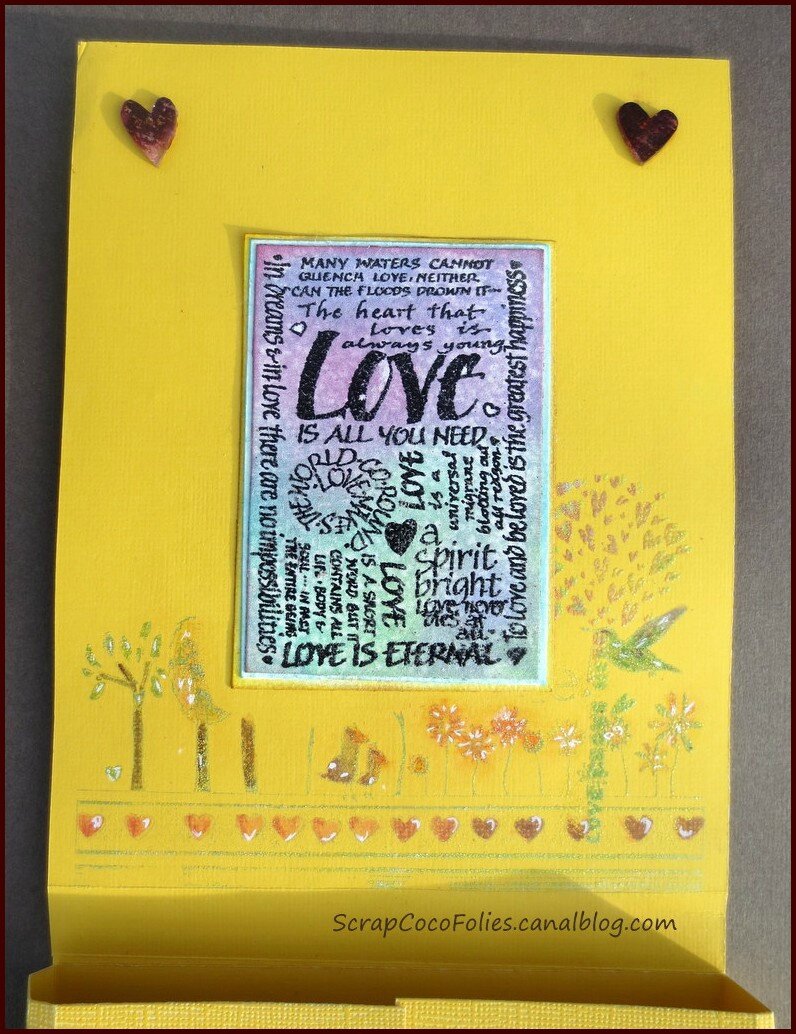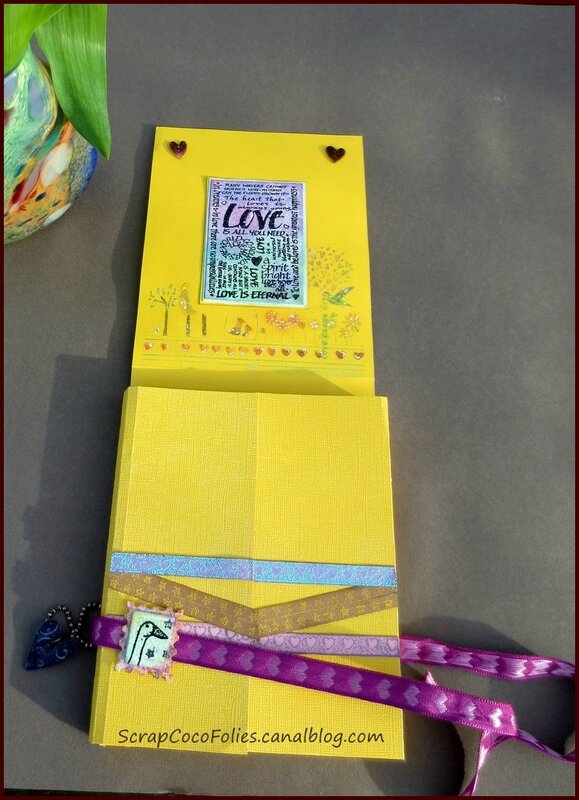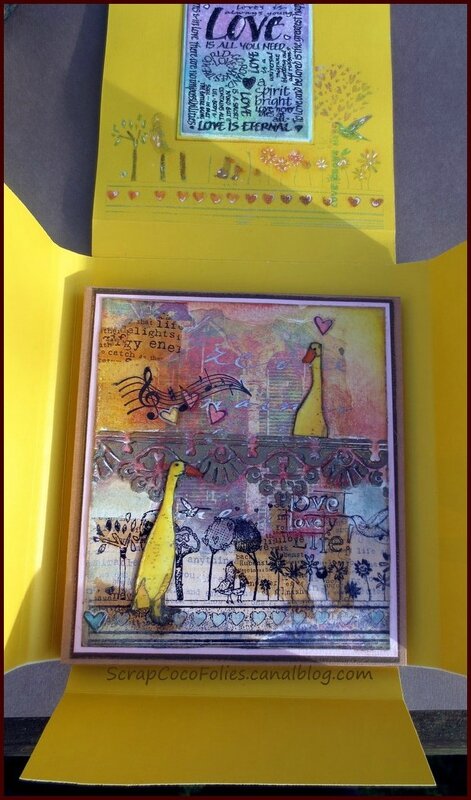 Les cartes à présent, je me suis beaucoup amusée avec mes tampons Alice Palace que j'adore !... :)
Here are the cards... I had so much fun with my Alice Palace stamps I absolutely love!... :)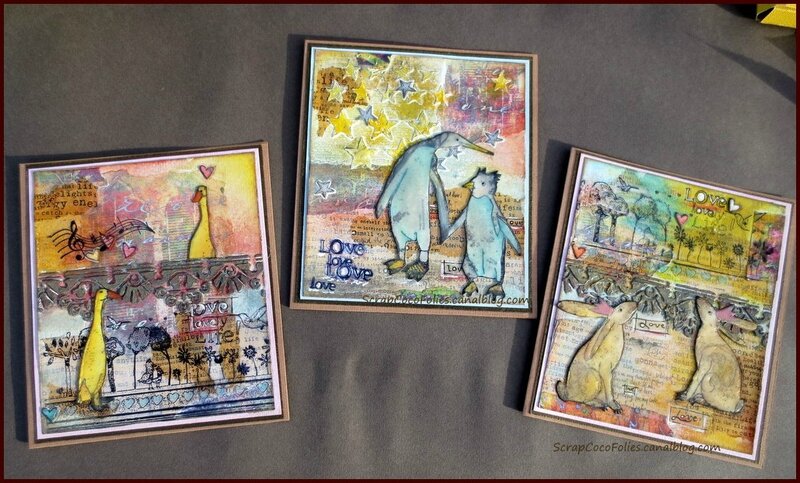 Je vous montre quelques étapes de ma création, un petit pas-à-pas principalement en images pour ceux ou celles qui aiment...
Here are a few images and details of my creative process if you want to know how I created the panels of my cards...
J'ai utilisé des chutes de papier tissu imprimé de 7 Gypsies contenant le mot 'Love' et des chutes de papier Crafty Individuals, que j'ai disposés sur du papier aquarelle et recouverts d'une légère couche de Gesso pour uniformiser l'ensemble. Et ensuite, j'ai utilisé mes Gelatos tout neufs, j'avais envie de les essayer sur cette réa-ci !!! J'ai ajouté de la texture en créant un petit balcon avec un mask bordure de chez Crafty qui m'y a fait penser. Histoire d'aider mon canard Roméo à chanter la sérénade à sa Juliette... :)))
I used a selection of scraps of patterned tissue paper from 7 Gypsies (with the word 'Love'!) and Crafty Individuals backing paper and gesso'ed them all first so they were glued and more uniform; Then I coloured them with my new Gelatos as I wanted to have a try on them too for the occasion yeaaaaah!!! I also added a bit of texture playing with my Grunge Paste, Gelatos, and a beautiful CI border mask to help my lovely male Romeo duck to sing the serenade... :)))
Ici j'ai mixé un peu de Grunge paste et de Gelatos Gris pour reproduire l'aspect du ciment.. pour batir mon petit balcon !
Here I mixed a bit of Grunge Paste and Gelatos Grey to create a kind of cement.. to build using my CI 'Beautiful Border' stencil a small balcony!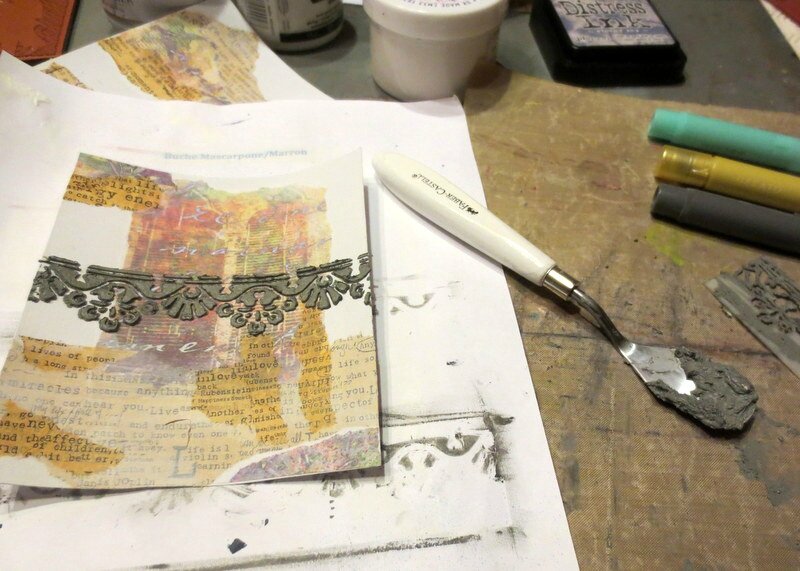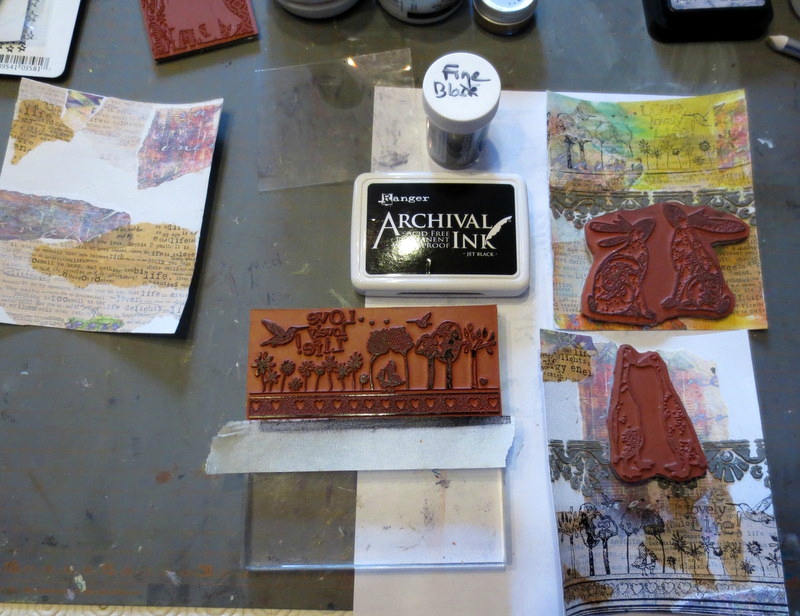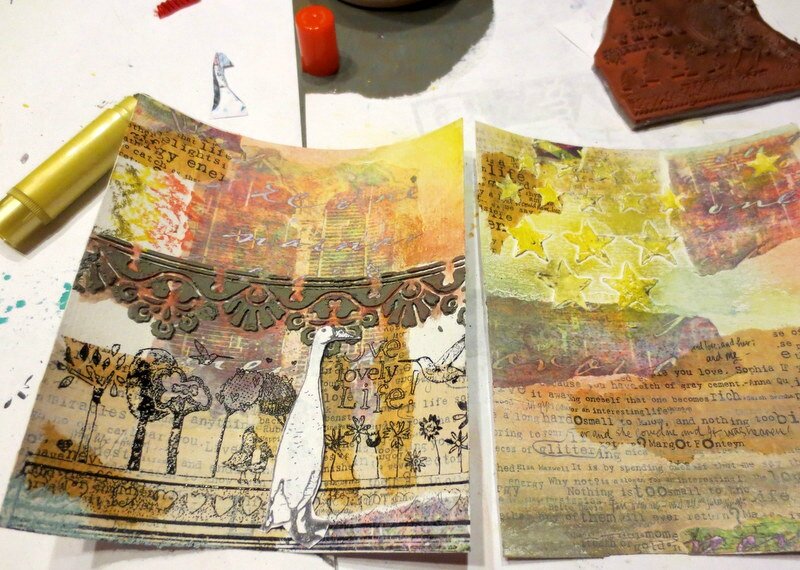 Comme je n'ai pas assez de Gelatos pour créer des nuances - et que je ne suis pas totalement convaincue par les Gelatos hum... - Jai craqué, je les ai combinés avec mes encres Brilliance et mes crayons Néocolors II héhé...
As I don't have enough Gelatos colours - and also as I'm not totally convinced by Gelatos only hem.... - I combined them with Brilliance inks and my Neocolors II pencils for more shades... at first I really wanted to play only with my Gelatos, but I cracked haha!!...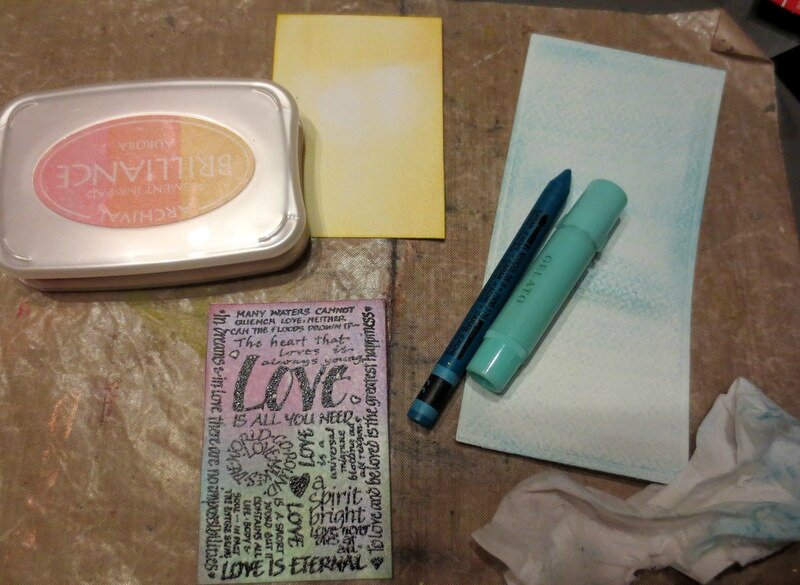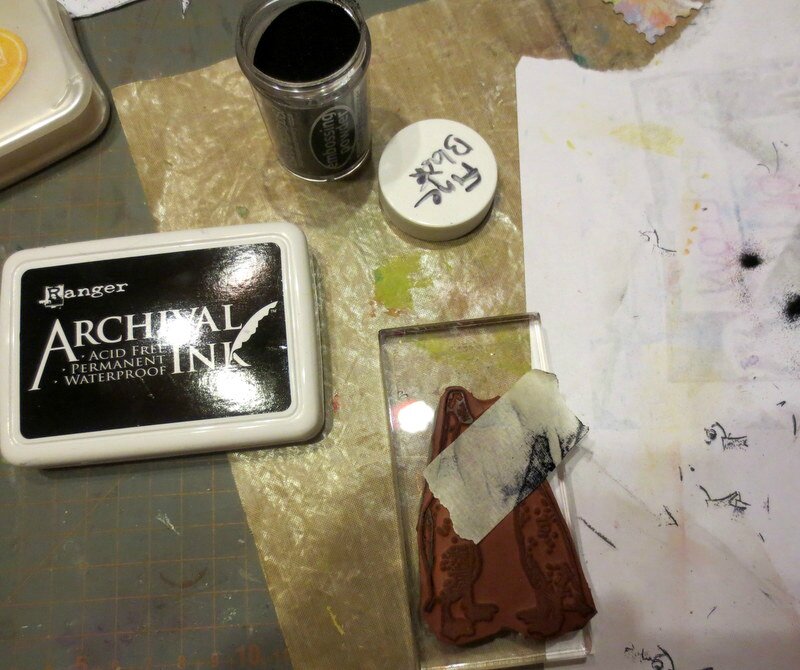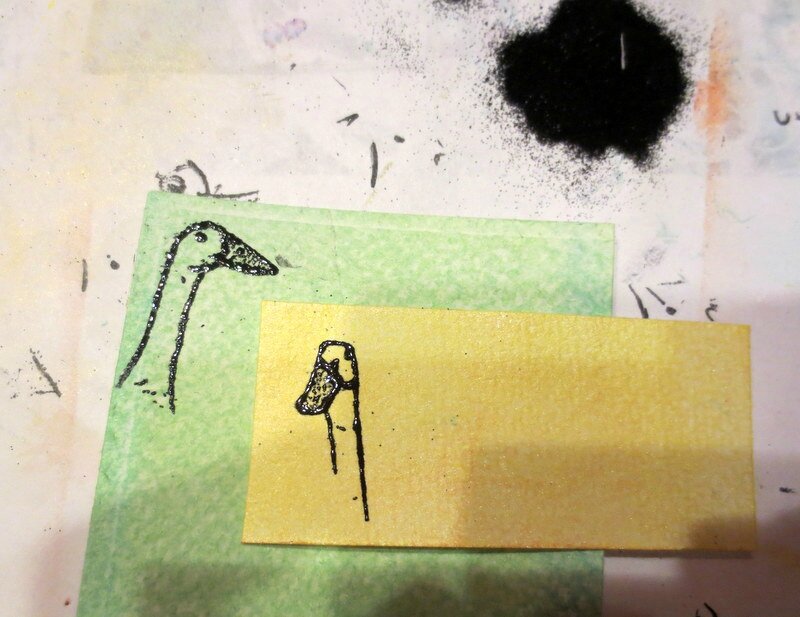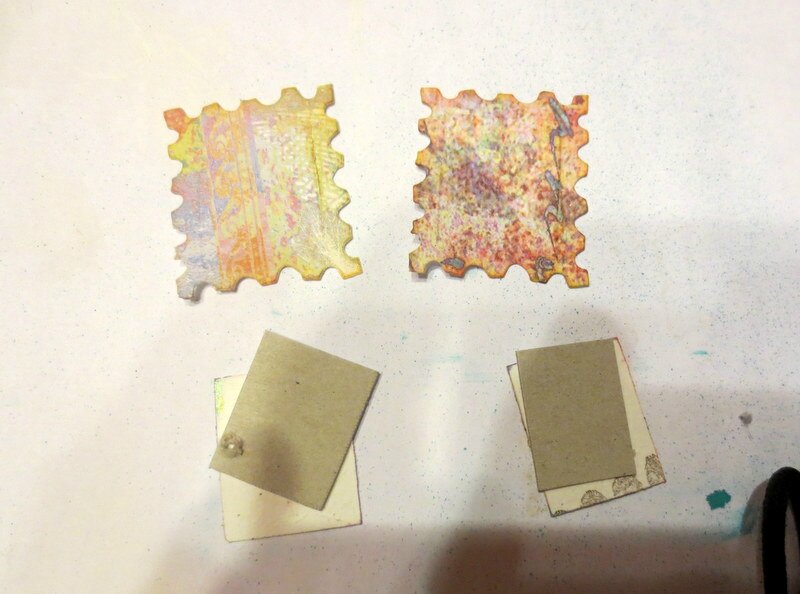 Et une petite dernière pour finir de ma carte préférée... / and a last one to end of my favourite card...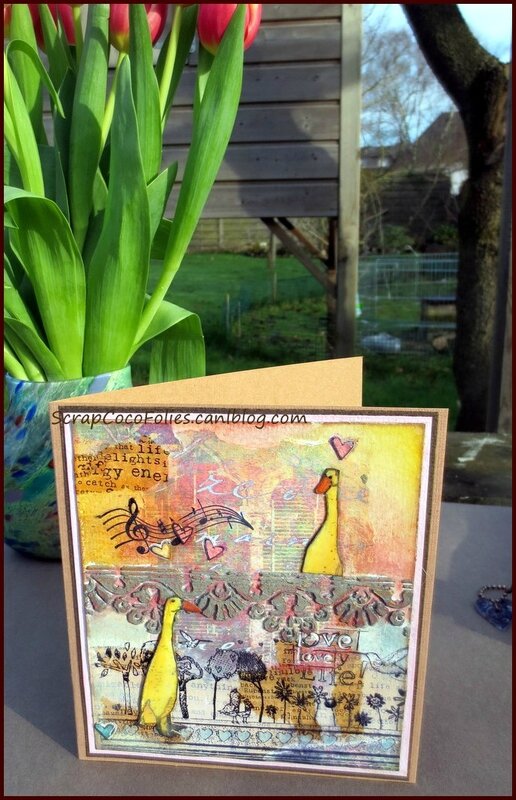 Voilà, j'espère que vous serez sensible à l'ambiance romantique et un peu naïve que j'ai voulu créer pour cet ensemble !!
Pour finir, bonne nouvelle pour celles qui voudraient tenter le challenge, il y a de nouveaux tampons Crafty Individuals qui viennent juste de sortir !!!!! Je vous faire languir un peu, je vous les montre dans un post séparé mais très vite promis... !
Bon, j'espère vous avoir donné envie de participer à ce challenge, en plus il y a vraiment de magnifiques tampons sur ce thème dans la gamme des tampons Crafty Individuals...
Hope you will appreciate this romantic and a bit naive set of cards in their box...
To end, I have wonderful news for those who would like to do the challenge, there are new Crafty Individuals stamps just released!!! I will show you very soon in a following post. And in complement, there are SO many beautiful and romantic designs in the Crafty Individuals range so I hope you will join in this month with our Romance challenge!
Matériel/Materials:
Papiers/Papers: Background Papers 'Book 5' - Travels in Italy (Crafty Individuals)
Artist watercolour paper, Kraft funday (My Mind's eye), 7 Gypsies collage tissue paper, bazzil cardtocks
Tampons/Stamps: Crafty Individuals CI-377, CI-256, CI-031, Alice Palace collection: CI-392, CI-382, CI-373, CI-372, postage freebie, Coeur baroque Florilèges Design
Pochoirs/Stencils: 'Beautiful Border' (Crafty Individuals)
Découpe/Dies: Sizzix movers and shapers die 'Mini bottle cap and stamp set'
Encres/Inks&Gelatos: Gelatos Metallic set Gold Champagne and Silver Ice, Gelatos Acqua Dolce (Faber-Castell), Neocolors II,
Archival Jet Black, Brilliance trio inks
Poudres et Glitters/Powders and Glitter glue: Metallic Gilding Wax Vintage Golden Green and Enchanted Gold (Creative Expressions), Sparkle Medium Antique Pink, Fine black embossing powder (Stampendous) from the Crafty Individuals shop
Divers/Misc: White Gesso, Grunge Paste, Palette knife, Ranger Matte Accents, plastique fou/shrink plastic, white Posca pen
Embellissements/Embellishments: Embellissement en bois (Scrapdésirs), chaine, épingle en cuivre/metallic copper pin, ruban/ribbon
J'en profite pour participer aux challenges suivants: / I wish to enter this to the following challenges:
FSC challenge #66 – Build It Up
SimonSaysStamps Monday Challenge - We Love Stamps!
Stampotique Designers Challenge SDC134 - Perfect Pairs

Merci de votre visite, et encore une fois de tous vos messages que j'adore découvrir... Bonne journée!
Thank you for stopping by, and once again for all you messages so much appreciated... Have a super day!
Coco xxx
Commentaires sur Moments of Romance - DT Crafty Individuals