06 mars 2014
Bonjour à toutes, Hello everyone,
Il fait beau aujourd'hui, ça sent le printemps et ça fait du bien!! Je vais tenter de rattraper un tout petit peu de mon retard sur mon blog... Un pari difficile en ce moment pour moi, j'espère que vous apprécierez le temps que j'y consacre et ce que je vais vous montrer. Mais avant, un grand merci pour tous vos messages précédents sur mes mail arts ou ma dernière arche pour Tando Creative, ils me boostent toujours autant et ça fait plaisir d'avoir un retour !
Hope you are seeing a little of the Spring sunshine where you are – it's lovely here today!! Well, I'd like to do some catch-up on my blog... Hope you will appreciate what I will show you. But before, thank you so much for your wonderful comments on my first Mail Arts ever made or my last arch for Tando Creative, it's still an important boost for me and they are much appreciated !
Voici 3 tags faits avec mes nouveaux tampons Crafty Individuals. J'ai eu beaucoup de plaisir à les utiliser de cette manière, dans un esprit vintage, et avec des techniques d'effet crayeux sur ardoise. J'ai offert le premier à une amie pour ses 40 ans, elle a beaucoup aimé...
Mes fonds de tag sont faits avec des Distress paints et du ruban de masquage que j'ai collé et décollé par bandes successives.. J'ai aussi découpé des tags de la même dimesion en carton épais, et collé mes 3 tags dessus pour les renforcer. C'est un peu plus de travail, mais il sont encore plus beaux comme ça je trouve, et plus solides !
Here are three tags made with my new Crafty Individuals stamps. I had a true joy and great fun to exploit them in this way a bit vintage (not usual for me), and playing with chalk effects using the technique Tim learned us through its February tag..
I made my backgrounds using Distress paints and some strips of masking tape, it was fun to do them quickly this way!... I also cut tags in strong greyboard and glued my Manila tags over them to enforce them.


Sur ce premier tag, j'ai choisi les tampons Crafty Individuals CI-405, CI-407 et le magnifique tampon manuscrit CI-406. J'ai utilisé seulement une partie d'un sentiment de la planche CI-407, et je l'ai placé au centre de mon étiquette faite avec un tampon de Tim Holz (planche Apothecary). Ma fleur est faite avec des dies sur papier kraft ciré de chez Paper Artsy.
On this first tag, I used CI-405, CI-407 and fabulous manuscript CI-406. I took only part of the Birthday sentiment from CI-407, and stamped it in the middle of a black paper small tag made using a stamp of Tim Holtz (coming from the Apothecary plate). I used Crunchy waxed kraft paper and dies from PA to do my flower.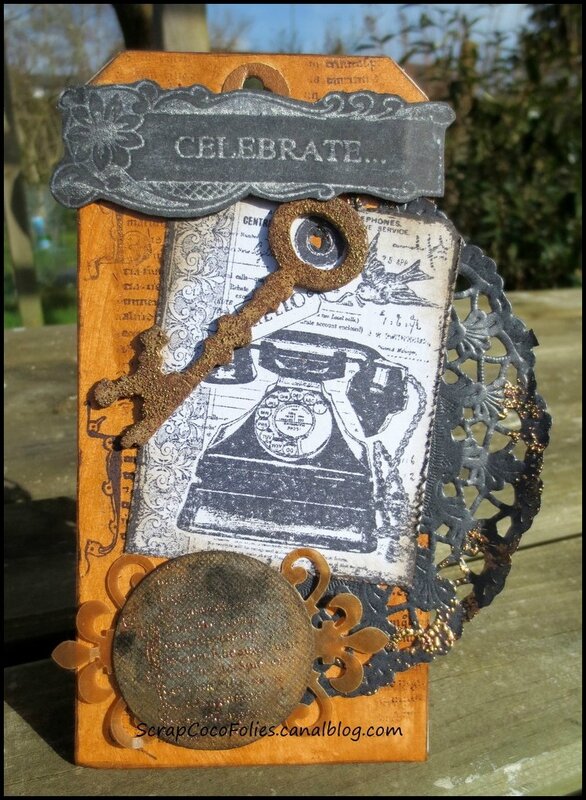 Ci dessus mon second tag avec le tampon CI-403, et un autre sentiment de la planche CI-407... J'y ai placée une clé rouillée en grungeboard travaillée aux encres distress (Walnut stain et Vintage) et embossage à chaud + papier de verre, faite il y a très longtemps! J'ai fait un peu la même chose sur le rond du bas, en utilisant mon texte manuscrit CI-406.
Above is my second tag with CI-403, and another sentiment from my CI-407 stamps plate.. I put as embellishment an old rusted key in Grungeboard previously die cut with my Tim holtz Sizzix 'Hardware Findings' Bigz die, coloured with walnut and vintage distress inks and heat embossed and a bit sanded, made a long time ago! I gave the same effect to my round at the bottom, using my Manuscript text CI-406.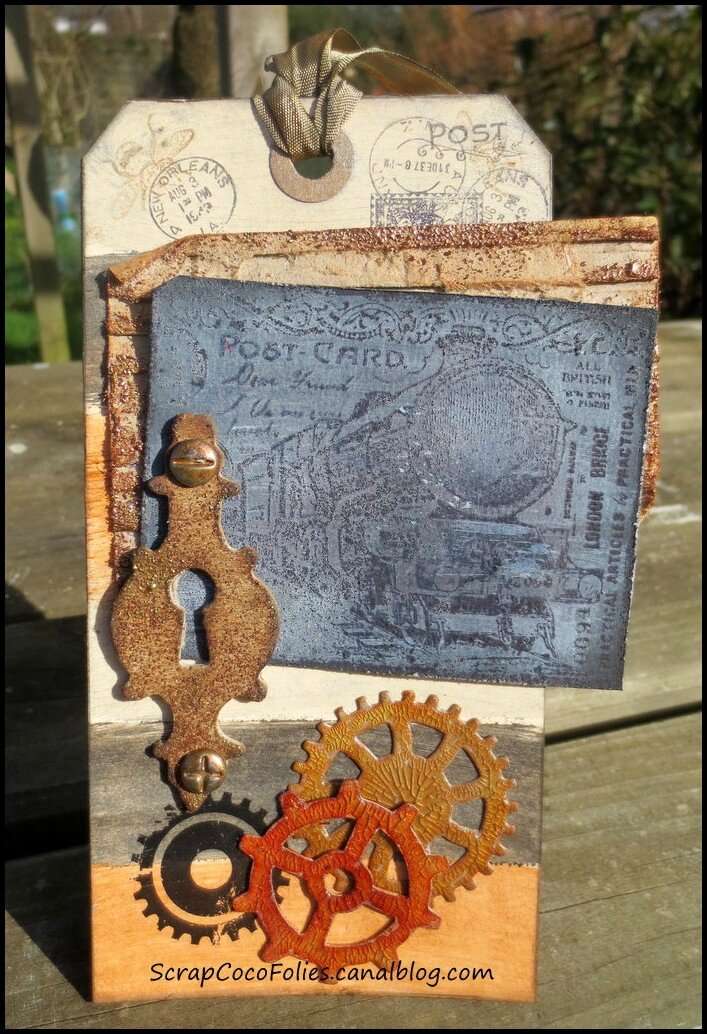 Et voici le 3ème, avec le tampon CI-404. J'y ai mis une serrure rouillée, et des embellissiments engrenages sur lesquels j'ai appliqué du Crackle Accents... la petite abeille et mes tampons postaux aussi sont de Crafty Individuals, ce sont des tampons offerts en cadeau par Jean et Malcolm en remerciement de commandes que je leur avais passées. Vous en trouverez souvent dans votre paquet avec vos articles si vous leur passez commande à votre tour!
Here's the third tag using CI-404. I put a rusted lock and gears with Crackle Accents over them... The small bee and postage stamps are all from Crafty Individuals, they are freebies offered by Jean and Malcolm with some previous orders.. They very often add free gift stamps within the parcels, you will likely receive also such goodies if you place an order in your turn!


Une petite photo des trois...
Addition of the 9th of March: I'd love to enter my three tags at the inaugural challenge at A Vintage Journey!!! If you love Vintage, you must rush off this new blog.. For the challenge, it's very simple, we have to use any of the Tim Holtz products! Thank you Brenda (and also Alison as I'm a follower of you two), I'm very happy to be able to join you for this first challenge, not sure I can do many as Vintage is not my usual style.. But I will try to play along with you as much as possible! :)
Supplies:

Crafty Individuals CI-403, CI-404, CI-405, CI-406 and CI-407
Tim Holtz Sizzix 'Hardware Findings' Bigz alterations die, Cling Rubber stamps 'Apothecary', idea-ology small gear, Grungeboard numbers
Distress paints brushed pewter, Antiqued Bronze, Black Soot
Distress Stain Picket Fence, Distress inks Walnut Stain, Black Soot, Vintage,
Versamark, Hero Arts ink Unicorn, Archival ink Jet Black,
Ranger Crackle Accents, Masking tape, Distresser, Foam tape, craft sheet, heat tool, ink blending tool, grungeboard, scissors, paper distresser, chalk, #8 manila tag, black cardstock
Antiquities Frosted Crystal, Copper (Aladine), Gilded Gold (Antiquities Ranger Ancient Gold)
Two Screw Brads, Graphic45 stickers, trimmings...
Vous aimez?... ils sont tous un peu différents, j'ai beaucoup aimé les réaliser! Merci de votre visite, je file casser la croûte.. :) Bonne journée!!!
Do you like these tags?... A little different and loads of fun! Thanks so much for stopping by. xxx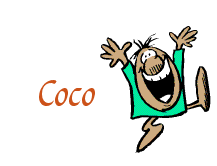 Commentaires sur Three vintage Tags - Crafty Individuals + First challenge at 'A Vintage Journey' !