26 février 2014
Bonjour, Hi,
Je partage avec vous une arche pour ma DT Tando Creative, c'est la dernière qui me restait des 4 de mon kit 'Layered boat with oars' de chez Tando que j'avais décorée ici. Pour ceux ou celles qui ne viennent pas régulièrement sur mon blog, vous pouvez aussi découvrir là deux autres versions de cette même arche, le style est très différent mais les couleurs sont complémentaires, du coup j'ai réuni les 4 sur un support métallique de chez Truffaut et je les ai les posé en déco sur mon buffet, je suis contente !
Le thème du mois sur notre blog de challenges est "PASSION"... J'ai pris énormément de plaisir à jouer avec ma Grunge Paste et mes Treasure Golds, et à les appliquer sur le plus beau pochoir de visage de femme que je connaisse, le mask Baroque... J'ai aussi utilisé mes peintures Fresco Finish Chalks, des tampons bien sûr (la majorité provient d'une planche de 'L'Encre et l'Image'), et des encres patines Vintaj que j'ai appliquées non pas sur du métal, mais sur une petite fleur en résine (grise et jaune au départ) pour en changer la couleur... Je ne vous donne pas la liste complète du matériel que j'ai utilisé pour une fois par manque de temps, mais je vous mets quand même une petite photo à la fin.
I'm sharing an arch for Tando Creative today, it's the last one of the 4 I had as beautiful leftovers from my Tando's kit Layered boat with oars initially decorated as a boat here. If you are not a regular follower on my blog, you can also discover how I altered the two first arches there. The theme on the Tando Challenge Blog this month is "PASSION". I had tons of fun playing with my Grunge Paste and my Treasure Golds layered onto the most adorable face mask/stencil ever (Baroque) for this project! I also used my Fresco Finish Chalks paints, many stamps of course (most of them coming from a Clear plate by 'L'Encre et L'Image'), and my Vintaj Patinas inks... I didn't apply them on metal but on a small flower in resin (grey and yellow at start) to change its colours... I can't provide the exact list of supplies I used for once by lack of time sorry, but I join a small photo of almost all of them at the end.
Here are all the photos of my arch...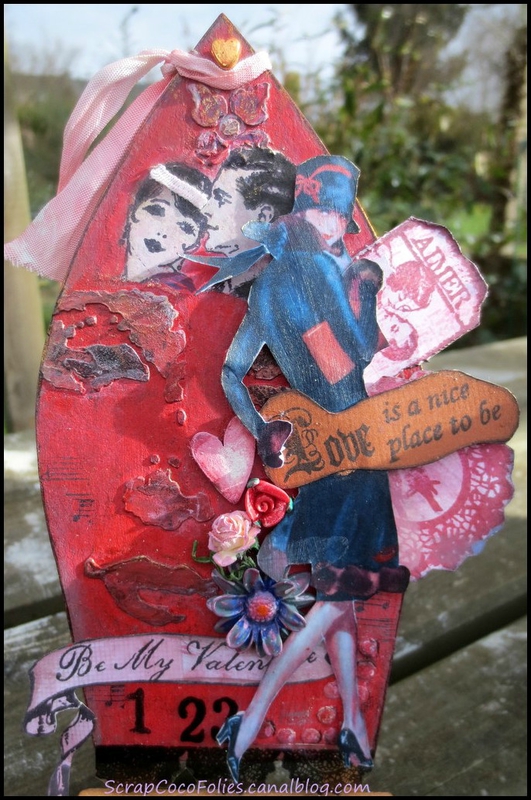 La jolie femme sur la droite provient de cette planche d'images réalisée par Laura Carson et distribuée par Alpha Stamps.
The lady on the right was cut out from a beautiful collage sheet by Laura Carson, distributed by Alpha Stamps.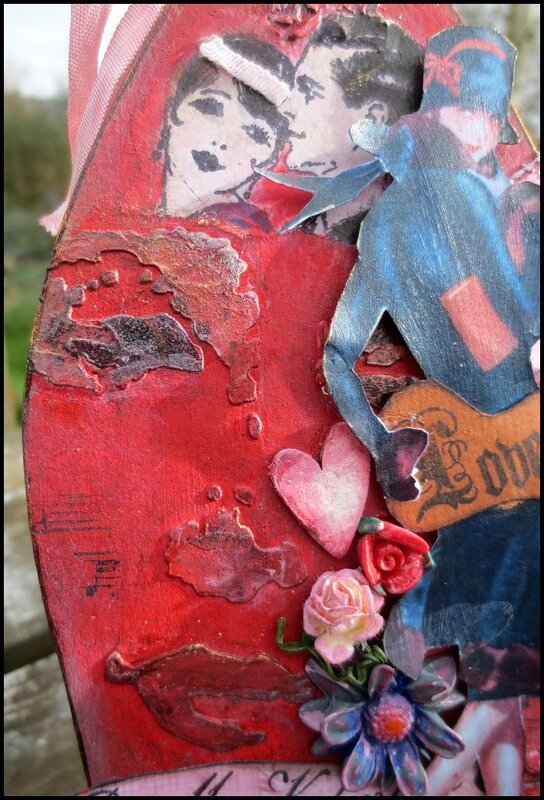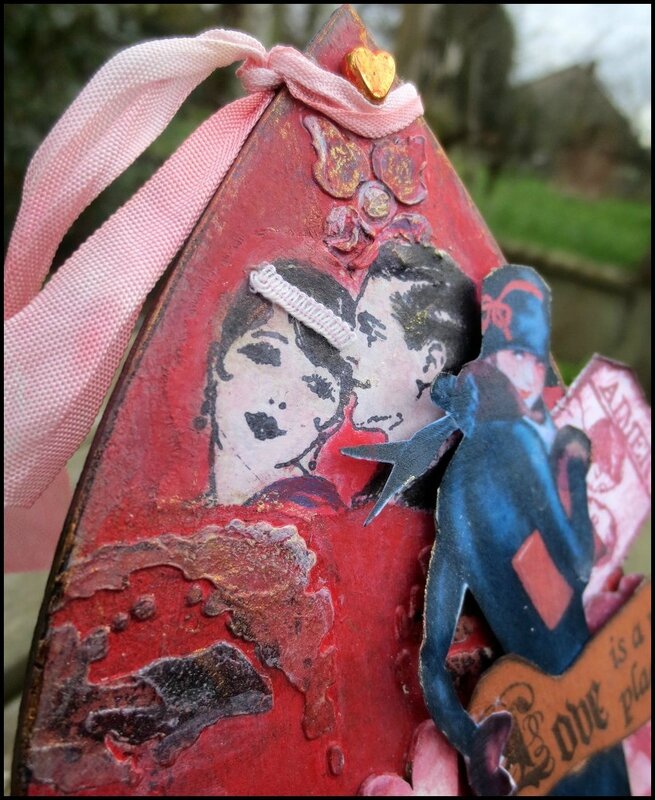 Et la petite photo du matériel... Manque l'acétate que j'ai utilisé pour ma bordure du bas, la distress Spun Sugar dont je me suis servie pour coloriser mon ruban, et la planche d'images de Laura Carson (Artfully Musing) dans laquelle j'ai découpé cette jolie femme élégante à l'allure décidée... Elle s'appelle 'Falling Leaves'. Je l'ai achetée en version électronique et imprimée sur un papier assez épais dans sa taille originale. Je vous la montre aussi ensuite, ainsi que le matériel de chez Tando Creative que j'ai choisi pour ce projet. Si cette feuille de collage vous plait, vous pouvez la commander sur le site d'Alpha Stamps qui la distribue eclusivement. En cliquant sur l'image vous accèderez directement au site. Etant fan de tampons, j'utilise très peu de feuilles de collage de ce style... Mais là j'ai fait une exception, un petit clin d'oeil à cette artiste que j'admire beaucoup et aussi je dois dire, ma manière de la remercier de son envoi d'un magnifique trio de feuilles avec ces mêmes images que j'avais gagnées sur son blog ! Et puis c'est vrai que ses feuilles de collage sont très belles, donc avis aux amateurs.
And here's the photo of the supplies... I forget the acetate sheet used for my border at the bottom, my Spun Sugar ink used to distress my ribbon, and my collage sheet 'Falling Leaves' fromLaura Carson (Artfully Musing) in which I cut out this elegant lady on the right side! I join a photo of it, you can click on it and follow the link if you like. As I'm a big fan of stamps, I usually don't use very often collage sheets, but for Laura I made an exception lol and bought three collages sheets from her on the Alpha Stamps website. It was my way to thank her again for the three fabulous leaves she sent me following a giveaway I won... And their collage sheets are gorgeous, so I'm happy to show one of them and give you the link.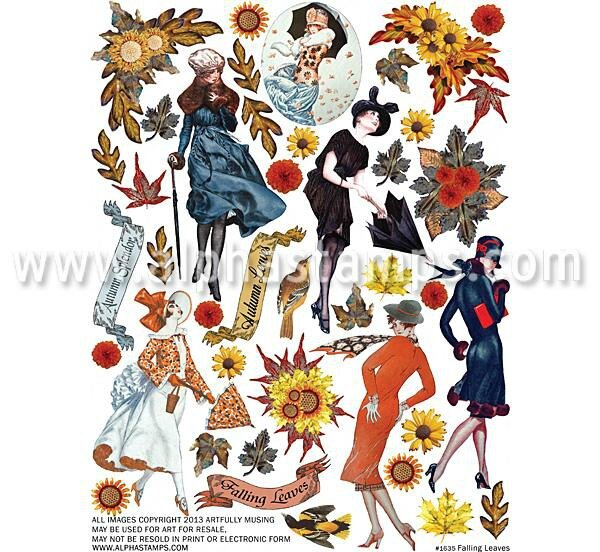 Produits Tando Creative:

Voilà, il n'est pas trop tard pour participer à notre challenge mensuel et je vous y encourage vraiment, vous pouvez gagner de beaux lots de chipboards de votre choix ! Tout ce que vous avez à faire est de mettre un lien sur votre réa sur le Blog Tando Creative Challenge. Et même si vous n'avez aucun produit Tando qui réponde au challenge, vous pouvez quand même participer. Vous avez jusqu'au 28 février minuit.. Votre réa peut aussi répondre à plusieurs challenges (un max. de 5 est autorisé), alors allez-y !!
Avant de vous souhaiter un bon mercredi, j'en profite pour vous dire aussi que je suis à l'honneur aujourd'hui sur le blog de l'Antre Scrap !!! Vous pourrez y découvrir mon interview, j'y cite notamment les artistes françaises et étrangères qui m'ont inspiré jusqu'à présent.. Encore merci à Kris pour cette interview, et à Cricri de m'avoir fait l'honneur de m'inviter ce mois-ci... Je souhaite également la bienvenue à mes nouvelles abonnées, merci de vous intéresser à mon univers et de me suivre !
Up for grabs this month are 4 pieces of Tando chipboard of your choice! All you have to do is create a piece incorporating the monthly theme and link to the Tando Creative Challenge Blog. You don't have to use Tando products, but, if you do you'll be entered into the draw twice, doubling your chances to win. We don't have many rules, as rules spoil the fun, but in order to be in with a chance of winning we do ask that your project is entered for a maximum of 5 challenges, including Tando.

Before wishing you a very happy Wednesday, I take the opportunity of my post to tell you that I have the honour to be the object of a dedicated post on the blog L'Antre Scrap !!! You will discover my interview. It's in French, but you can have a look on it if you want to know some of the artists I love who have influenced my art and works... :)
Thanks for stopping by today, for your visits and support, and for all the lovely messages I love reading! Hugs
Bises à tous et toutes, merci pour tous vos messages que j'apprécie énormément et nombreuses visites !
Coco xxx
I'd like to enter my arch to the following challenge:
Commentaires sur An arch for TANDO CREATIVE - Love is a nice place to be... / Une arche pour TANDO CREATIVE et une interview sur l'Antre Scrap !