04 mars 2014
Bonsoir! Evening all!
J'ai tellement de choses à dire et à montrer que je ne sais pas par quoi commencer!!! Tout d'abord je remercie chaleureusement toutes mes nouvelles abonnées, suite sans doute à mon passage en tant qu'invitée sur l'Antrescrap.. Merci beaucoup de vous intéresser à mon scrap et mon univers, j'espère ne pas vous décevoir! (Par contre j'aime mieux vous prévenir d'avance, je suis un vrai caméléon hihi, donc vous risquez de voir des choses parfois très différentes attention... vous avez le droit de ne pas tout aimer bien sûr! ). N'hésitez pas à vous dévoiler en me laissant un petit com' lors d'un de vos passages, je serais ravie de vous connaître, les adresses mail ne sont pas toujours explicites!!
Cette semaine je suis en vacances avec mes filles, avec un programme chargé en perspective... On a commencé par la piscine et le Mac-Do aujourd'hui, BEUUUUURK! mais elles étaient trop contentes! Je risque de déserter un peu vos blogs les deux semaines à venir par contre, je suis sincèrement désolée mais je ne peux pas être partout à la fois, et j'ai aussi en parallèle des engagements à tenir envers mes deux DT Crafty Individuals et Tando Creative, je m'en voudrais vraiment de décevoir les personnes absolument adorables (Jean Hardy and Di Oliver) qui me font confiance... Dans tous les cas je vous retrouverai avec plaisir après les vacances, c'est promis!
Well, tonight I have so many things to tell and to show that I don't know where to begin!!! At first a warm welcome to all my newest followers, I'm really delighted you decided to come on board!
I'm on Holidays this week with my girls, with an heavy planning into perspective... We already went to the swimming-pool today, followed by the Mac-Donald YUK! but they were so happy! Sorry if I can't follow you during the next two weeks as usuals but I can't be everywhere in the same time, and I have also my two DT commitments for Crafty Individuals and Tando Creative meanwhile for absolutely charming ladies (Jean Hardy and Di Oliver) who put her confidence in me... so don't want to disappoint them. I will try to catch up with what I've missed on your blogs after my holidays anyway!
Place au scrap! Pour commencer je vous montre trois Mail Arts sur envelope Kraft format A6, ce sont mes tout premiers !!! Je suis assez contente du résultat, en plus j'ai eu énormément de plaisir à lers faire pour différentes raisons... Je les ai réalisé en suivant le tuto Art Journal #2 de Darcy sur le blog Paper Artsy, je suis très contente d'avoir eu le temps de m'essayer à l'une de ses techniques de "faux tags", Darcy est une grande artiste qui fait des trucs géniaux...
Without further ado... here are three Mail Art on kraft envelopes (A6) as my very first trials in this domain! I'm very happy with the result, I had so much fun with Darcy's tutorial and all the stamps I used.... I followed her Art Journal #2 step-by-step on Paper Artsy blog (great and very clever, I highly recommend it!!!). Thanks to Darcy for her super tutorial, very fun and much appreciated.

Mes deux premières enveloppes ont été créées pour le Monumental Scrap qui sera punaisé à Version Scrap, au nom de l'association Give Your Scrap à laquelle je participe de temps en temps, pas autant que j'aimerais mais autant que possible... Cette fois leur projet me tenait d'autant plus à coeur que les réas sont destinées à l'association Docteur Sourire que j'aide aussi, tellement bien défendue par ma copinette Lety... Pour info si vous ne connaissez pas cette assoc., il y a le lien sur la droite de mon blog. Ce sont des clowns qui interviennent dans les services pédiatriques, un sujet qui me touche particulièrement.. Et si vous voulez participer au projet de GYS, il n'est pas trop tard, vous avez jusqu'au 15 mars pour envoyer une ou plusieurs enveloppes!!
I made my two first envelopes for the French association Give Your Scrap to help to promote their association. Both should be part of a Monumental Scrap in Version Scrap very soon, and next offered to the association 'Docteur Sourire' (='Doctor Smile'). They are clowns who go in children hospitals to visit the kids... I'm myself deeply involved as some of you know... so I really wanted to do something this time again for GYS.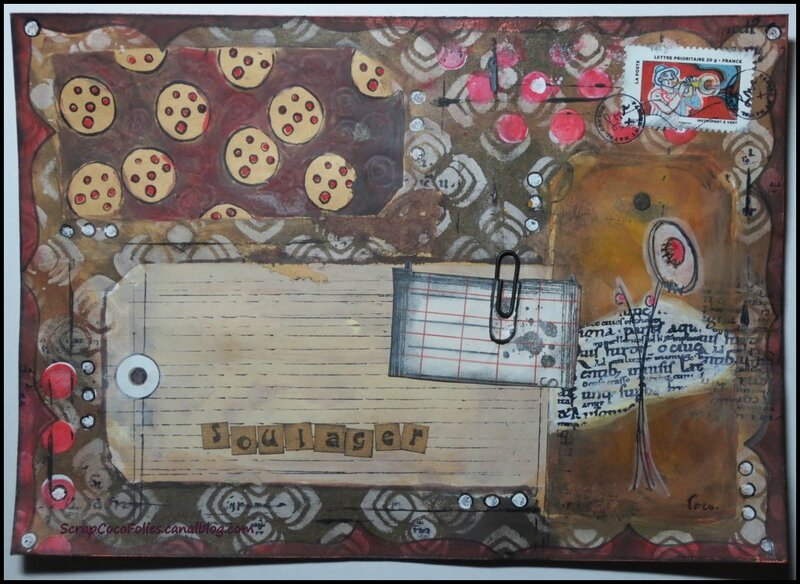 Je n'ai encore aucune des nouvelles planches de tampons PA créées notamment par Darcy, donc j'ai opté pour mes tampons JOFY (JOFY 09), et le texte vient d'un mini de la collection Ink & The Dog (MN26). Le petit rond postal 'Love' est un tampon de chez Crafty Individuals.
I don't have any of the new PA stamp plates from Darcy in particular, so instead I used my JOFY 09 and mini Ink & the Dog MN26... The small 'Love' postage stamp is by Crafty Individuals. As this is true mail art sent by the post, I decided to not add true tags... but I will certainly have a second go on this later!
Sur ma lancée, je me suis amusée à créer une 3ème enveloppe avec mes nouveaux tampons de chez Crafty Individuals. J'ai choisi les tampons suivants: CI-403, CI-404, CI-405 et le magnifique tampon manuscrit CI-406.
Mes deux tags rouges sont embossés en noir sur des bouts de feuille métallique rouge de chez Ten Seconds, et mon mask de fond est aussi un mask Crafty Ind.: Floral Grid.
Darcy's 'faux tags' technique is really stunning and very cool... so I decided to go further and played with a third envelope! This time I chose a selection of my new stamps by Crafty Individuals (CI-403, CI-404, CI-405 and the manuscript text CI-406), and also a CI mask so-called 'Floral Grid'. My two red tags are heat embossed using Versamark and Fine black powder onto heavy metallic (already red) sheet by Ten Seconds.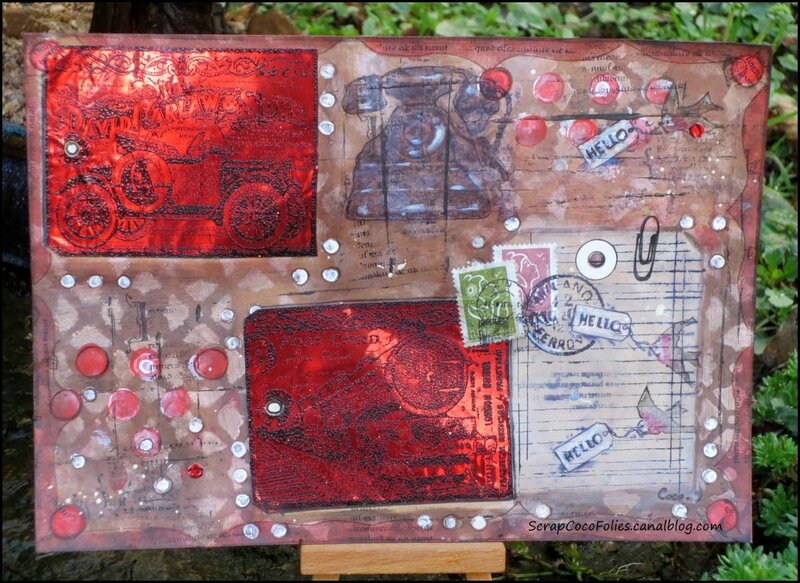 Et une dernière image..
J'espère que vous aimez autant que moi, je vous encourage à essayer le Mail Art!
Hope you like as much as me, it was really fun to do!
Bonne soirée!!! Je reviens demain vous montrer toute une série de tags!... et comme mon blog vient de fêter ses 3 ans, je pense faire un petit blog candy pour mes abonnées prochainement aussi, voilà pour les news! Bises
Thanks for stopping by, I come back tomorrow to show you a set of tags... Also, I'd like to celebrate the third anniversary of my blog, so I'm thinking to organize a small giveaway for my followers very soon.. Here are the news! Hugs
Coco xxx
Commentaires sur 3 Mail Arts pour le Monumental Scrap de Give Your Scrap et Challenge Paper Artsy (Darcy)