15 mars 2014
Good morning all!! Bonjour à tous!!
I'm sharing with you a set of cards for the Free For All theme this week on the Tando Creative Design Blog. If you hop over on the blog, you will have all the details on them. I had tons of fun with these cards, I played with my inks, some of my most beautiful Tando Creative masks, and my JOFY stamps...
If you appreciate this type of backgrounds I've created for these cards and want to have a go on the technique I used, you may want to see and read also in complement another similar sample here.
Cette semaine sur le blog DT Tando Creative c'est une semaine 'Free For All', ça signifie que le thème est libre. C'est mon tour de montrer une réa, j'ai donc choisi une série de cartes que j'ai vraiment adoré faire, en jouant avec mes encres, quelques-uns de mes plus beaux masks de marque Tando et mes tampons JOFY principalement... Je les ai offertes il y a déjà un certain temps, mais je n'avais pas trouvé l'occasion encore de vous les montrer. Et puis je suis une vraie limace pour écrire mes posts en ce moment, à rallonge bien souvent, il faut bien le reconnaître !... En général c'est pour partager des techniques d'ailleurs, mais quand même... :)
Comme mieux vaut tard que jamais... Certaines auront donc peut-être la chance de découvir leur carte d'anniversaire sur mon blog des années après, hein ! :D
Si vous voulez vous aussi vous entraîner à réaliser des fonds de carte comme ceux-ci, je vous encourage à aller lire ou revoir ce post. J'avais employé à peu près les mêmes techniques.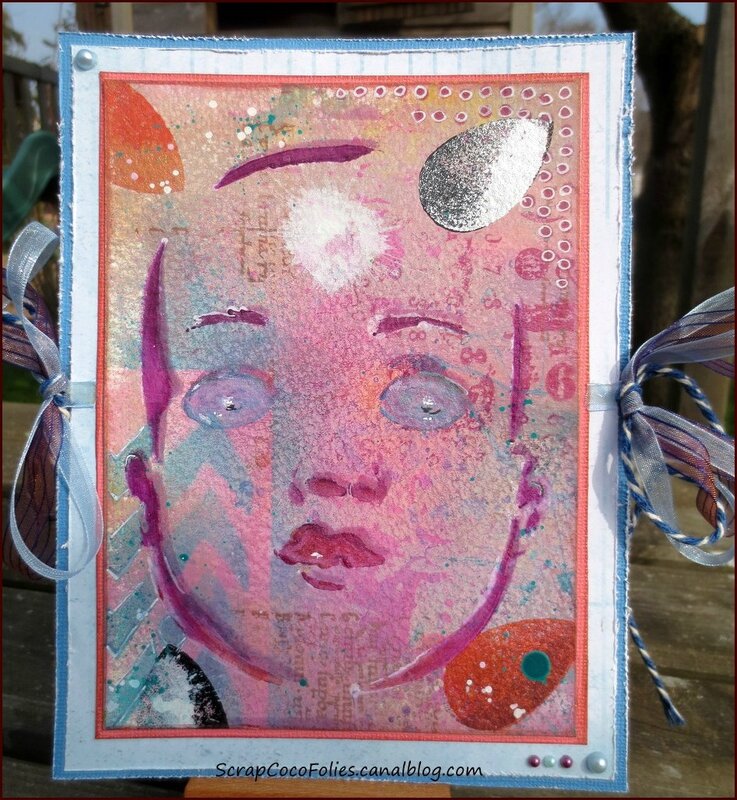 For this first card, I used the mask 'Doll Face' designed by Andy Skinner, and I played for the first time with my new Silks Acrylic Glaze paints to outline the image. I have not many of them yet, but the ones I have were really perfect for this card, and I'm very happy with the result!! I used Vavoom Red, Stargazer, Fire Opal and Pornegranate.
Sur cette première carte, j'ai utilisé un mask d'Andy Skinner appelé 'Doll Face', et j'ai pu tester mes nouvelles peintures Silks Acrylic Glaze (achetées en prévente chez ma copine Linette) pour souligner les contours, je suis très contente du résultat !! Pour celles que ça intéresse, j'ai utilisé les couleurs Vavoom Red, Stargazer, Fire Opal et Pomegranate.

On the next cards, I played with my JOFY stamps (from the previous collection) for stamping, and with my masks 'Dotted Star', 'Burning Rubber' and 'Code Breaker'.
Sur les trois cartes suivantes, je me suis amusée avec mes tampons JOFY (ancienne collection) et avec mes masks 'Dotted Star', 'Burning Rubber' et 'Code Breaker'.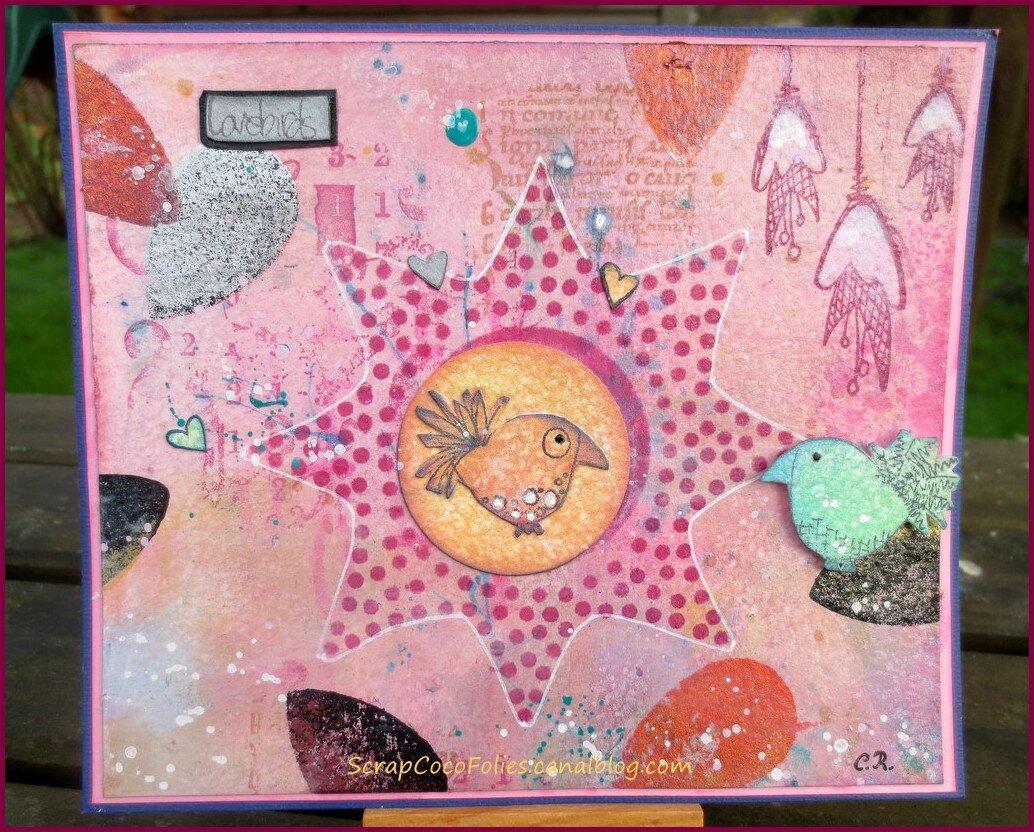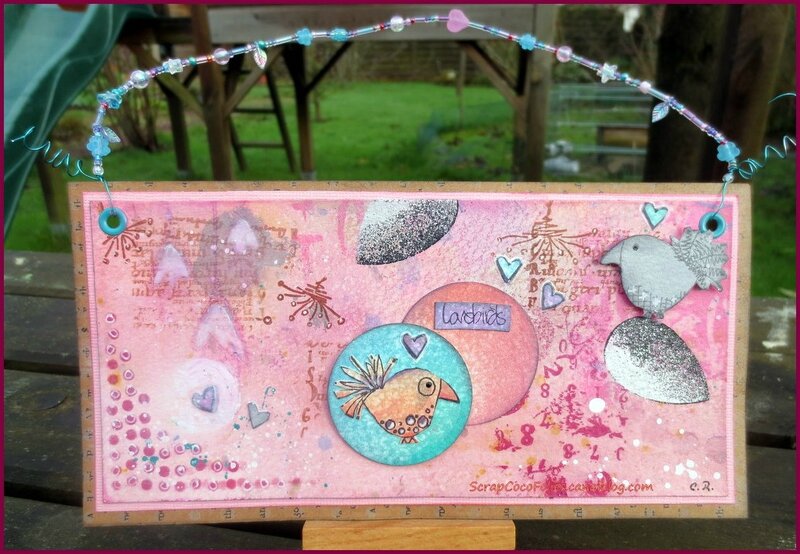 La plus grande pour finir:
Here's the largest one: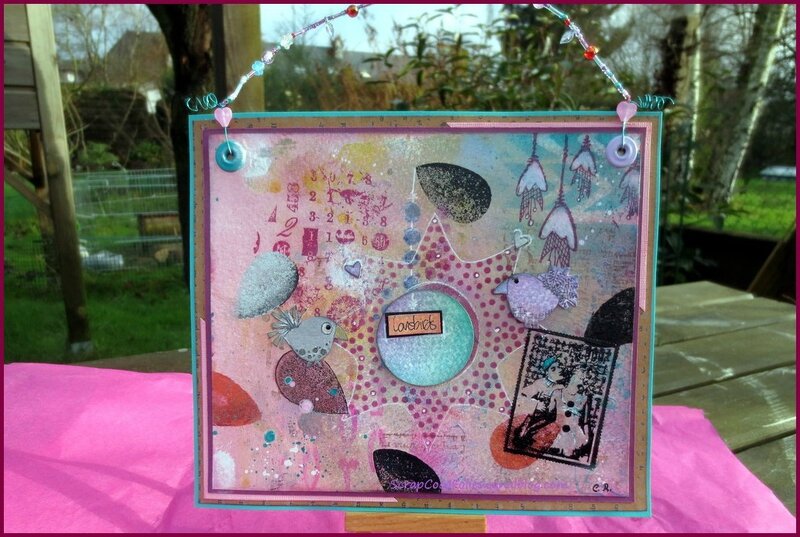 Voilà, je les ai laissées partir avec un petit pincement au coeur quand même je l'avoue (c'est fou comme on s'attache parfois à ces petits bouts de papier peinturlurés hum... :))), mais elles ont été toutes bien reçues et elles ont plu à leur destinataire je crois, alors ça m'a fait bien plaisir, et c'est l'essentiel... Par contre je suis désolée, je manque de temps pour en faire plus souvent et les envoyer... mais je le regrette.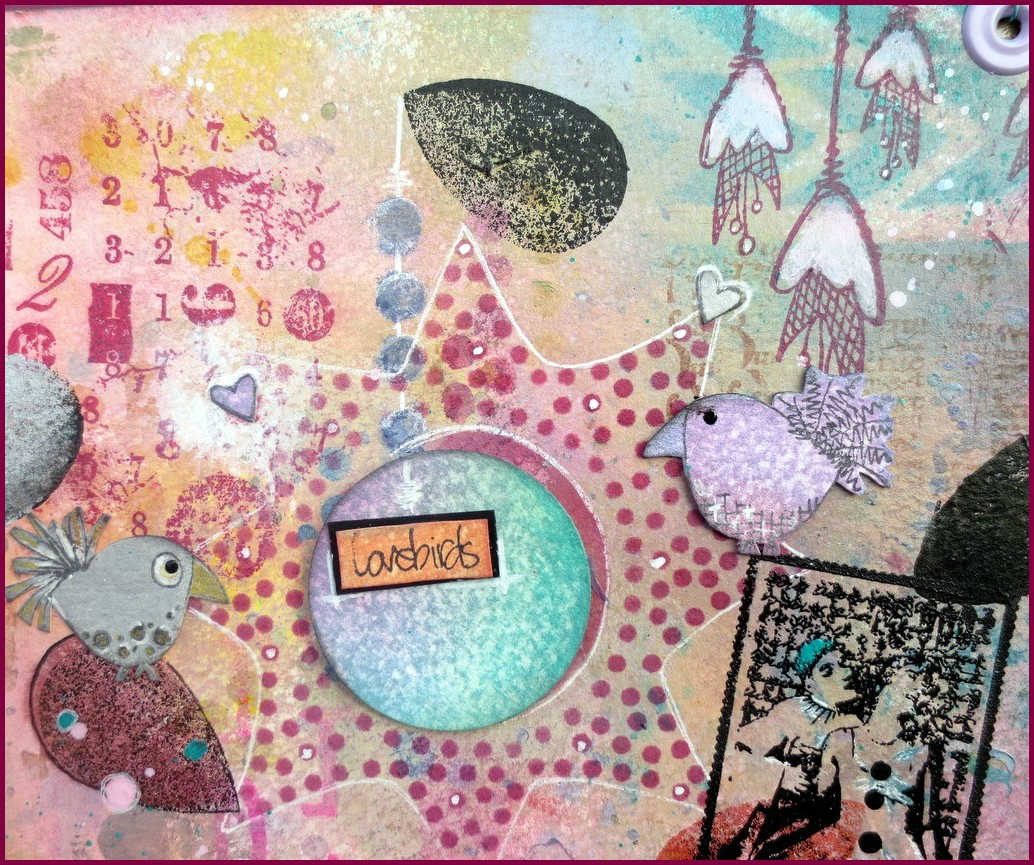 J'ai utilisé les produits suivants:
Kaz Boughton's 'Dotted Star'
Andy Skinner's 'Burning Rubber'
Andy Skinner 'Doll face'
(Il est possible que ce produit soit en rupture de stock actuellement, je n'ai pas réussi à faire le lien désolée)
Et Andy skinner 'Code Breaker'
Voilà, j'espère que vous aimez ce style un peu naïf... Moi j'aime beaucoup !!!
Pour finir je vous rappelle qu'un nouveau challenge Tando est en cours ce mois-ci, le thème est "Brun, jaune et vert"... Je serais contente de voir vos réas sur le blog! Et le gagnant est désigné par tirage au sort, pour le moment il n'y a que 2 participations... Donc vous avez toutes vos chances de gagner un joli lot de produits Tando Creative!! :)
Je vous souhaite une très belle journée et un super week-end ensoleillé, et un grand merci encore pour tous vos messages précédents, ils m'aident vraiment à continuer l'aventure de mon blog... Bisesssssss
Hope you like this whimsical style as much as me!!!...
Before I forget, there is a new challenge over on the Tando Challenge blog…. this month the theme is: BROWN, GREEN AND YELLOW, it would be great to see you there! If you can join us this month, there will be a lucky player randomly chosen there that will win a set of tando goodies up for grabs.
A big thank you also for all the last and lovely comments received, they always boost me and are a great help to continue the adventure of blogging... Have a great day and week-end, HUGS xxx
I'd like to enter this in D is for Distress over at the Simon Says Stamp Monday Challenge.
And they're looking for A Splash of Colour at the Inspiration Journal sponsored by the Inspiration Emporium.
Commentaires sur A set of cards for Tando Creative / Un ensemble de cartes pour Tando Creative