11 avril 2014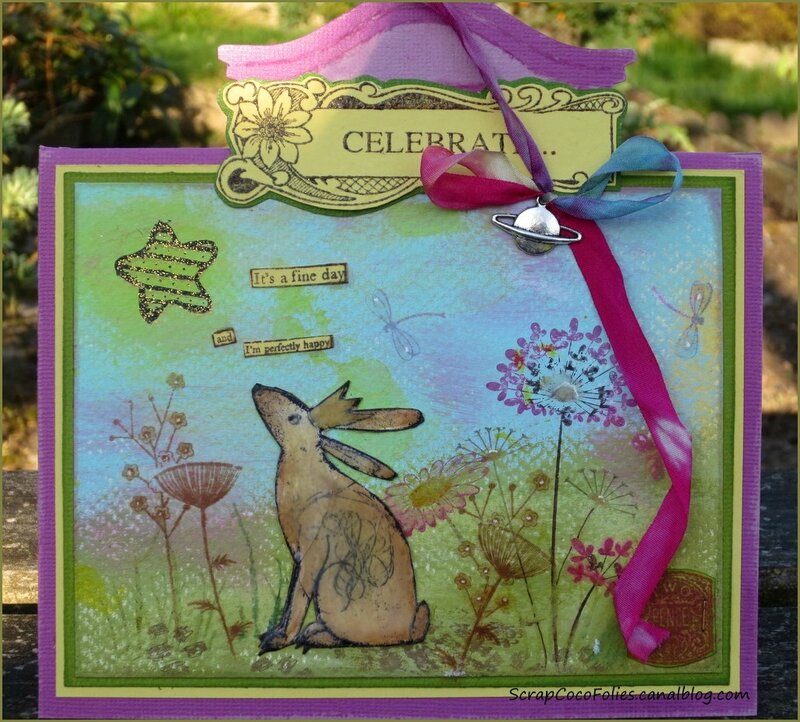 Bonsoir! Good Evening!
Je suis désolée pour la page que que vous avez vu par erreur tout à l'heure, c'est une page de l'an passé! C'est Canalblog qui a buggé!! Le seul avantage, c'est que ça a tout de même permis à mes nouvelles abonnées de la voir mdr, je l'aimais bien celle-ci... :)
Allez, je continue, je profite de ma soirée pour vous informer qu'il y a un nouveau challenge sur le blog de Crafty Individuals.
Ce mois-ci il est proposé par Lucy et le thème est "Nature's Beauty". Un thème que j'affectionne énormément, j'aime profondément la nature même si je n'en profite pas assez du fait de mon plaisir encore plus grand à patouiller et tamponner !... du coup j'ai fait plusieurs réas, en jouant avec mes tampons Crafy Individuals, mes peintures Fresco Chalk de PaperArtsy, et quelques dies et embellissements...
Je vous montre pour commencer une petite carte que j'aime beaucoup...
Je vous rappelle que si vous participez vous obtiendrez une remise de 25% lorsque vous passerez commande chez Crafty Individuals. Ca vaut vraiment le coup, les tampons de Jean et Malcolm qui en sont propriétaires sont magnifiques et d'excellente qualité, et il y en a sur tous les thèmes.
En fin de mois Lucy choisira ses 5 réas préférées, et les gagnantes auront droit à un tampon de leur choix gratuit.
Pour participer, une seule condition, utiliser au moins un tampon Crafty Individuals dans votre réa.
Pour cette première carte, j'ai utilisé du papier aquarelle assez épais que je me suis amusée à peindre et tamponner ensuite. J'ai choisi le magnifique tampon floral CI-395 sur le fond. Mon petit lapin que j'adore vient du tampon CI-372 Crowned bunnies, je l'ai imprimé à l'encre Archival Coffee sur du très beau papier parfait pour cela, qui vient aussi de la boutique Crafty Individuals: White Silk Card. Je l'ai détouré finement, peint de différentes nuances de marron, et recouvert de Matte Accents puis collé en relief. J'ai aussi tamponné à part le petit texte du tampon CI-380, et l'étiquette Celebrate du CI-407. J'ai rajouté au dessus de ma carte une découpe de fronton et ajouté quelques embellissements comme le charm et le ruban qui vient également de la boutique de Jean!
Nature's Beauty is the challenge theme at Crafty Individuals for the month of April. It is hosted by Lucy, and she has made a fabulous bird cage to illustrate the theme. You can see other fabulous nature inspired projects by the DT over at Crafty Individuals, you only have to use one CI product to be eligible to enter.
I do hope you will join in this month's challenge. As always, you can claim a 25% discount on any Crafty Individual order placed, just for taking part, which is a very generous offer! All challenge details are here.

As I love the Nature and this theme, I have several makes to show you tonight, two cards and a canvas.
For the first card above, I took watercolour paper for the background and started to played with my paints and stamps. I chose the wonderful floral stamp CI-395, and one bunny of my all time favorite stamp CI-372 Crowned bunnies. I stamped this latter on a separate piece of White Silk Card in Coffee Archival and painted it in various shades of brown. It was fussy cut and recovered with Matte Accents at the end, then glued with dimensional foam pads. I took the little text from CI-380, and the gorgeous 'Celebrate' tag from the new CI-407 I decided to set on a die-cut Sizzix fronton, love how the Celebrate sentiments pops on it! I finally mated my background on several carboards and added a few embellishments like the silk ribbon also bought in CI shop, and the charm...
Je vous montre aussi un cadre que j'ai offert à mon patron de labo à l'occasion de son retour au japon, et une carte envoyée à mon amie anglaise Anne pour son anniversaire... toujours avec mes petits lapins fêtiches, le CI-372 Crowned bunnies!!!
I also show you a canvas offered to the manager of my research center when he returned to Japan, and a card offered to my dear English friend Anne for her last birthday... still using my favourite (really one of my mascot stamps!!!) bunnies, the CI-372 Crowned bunnies.
Voici le cadre: / Here's the canvas: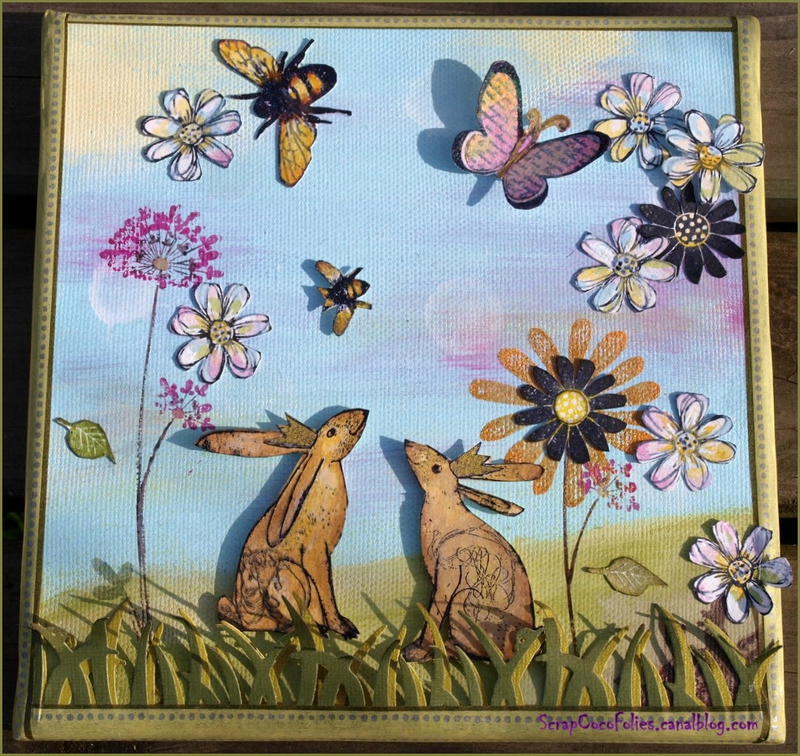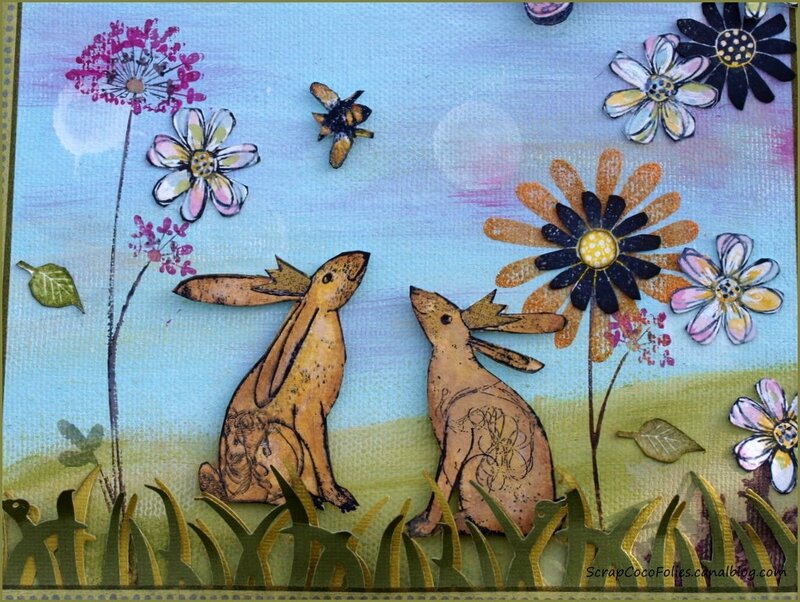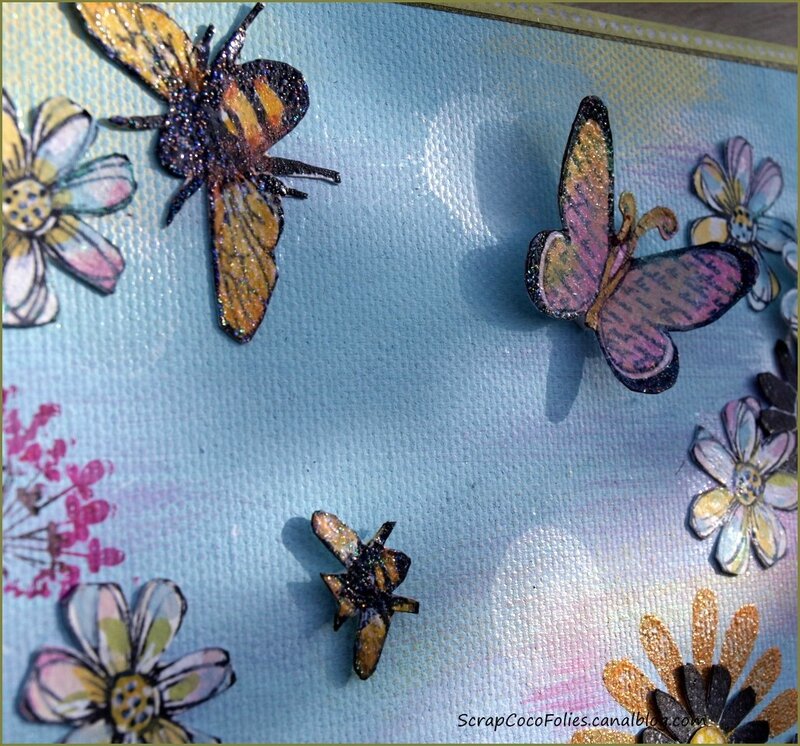 Et la seconde carte: / and the second card:
Matériel / Materials:
Tampons Crafty Individuals CI-395, CI-372 Crowned bunnies, CI-380 (la partie texte), et CI-407
Autres tampons: Stampotique Originals (Small Carol's Flower, Line Up, Medium and Small Bee), Florilèges Design, Katzelkraft, VLVS
Die Sizzix Pediments - Frontons

Fresco Finish acrylic chalk paints, Distress Stain Picked Fence
White Silk Card and scraps of smooth and watercolour cardstocks
Charm, ribbons (also from Crafty Individuals shop), masking tape, canvas
Ranger Matte Accents
D'avance, bon week-end!!! Have a wonderful early week-end!!! xxxx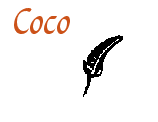 Commentaires sur Nature's Beauty, Crafty Individuals April challenge / challenge d'avril de Crafty Individuals