18 avril 2014
Bonsoir ! Evening all!
Ce sera un passage ultra-rapide ce soir. En ce moment je suis en mode création pour Crafty Individuals et Tando, donc pas très présente sur mon blog !!!
Avant d'oublier, je vous montre le tag que j'ai réalisé et offert à Alexis Toupet et toute l'équipe sur le stand de Carabelle à VS, en échange d'un très joli tampon... :D Vous le verrez bientôt ce tampon, car je l'ai ajouté sur l'un des tags géants de Birgit Koopsen, c'est le second atelier que j'ai suivi cette année à Version Scrap. Je vous montrerai les tags de Birgit dès que possible, ils sont très sympas, vous verrez!...
I show you very quickly tonight a tag made with two stamp plates by Carabelle Studio: 'P'tit Mec' and 'Autour du Triangle'. I used a Manila tag and distress paints( antiqued bronze, brushed pewter, black soot), silver embossed corrugated cardboard, masking tape and a few bits in my stash... I'm in a big creative mood in that time, and it's also Easter with my kids, so I'm really sorry I will probably not be too much present this week-end on blogland...
Pour ce tag-ci, Il était demandé d'utiliser au moins 2 tampons Carabelle Studio (ça tombe bien, j'en avais JUSTE 2 ahahah!!!) J'ai utilisé les planches 'P'tit Mec' et 'Autour du Triangle', ils sont vraiment très beaux ces tampons...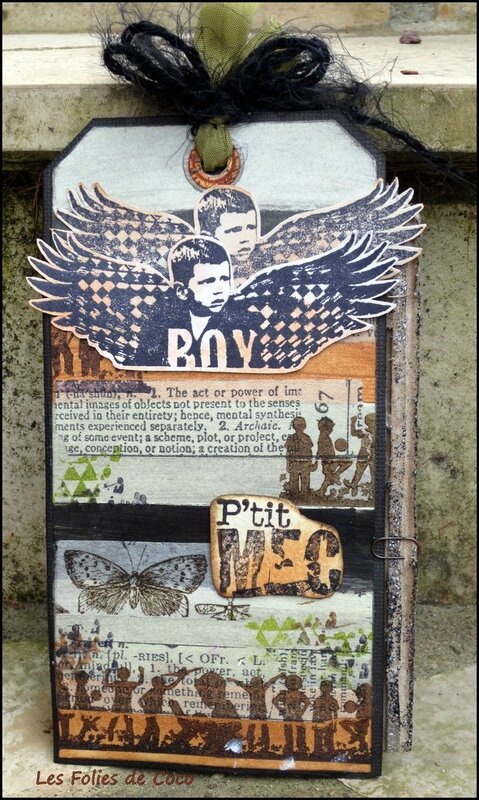 I'd like to enter this tag into current Simon Says Stamp Monday Challenge: Winged Things. This challenge is hosted by an artist I love: Tracy Evans.

Avant de vous souhaiter une bonne nuit et un bon week-end de Pâques, j'en profite pour vous montrer du même coup la page en aquarelle faite avec Alexis pendant son workshop "Le petit echo de la vie", un atelier que j'ai pour ma part beaucoup apprécié ! Alexis Toupet que je ne connaissais pas est très à l'écoute et vraiment sympa, et son projet était magnifique... Je vous laisse admirer ma version, un peu différente de la sienne... je n'ai pas été très disciplinée sur la fin, c'est la faute de Nefert et Gisou qui me faisaient trop rire !!! :)))
I was enough lucky to follow also a workshop with Alexis toupet, from Carabelle Studio. Here's also the page I've made following his stunning project! Love this page!!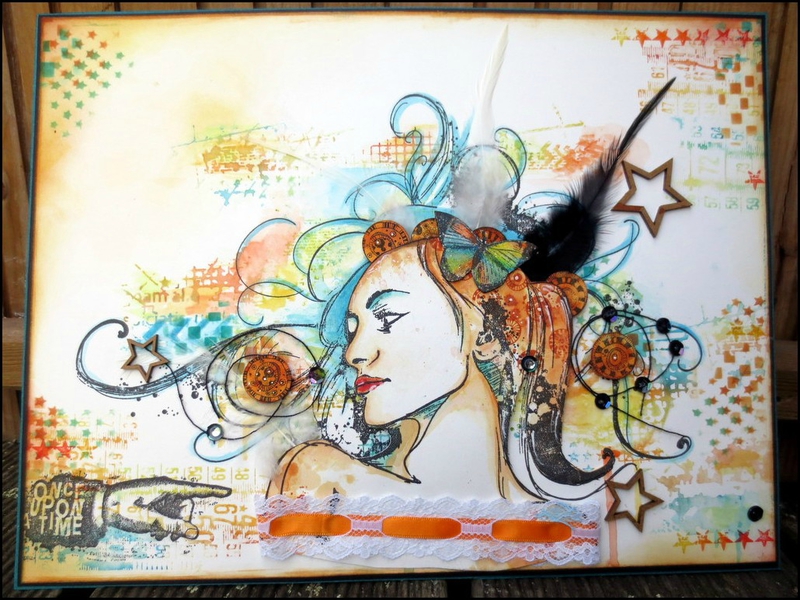 Je reviens sur mon blog dès lundi, avec une nouvelle réa pour Tando Creative... Bonne nuit tout le monde et bon week-end pascal, je file au lit !!! Bisessss
Thanks for stopping by, I will be back on Monday with a new make for Tando Creative... Good night everyone and happy Easter, I'm off to bed now!!! HUGS xxx
Commentaires sur Un tag pour Carabelle Studio, et une page aquarelle en atelier avec Alexis Toupet à Version Scrap/A tag and a watercolour page