15 juin 2014
Bonsoir, Evening all,

Tout d'abord, merci de vos précédents messages, et bonne fête à tous les papas !!! Je souhaite aussi la bienvenue à ma nouvelle abonnée Diane !
Il a fait une journée encore superbe, mes filles ont bien profité du jardin ce week-end. Moi un peu aussi, tout en désherbant.. :D Quelque soient vos occupations du week-end, j'espère que vous avez tous pu profiter un peu de ce grand beau temps qui règne partout !! C'est bien agréable, d'autant qu'en Bretagne ce n'est pas la règle générale hein... :)
Je vous montre une petite boite faite pour le dernier challenge Stampotique. Un challenge "boites" proposé par Arwen. J'avoue que l'idée d'une petite boite avec mes derniers tampons Stampotique achetés via ma copinette Linette et ses préventes, que je n'avais pas encore pu tester pour la plupart, me plaisait bien !
J'ai aussi fait 2 ATCs avec mes restes de peinture et mes tampons chouchous de ce week-end Wombat and Rootie Toot.
Hi there, hope your all had a pleasant week-end and a very good Sunday, it was our Father's Day here in France, and we had a sunny day, yay! So I did a lot of gardening...and weeding. :D
I show you my project for Stampotique Originals challenge Boxes. Arwen has challenged us to make a box, I couldn't resist as I love boxes, especially in this moment! I've just finished two lovely ones for Crafty Individuals, you will see them a bit later. Here's my Stampotique version.
I chose a very small wooden box - I also made two ATCs with my remaining paints - and decorated it using paints, crackle, multi-medium... and Stampotique stamps. :)
Ce petit animal que vous voyez au centre s'appelle... Wombat. Il est craquant, non?... :D Et tout autour de la boite, j'ai placé le tampon Beauty Verse: "Everything has Beauty but not everyone sees it".
Et sinon pour info ma boite est vraiment toute petite, elle mesure 5,5 cm de côté.. Je l'ai acheté sur le site en ligne de Crafty Individuals, il y en a de deux tailles différentes et elles sont vraiment parfaites. Mais vous pouvez peut-être en trouver des similaires chez Artémio ou autre...
For my box I have used Wombat, Bushes, Lavender, Beauty Verse (all around the four edges: "Everything has Beauty but not everyone sees it."), and the little Starbird with Chick. I've also used a French brand Florilèges Design wooden stamp called 'Feuillage des Bois' to go with bushes. On my ATCs I've also added Enjoy Life.
It's a square box of 5,5 cm only so it's like crafting in miniature! Really fun and pleasant as it takes me no more than one or two days lol :D I have found it in Jean and Malcolm's Crafty Individuals' store.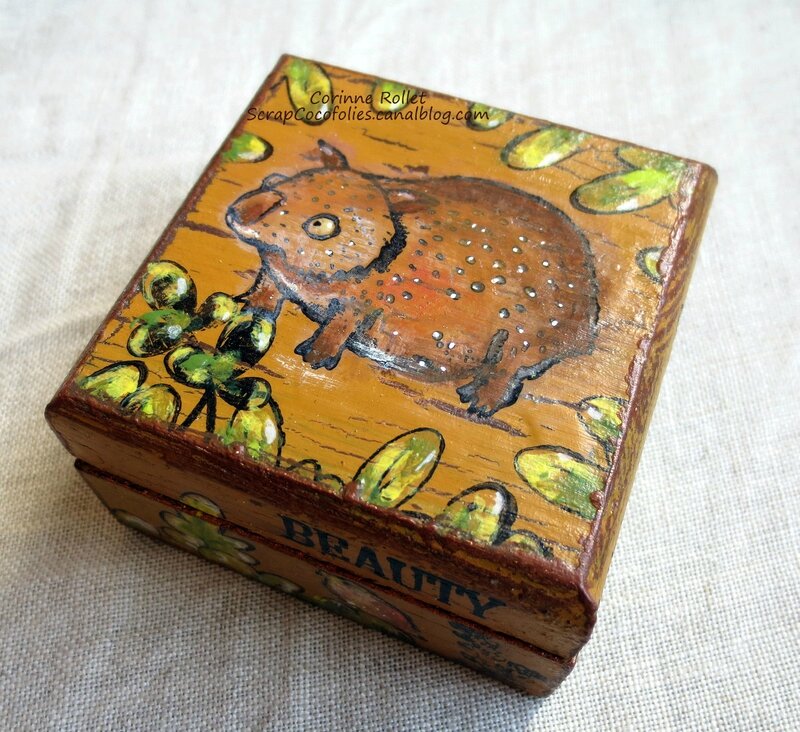 Wombat is really too cute, isn't it??... :D
I don't expect that Kira Nichols will go by here one day, but I want to say that I'm very grateful to her for her wonderful stamps design. I have had an absolute blast creating this little box and the ATCs by stamping and coloring Wombat and Rootie Toot!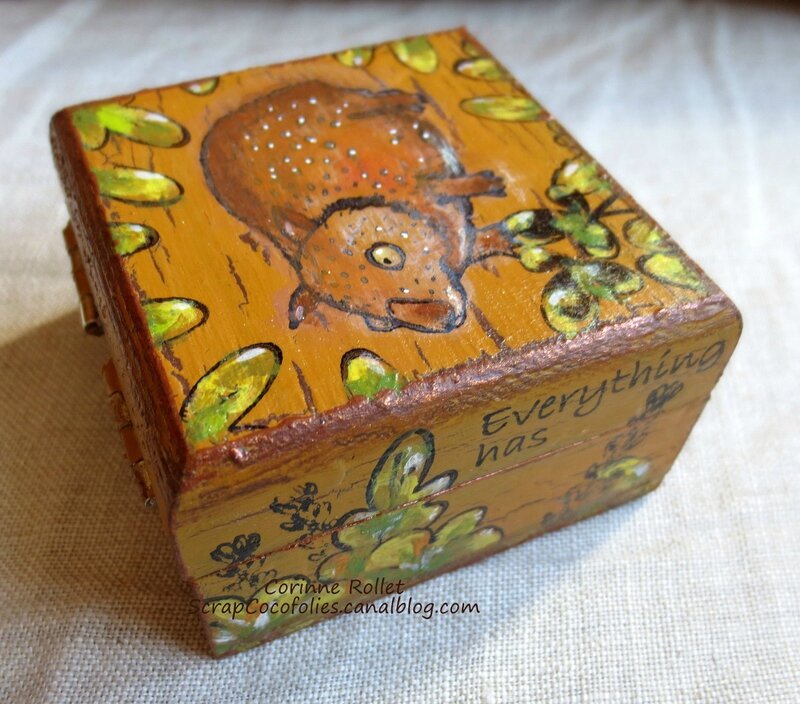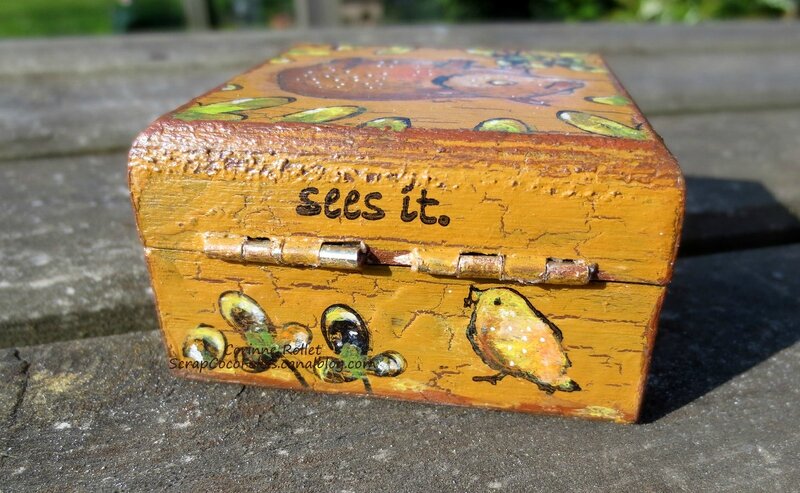 Et voici mes 2 ATCs. Les lignes et bandes que vous pouvez voir sur mon fond ont été faites avec une palette à peindre en caoutchouc Catalyst, un outil génial que je vous recommande !!! Pour les personnes intéressées, je l'ai trouvé sur le Géant des Beaux Arts.
And here are my two ATCs. The strips you can see here and there have been done thanks to my new Catalyst paint palette, what a great tool!!
Rootie Toot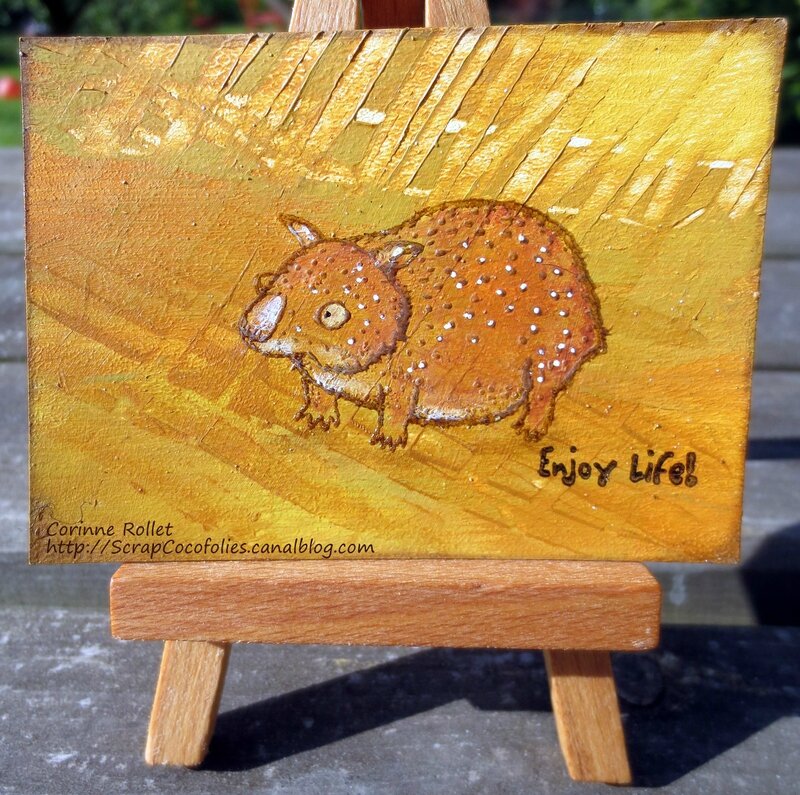 Wombat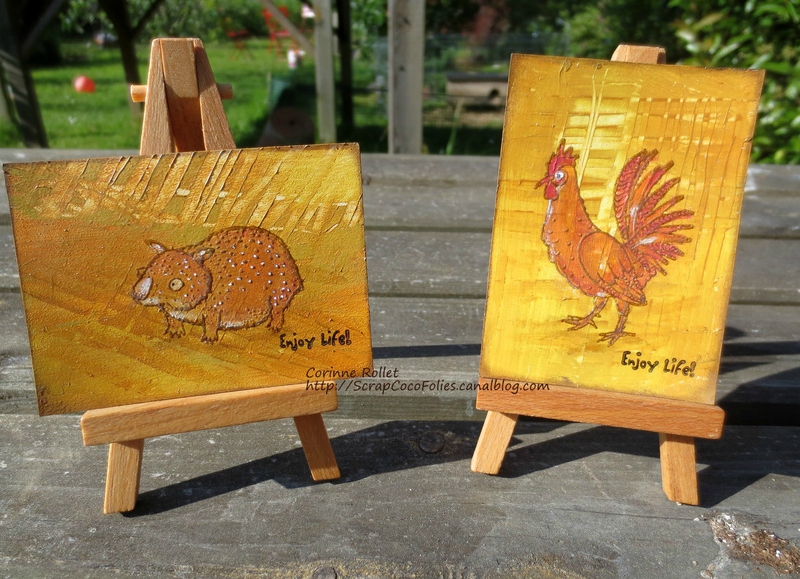 J'adore cet ensemble... J'espère que vous aimez bien aussi mes petites réas un peu fun, ça fait du bien de temps en temps ! :D
Merci de votre visite, bises et à bientôt !!
Hope you will love this set of funny creations as much as me! Thanks for stopping by today. Hugs
Coco xOxO
Commentaires sur Stampotique Boxes Challenge #151, one box and two ATCs / Une boite et deux ATCs