20 août 2014
Bonjour! Hi everyone!
Voilà, j'ai passé de bonnes vacances et je suis rentrée il y a déjà quelques jours.. Mais depuis je n'ai pas pas vu le temps passer, car je me suis lancée (à quatre mains il est vrai, rendons justice à nos hommes !) dans la restauration de nos meubles !!! C'est super joli je suis ravie, je ferai un post spécial dessus pour vous montrer le tout quand ce sera fini. Désoléee si je suis un peu loin de vos blogs et de FB en ce moment du coup, c'est pour cette raison.. Le soir je tombe de fatigue !
I'm back from my main holiday days, I spend very good time in the south of France with my in-law family and all the young cousins of my daughters. Taking care of many kids at the same time is always tiring but so much fun! :)
Since I came back and before returning to my work, I have not seen the time pass... I'm doing furniture restoration with my hubby, we had several pieces of furniture really awful and heterogeneous!!! Painting is well in progress and I'm really happy with the result, I will show you all the pieces in a dedicated post as soon as finished. So I'm in a very busy time and not too much present on craftyblogland in this moment I'm sorry, I will try to do some catch-up as soon as possible.
En attendant, je vous montre mes devoirs de vacances... Bien sûr je plaisante, j'ai réalisé ces cartes avec beaucoup de plaisir et sans contraintes ! Simplement, il m'a été très difficile (heu... même impossible) de partir loin de chez moi sans emmener mon petit kit de survie (autant dire, un énorme sac plein de bonnes choses avec divers produits à essayer, et un autre pour mes papiers et pochoirs etc). Et puis j'avais des cartes en retard à réaliser pour un swap et pour mes proches, alors l'excuse était toute trouvée ! :-o)
I have been a bit ill during my holidays unfortunately, so I have had more time than expected to play with the stamps I could not resist to take with me haha (with a few more inks and paints supplies, something like my survival kit rofl). I chose my last Crafty Individuals stamps just received as I found them so lovely, in particular the couple of birds on their branch, and the ones with beautiful lady faces designed by my teammie Gio. Oh.. about Gio, do you know that she has also launched her line of masks and stencils? They are fabulous!!! You can see them all on Gio's blog here, and also try to win one of them on her blog as she makes great giveaways in that time to celebrate their launch. They are made by Tando Creative and I think they are also available on the Craft Barn as Gio works for this shop.
So, I have made a set of cards for a swap and people close to me, I show you today the set of cards. I'm quite pleased with them as I did not take with me my favorite inks or paints, just a few new samples I wanted to discover and play with, so that's not too bad I think.
J'ai choisi d'emmener mes tampons Crafty Individuals tout juste reçus avant mon départ, je n'ai pas pu résister.. Ceux de ma camarade DT Gio (Giovanna Zara) en particulier, avec deux beaux visages de femme dont l'un représente Frida, sont vraiment irrésistibles, de même que ce petit couple d'oiseaux sur leur branche ! A propos de Gio, elle vient aussi de créer sa ligne de masks et pochoirs, ils sont réalisés par Tando Creative et aussi distribués sur le Craft Barn, allez vite les voir sur son blog et participer à l'un des 'Giveaway' qu'elle offre en ce moment à l'occasion de leur lancement, vous pourrez les admirer et peut-être gagner un ou plusieurs de ces masks !!
Sur l'une de mes cartes, vous pourrez aussi voir un tampon de fond très sympa je trouve, il s'agit d'un motif floral zentangle fait par Azoline et distribué par Carabelle Studio. Mes cartes sont toutes réalisées un peu sur le même modèle avec des chutes de papier, les encres en spray que j'avais emportées avec moi (quand mes sprays ont bien voulu marcher Grrr) et des petites peintures irisées en pot, J'indique sous chacune des cartes les tampons utilisés.
All the cards are made a bit in the same way, using iridescent paints and a few spraying inks, also Pitt Artist pens (in black or brown) and a white Posca pen; you will find the stamps I used for each card underneath the photo.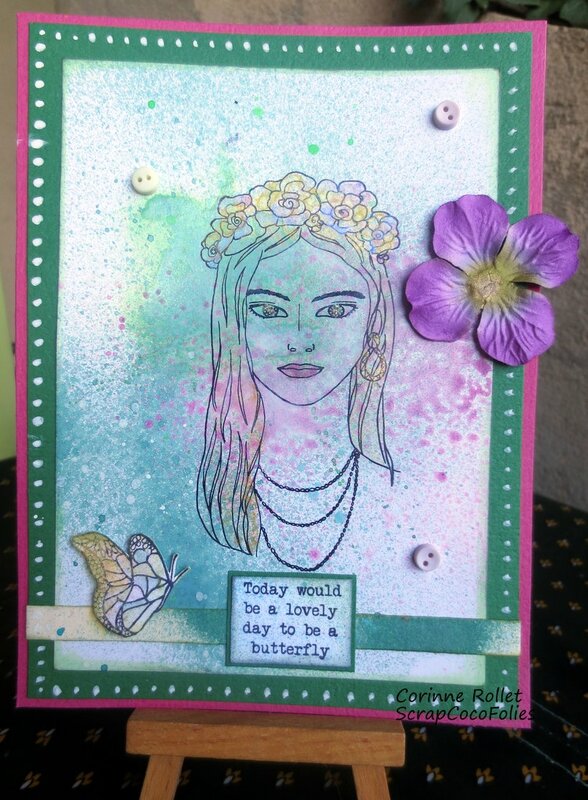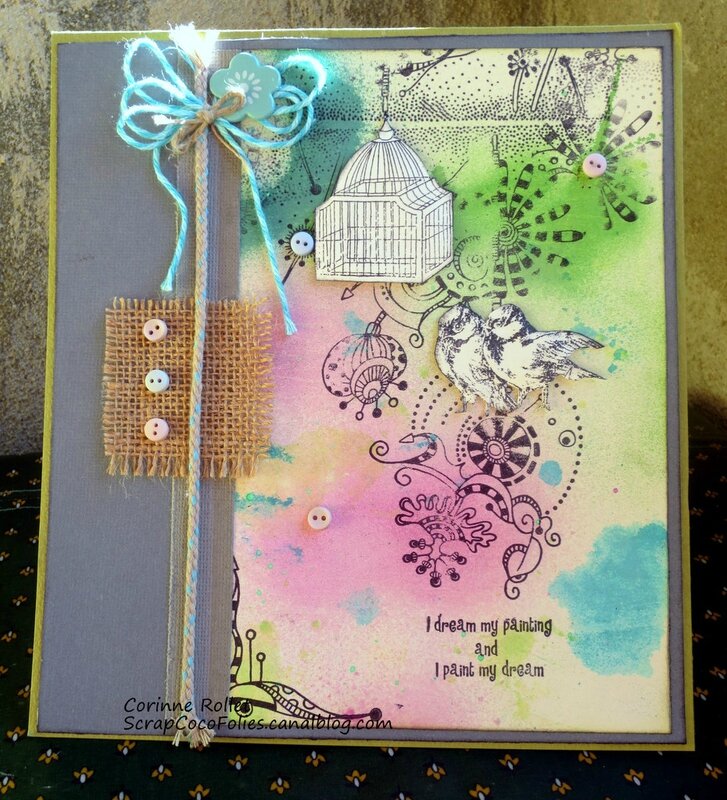 CI-416, CI-418, 'Jardin des Délices' (Carabelle Studio)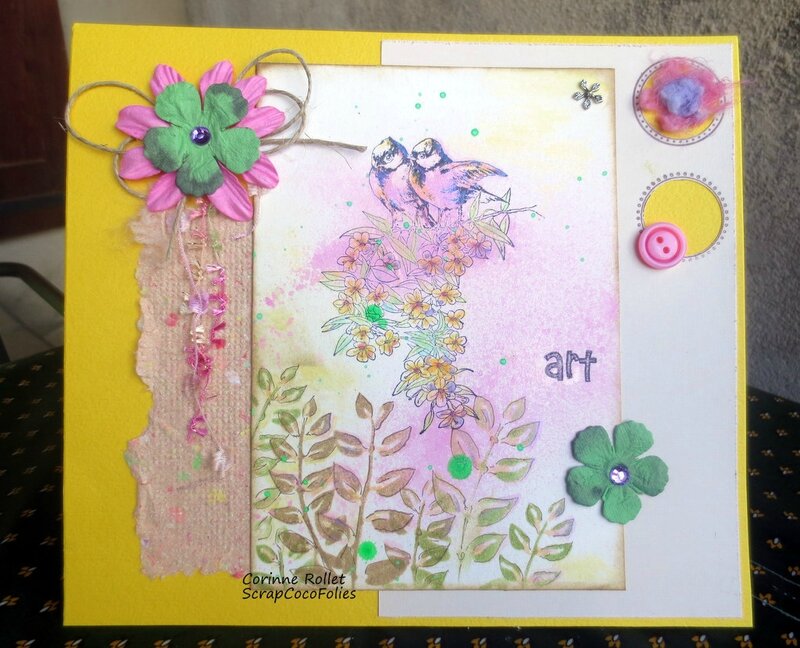 Et sur cette carte-ci et la suivante, j'ai ajouté le très beau mask 'Leafy Branches'.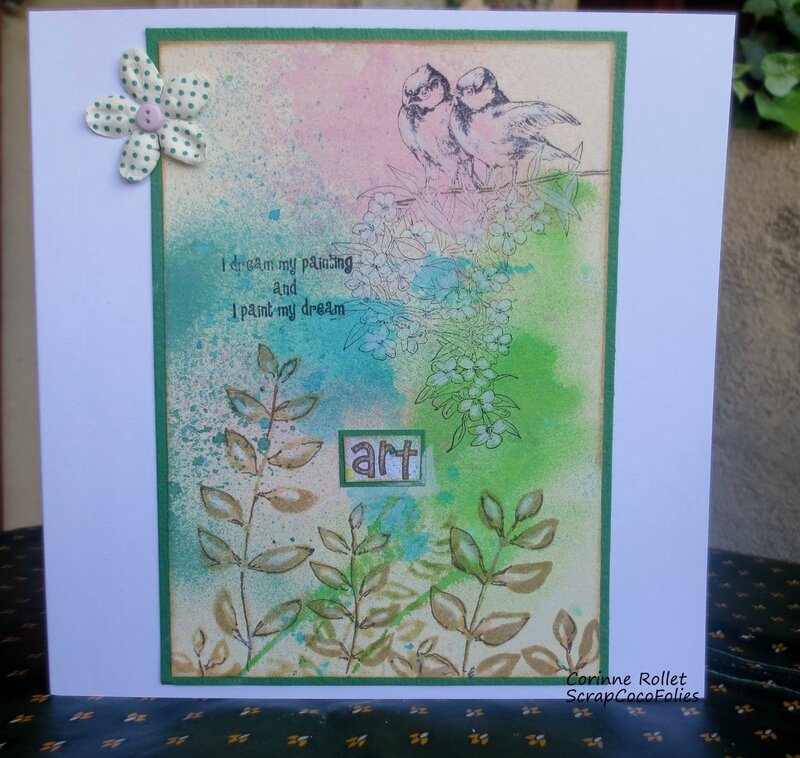 Et voici l'ensemble des cartes... The set of cards...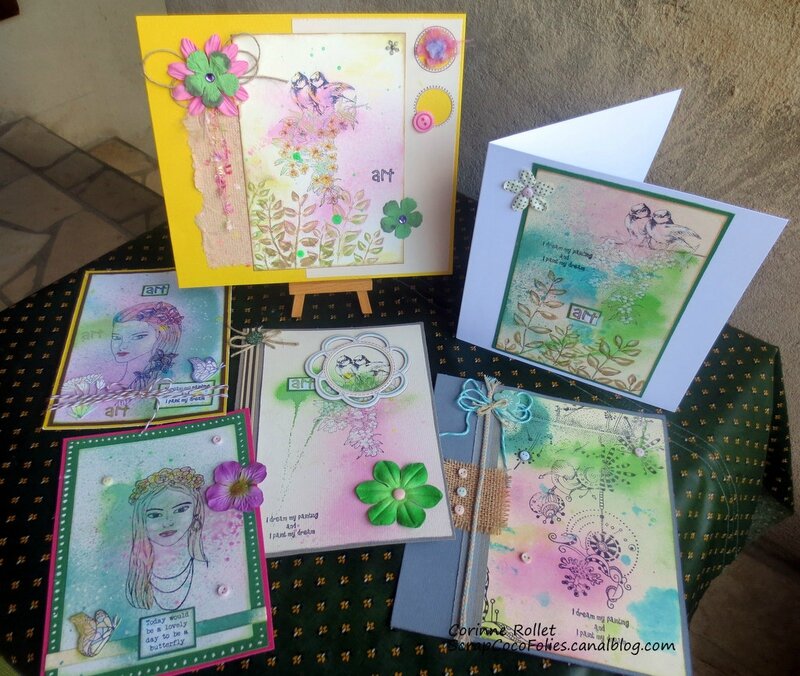 Voilà, j'espère que vous aimez bien... Moi je suis plutôt satisfaite, car vraiment je n'avais pas tout sous la main comme j'aurais aimé ! Mais des fois, c'est bien aussi, ça nous oblige à faire avec ce que l'on a et à déployer toute notre imagination... C'est une démarche plus intéressante.

Hope you like.. It's sometimes good to not have all our usual or favorite supplies under the hand, it requires us to be even more creative!!!
I participate on Simonsaysstamp blog Monday Challenge: Anything Goes!


Matériel / Supplies:
Tampons/Stamps: Crafty Individuals CI-418 and CI-419 (designed by Giovanna Zara), CI-416
Masks: 'Leafy Branches'

Bazzils, scraps of papers, cream card (Crafty Individuals) and watercolour smooth paper (Fabriano)
Encres/inks: Ranger Archival Potting Soil, Jet Black, Sap Green, Hydrangea, Olive, Orange Blossom, Tree Branch, Stazon Jet Black
Dye inks and water-based markers: Adirondack Earthtones Latte, Letraset Aquamarkers
Cosmic Shimmer Iridescent Watercolour Paints Set 5 (Autumn Sunset), Set 8 (Garden Tones)
Encres en spray/Mistable inks: Cosmic Shimmer Misting ink sprays (Meadow Lime, Sea View, Mallow, Blue Cotton),
Cosmic Shimmer Chalk Mist inks (Pastel Lemon, Pastel Green, Pastel Pink),
Tattered Angels Glimmer Mist Marshmallow
Merci de votre visite, je vous souhaite une très bonne journée et à bientôt ! Bisessss
Thanks for stopping by. I wish you all a wonderful day and I hope you're having a great summer! HUGS xxx
Commentaires sur Un ensemble de cartes en Crafty Individuals / A set of cards in Crafty Individuals