22 août 2014
Helloooo and welcome to my new followers! Thank you!!
Wow, I'm already back on my blog, two posts in two or three days!! It's quite unusual for me, hope you will appreciate :)
Next week I will be far away again, so you will have to wait a bit more to see my renovated pieces of furniture... But after I promise you to show all my new furniture. The transformation is quite stunning, you will let me know if you like...
Bonjour et bienvenue à mes nouvelles abonnées que je remercie !
whaaah, deux posts en deux jours et déjà de retour sur mon blog, j'espère que vous apprécierez... :) Pour mes meubles par contre, vous devrez attendre un peu, car je m'absente de nouveau la semaine prochaine. Mais promis ensuite vous verrez l'ensemble, la transformation est assez réussie et étonnante, vous me direz ce que vous en pensez et si vous aimez...
This summer I wanted to offer something by hand to two of my nieces, two lovely little girls who have the same age and whom I do not see as often as I would like! I decorated two small burlap canvas panels (by Tim Holtz), doing variants according their tastes. I gessoed the center of both canvas and sprayed several inks over them, then stamped some images never inked yet, so much fun haha. My stamps are by French brand Carabelle Studio, and also by The Artistic Stamper, I added an adorable bird at the right bottom of one canvas.
Cet été, j'avais 2 petites filles à gâter... Deux de mes petites nièces dont ma filleule, à qui j'envoie de gros bisous au passage si leurs mamans passent par ici et leur remontrent leur petit tableau en photo aussi ! J'ai choisi de leur décorer deux petits supports en toile de jute, que j'ai gessotés au centre et pshittés d'encres, et je me suis fait plaisir ensuite avec des tampons que je n'avais encore jamais eu le temps ni le plaisir d'essayer; Ce sont des tampons de chez Carabelle Studio et le petit oiseau absolument craquant est distribué par The Artistic Stamper, il est dessiné par Neil Walker et s'appelle 'Junior Bird'.
First version with 'Junior Bird' in coral, turquoise and green...
La version avec le petit oiseau, en corail, turquoise et vert...
I participate with this one in the Artistic Stamper August's challenge: 'Anything Goes!'
Et la version en rose, le petit oiseau est remplacé par une poupée, celle qui va avec ce très beau tampon de chez Carabelle qui s'appelle justement 'Petite Fille et sa Poupée'...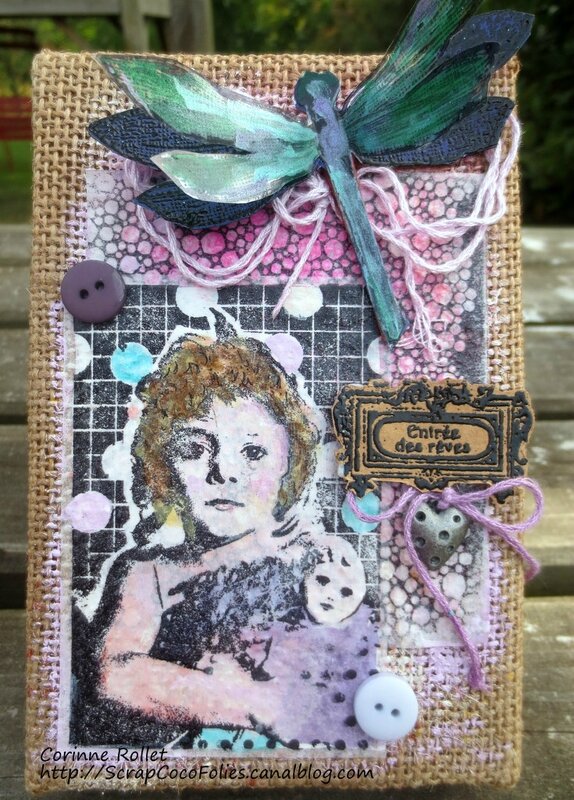 Et les deux réunis: / The two together: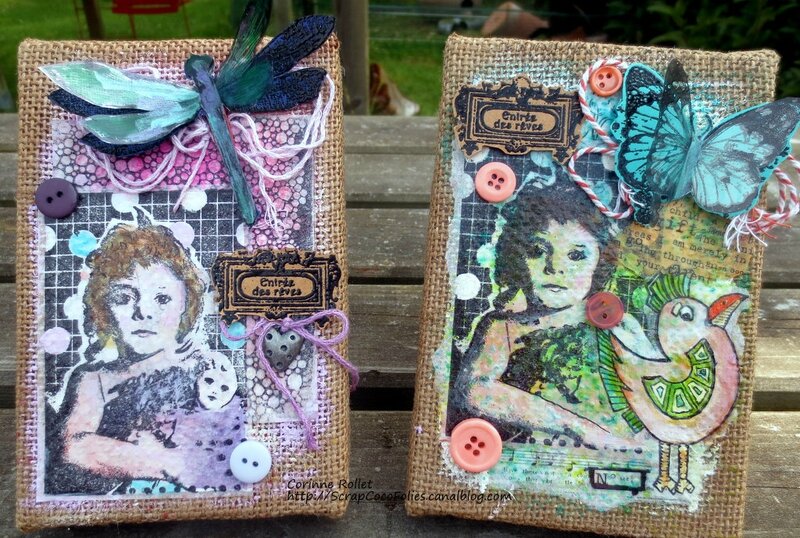 Very many thanks for your visit and for all the comments you might leave. See you soon here or there on blogland in one week, have a wonderful week-end! HUGS
Merci de votre visite et de vos petits mots dont je vous remercie infiniment... Bises et à très bientôt, bon week-end à tous!
Coco xxx
Commentaires sur Two burlap panels for two little girls / Deux petits panneaux de jute pour deux fillettes