26 septembre 2014
Bonsoir, Evening all,
Je profite enfin d'un instant de calme ce soir pour vous montrer une série d'ATCs (Artist Trading Cards pour ceux ou celles qui ne connaitraient pas) envoyées et reçues, dans le cadre du dernier échange organisé par Nikki Woodward sur la page FB du groupe Stampotique. Plus un petit ATC supplémentaire fait dans la foulée, que je garde pour l'instant pour moi !..
Pour celles d'entre vous (j'en connais au moins deux ah ah...) qui ont des tampons Stampotique, n'hésitez pas à me rejoindre dans ce groupe d'échange plutôt sympa, j'en serais vraiment ravie !!
Le thème de l'échange de ce mois-ci était 'Naughty', qui veut dire vilain, et que j'ai interprété librement plutôt comme 'méchant'...
Well, tonight I'm feeling a bit like the White Rabbit of Alice's adventures in Wonderland: 'I'm late, I'm late'... both on my blog and blogland! :) I have had some things going on at home that are difficult to deal with lately. I am working through my replies but it's taking me a long time to get to you all, Thank you so much for your patience.
Let's try to do a bit of catch up on my blog first.. I have so many things to show or announce. The lovely Nikki Woodward organises an ATC trade on the Stampotique FB page every month. This is a very fun trade with talented and kind ladies, so it's a pleasure to play and swap with them from time to time. The theme for the September trade was 'naughty' and as my trading partners have received their stuff I can share everything here as well.
These are the ATCs I made with some personalized hand-made pockets.
The first person's name was Maxine Hole and I sent her this ATC: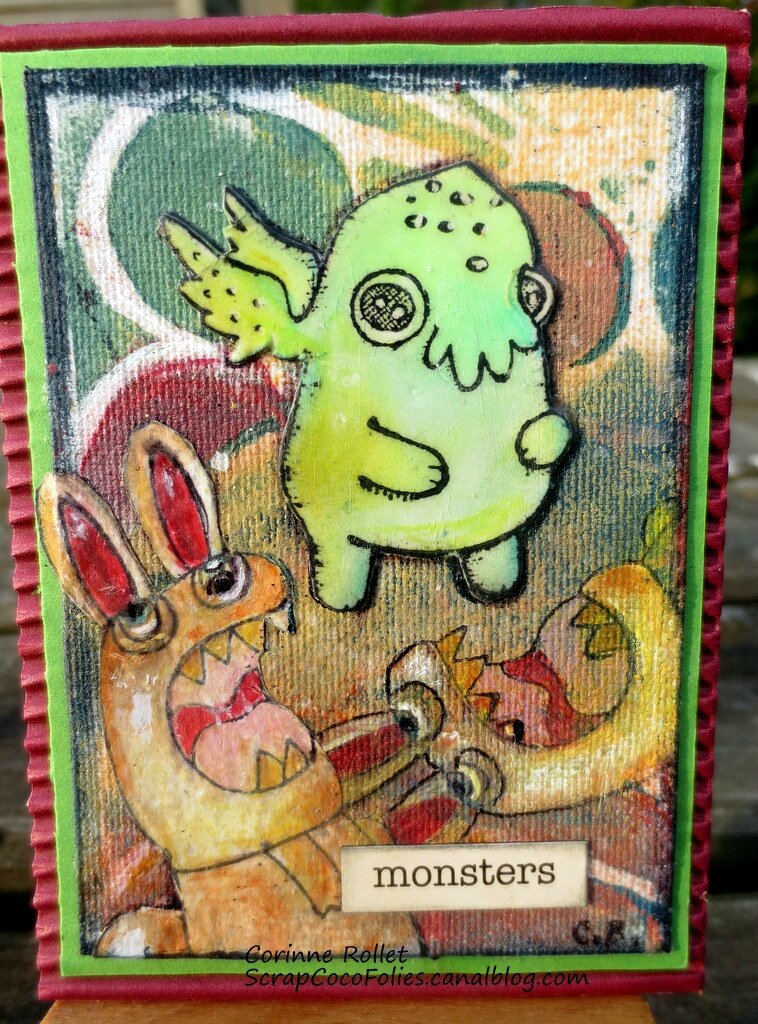 The second person's name Nikki gave me was herself lol, so I sent her this ATC:
Here's its pocket, painted and decorated on both sides (thanks Nikki for the photos of the pocket!):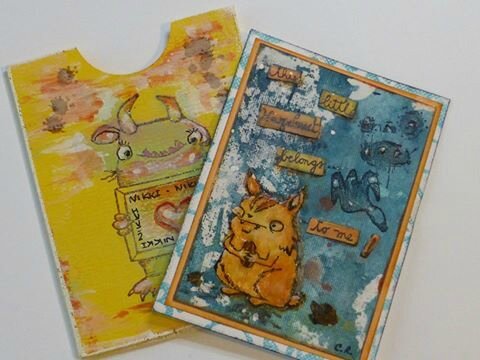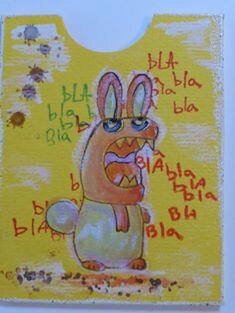 And last but not least I also send Nikki a cute 'bonus' ATC to thank her for all the work she does for these trades.
Et pour finir, voici l'ATC supplémentaire que j'ai réalisé, en jouant avec deux tampons Stampotique de Roc Nicholas (Flying Bunny and I'm learninig to fly) et le génial mask 'Eighties' (Tando Creative) dessiné par Gio que j'ai déjà utilisé de manière un peu similaire dernièrement là, si vous voulez comparer.
I show you a last ATC made for fun using two Stampotique stamps by Roc Nicholas (Flying Bunny and I'm learninig to fly), and the fabulous new mask designed by Gio so-called 'Eighties' (Tando Creative). I already used this mask in a similar way here if you want to compare!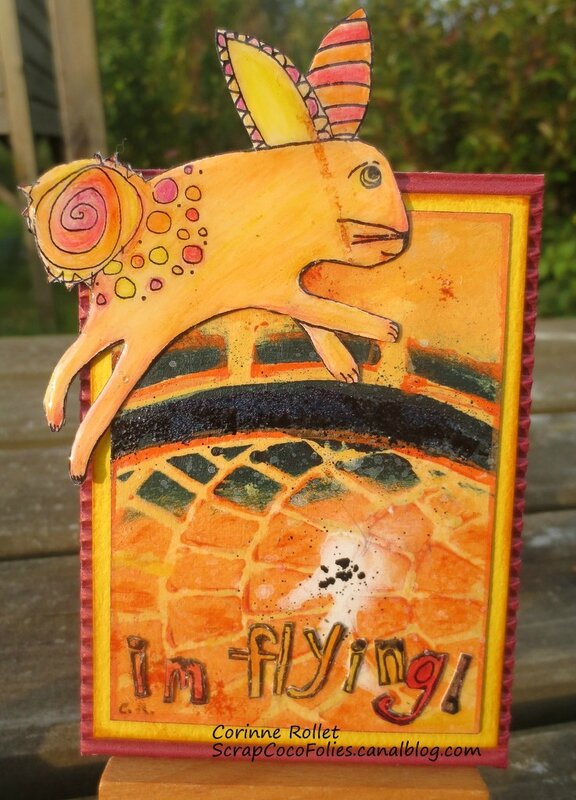 Les 3 ATCs réunis / The third ATCs together (I love trios!)
And now, here's what I've received back from two other ladies swapping with me.
From the lovely Karen Hayselden: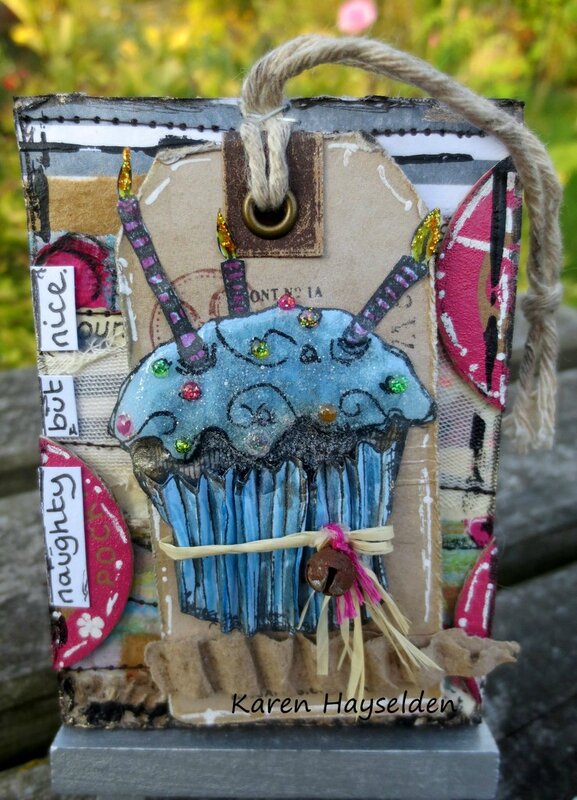 and from (also very lovely!!!) Corrie Herriman: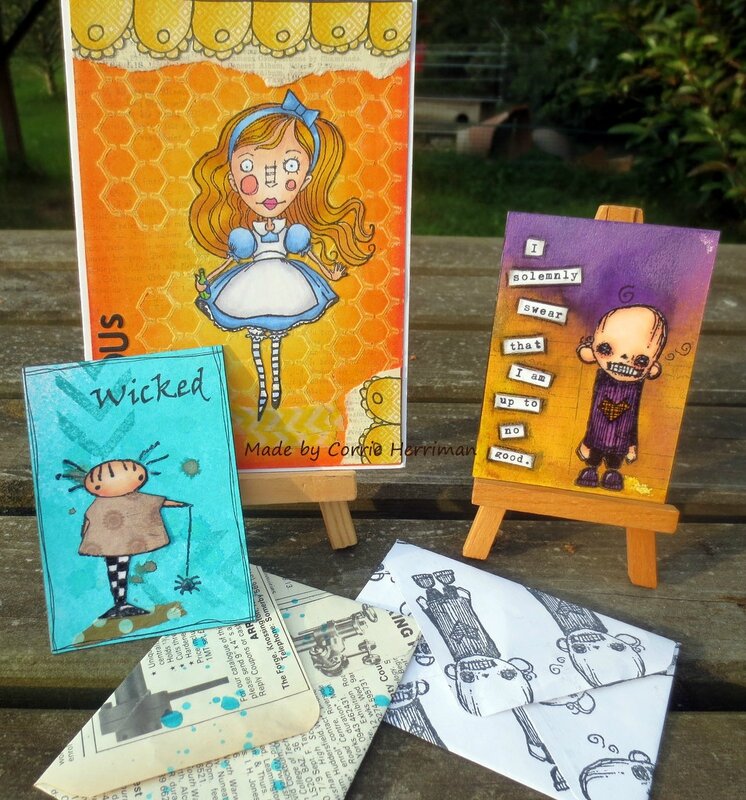 I've been very spoiled!!! :D
Merci de votre fidélité, très bonne fin soirée ! je reviens dès demain matin promis !! Bises
Thanks for joining me here, have a great week-end everyone... Hugs
Coco xxx
Commentaires sur September ATC trade at the Stampotique FB page + another ATC