*********************
Et je profite de ce post pour montrer une autre série d'ATCs, faite cette fois dans le cadre de nos échanges sur Libertyscrap, une rubrique animée par mon amie Sylvie/Nefertiti. Il fallait mettre des coeurs... ^^ Du coup, j'ai réutilisé le mot LOVE du mask précédent, et je me suis servie du mask Hearts et de modeling pate pour réaliser mes fonds. Comme je n'ai rien eu le temps de vous montrer à l'occasion de la St Valentin, j'essaie de me rattraper!!! :-o)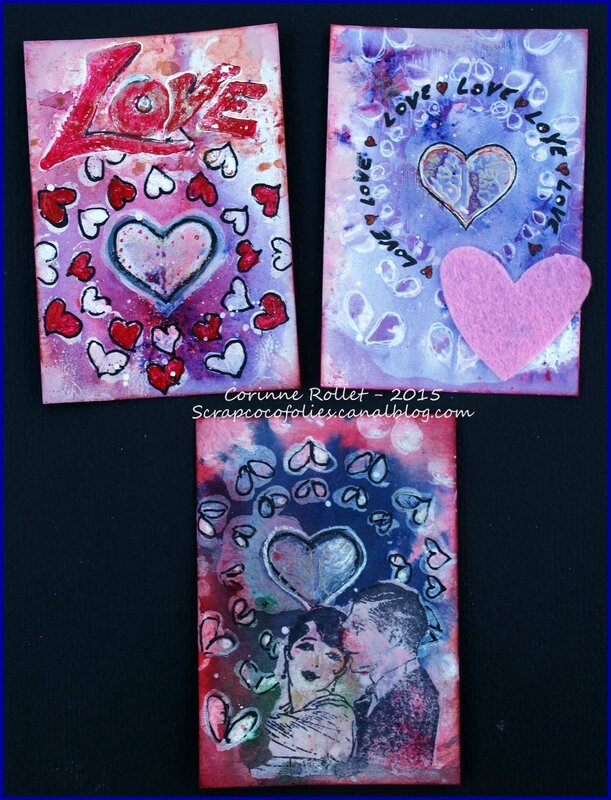 Sur le dernier vous avez peut-être reconnu un tampon de l'Encre et l'Image?... Il est beau celui-là!
Le second (en mauve) de cette série a été légèrement modifié avant d'être envoyé, j'y ai ajouté un tampon Stampotique, mais j'ai oublié de refaire une photo.
The couple of lovers is a beautiful stamp by L'Encre et L'image. And the second ATC was offered before I had time to do a last photo of it, including a little stamp by Stampotique at the bottom...
Et voici les 2 ATCs que j'ai reçus en échange de Claudine (Repart13), ils sont magnifiques, je les ai aussitôt mis en évidence sur mon buffet ils sont du plus bel effet merci encore Claudine !!!
Here are the two ATCs I've received from my friend Claudine (Repart13) in return.. Arent't they gorgeous?.. I love them!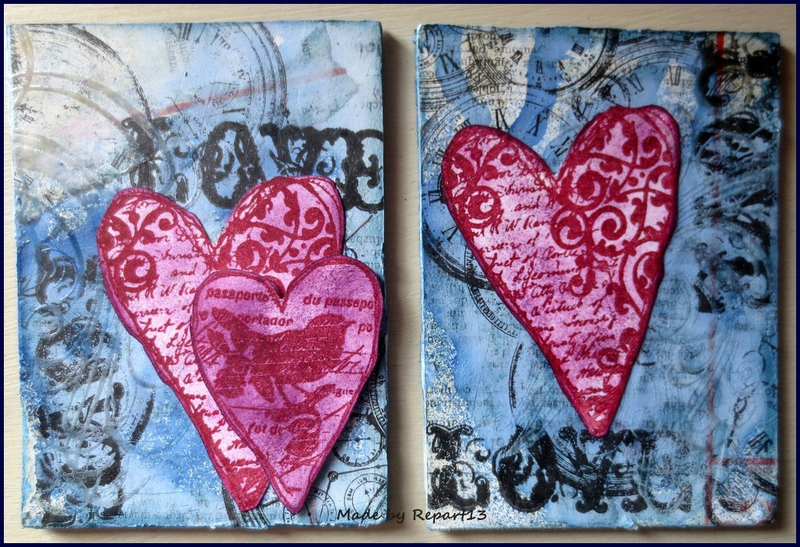 Voilà, je ne suis pas spécialement une adepte des petits formats, mais de temps en temps ça change... Et il faut reconnaître que c'est vraiment sympa de pouvoir s'en échanger avec les copines! Merci d'être passée aujourd'hui, je vais tacher de faire un peu de rattrapage et quelques visites de blogs moi aussi mais je ne promets pas de tout rattraper, ç'est difficile car certaines d'entre vous postent souvent et ma bal se remplit vite... Bon week-end à tous!!!
Thank you so much for stopping by today. It is always such a joy to have your company and your feedback. I will try this week-end to catch up with my friends blog list, but I do not promise to see all!.. my mailbox is filling very quickly, and some of you post quite often haha... :) Have a wonderful week-end!!! Huggles ^^