18 avril 2015
Bonjour, Helloooo!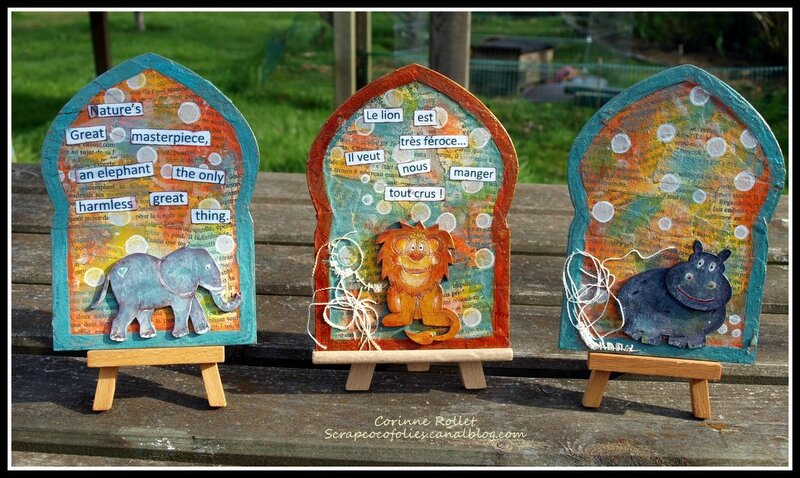 Un petit passage par mon blog encore aujourd'hui pour vous montrer trois petites arches que j'ai offertes à un petit neveu et à mes deux dernières filles... elles ont chacune choisi un chipboard animal à placer dessus et leur citation (ou pas, pour Constance, toujours plus pressée que sa soeur celle-là lol!). je les ai peintes et décorées suivant la méthode de Karen (dans les mêmes couleurs, que je trouvais vraiment superbes!), j'avais craqué sur sa réa il y a quelque temps, vous pouvez la voir ICI. Le petit chipboard Elephant que j'ai placé en embellissement sur l'une des arches a été dessiné par Karen elle-même, les deux autres par Di Oliver (ils sont de marque Tando Creative, tout comme les arches gothiques), je regrettais de ne pas avoir les avoir pris quand j'étais dans la DT aux côtésde Karen, donc j'ai acheté ce pack de mini-chipboards par la suite. Pour info il existe aussi en grande taille. Voilà, je n'ai plus de réduction dessus, mais je continue à bien aimer les produits Tando, en particulier ceux de Karen et tous les masks comme ceux d'Andy Skinner, Neil Walker ou de Giovanna Zara, ils sont faits dans un plastique ultra-résistant ce qui ajoute à leur charme.
Au final, une petite réa comme celle-ci nécessite plusieurs couches de peinture sur le fond, le cadre et les embellissements bois ou cartons, mais c'est un vrai plaisir!!!
I will try to keep this post brief.. but it's hard haha!!
Well, sometimes we make something that we have really enjoyed doing and this is one for me, I had fun to paint and decorate a bit differently (but not so much) three little arches I took from a Tando Creative kit found in my stash, to offer to my twins and a little nephew. Painted and decorated with little Africa animals chipboards designed by lovely Karen (the elephant) and Di Oliver (the two other shapes), these ones are so cute!!! They are from Tando Creative like the Gothic arches I used. I remembered a sample made by Karen herself some time ago using her large Elephant, and I had found her project totally adorable!!!! You can see it HERE with all the details on how she did it. I also did my background exactly like her as I loved her combo and fun technique: First, I covered it with bits of an old book page before painting it, stencilling it using my Sequin Waste with white dots, and so on.
For my elephant and my hippopotamus, I also applied Karen's technique.. Both are painted with two layers of paint (Dusty Teal first, Stone next, with a bit of additional dark grey and black for the hippopotamus) and while still damp dabbed with a paper tissue. The edges are coloured in brown ink and further paint. For the lion, I simply chose a set of yellow and orange colors among my PA Fresco paints an a bit of brown too.
Several layers of paints on background, frame, and chipboard or wood embellishments are needed for such a lovely creation, but that's so much fun to do and offer... The quote for the lion has been imagined by my little Salomé (she chose this arch). For the elephant, I chose the same quote as Karen, and for the hippopotamus no quote at all haha (it was the choice of my other twin girl which is not very patient!).
En détails individuellement (vous pouvez cliquer pour agrandir)
In details... you can click to enlarge the pics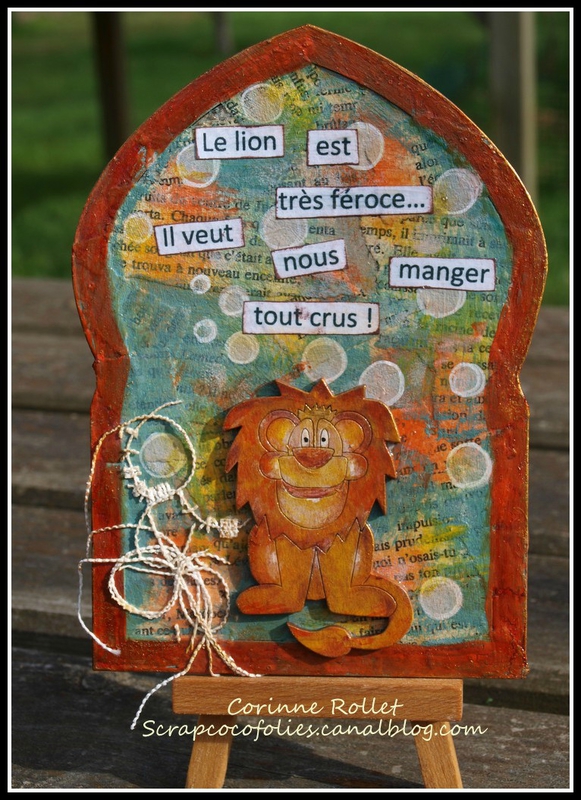 J'espère que vous aimez, j'ai eu personnellement beaucoup de plaisir à les faire, et c'est trop mignon à offrir!!!
Fournitures/Supplies:
Chipboards: Zoo set 1 Small, Arabian arches (Tando Creative)
Peintures/Paints: PA Fresco Dusty Teal, Smoked Paprika, Yellow Submarine and Stone + Silks Acrylic Glaze Cinnamon Brown, Spiced Pumpkin, Teal Zircon, Yellow Rose, African Jade, Black Ice
Gloss Glaze, Crackle Glaze, Liquitex Matte Gel, Versamagic chalk ink (Jumbo Java)
Posca white/black
Fils de toile en coton/fibers of cotton canvas
*********************
Bon week-end, je m'absente une semaine de la blogosphère car j'attends de la famille, je retrouverai le chemin de vos blogs ensuite avec plaisir. Bises à tous et toutes!


hope that you like it, I really had fun to create these little arches as very cute gifts for children!! Have a great week-end, I will be absent from craftyblogland the next week as I welcome some family members. I will be back on your blogs with pleasure after that time. Thank you so much for popping by today. HUGS xxx
I am entering this into the Tando Creative challenge of this week on the theme Same but different, the Craft Stamper Colour challenge, the Mixed Media World's use bright colours and in the Stamps and Stencils challenge Anything Goes.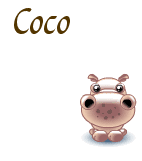 Commentaires sur Nature's great masterpiece...