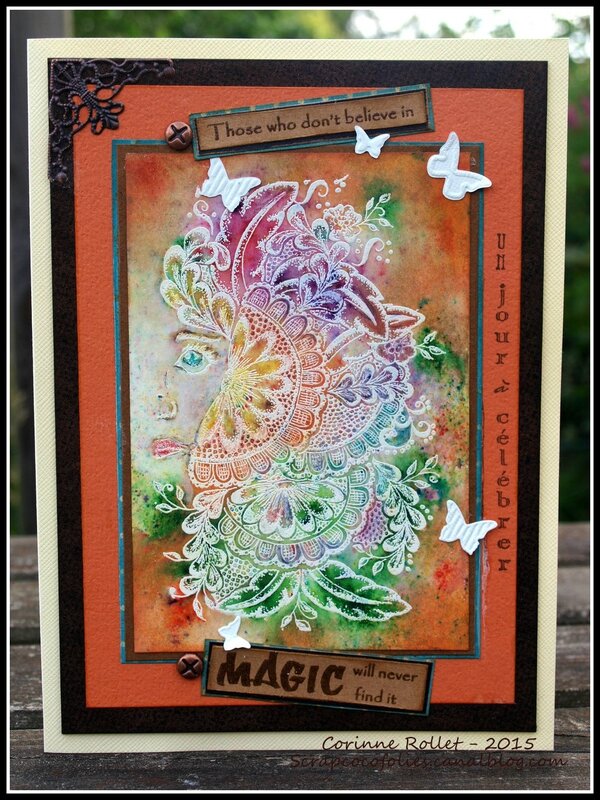 This card is my last offering for you to illustrate our July challenge on flowers. This is also one I love, since I made it for a dear colleague for his retirement! I had a so much fun with my brushos and my Derwent inktense pencils to colour also a bit the face.. Patience is needed to obtain such results, but I think it's well worth doing it and also very relaxing!!
I hope you'll have time to hop over and take a look on my sample on the DT blog today.
Cette carte est la dernière que je vous offre pour illustrer le challenge en cours sur le blog, vous avez encore 2 petits jours pour y participer.. Allez-y, foncez! Personnellement j'adore cette carte que j'ai faite avec le cœur pour une de mes collègues et amies à l'occasion de son départ en retraite, alors j'espère qu'elle vous plaira aussi.
J'ai travaillé aux brushos et aux crayons aquarellables ce magnifique tampon de femme fleur Woman Tangle (Mini KTZ144) que vous trouverez parmi les nouveautés.
Vous pourrez retrouver cette carte et les détails de réalisation, notamment les couleurs de brushos utilisées, sur le blog Katzelkraft ICI.
Bonne journée à tous et toutes!!
Thanks so much for stopping by. I wish you a lovely day! Coco xx
*******************************