28 avril 2015
Helloooo!!!
Je suis de retour après une chouette semaine de vacances en famille et avec les petits cousins, ça fait du bien de couper un peu de temps en temps!.. En vérité je me pose pas mal de questions en ce moment sur mon boulot, les sacrifices que je fais en maintenant mon rythme de créations le soir et le week-end qui m'interdit tout autre loisir, et surtout grignote aussi bien souvent sur ma vie de famille... J'ai eu un petit coup de mou il y a quelques jours.. Pas loin du burn-out la fille!! Tout danger n'est pas encore écarté d'ailleurs, certaines solutions se profilent mais il va me falloir redéfinir et mieux gérer mes priorités à l'avenir, affaire à suivre donc :)
En attendant, je vous montre aujourd'hui ma dernière création avec mes tampons Katzelkraft. Je suis partie d'un canvas en toile de jute fond écritures de Tim Holtz que j'avais dans mon stock depuis très longtemps, je l'ai modifé et redécoré à ma sauce.. J'espère que ça vous plaira, j'ai passé pas mal de temps sur ce tableau... Personnellement je l'aime beaucoup.
Vous pouvez le retrouver avec tous les détails et d'autres photos encore sur le blog de Katzelkraft ICI.
I'm back after a short break, it was school holidays here in France and our house was full of life and laugh with three more little cousins at home, six young children all in all!.. we also coped with chilhood diseases and other little problems, but happily things got back to normal quickly. Back to crafty things... I have a new project using my Katzelkraft stamps for you today. This is a mixedmedia canvas made of four little canvases glued on a largest one (a burlap canvas made by Tim Holtz I had for ages in my stash). Hope you like it as much as I do, as it took me a good deal of time to realize it!! :)
To get some details on this project please visit also Katzelkraft DT Blog HERE.
********************
On this piece, I played with one of my fave Katzelkraft stamp sets at this moment: Les Anthropomorphes. I also inked for the first time the wonderful flowers KTZ134 - they are all big, and that's really great! - I chose two of them to add interest to my background. Also had fun with some beautiful KTZ drops and the new English Quotes... All words together form a kind of sentence that inspired me: 'Hello Friends, imagine a wonderful world magic'. Hope you like it, I spent a good deal of time on this piece! :)
Sur ce large canvas en toile de jute j'ai utilisé principalement la série 1 (Rabbit) des 'Anthropomorphes' que je trouve extra, et les grandes fleurs KTZ134 que j'ai pris plaisir à tamponner sur le fond (a gauche et au milieu) et qui sont réellement magnifiques!!! J'ai aussi joué avec l'un des motifs de 'Gouttes' que j'aime beaucoup, et des mots de la nouvelle planche de textes 'English quotes'. Si vous regardez bien, les mots assemblés forment une sorte de phrase qui m'a inspirée ici, que l'on pourrait traduire par 'Hello les amis, imaginez un monde merveilleux et magique'. Je vous laisse faire un petit tour en images, vous pourrez voir aussi les tampons que j'ai utilisés un peu plus bas.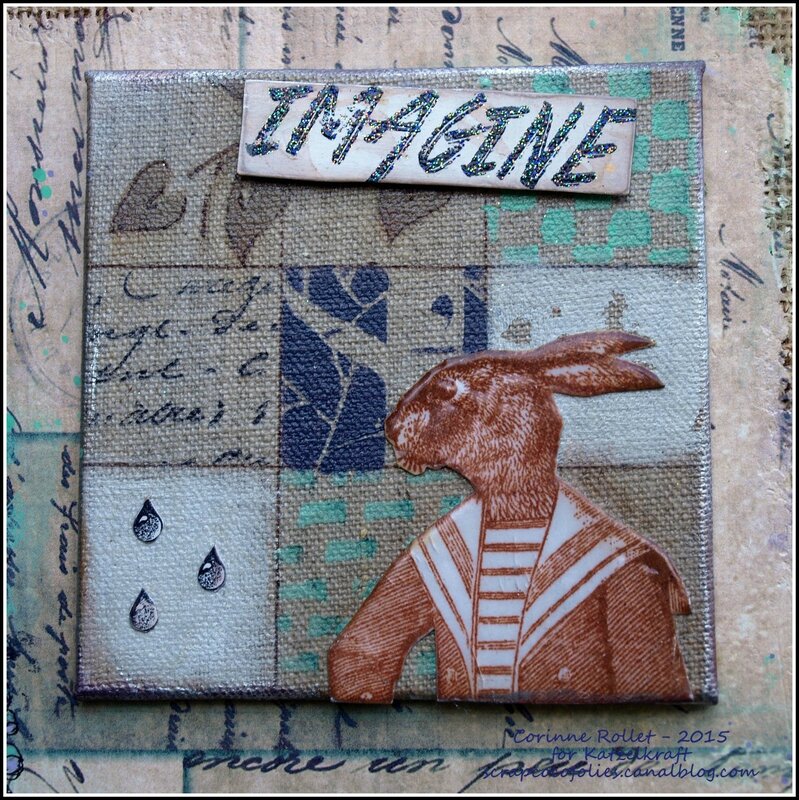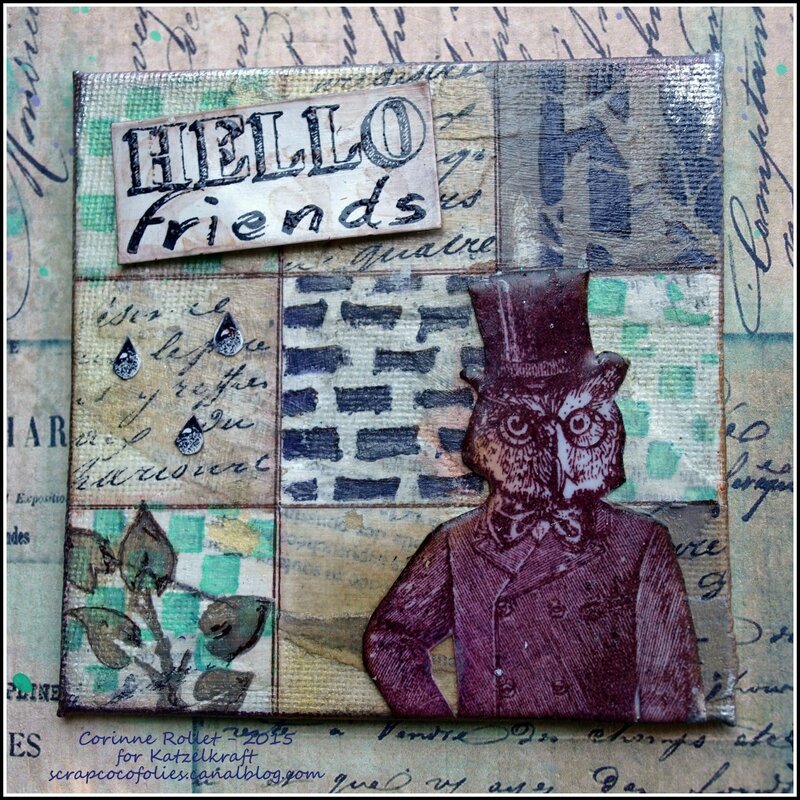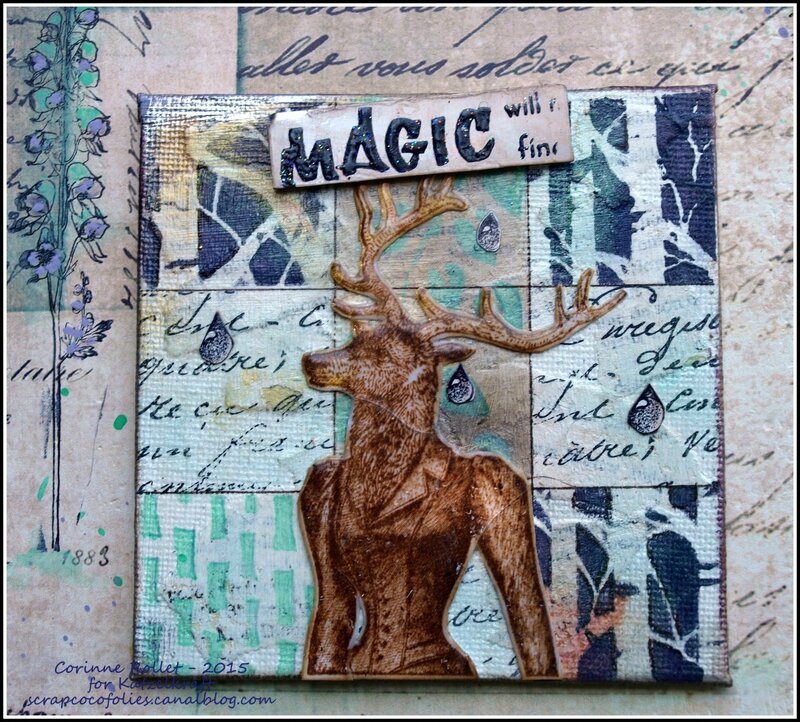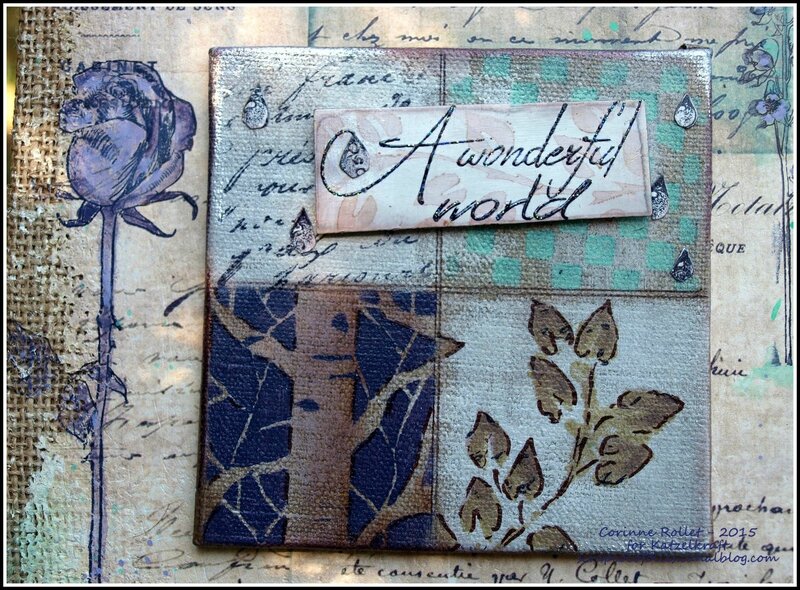 Matériel Katzelkraft: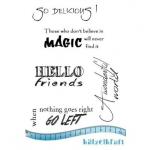 KTZ142 'Les Anthropomorphes' (Rabbit)
Autres fournitures (Other supplies)
Masks: Tree branches Crafter's Workshop, Damier Grunge (Carabelle Studio), Dylusions Staggered Brickwork Small and Leaf flourish Small (Ranger),
Mediums: Gloss Heavy / Multi-Medium Matte Gel
Versamark, Archival ink Jet Black, Coffee, Stazon ,
Masking-tape,
old book pages
Wow Clear EP et Neutral Ultra Shimmer Embossing Glitter
Distress Paint Cracked Pistacchio, Frayed Burlap, Adirondack Dabber Snow Cap, EggPlant, Acrylic Glaze Silks Warm Gray, African Jade, Solar Gold
Treasure Gold Royal Amethyst, Treasure Silver
Distress ink Walnut Stain, distress Markers
Tim Holtz District Market Burlap canvas
Voilà, j'espère que vous aimerez cette réalisation avec des tampons certes un peu particuliers, mais qui ont un côté étrange et un peu magique qui me plait beaucoup et qui m'inspire.
Encore merci de tous vos messages précédents, et aussi à toutes celles qui ont pensé à moi pour mon anniversaire, en m'envoyant des cartes, des petits mots persos par mail ou sur ma page FB, etc... J'ai été super gâtée!!! Je vous montrerai les cartes reçues un peu plus tard, ça me fait autant plaisir de les partager que mes propres cartes. Bises et à bientôt!

Hope you like my canvas with the 'Anthropomorphes'.. I really love these stamps!! Thanks for stopping by, also for all the lovely messages I enjoy reading each time. Thank you also to all of you who have thought to me for my birthday, it made my day!! I will show on my blog a bit later all the cards I have received so far, it well deserves the honour. But simply the messages I have received also by mail or on my FB page really made me happy. Hugs Coco xxx
For the second time this month, I'm entering this into Stamps and Stencils first challenge which is Anything Goes, and I also join in the fun at Simon Says Stamps Monday Challenge: Anything Goes.
Commentaires sur 'Les Anthropomorphes' - Serie 1