20 septembre 2015
Bonjour, Hi everyone,
Avant de vous montrer quelques réalisations avec mes tampons Crafty Individuals pour illustrer le challenge en cours Anything Goes (thème libre), je souhaite la bienvenue à mes nouvelles abonnées, merci de votre intérêt, j'en suis très honorée!!
Before getting on with the post and sharing with you some of my Crafty Individuals last makes to illustrate the 'Anything Goes' challenge that still runs on CI's blog, I wanted to welcome my latest new followers, I am humbled by your interest ladies, thank you!
Je commence par une petite icône en forme d'arche que je viens d'offrir à une amie pour son mariage, c'était hier... Elle aime beaucoup les voyages, donc il y a quelques rappels de ce thème sur mon fond en complément à tout le bonheur que je leur souhaite à elle et son mari! J'ai utilisé l'un des papiers du dernier paperpad 'Week-end in Seville', et les tampons CI-258 'Uplifting Words', CI-437 'Butterfly Pairs' et CI-438 'Words and Wishes'. Mon arche qui se déplie vient aussi de la boutique de Jean et Malcolm, vous pourrez la trouver ICI.
Starting with a little wooden icon for the wedding of a very good friend of mine... She loves travelling, so I put a few words on the theme on my background! I used a sheet from lovely paperpad 'Week-end in Seville', and CI-258 ('Uplifting Words'), CI-437 and CI-438 onto it to decorate... The folding arch comes also from the shop of Jean and Malcolm, you can find it here.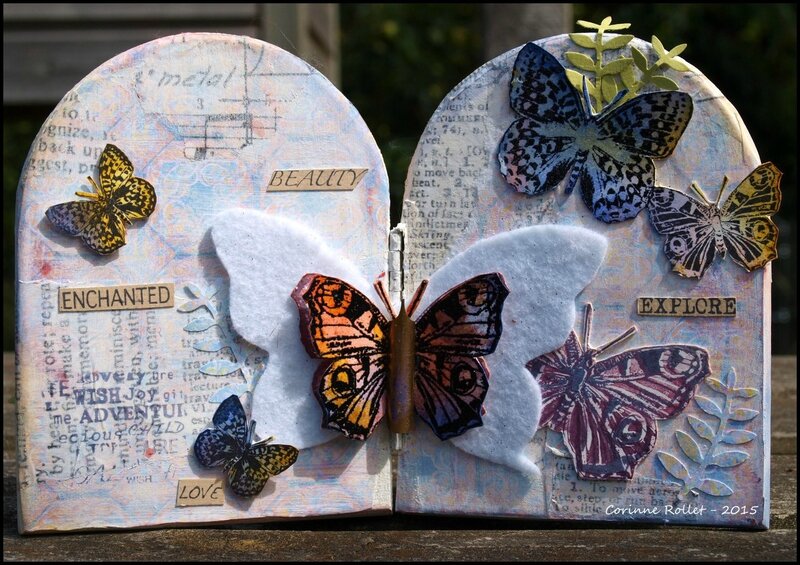 Je n'ai pas résisté à la travailler encore davantage et l'embellir encore un peu avant de l'offrir aux mariés hier, mais je n'ai pas eu le temps de refaire mes photos!
At the last minute, I couldn't resist to add a few things to embellish it even more just before offering it to my friends for their wedding.. But no time to do my photos again, so you will not see the last version! :)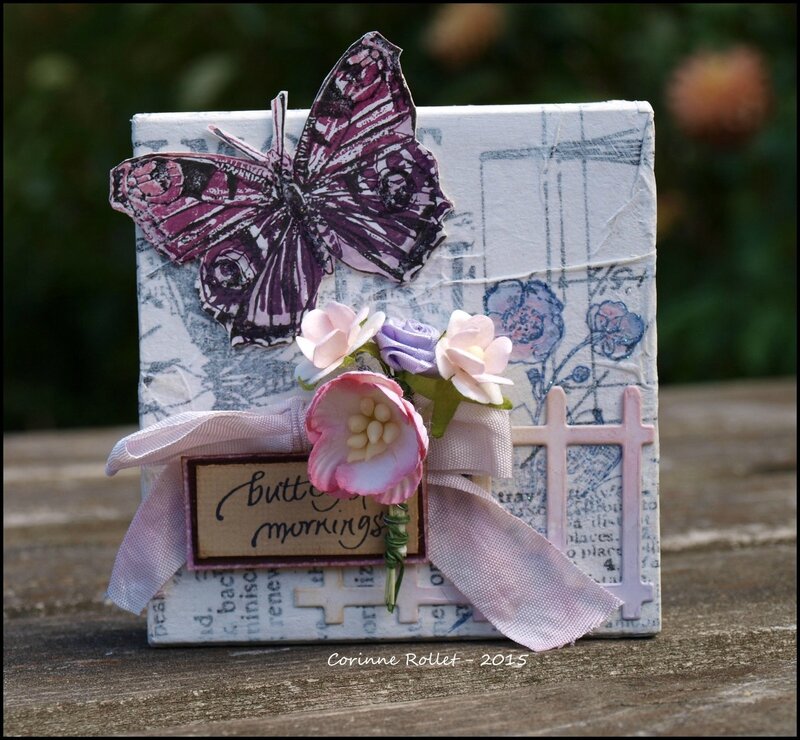 Sur ma lancée, j'en ai profité pour décorer un petit bloc de bois avec les tampons CI-438 et CI-410 'Butterfly Mornings'.
I also made a little decorated wood block, using patterned tissue paper, CI-438 and CI-410 'Butterfly Mornings'. I used an old wooden stamp I no more used.


Et maintenant un ensemble de cartes... Désolée pour la longueur de ce post, mais j'ai tellement de choses à montrer.. ça s'accumule et c'est quand même dommage de ne pas vous en faire profiter!!!
And now a set of cards.. Sorry for the length of my post, but I have so many things in the pipe to share!!!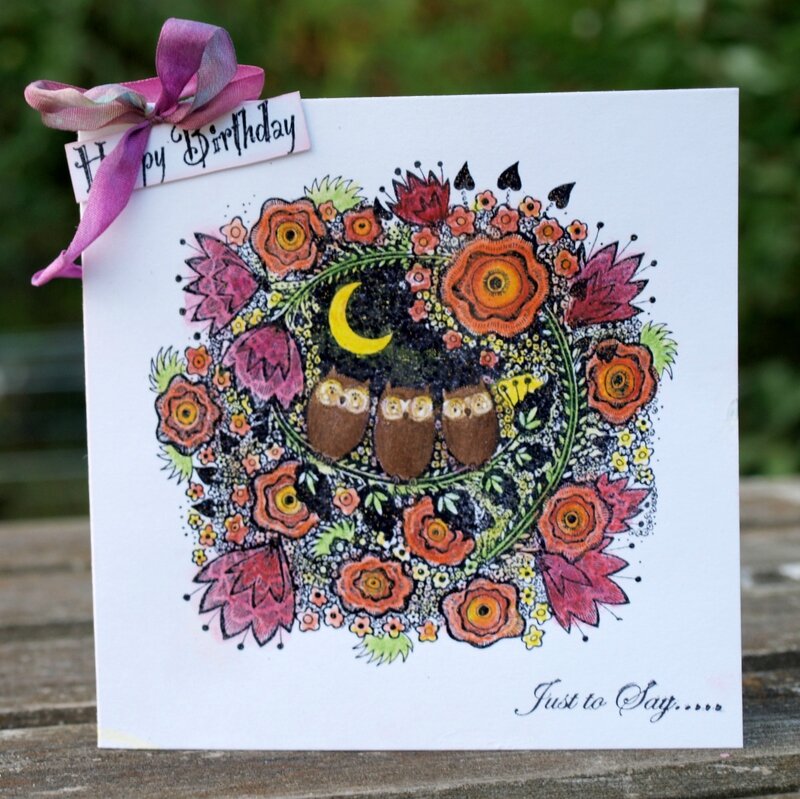 Celle-ci illustre le merveilleux petit tampon CI_442 'Little Owlets', un tampon absolument adorable qu'il est très facile de coloriser avec vos crayons ou feutres préférés, ou encore d'exploiter différemment.. Je vous en montrerai bientôt un autre exemple fait en utilisant simplement les Decos metal d'Indigoblu.
This one highlights the CI_442 'Little Owlets'. This is just the cutest stamp!... so lovely to colour using your favourite pencils or markers! The sentiments are from new CI-438.


J'ai envoyé cette carte à Athéna pour la remercier de son dernier envoi, elle m'avait fait parvenir des coins métallisés introuvables en France que j'avais trouvés très beaux sur l'une de ses réas! J'aime beaucoup ce tampon CI_439 'A Walk in the Park', je vous montrerai prochainement deux très belles cartes que j'ai réalisées avec ce même tampon...
Sur celle-ci, j'ai placé deux des sentiments du tampon de mots CI-438.
I sent this card to my French crafty friend Athena, to thank her for a lovely envelope she sent to me.. She makes wonderful shabby and vintage cards, don't hesitate to have a look on her blog! I used the very beautiful CI_439 'A Walk in the Park' (love this stamp) and a sentiment from CI-438.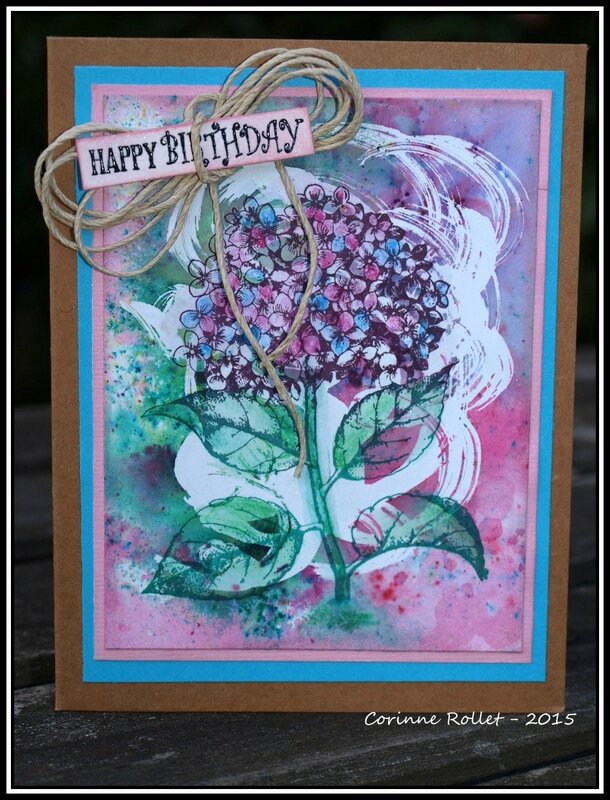 Et une petite dernière sur laquelle j'ai placé l'un des mots de cette même planche CI-438, faite avec mon amie scrappeuse Patricia au cours d'un super après-midi passée chez elle. Nous avons chacune notre propre style, assez différents mais complémentaires finalement, et on se régale toutes les deux !!! Je vous parlerai de Patricia plus longuement très bientôt, car il est prévu qu'elle fasse elle aussi des démos à mes côtés et des ateliers au Cactus Bavard lors de leur journée de Portes Ouvertes... En attendant, je vous invite à la découvrir sur son blog! Et pour rappel, c'est samedi prochain!
This last card just uses a beautiful sentiment from CI-438. The flower stamp comes from the stash of my friend Patricia, we had a wonderful afternoon crafting together lastly in her home, that's so good to craft not always alone haha! She will demonstrate in her own style (C&S) beside me soon at Le Cactus Bavard.
I would also like to enter this set of makes (especially the little Arch) in the following challenges:
- Craft Stamper Take it, Make it Challenge September, which this time around is 'Take A Stamp' - Anything Goes
- Fashionable Stamping Challenge #103: WORDS
Bon dimanche à tous!!! Bises et à bientôt.
Thanks for stopping by, Enjoy your Sunday! xx
Commentaires sur A little walk among flowers and butterflies.. Arches and cards for Crafty Individuals