17 janvier 2016
Bonjour à tous, hi everyone!
J'espère que vous allez bien, et que vous passez un bon week-end.
I hope you are all well and enjoying your week-end.
Je n'ai pas beaucoup de temps pour poster sur mon blog en ce moment hélas, mais là il est grand temps !!!...
Tout d'abord, je vous annonce la sortie de deux nouveaux tampons Crafty Individuals, dont un absolument génial composée de toutes sortes de rangées d'arbres: le CI-450 'Listen to the Trees'. Pour la toute première fois, Jean et Malcolm (propriétaires de la marque CI), lancent une grande planche de format A4, et elle est vraiment magnifique. Je me suis régalée à les exploiter de différentes manières, vous en verrez très rapidement de nombreux échantillons; j'ai fait plusieurs séries de cartes avec, et une boîte que je vous montrerai plus tard.
L'autre tampon, le CI 449 'My Favourite Place' est adorable!! il s'agit d'un couple d'enfants de grande dimension. Je vous en montre un premier exemple aujourd'hui, je n'ai pas pu résister à l'essayer lors de mon avant dernier atelier donné au Cactus Bavard, en complément des techniques démontrées pour réaliser cette carte. Sur cet exemple, je n'ai placé que le petit garçon. Pour vous donner une idée de la taille du tampon et du petit garçon, mon tag fait 16x8 cm, et ma carte 21x14 cm.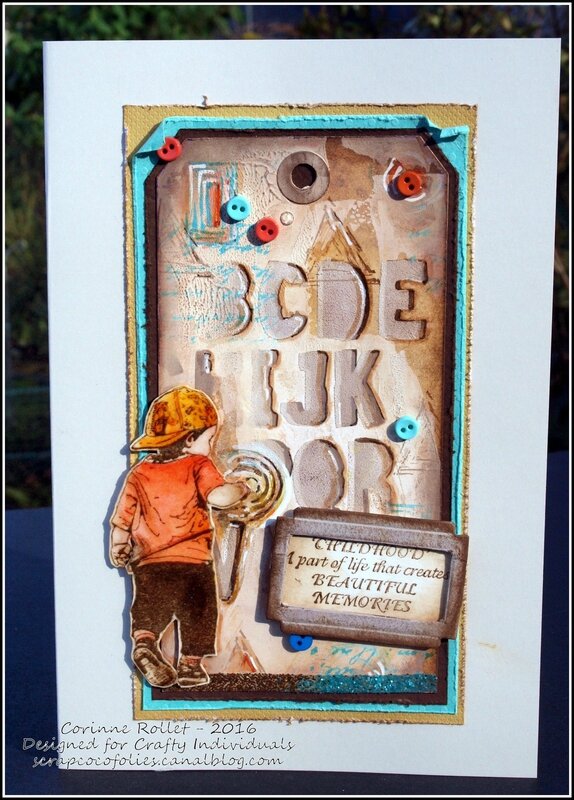 I have been playing with the new stamps from Crafty Individuals which have just been released. One is (for the very first time!) an A4 plate full of different lines of trees... wow, they are unique and so awesome!!! I am sure you will love them too, after seeing all the possibilities with these stamps!
I have made a bunch of cards and a box recently which should come up on my blog during the days and weeks to come. Starting today with a first card shown above, made during one of my recent local workshops...

This stamp My Favourite Place CI 449 has just been released by Crafty Individuals at the same time that CI-450. It is such a great size. Slightly larger than some of the other children stamps in the range... It is really adorable! The quote is part of the same stamps set. I couldn't resist to try it in complement of the techniques I demonstrated to do this card. I only played with the little boy here.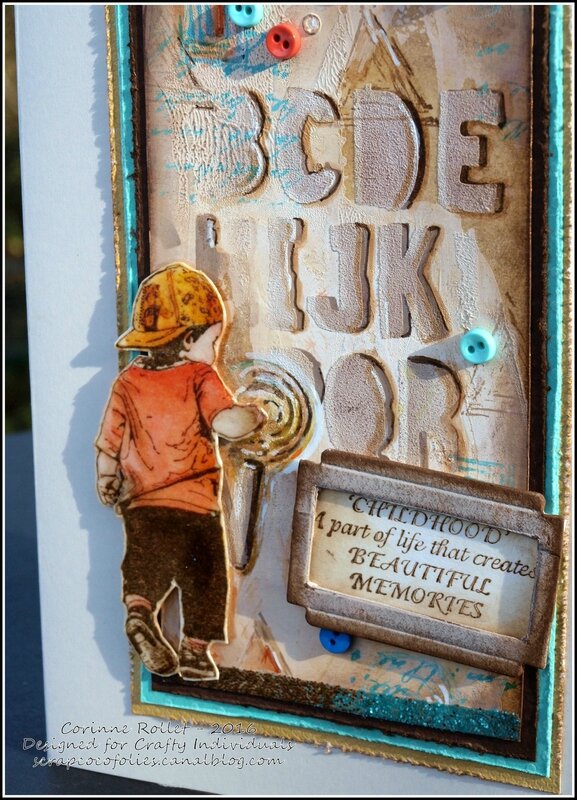 Voilà, ce n'est qu'un début car j'aime beaucoup ce petit bonhomme !!!
It is just a start since I really LOVE this little guy!!!
Ne partez pas, je reviens de suite !! :)
Don't go away too quickly, I'm be right back!! :) xx

Coco
Commentaires sur Nouveaux tampons Crafty Individuals, et une carte pour commencer... / New CI stamps and a first card