14 février 2016
Re-coucou!... je vous montre une dernière petite carte, j'ai encore utilisé ce même couple - le tampon CI-439 que j'aime tant - juste pour le plaisir - et le tampon de fond texte CI-258, également l'un de mes favoris.
J'ai ajouté le mot 'Thank you' qui vient de l'ensemble de mots CI-438 'Words and Wishes'.
Hi again!
The February theme for the Craft Stamper Magazine "Take It, Make It" challenge is TEXT ME! One can submit up to three pieces of art for each monthly challenge. This is my third (and last!) participation to the challenge.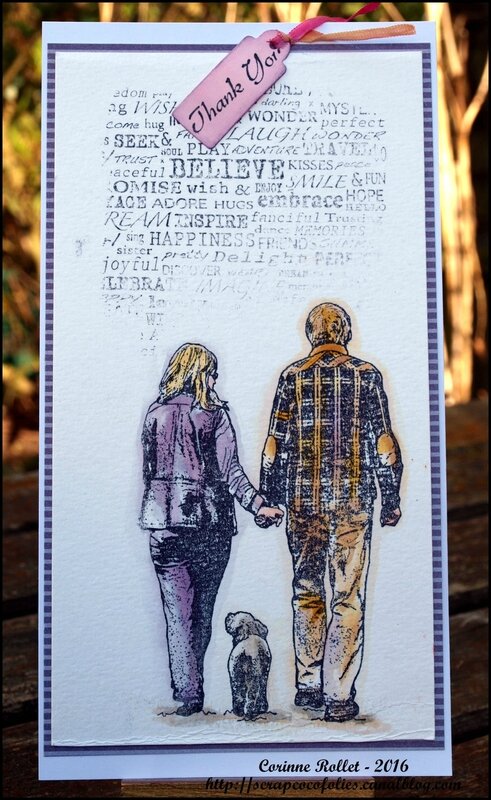 Voilà, une carte qui ira à l'une de mes élèves, Maddy, qui m'a offert généreusement un plein sac de très belles chutes de cuir... Vous verrez bientôt ce que j'ai commencé à en faire !
Matériel utilisé / I used:
Crafty Individuals CI-258, CI-438 (word 'Thank You'), CI-439
papier aquarelle à grain fin / white smooth watercolour paper
scraps of patterned paper
white double card (Bristol paper)
Archival ink Jet Black
Distress inks
Sharpie white
Merci d'avoir pris le temps de regarder cette troisième et dernière carte! Je suis désolée, j'ai du diviser mon post initial en trois parties pour avoir le droit de participer au challenge de Craft Stamper. J'espère ne pas vous avoir renvoyé de notifications pour celles qui avaient déjà vu mon premier post! Je vous laisse à présent.. Bises à toutes!!
I am happy that you have stopped by (again) to check out my third card for the TIMI project! I hope you can take a moment to leave a comment. I appreciate them much! Hugs
Coco xx
Commentaires sur Une petite carte de remerciements - DT Crafty Individuals et challenge TIMI (3)