14 février 2016
Bonjour à toutes! Hi everyone!
Encore un grand merci à vous pour vos mots adorables, et bienvenue à ma nouvelle abonnée Joanne que je ne crois pas avoir déjà accueillie sur mon blog. Aujourd'hui je reviens avec une petite série de trois cartes que j'aime beaucoup. J'ai joué avec différentes peintures et pochoirs pour réaliser le fond des deux premières à l'aide d'un brayer selon la technique de Leandra de PaperArtsy - sur le thème de la St Valentin, donc oui, l'une des deux sera pour mon homme :o) - et j'ai ensuite utilisé trois magnifiques tampons Crafty Individuals dont je ne me lasse pas.
Je souhaite participer avec cet ensemble de cartes au challenge de février de Craft Stamper Magazine "Take It, Make It": TEXT ME! qui m'autorise à soumettre jusqu'à 3 cartes incluant du texte... Je vous montre la première de mes cartes dans ce post, les deux autres suivront juste après.
At first, a big Thank You again to you all for all your last lovely messages, they are so much appreciated.
Today I'm back with Valentine cards using a few of my favorite Crafty Individuals stamps. The February theme for the Craft Stamper Magazine "Take It, Make It" is TEXT ME! I love text, so really wanted to participate this month!
One can submit up to three pieces of art for each monthly challenge, so this is the first of three posts from me today.
I made my card from a masterboard cut into several pieces, after I had fun brayering many layers and paints over a large sheet of watercolour paper, following Leandra's from PA brayering technique. I used a lovely stencil from the Crafter's workshop: Mini Love and Peace, and added slightly (and repetively at top and bottom after the first impression) part of a wonderful background stamp CI-430 over the top, using black Archival ink. Loving the effect on this card! It is not clearly visible on my photograph, but this stamp also includes a beautiful text.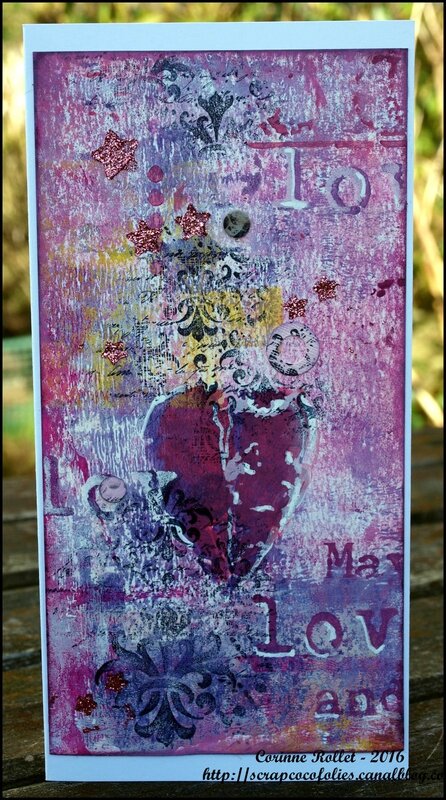 Matériel utilisé / I used:
Crafty Individuals CI-430
papier aquarelle à grain fin / smooth watercolour paper
The Crafter's workshop 'Mini Love and Peace' and My Favorite Stamps 'diamonds' stencils
Archival ink Jet Black
PaperArtsy Fresco Finish Chalk Paints
Versamark, poudre à embosser transparente (Clear EP)
Sharpie white
Imaginations Craft Sparkle Medium 'Antique Pink'
En parlant de mes tampons CI, j'en profite pour vous informer que la boutique Scrap'à Faire distribue des tampons Crafty Individuals !!! Ils ne sont pas revendeurs officiels ou exclusifs, mais ils en proposent un certain nombre dans leur site de vente en ligne ou via leur page FB. A ma connaissance, ils sont les seuls !!! Avis aux amateurs. J'ai eu l'info par Marie-Christine Denis qui fait partie de la DT et que je rencontrerai sans doute un jour puisqu'elle habite dans ma région, merci Marie-Christine !
Je fais aussi participer ma carte au challenge carterie en cours sur la page FB de Scrap'à Faire sur le thème de la St Valentin, ainsi qu'au challenge du blog Anything But Cute: 'Grungy Love'.

I'm also entering this card to the following challenges
- Valentine challenge on French site Scrap'à Faire FB page
- Anything But Cute #10: 'Grungy Love'
Passez une bonne soirée ! Bises
Thanks for stopping by and looking, wishing you a lovely evening! Hugs
Coco xx
Commentaires sur Une carte de St Valentin / A Valentine card - DT Crafty Individuals + challenges