Je vous montre ma participation au challenge d'Andy Skinner, sur le thème BOLD & BRIGHT. Un challenge où il faut introduire des couleurs, de la brillance, et réaliser une oeuvre Mixed Média en jouant avec les produits DecoArt et ceux conçus par cet artiste designer lui-même.
Je tenais vraiment à participer à ce challenge, ne serait-ce que pour le remercier encore de l'oeuvre que j'ai reçu de sa part gagnée il y a déjà quelque temps à la suite d'un blog hop Stampendous - DecoArt, elle est toujours en bonne place dans l'espace où je crée !
J'ai réalisé pour l'occasion un canvas qui mesure 18 x 24 cm, et qui fait 4 cm d'épaisseur. ça m'a permis d'y introduire un texte sur la tranche, car après hésitation j'ai préféré ne pas mettre de titre sur le devant, pour une libre interprétation.
Today, I am sharing with you my entry to Andy Skinner Challenge, on the theme BOLD & BRIGHT. This is Andy's first challenge, and I'm very happy to join in! Even if I don't win it as there will be probably many fabulous entries... :) But it's my way to thank him again for the fabulous piece of art I won - offered by himself - after a great blog hop organized by Stampendous - DecoArt. I had been so lucky, a double winner!! Really spoiled...
I continue to cherish Andy's art piece, still

and exposed

in my craft space.
I had fun creating this canvas using my DecoArt great stuff and paints received after my win, but also some others bought afterwards and some of the stencils and stamps I have in my stash designed by Andy Skinner.
I love this artist and his wonderful art and genious techniques, and this is my offering in honour to his wonderful talent.
I created my piece on a 18 x 24 cm canvas.

This canvas is a deep edged one

with 4 cm on each side. It

gives the opportunity to take your design around the sides and on top. It

helped me put a quote on Nature onto the right edge only... I hesitated for a while before that step, but finally decided not to integrate any text on the front board to be left to interpretation.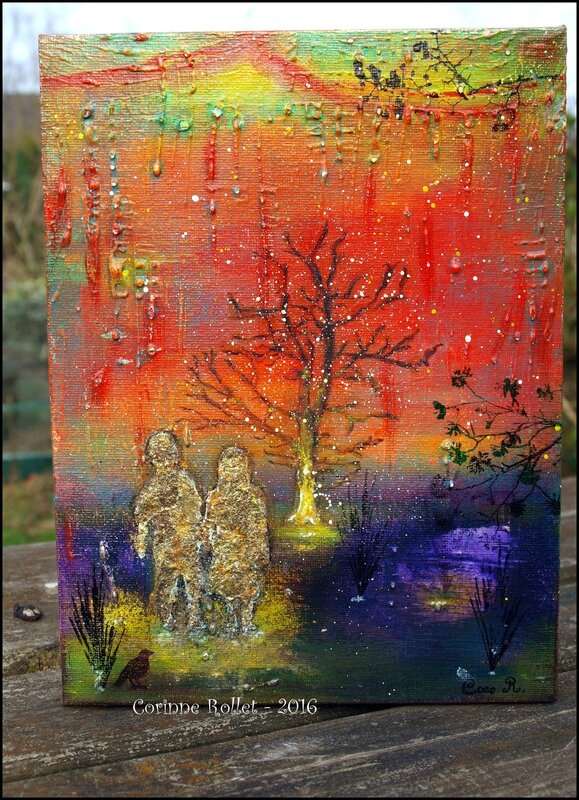 Pour mon inspiration, j'ai un peu pensé à l'arbre d'or, que vous pouvez voir en forêt de Brocéliande... mais finalement ce n'est pas le titre que je donnerais à ce tableau si je devais lui en donner un, car j'ai choisi de mettre plutôt ce petit couple d'enfants en doré!
For my inspiration regarding the scene, I was first thinking to a famous place in Brittany so-called L'Arbre d'Or (litteraly, The Golden Tree)... But finally, instead of the tree I covered with gold only the couple of little children... :)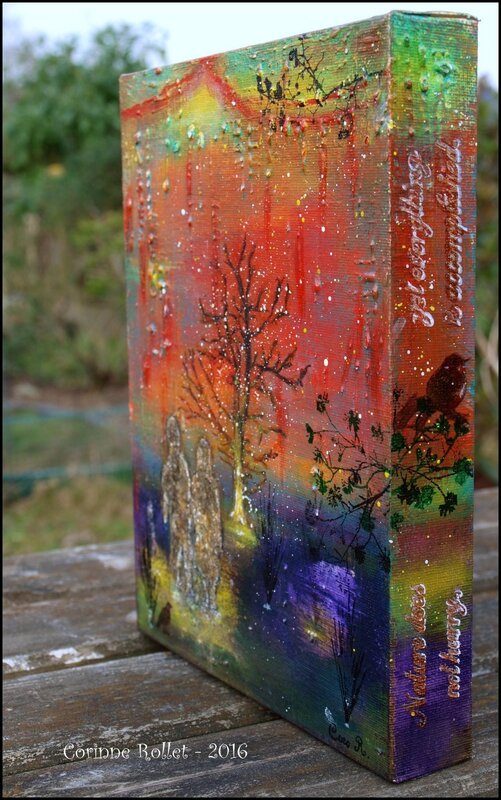 Je vous traduis la citation que vous apercevez sur la tranche, je la trouve très belle:
"La nature ne se hâte pas... mais tout est accompli".
Encore qu'en ce moment hélas, elle se hâte un peu trop du fait des changements climatiques, ce qui a des effets dramatiques..
The quote on the edge is "Nature does not hurry... yet everything is accomplished". LOVE this sentiment, though at the moment we observe some dramatic changes in the climate that also change the behaviour of Nature..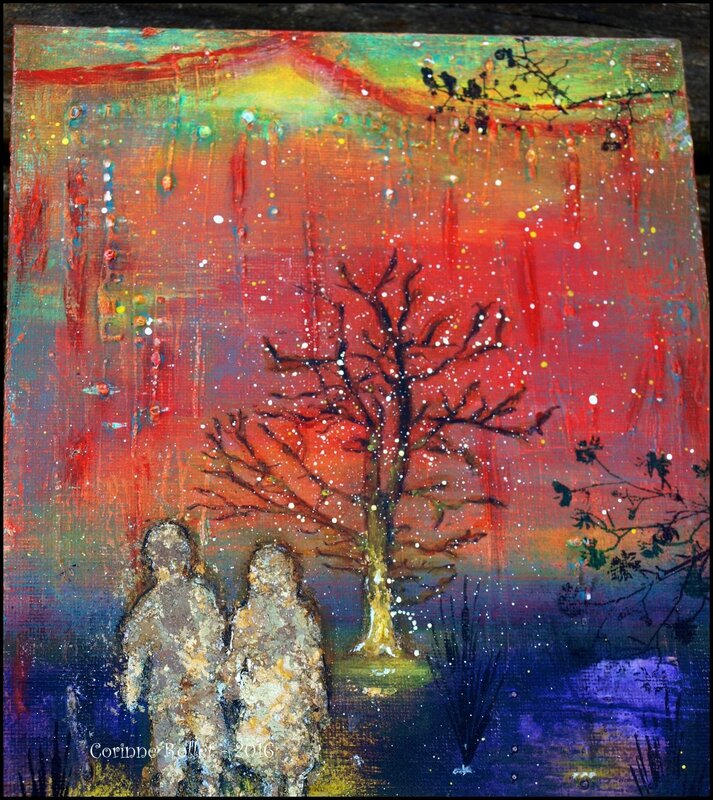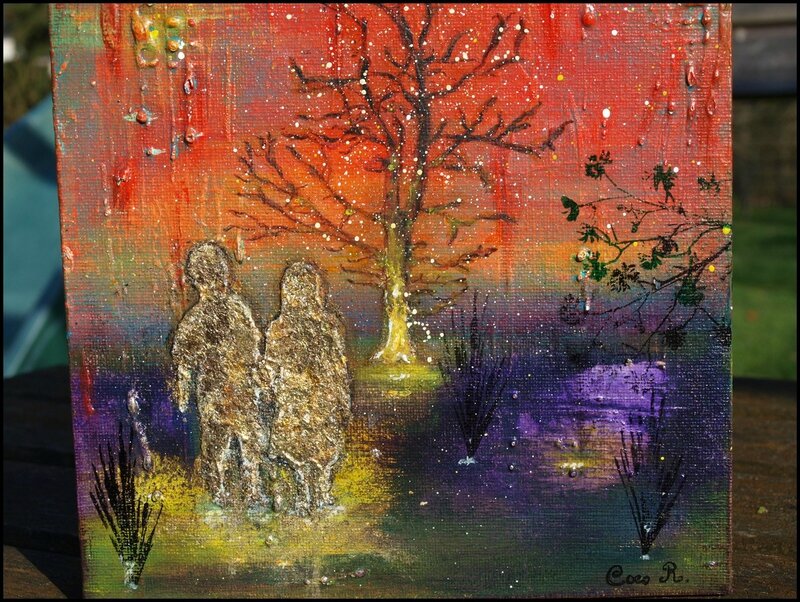 Celles qui me suivent savent que j'aime bien fignoler les détails... Du coup, après avoir fait toute une série de photos, j'ai décidé de rajouter le petit oiseau en bas de la scène
(Visible sur la photo suivante)
You may know that I love working on details...
So after taking all the photos... I finally decided that I wanted a little bird at bottom left of the scene
(you can see it on the photograph below)