03 avril 2016
Bonjour! Hi everyone!
Tout d'abord un message pour vous remercier de tous les chaleureux commentaires que je continue à recevoir, même quand je n'ai pas le temps d'aller régulièrement sur vos blogs en retour, ce dont je m'excuse !
J'en profite, je remercie aussi toutes les filles qui ont déjà participé à mes premiers ateliers au Cactus Bavard et à Cooleurs, de magnifiques rencontres, des expériences formidables et de belles amitiés qui démarrent.
Ce post leur est dédié, je tiens à montrer leurs créations à elles aussi, que je trouve vraiment géniales pour ma part... Soyez patientes car ce post est un peu long du coup. Et il n'y a pas tout, loin de là ! Mais j'espère que vous aurez tous et toutes plaisir à voir ces premières oeuvres, et constater que le mixed media n'est pas réservé aux seuls initiés depuis longue date !! Pour la plupart, ces personnes découvraient cet univers. Mais des personnes créatives et motivées apprennent vite... et c'est formidable. Le résultat a dépassé toutes mes espérances, j'adore vraiment tout ce qui a été réalisé avec goût et artistiquement par chacune. Je vous montrerai la suite très bientôt, ça mérite vraiment le détour. N'hésitez pas à agrandir les photos en cliquant dessus !
At first a big THANK YOU for all the lovely messages and congrats received for my last publication, you made my day!
I'm happy to show you for the first time today (!) a few makes done by very kind and talented ladies attending to my starting workshops and classes... The classes are three hours long, which very often extends into four, so the girls didn't get to finish and had to take home to complete.
To enlarge smaller images, please hover over with mouse.
My post is in French, sorry! Pls use the translator if you want some details, don't hesitate! :)

Tout d'abord, un projet de couverture d'Art Journal dans un livre recyclé... En jouant avec des tampons PaperArtsy, des peintures Dylusions, des vieilles feuilles de scrap que l'on s'amuse à repeindre et à découper.
Je vous montre mon modèle: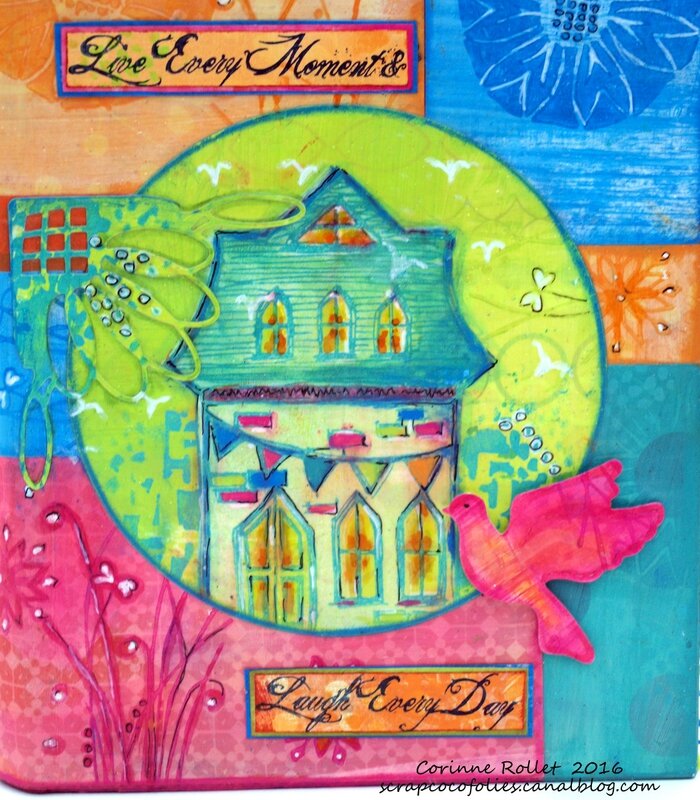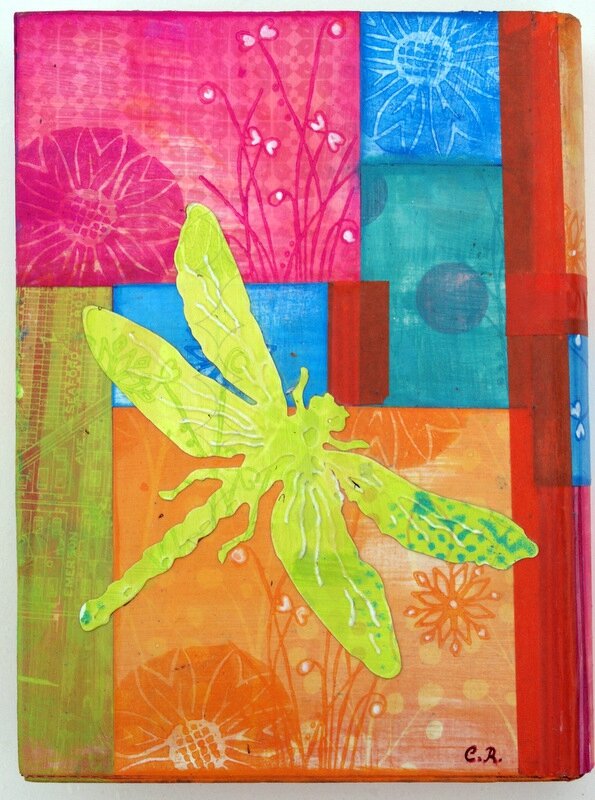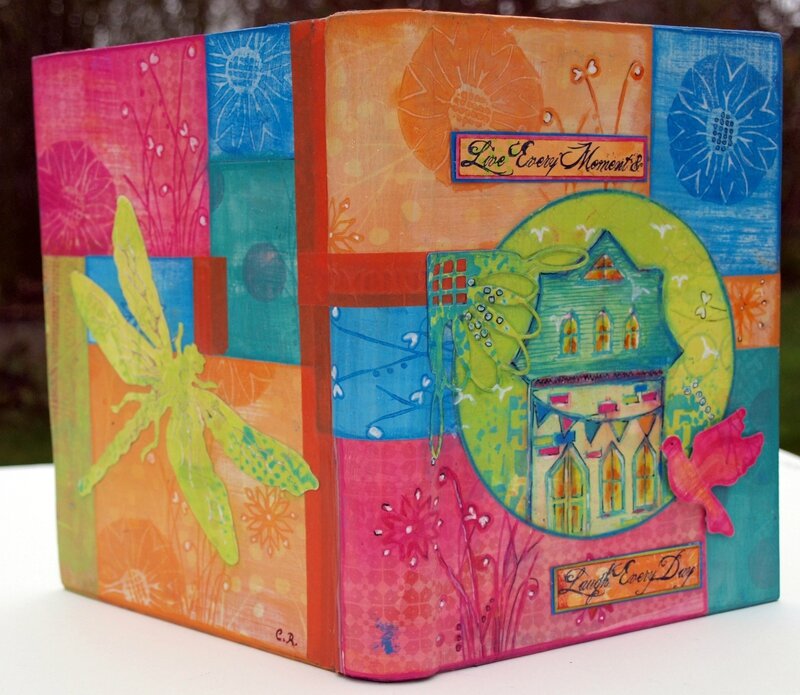 et voici les créations des personnes présentes ce jour là, tout aussi belles que l'original voire davantage, ce qui me rend très fière!!!
Made by the participant ladies as a result, I'm very proud of what they have created, very beautiful! :)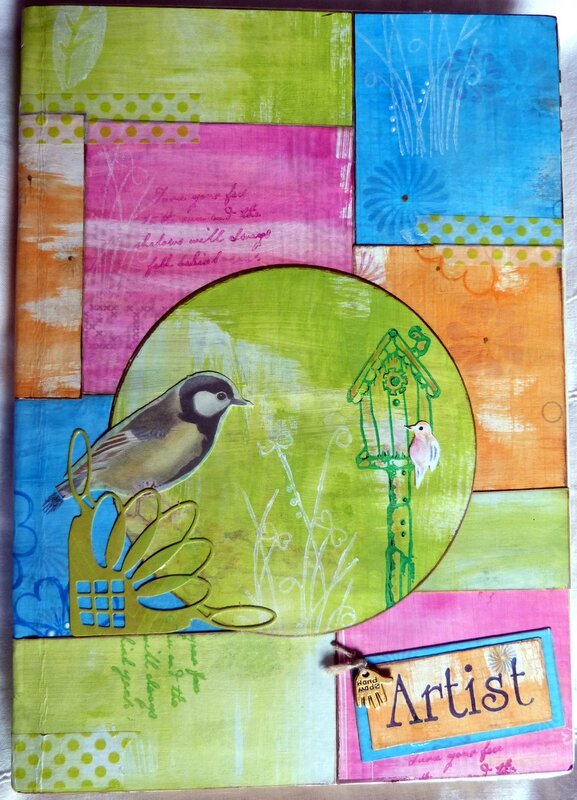 Maddy
Christèle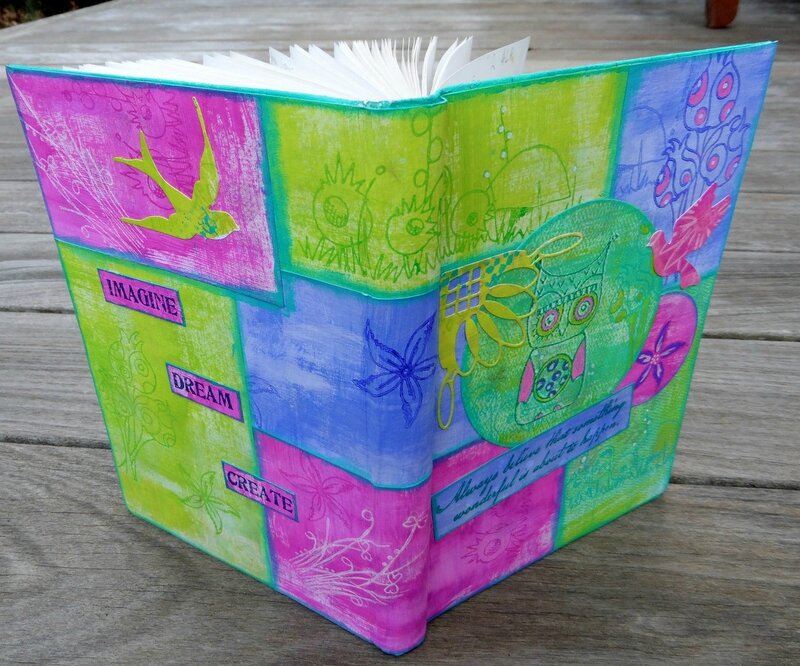 Sophie
Et le livre d'Isabelle pour finir...
Un grand merci à vous toutes !!!!

Un atelier que je repropose au magasin Cooleurs de Rennes le jeudi 7 avril de 14h à 17h, avis aux amateurs, il me reste encore deux places.
Vous pourrez retrouver le programme des ateliers que je propose en boutique ICI, il est mis à jour chaque mois en principe. Mais attention, pour cet atelier le site n'est pas à jour.. Il n'est pas gratuit comme mes démos de samedi dernier LOL !!!
Je vous communique les tarifs et le programme complet de mes ateliers à venir dans un post à suivre, juste après celui-ci ce matin... Si ça vous intéresse, restez connectée !
A présent, quelques photos d'autres ateliers passés, qui ont eu lieu à l'atelier du Cactus Bavard... Des tags ou pages faits en jouant avec des encres Izink, Stazon, et poudres à embosser...
Tout d'abord mes pages, avec des tampons Carabelle Studio principalement, que j'ai associés à un ou deux tampons de fond de chez Crafty Individuals....
My two pages made as samples for the next class, using maily stamps by Carabelle Studio and Crafty Individuals, and Izink and stazon inks...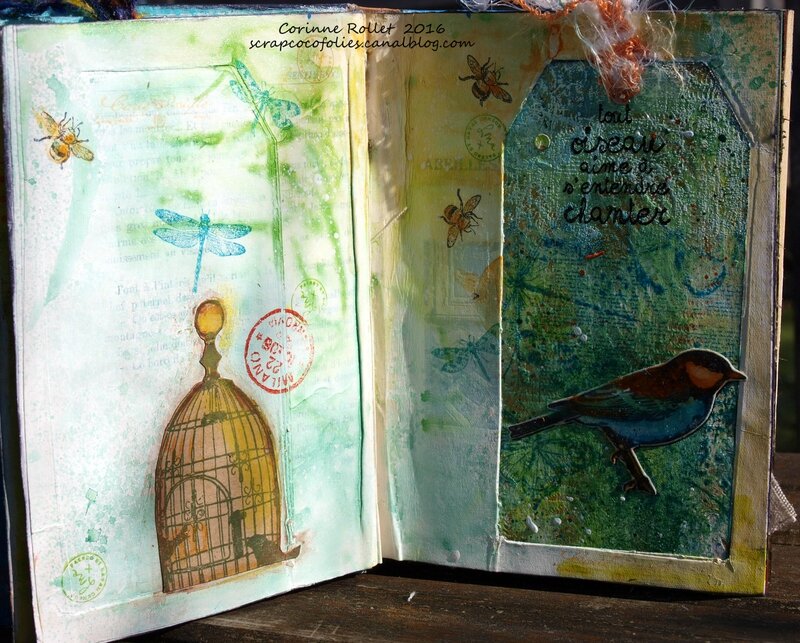 Et les tags et page faites par Sophie, qu'elles a eu la gentillesse de m'envoyer: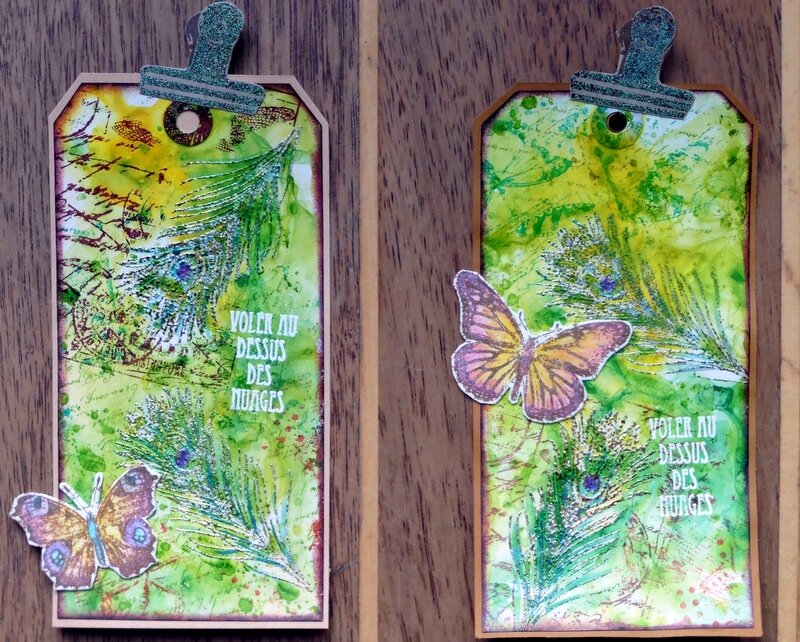 Je n'ai pas d'autres photos pour l'instant sur ce projet, je les mettrai plus tard si j'en reçois.

A présent, voici les magnifiques productions réalisées dans l'ordre par Cristèle, Anaïs, et Maddy, lors d'un super atelier "masterboards".
Un atelier que je reprogrammerai avec grand plaisir un jour si on me le demande, j'ai adoré le faire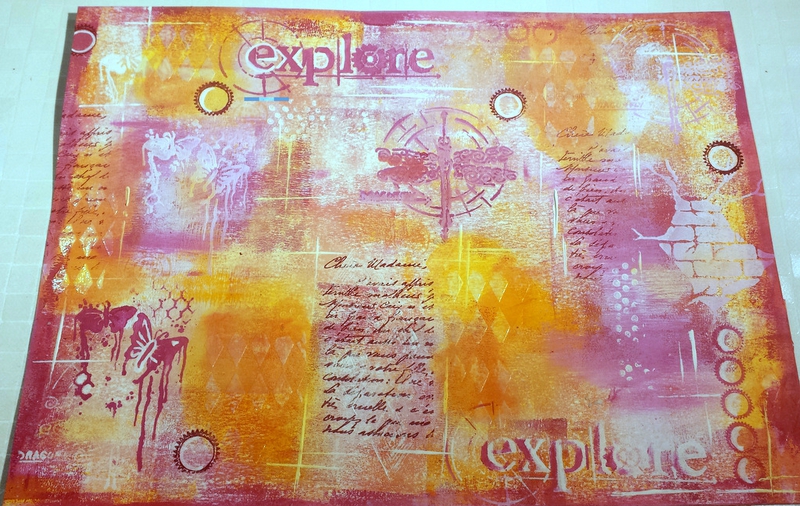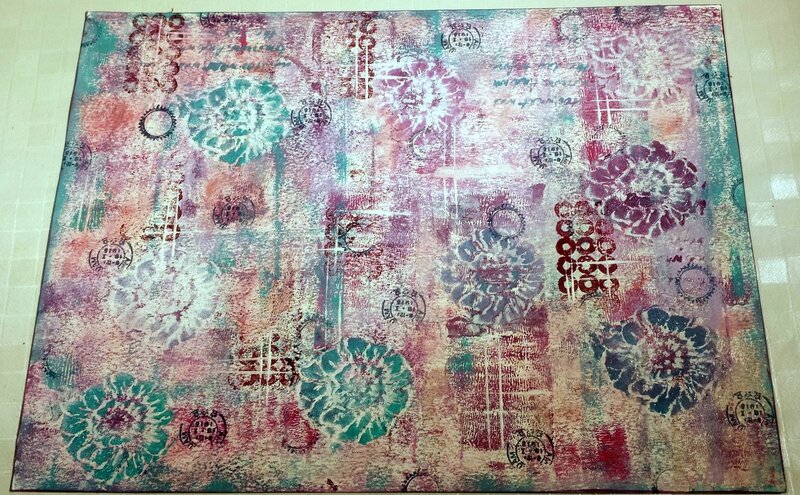 Le mien, fait dans le même temps pour illustrer des techniques

The last one made by myself during the class, to demonstrate the brayering techniques and layering a bit... Will show you the end result as soon as possible :)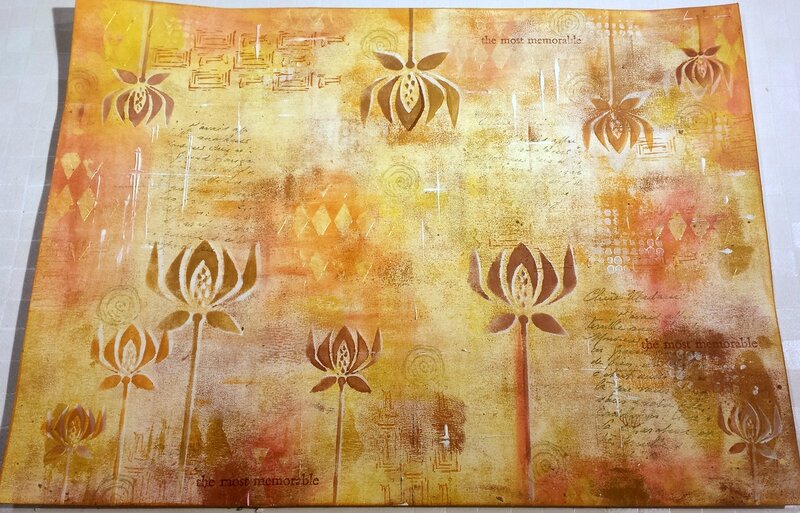 Et pour finir pour ce post - car ça fait déjà beaucoup, je vous montrerai la suite un autre jour - Des tags réalisés sur le thème des effets de "craquelé"... de nouveau par Maddy, Anaïs, et Christèle... Merci à vous les filles pour votre confiance et votre bonne humeur, et tout ce que vous m'apportez aussi, c'est un vrai plaisir de vous retransmettre mes techniques !
Some tags with "Cracke" effects... I created two, but will share them later cos I think it's enough for today, my post is already very loooong! :)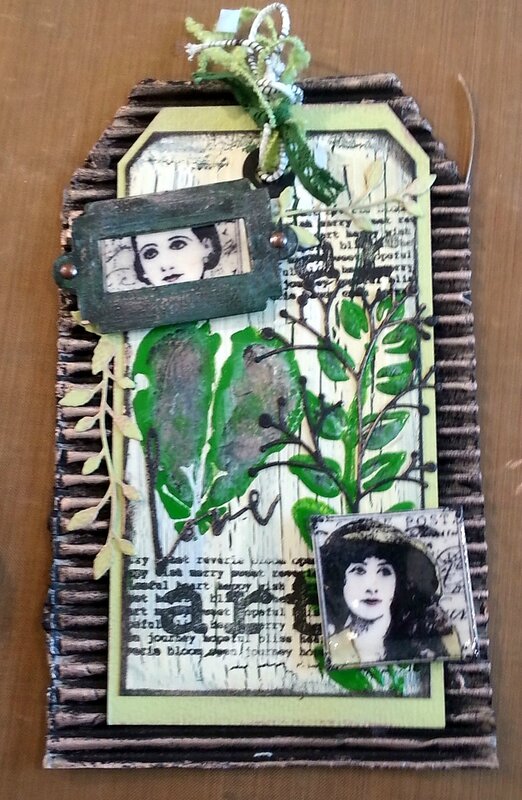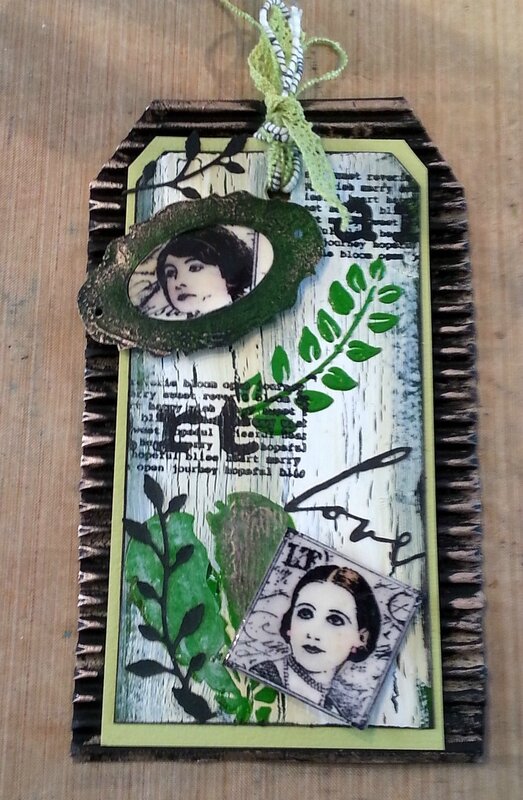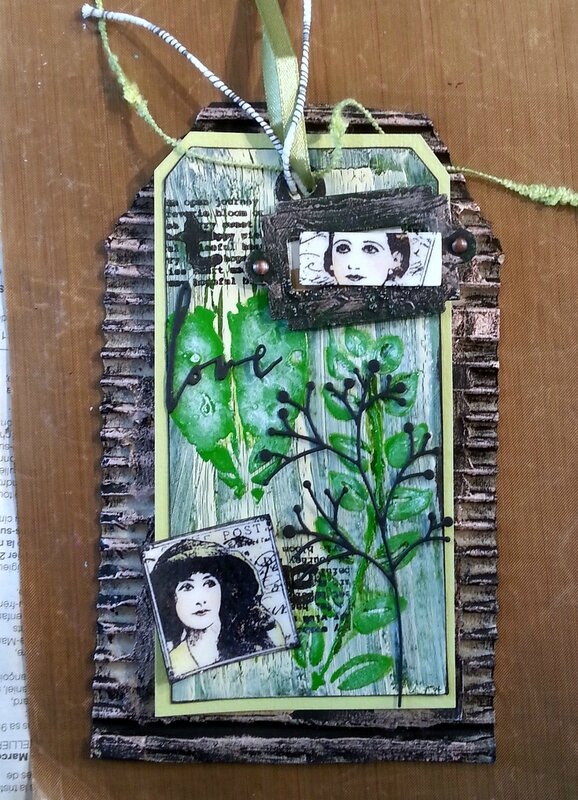 Voilà, ce sera tout pour ce post, je vous montrerai les miens une autres fois. J'ai déjà assez abusé de votre patience et de votre temps Lol. Mais ça me fait vraiment plaisir de partager aussi les créations inspirées à d'autres par mes projets, toutes vraiment très belles jusqu'à présent. Je suis super gâtée avec mes premières élèves !
Je vous souhaite un excellent dimanche et une très bonne fin de week-end, je vous dis à tout de suite pour mon nouveau planning d'ateliers et sinon rdv très vite pour encore plein d'autres choses! Bisesssssssssssssssssss.
Thank you very much for stopping by ! Hugs and happy end of week-end to all of you xxxx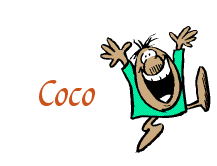 Commentaires sur Retours sur quelques ateliers... / Sharing some lovely makes from the participants to a few first classes...