09 mai 2016
Bonjour à tous, hello all!
What a gorgeous weather we had during the last week-end!!! I hope you have had a great Mothers day for those of you in UK or elsewhere who celebrate this day at this date. Here in france we celebrate it much later, on the 29th of May! :)
I played in my Art Journal again and had fun creating two colourful pages with some paints, copper crackle paste, a bit of Distress Glaze, a stencil by The Crafter's Workshop and a mix of brand stamps I love: Stampers Anonymous (flowers), Katzelkraft (the bird), Stampendous, Carabelle Studio et EcoGreen Crafts (words and text into the circles). I used a "negative painting" technique to do it, I had been inspired by the uber-talented Tracy Evans and some of her makes following this technique!
I Hope you will like these Spring pages a bit whimsical :)
On a eu vraiment un super beau week-end de l'ascension bien ensoleillé, pour ma part je suis ravie car j'ai pu assister à la communion de deux de mes nièces en Ardèche, dont ma filleule !!! De bien beaux moments en famille, c'était vraiment bien... J'espère que vous aussi pour la plupart avez passé un beau week-end prolongé, et en profitant un peu du soleil.
Je reviens avec un peu d'AJ aujourd'hui... Inspirée par l'invitation à jouer avec les couleurs et à se laisser guider par ce qu'on aime sur le blog de l'Antrescrap, je participe au challenge mensuel, avec deux nouvelles pages dans mon Art Journal.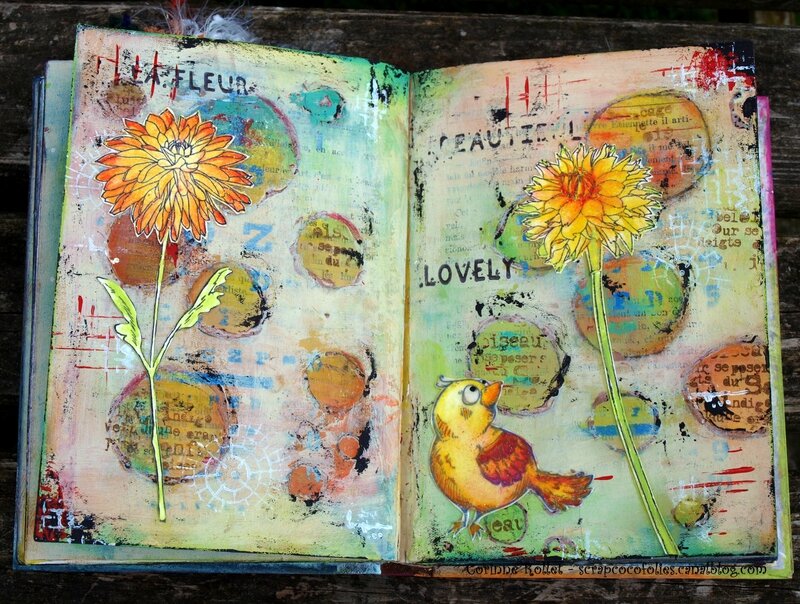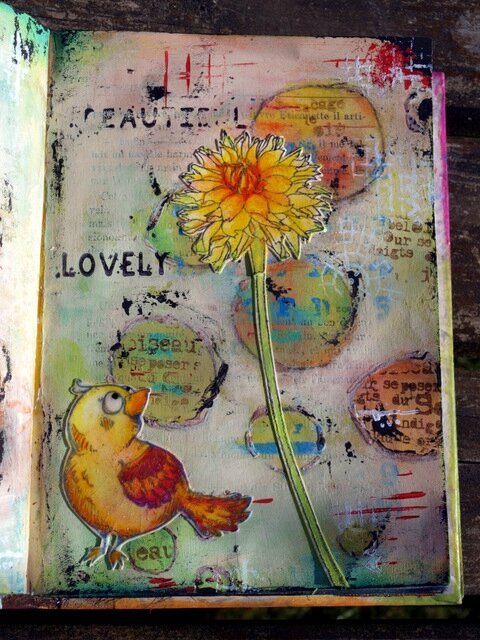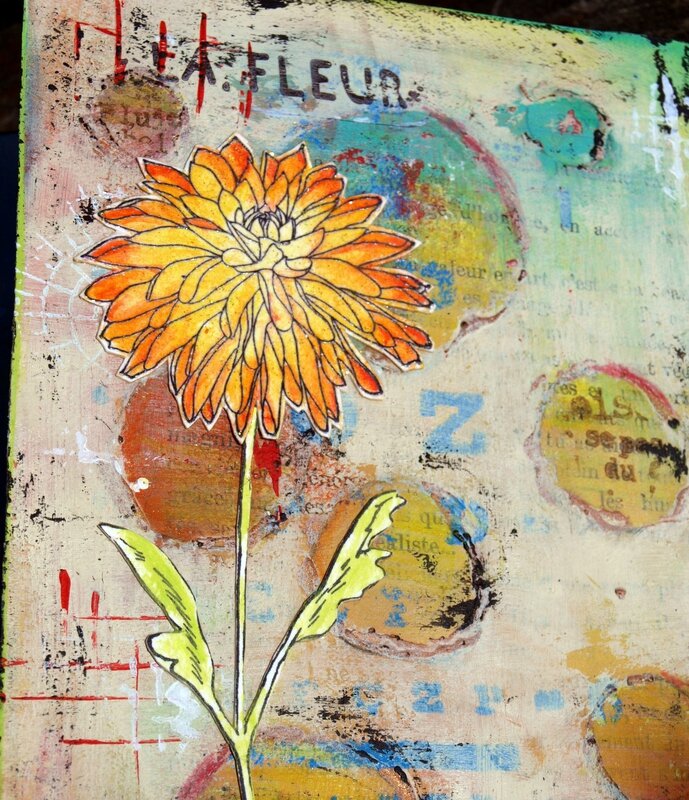 Page d'AJ réalisée avec un pochoir de The Crafter's Workshop et des tampons Stampers Anonymous (fleurs), Katzelkraft (oiseau), Stampendous, Carabelle Studio et EcoGreen Crafts (textes), selon une technique qui m'a été inspirée par une scrappeuse anglaise de grand talent que j'apprécie beaucoup et qui était avec moi dans l'équipe de Katzelkraft: Tracy Evans. Je vous encourage à la découvrir si vous ne la connaissez pas, tout ce qu'elle fait est très beau...
Une page que j'ai proposé récemment en atelier à Cooleurs, j'ai eu peu d'inscrits mais un couple d'élèves absolument charmants ce qui a bien compensé !! J'ai passé un moment vraiment très agréable en leur compagnie, quel plaisir de transmettre nos techniques quand ça se passe aussi bien. Je le reproposerai sans doute à une autre date sur un vendredi.
A propos de mes ateliers, pour les personnes intéressées de ma région, je vous informe que je viens de mettre à jour mon post d'ateliers à Cooleurs, n'hésitez pas à y jeter un oeil !!!
Voilà, deux pages que j'ai adoré faire dans mon livre d'AJ recyclé, selon une technique que j'ai expérimenté de nouveau pour un résultat différent... Je vous montrerai dès que possible !


I really enjoyed making these, it was good to have a play in my recycled Art Journal book!
Je participe aux challenges suivants: / I'm entering this into the following challenges:
- le challenge de mai sur le blog de l'Antrescrap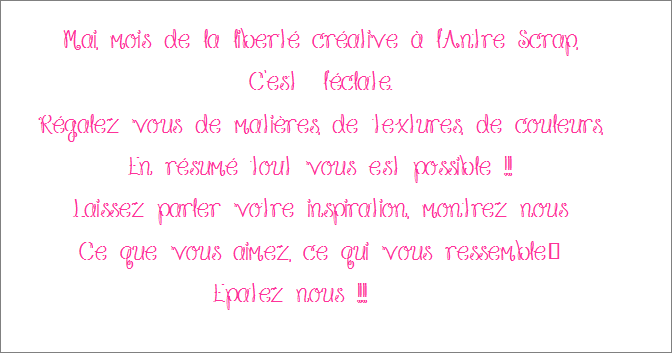 Du board d'inspiration, j'ai retenu: les ronds sur l'avant dernière image, la multiplicité des couleurs, la peinture bien sûr... et j'y ai ajouté un peu de tout ce que j'aime: les fleurs, la nature, la poésie, l'humour et les images un peu décalées parfois...
- Anything but Cute challenge #13 which is Celebrate Your Style. I don't know if I have a particular style... but I love detailed mixed media projects, also fun and lovely. Regarding these pages, it's all about my pleasure, my creative process, and the profoundly sincere feeling that I'm doing what I love and doing it to the best of my ability.
So yes, my "own style" maybe here!! :)
- Craft Stamper Take It Make It May challenge: Anything Goes.


*********
Voilà, désolée pour ce post un peu court, mais je cours vraiment après le temps... Merci à toutes celles qui prennent encore le temps de me laisser un petit mot sur ce blog malgré mon manque de répondant aux messages que je reçois ou posts des copines abonnées... Mais ça m'est très difficile de tout suivre !!! Cette semaine j'ai encore deux ateliers de prévu, que je dois préparer sérieusement.
Bises et très bonne semaine à tous et toutes.
Have a lovely week ahead, thank you very much for looking! Hugs xx
~Coco~
Commentaires sur Atelier Art Journal - Une page multicolore / Multicoloured Journal page