14 juin 2016
Bonjour !!
Un petit tour ce matin sur mon blog pour vous montrer une cartounette faite avec mes tampons Crafty Individuals que je trouve bien rigolote, j'espère qu'elle vous plaira aussi ! C'est une carte d'anniversaire que j'ai offerte avec un peu de retard à mon amie Sylvie (Nefertiti).
Hellooo! I have a cute birthday card to share here this morning, made with my Crafty Individuals stamps designed by Alice Palace and also the new Trees, some scraps of Gelli prints and a few Sizzix Tim Holtz Alterations die-cuts... It made me smile! Hope you like :)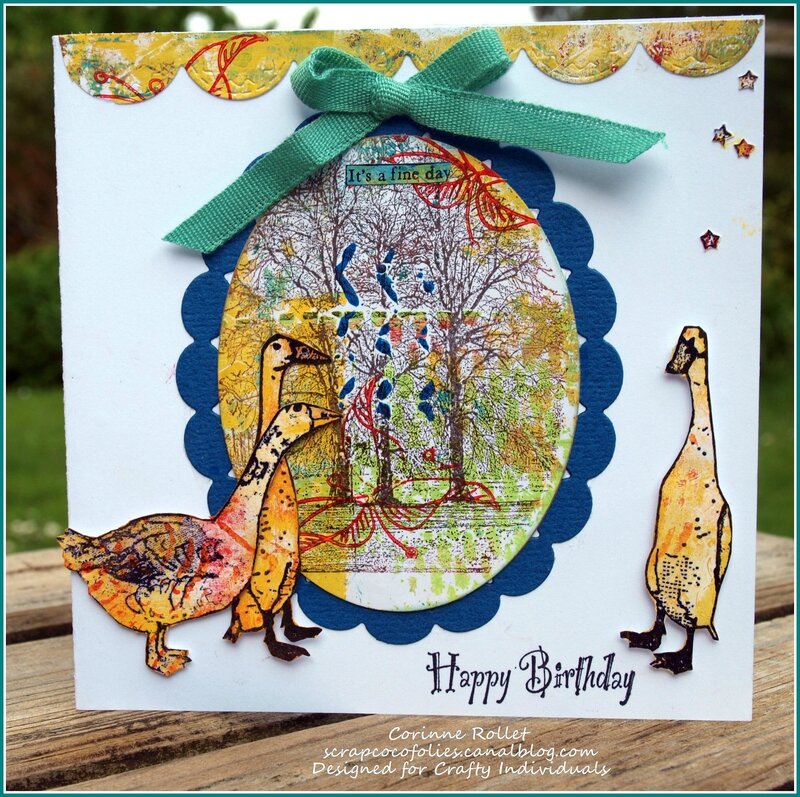 Pour cette carte, j'ai utilisé des fonds de Gelli prints à l'acrylique (je parle des papiers imprimés obtenus avec ma Gelli Plate - pour celles qui ne connaissent pas, vous pouvez relire ce post !) que j'ai découpés à la Big Shot à l'aide de nouveaux dies thinlits Sizzix (ovales et bordure), en le combinant avec un ancien cadre ovale festonné. J'ai tamponné mon trio d'arbres à l'encre Archival marron sur mon ovale et à l'arrière de ma carte. J'ai aussi tamponné mes oies et mon canard en noir sur une chute de papier Gelli, je les ai embossés à la poudre transparente, puis légèrement recolorisés aux encres Distress. Je les aies détourés avec les petites étoiles, et j'ai fait mon montage à ma façon pour une petite scène amusante... ça vous plaît ?? Moi j'adore celle-ci !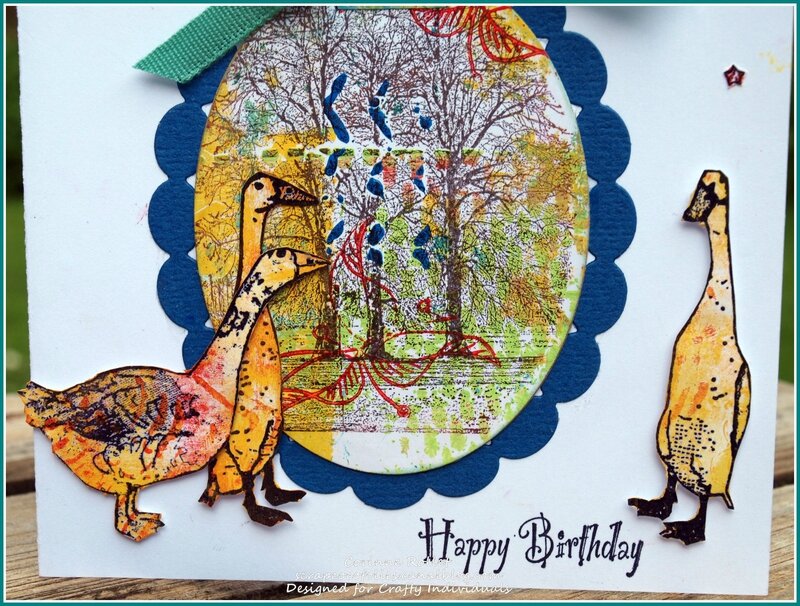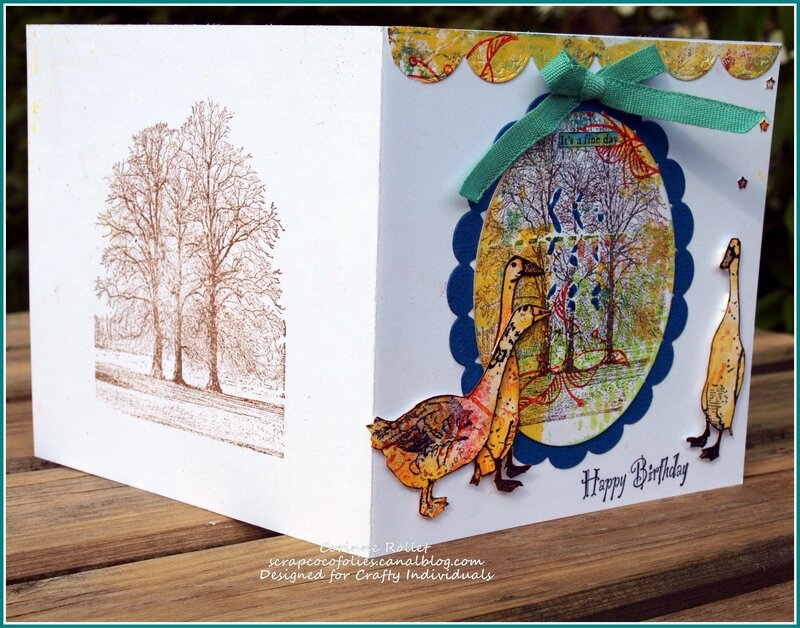 J'ai utilisé / I have used:
Archival ink Jet Black, Potting Soil
Distress inks
Sharpie White pen
Bristol and white and blue cardstock
Gelli prints (Peinture acrylique et tampons / Acrylic paints + a bit of stamping using CI and PA JOFY stamps)
Ribbon / Ruban
I'm entering this card in Craft Stamper 'Take It, Make It' June challenge: Lets Get Inky! and also
The Artistic Stamper: Red, Blue and Yellow.

Merci encore pour vos mots que j'adore lire. J'ai reçu des commentaires adorables hier sur mon post d'hier sur l'expo d'Arts Plastiques qui m'ont fait chaud au coeur, un grand MERCI à vous toutes.

Et j'en profite pour vous dire que ma page multicolore que vous pouvez revoir dans CE POST a gagné à la fois le challenge de l'Antre scrap et le challenge du blog Anything But Cute !!!!!

I have been a double winner in May (on the challenge blogs L'Antre Scrap and Anything But Cute) with this THIS MAKE. Woohoo, what a lovely surprise I was chuffed to bits!!!
Si vous avez envie de découvrir ces mises à l'honneur, vous trouverez les blinkies correspondants avec les liens directs à la droite de mon blog, dans la partie LET'S THE SUN SHINE.... Je suis super fière et ravie !!! :-)
Et pour info, je redonne cette page en atelier vendredi matin 1er juillet et samedi 2 juillet (matin ET après-midi selon inscriptions, car le groupe du matin est COMPLET).
Voilà, j'essaie de revenir dans quelques minutes avec une seconde carte dans ce style !!! Des bises !!
Thanks for stopping by! Have a lovely day everyone!
Coco xx
Commentaires sur It's A Fine Day!