03 juillet 2016
Bonsoir à toutes, Hello Everyone
Ihope you have all enjoyed your weekend... I have been very busy for my part (with a last workshop before summer hosted on Satursday with 6 very kind ladies... for the news everything went well, so I'm very happy!! The ladies have done wonderful makes, I will show them a bit later on my blog too). That's why I'm a bit late to announce the new challenge at Crafty Individuals.
Sorry for the delay, and also for not being to visit you on your blogs or reply to some lovely messages (I will tell you about Linux as soon as possible Anne, I promise! ^^) but I have some important commitments I need to tackle, with deadlines very soon. And next I want to take a little break with my family (planned for two weeks in a few days) we are leaving for beautiful Ardêche in France! So happy to leave for a few days, for the sun at last maybe :-)
About the challenge, here are the conditions:
The theme is Mini Masterpiece and has been chosen by our lovely and so talented team-mate Florence. There is lots of scope for this challenge and it runs for the month of July so I hope you will have time to join in the fun. Please click on the link above for full details of the challenge and to see a first set of wonderful projects by the team.
J'espère que vous avez toutes passé un bon week-end... Le mien a été bien chargé encore, avec toute la journée d'aujourd'hui passée à l'extérieur, et mon dernier atelier d'avant l'été hier matin au magasin Cooleurs de Rennes, avec 6 participantes super motivées et adorables. Mon atelier s'est super bien passé, je suis ravie !!! J'essaierai de partager avec vous leurs créations sur mon blog un peu plus tard, je sais que certaines d'entre vous, à commencer par mes élèves, apprécieront beaucoup ce partage.
Mais pour aujourd'hui, je viens vous annoncer avec un peu de retard le nouveau challenge de Crafty Individuals! Vous aurez tout le mois de juillet pour y participer. Et comme toujours, un code de réduction de 25% sur tous vos achats en boutique (à demander directement par e-mail à Jean Hardy) dès lors que vous participez, ce qui est vraiment très généreux, d'autant que leurs tampons sont magnifiques... Je ne m'en lasse pas pour ma part.
Le thème de ce mois-ci est Mini Masterpieces. Il a été choisi par Florence. Autrement dit, vous l'aurez compris, il s'agit de scraper des mini objets. Cela peut-être une ATC, un mini canvas, un bijou, etc. à vous de faire preuve d'imagination.
Donc pas trop difficile comme challenge, j'espère que vous serez nombreuses et nombreux à participer, d'autant plus qu'en fin de mois Florence désignera ses 5 réas préférées et les 5 gagnantes auront droit à un tampon de leur choix ! En plusde la remise de 25% sur tout le site de la boutique, valable jusqu'au 10 Août. Super non? Seule contrainte pour valider votre participation, utiliser au moins un produit Crafty Individuals sur votre projet et mettre le lien direct du challenge CI dans votre post.
Pour poster votre participation, rentrez le lien URL direct de votre article (et non pas celui de votre blog), cela permettra d'avoir un accès direct à votre réa.
Here's my first sample. I made a vintage Art Journal page, simply using the miniatures images from 'Miniature book Issue 4: People and Places 2', some die-cuts, stencils, and my distress inks mainly.
Je vous montre ma première participation pour illustrer ce challenge.
Il s'agit d'une page d'Art Journal créée à la fois pour ma DT et en tant que projet d'atelier. J'ai eu l'occasion de donner cet atelier une première fois, ça a été un réel plaisir de part et d'autre d'échanger sur les techniques mises en oeuvre sur cette page. C'est donc un projet que je compte reproposer après la rentrée. J'aurai sincèrement plaisir ensuite à vous montrer l'ensemble des pages réalisées, qui seront certainement très différentes vous verrez !!
J'y ai exploité les images miniatures du pad d'images (sur papier brillant) 'Miniature book Issue 4: People and Places 2'.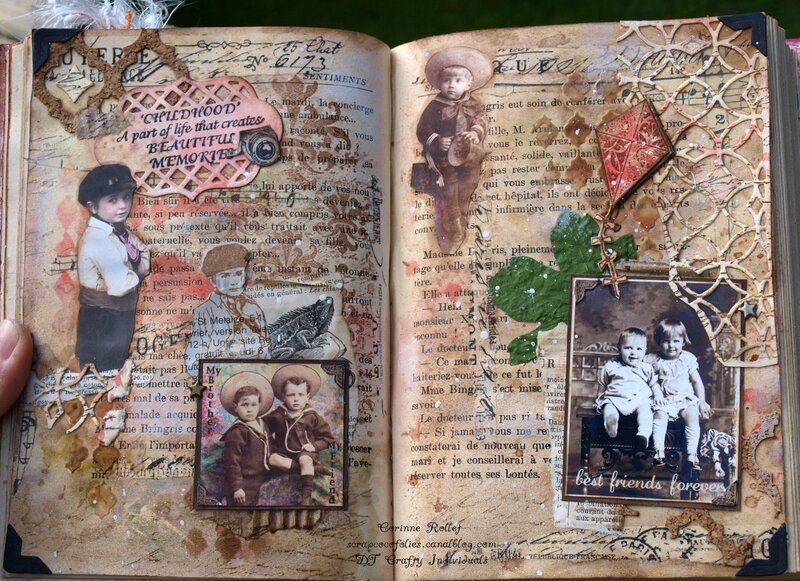 Je les ai soit détourées et intégrées à ma page, comme l'image du petit garçon au chapeau ci-dessous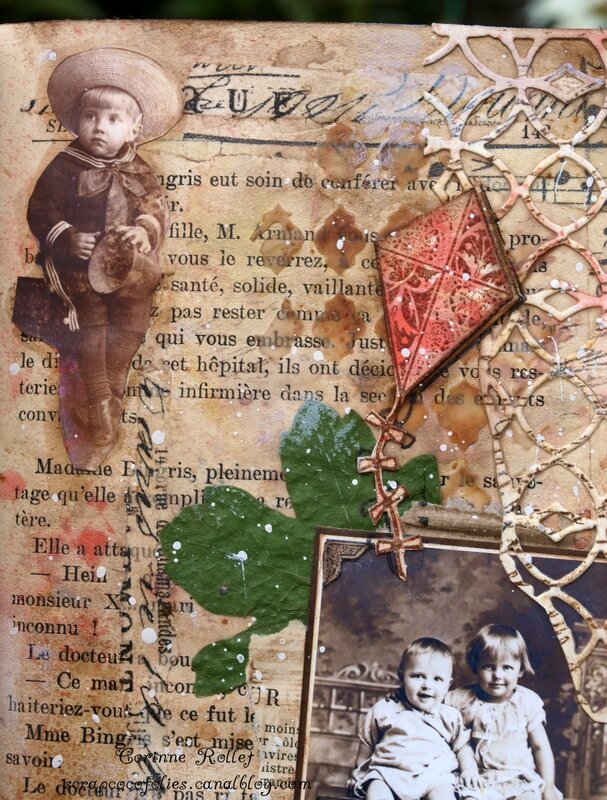 Ou encore le p'tit gars au béret sur la gauche sur la photo suivante... (que j'ai imaginé comme étant son grand-frère)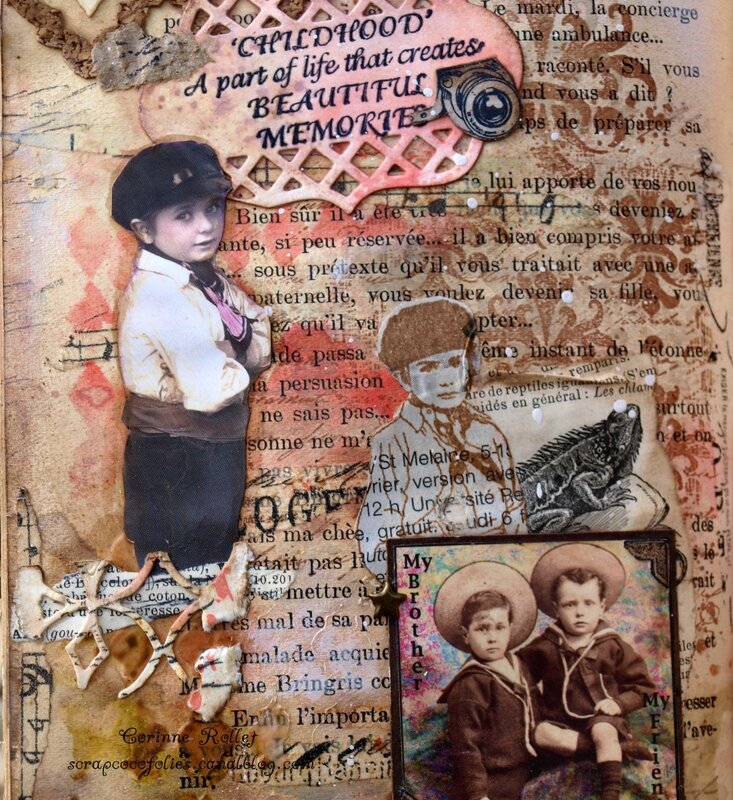 Ou bien je les ai conservées entières, dans leur format carré d'origine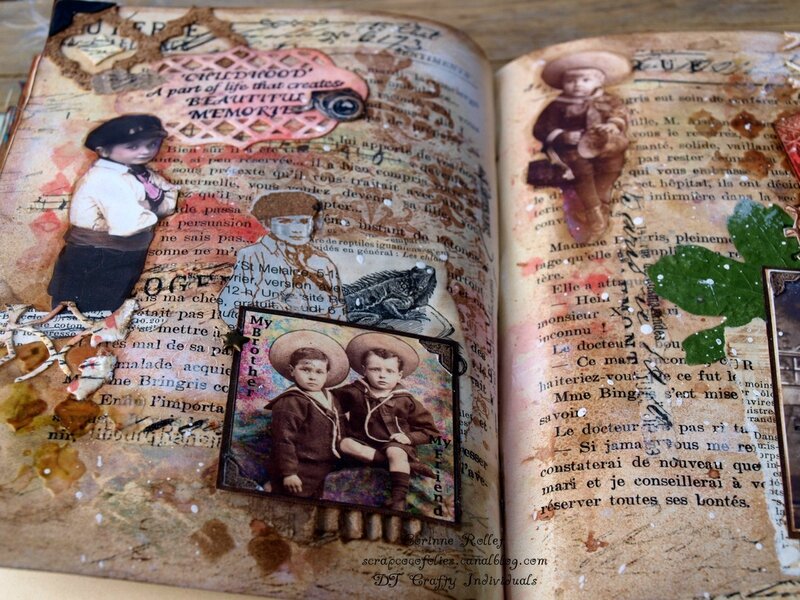 La petite photo de droite est la seule image qui ne soit pas de chez Crafty Individuals. C'est une image de chez Red Leads Paperworks.
Sur cette page, j'ai utilisé les tampons suivants: / Crafty Individuals stamps used:
CI-449 'My Favourite Place' (Citation sur l'enfance)
CI-454 'By the Sea' (cerf-volant)
CI-161 'English Background Script'
CI-390 'On Safari' (petits coins)
CI-159 'Boy's Toys'
CI-430 'Baroque splatter Script Background'

et aussi en boutique / and also in the shop:
Dinky Stencils 'Quatrefoil 2', 'Distressed Harlequin'
Ce sera tout pour ce soir. Je m'excuse sincèrement pour mon manque de visites sur vos blogs... ça devrait durer encore une partie de l'été, avec les vacances et mon projet de scraproom, plus les nouveaux projets d'ateliers à définir pour septembre... et là j'essaie de boucler certains projets importants pour moi, qui sont des opportunités pour me faire davantage connaître.
Mais j'espère vraiment retrouver un rythme un peu plus cool ensuite !!! Si je ne peux passer avant, je vous donne rendez vous au plus tard le 19 juillet avec un post programmé, avec une petite surprise estivale !
I'm entering this into the following challenges:
- A Vintage Journey - July challenge: Monochromatic
- Craft Stamper Take It Make It challenge: Anything Goes

Thank you very much for looking. And welcome to Claire, my new follower!!! ^_^
Take care. Hugs xx
~ Coco ~
Commentaires sur Nouveau challenge Crafty Individuals: Mini Masterpieces