11 août 2016
Bonjour à tous, Hello Everyone.
Aujourd'hui c'est un post un peu spécial, je prends le temps de vous raconter les aventures de Paloma... Vous en avez peut-être entendu parler? C'est une petite colombe qui fait le tour de la Terre... D'après une idée et sous l'impulsion de sa créatrice Lys d'Impression Scrap, elle a voulu marquer ainsi sa volonté (et celle d'autres scrappeuses, qui relaient son idée) de faire triompher la Liberté et la Paix après les évenements tellement tristes qui se sont produits à Paris.
Et oh combien d'actualité encore hélas, après les derniers attentats de Nice en France, ou ce pauvre prêtre assassiné.. sans compter tous ceux qui ont lieu ailleurs, relégués au second rang mais tout aussi affreux. Quelle misère, et que cela reste important d'y croire un peu malgré tout.
Je vous redonne ici les propres mots de Lys:
"Après le choc, la colère, la nausée... que dire, que faire?
Je n'ai d'armes que de papier et de mots...
Je ne peux opposer à la violence que mes valeurs et mes convictions.
La liberté et la paix sont celles que j'ai voulu transmettre aujourd'hui.
Alors voici Paloma, ma petite colombe de papier tout simple."

Today I have a special post for you, as I am here to share the adventures I had with Paloma the Peace Dove. Paloma was created by

Lys of Impression Scrap

after the horrid and tragic events in Paris... Paloma is travelling around the world to spread the message of Peace and Freedom. This is what Lys had to say:
"After the shock, anger, nausea... what to say, what to do?
I have only the weapons made of paper and words....
I can face violence only with my value and beliefs.
Freedom and peace are the ones I wished to give today.
My little dove of simple paper
For her I make a wish: could she take flight,
And give all around the world her freedom and peace message"
Voilà, j'ai trouvé ce message très beau, et j'ai eu envie d'accueillir Paloma à mon tour pour m'y associer. Je l'ai reçu de Anna-Karin (layersofink), après déjà un bien long voyage... Elle avait grand besoin de se reposer !! Je l'ai découvert dans ses bagages, elle arrive avec un petit livre que chacune d'entre nous doit remplir. Si vous voulez vous aussi suivre son voyage, vous pouvez voir quelques noms et blogs de celles qui l'ont accueillie jusqu'ici dans ma traduction ci-dessous an anglais.
Pour ma part, elle a fait partie de la famille pendant une dizaine de jours.. Je l'ai reçu le jour d'avant mon départ en vacances; Du coup on l'a tout simplement emmené en vacances avec nous! Je vous montre la suite de ses aventures en photos... J'espère que vous resterez avec elle jusqu'au bout :)
The message delivered was so beautiful that I really wanted to welcome Paloma in my turn, and take part of her journey for peace. Paloma came to me just the day before our departure for holidays (so great!!), after visiting Anna-Karin from layersofink. She has already had adventures with lovely ladies you may know well: Anne of Redanne, Lynn of experimentsinpaper, Sandy of Simply Sandy, Sara Emily of sarascloset and Alison of Words and Pictures...
Lys asked that we photograph Paloma in a place that represents peace and freedom to us, so here is the story of our adventure together. I took Paloma with me and my family on holidays, as she well deserved a little rest after a so long journey already!
***

Paloma a commencé son voyage à Guérande, où nous l'avons emmené au bord de la mer bien sûr... à la Baule pour commencer. Paloma a pu profiter du soleil et de la beauté de l'endroit en toute quiétude, et y délivrer son message de paix selon ses désirs.
Paloma started her vacation by the beautiful village of Guerande, in Brittany, France. Guerande is well know for her wonderful salt called "Fleur de Sel". This "Fleur de Sel" inspires gourmets all over the world with its fine aroma! We first took her to go and see the beautiful Europe's Atlantic coast and sea at La Baule... No words needed, we just sat quietly to enjoy the area, its beauty and the peaceful environment so important to her.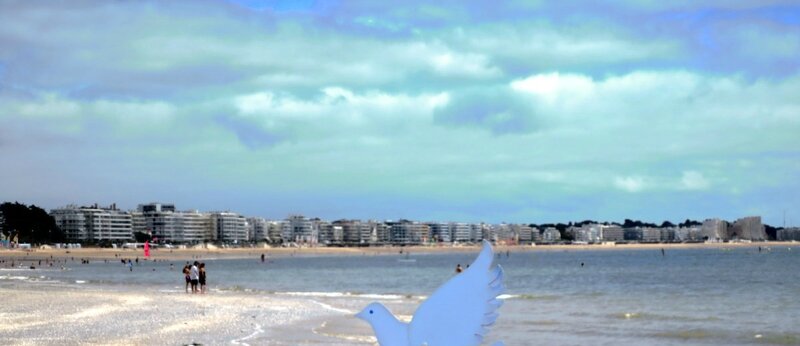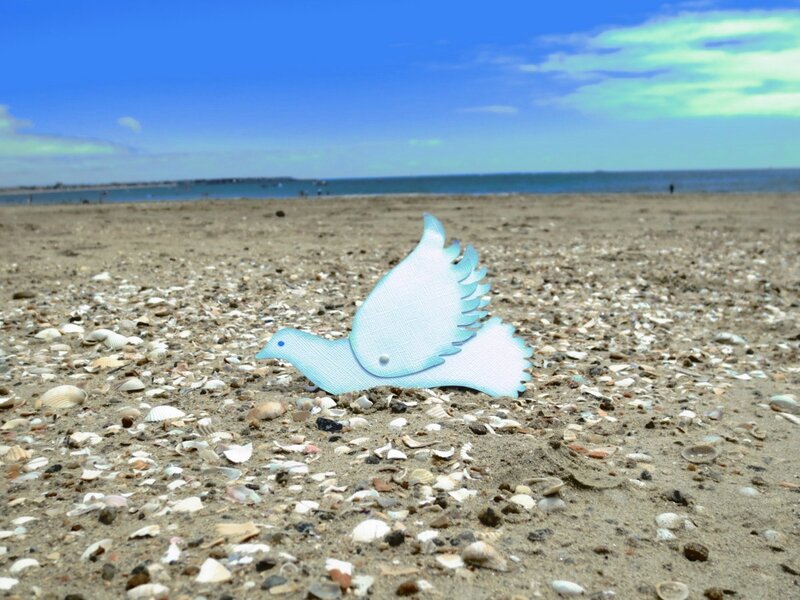 Nous nous sommes bien baladés... Elle a croisé et parlé de la paix dans le monde à quelques congénères, même s'ils ne sont pas de la même espèce !!! Elle leur a probablement demandé de passer le message...
Then we walked in the nature... She met a few congeners (even if they are not of the same species!!) and she talked to them about Peace. I guess she asked them to spread the message...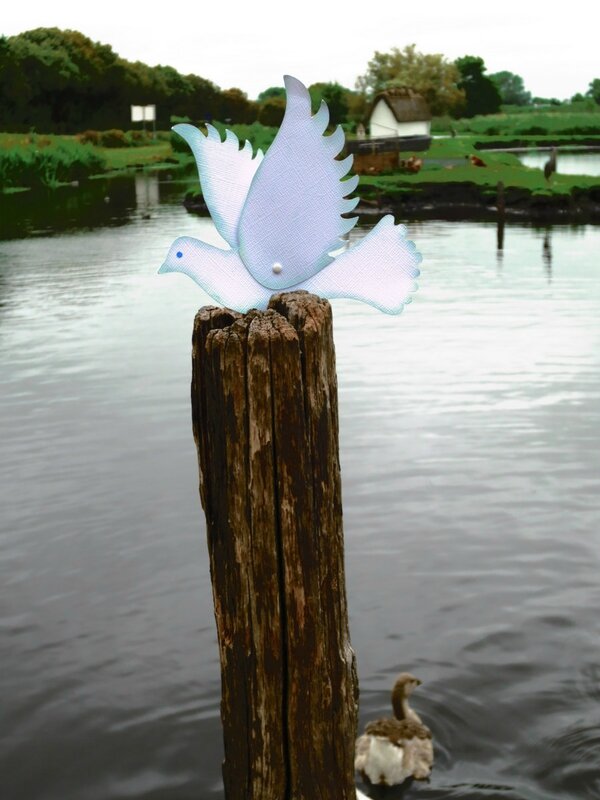 Après quelques jours idylliques, la voici arrivée en Ardèche pour une petite semaine de vacances supplémentaire, après encore un long voyage...
After a few idyllic days, Paloma has arrived in the beautiful Ardèche, for one more week of holiday... On the photo below, you can catch a glimpse of her at the edge of the wall, she admired and smelled the flowers in this so quiet and beautiful garden welcoming her for the week.
Elle découvre un bien beau jardin, son lieu d'hébergement pour la semaine où elle va pouvoir prendre un peu de repos bien mérité! On l'apperçoit au bord du muret en train de sentir les fleurs...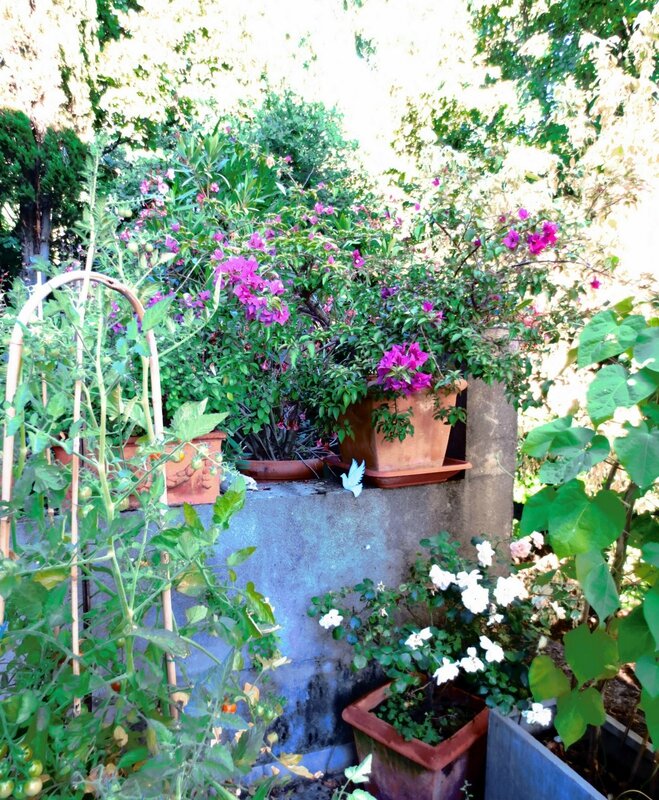 Elle est aussi allée balader dans des endroits magnifiques !!!
During the week, she has also walked around and discovered amazing places!!!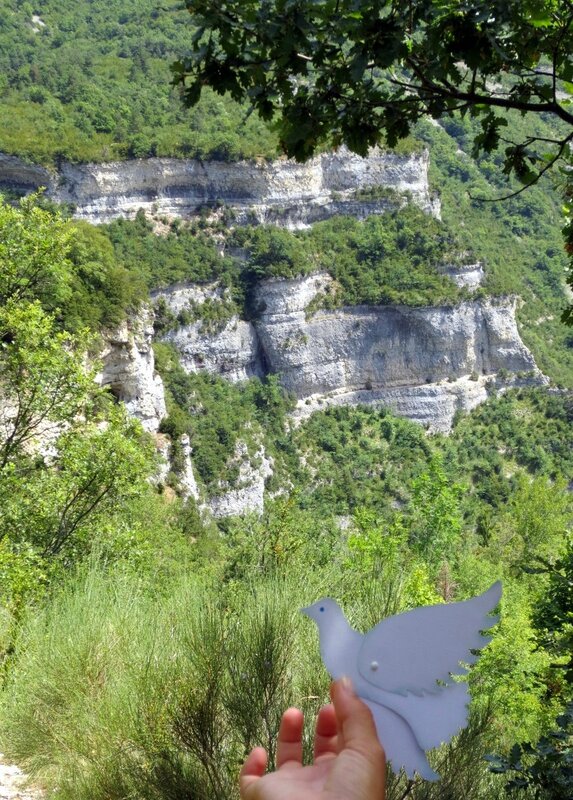 Et pour finir, la voilà qui suit le célèbre "Mastrou" ce train à vapeur historique de l'ardèche qui traverse les gorges du Doux... Que nous avons pris bien sûr, toute une journée, pour la plus grande joie de tous !
To end, she traveled with us by train in a very old and famous steam train, an historic one repaired to run again - very slowly but who cares?.. - so-called the "Mastrou" (this is a video link for those who want to discover it!). Such a joy for her and the whole family!!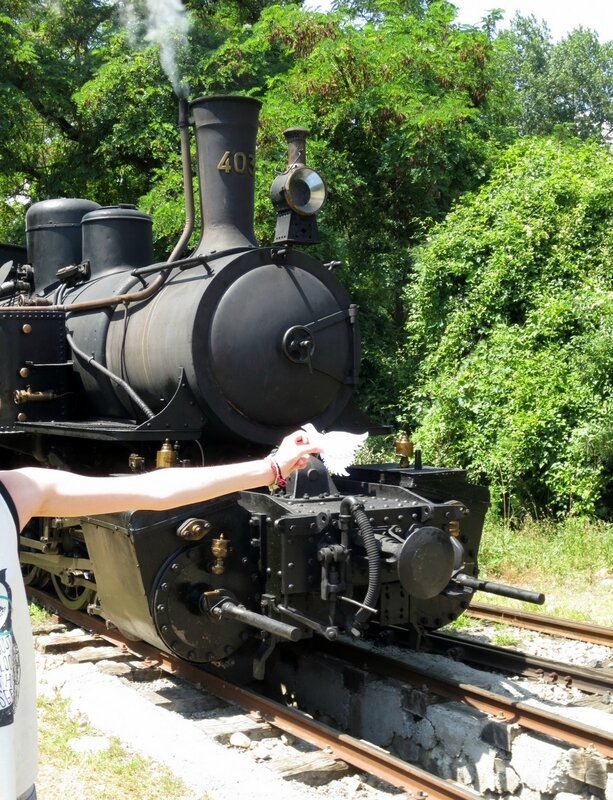 Encore merci Lys pour ce beau cadeau que tu nous as fait, en gage d'amitié et de paix.
Et merci aussi à Anna-Karin Evaldson (layersofink), une scrappeuse ultra-talentueuse que j'admire beaucoup, pour sa magnifique carte accompagnés de deux super cadeaux, j'ai été bien gâtée moi aussi !!!
And Anna-Karin blessed me, too, with a wonderful card and two beautiful craft gifts!! Thank you, so much!!! I will treasure them forever!!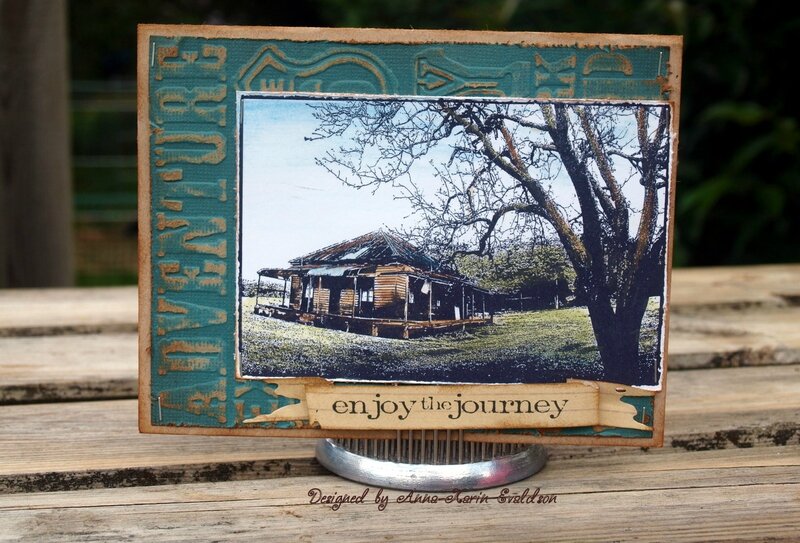 Bon voyage à Paloma !! Elle est en route pour l'Irlande... Je n'ai pas de nouvelles, j'espère qu'elle est bien arrivée, et qu'elle continuera à véhiculer son beau message en poursuivant son voyage le plus loin possible.

Merci de m'avoir lue jusqu'au bout aujourd'hui. Je vous souhaite une très belle journée, dans la joie et la paix, bises à tous !
Thanks again Lys for the beautiful gift we were so happy to receive and welcome, in token of friendship and universal peace. It was an honour to be a part of Paloma's travels... I have sent her off to her next destination in Ireland now, I have no news yet, I hope she has well arrived. All my wishes for her to have a wonderful adventure next! I wish to everyone a wonderful and peaceful day... Hugs X
Coco
Commentaires sur Paloma, petite colombe de la Paix... Paloma the Peace Dove