28 août 2016
Hello!!
It's still Summer and hot here in Brittany, that's so enjoyable since rare! :o)
I have the girls at home to occupy to avoid boredom (looking forward to having them back at school at laaaast!! :-), so just a quick post today to share a nature Art Journal that I love... This is a page meaningful for me, I'll tell more about that when I can share its facing page... you can see a small part of it here! :)

I've been having a lovely playtime working on this one. I used the new adorable CI-456 'Sweet Robin Redbreast' from Crafty Individuals (love love this tall bird stamp so adorable!!), plus three great stencils designed by my friend Gio: 'Penta Flore', 'Foglie Zen' (new ones) and 'Spiral' released previously by Tando Creative. Her stencils are amazing, I really encourage you to have a look at her Dawanda shop, you will find her new line of stencils among other gorgeous makes from her.
C'est encore l'été et il fait toujours aussi beau, on apprécie bien!! Surtout en Bretagne où c'est quand même assez rare, il faut bien l'avouer... Cette semaine j'ai encore mes filles à la maison à occuper d'ici la rentrée, comme tous les enfants elles s'ennuient vite, du coup je ne traîne pas trop sur Internet...
Je vous montre rapidement une nouvelle page d'Art Journal - qui a du sens pour moi... Je vous en reparlerai prochainement lorsque je pourrai vous partager sa page en vis-à-vis, dont vous avez un tout petit aperçu ici ! - faite avec une autre nouveauté tampon de chez Crafty Individuals: le CI-456 'Sweet Robin Redbreast' (pour info ce tampon oiseau est très grand, il mesure environ 7 cm, je l'adore !!). Je me suis aussi servie de deux des trois nouveaux pochoirs de mon amie Giovanna Zara que vous pourrez vous aussi acheter dans sa boutique en ligne Dawanda s'ils vous intéressent. Ils sont vraiment beaux...
J'ai utilisé ici les pochoirs 'Penta Flore', 'Foglie Zen' et 'Spiral', un pochoir de sa collection précédente. Vous avez peut-être pu tenter de les gagner en participant au dernier challenge sur le blog de Craft Stamper, auquel je voulais moi aussi encore participer avec cette page; Mais hélas trop tard Lol!!!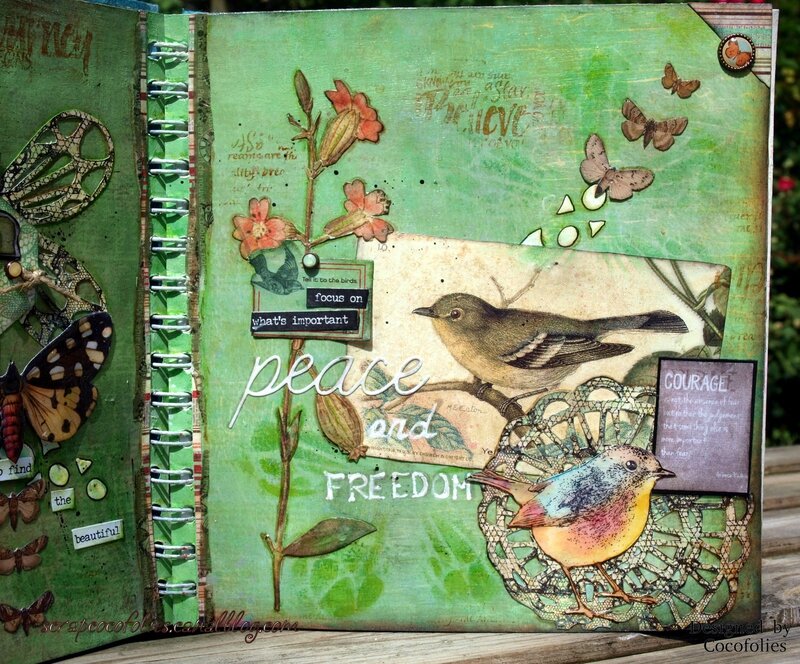 J'ai travaillé mes pochoirs de deux manières différentes: Pour le premier, j'ai simplement joué avec mes encres vertes en ton sur ton sur le fond, en accentuant quelques zones pour faire ressortir la finesse des motifs. C'est simple et ça rend vraiment bien!
Et pour le second, je me suis amusée à reproduire le dessin du pochoir sur un papier imprimé d'une ancienne collection (Curio), puis à le détourer au cutter.. Un truc de Ouf, mais en fait ça détend pas mal !! Et le résultat me plaît bien !!! C'est une manière d'utiliser nos pochoirs qu'on oublie trop souvent...
Et pour mon oiseau, j'ai appliqué mon tampon sur une chute de papier Silk que j'ai ensuite colorisé aux encres Distress. Je l'ai détouré et recouvert de Glossy Accents pour lui donner ce beau relief brillant.
Outre le CI-458, j'ai aussi ajouté sur mon fond le texte du tampon CI-012 'Believe Calligraphy', il fait partie d'une collection de tampons calligraphiques que j'aime beaucoup et dont j'ai fait l'acquisition bien après mon entrée dans la DT.
I played with my stencils in two ways. First, I used some distress ink (Moved Lawn me think) to enrich the background and create some beautiful green highlights... The delicate design of this large flower stencil is such that it is an easy and perfect way of using it! Simple but beautiful texture as result. The other way I used my stencils (this same flower and my 'Spiral' stencil too), you can guess easily how I did can't you?.. This is a very relaxing way for me though looking a bit complicated! :D
With a fine black Pitt marker I drawed all the lines of my two stencils on a scrap of paper sheet from a very old collection (Curio), coming from my huge (old) patterned papers stash... Then I simply cut out the inside with a small cutter.
At the same relaxing time I also cut out some more images from the same collection of papers, like the bird image and flowers and leaves... also the little butterflies.
Neglected to say that I also used a third stencil 'Floglie Zen' by applying a bit of modeling paste over it as some place, to go with the facing page that you can't see here since I can't share it yet. This is the area with the little white circles and triangles rising towards the butterflies.. :)
The CI bird stamped on Silk paper from Crafty Individuals, coloured with a few distress inks and covered with Glossy accents to go perfectly with the bird image!
I also found the perfect quote for my layout on Internet, maybe you can't read it easily so here are the words: "Courage is not the absence of fear, but rather the judgement that something else is more important than fear". By Ambrose Redmoon.

Finally glued all things, added some Tim Holtz words stickers, a bit of calligraphy stamping to complete, Et voilà! Hope you like.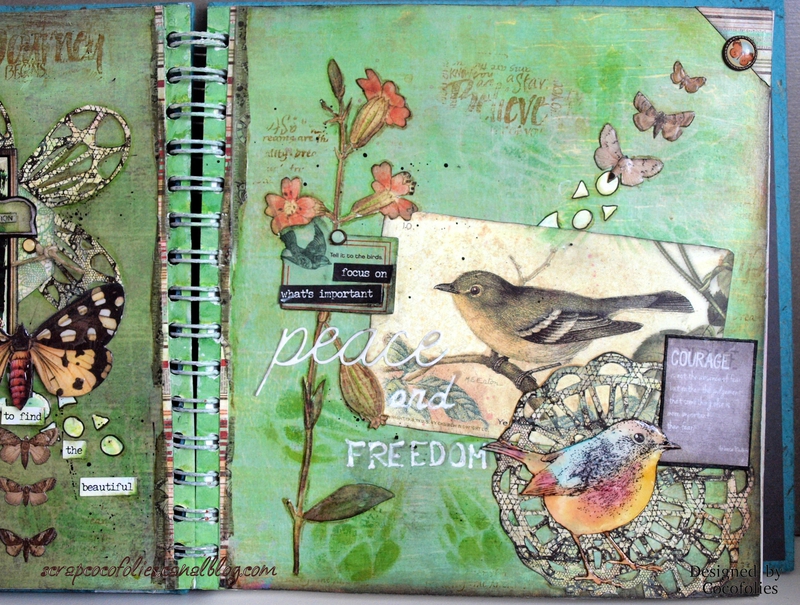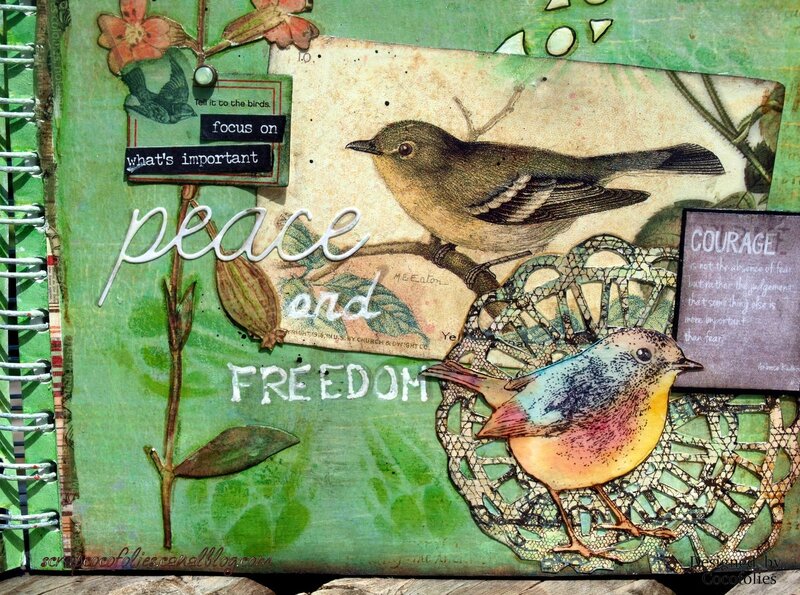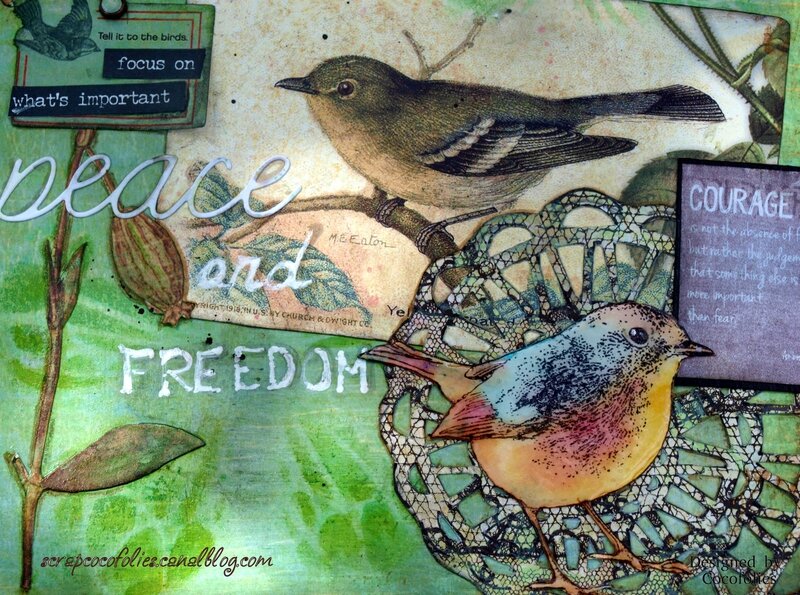 Vous pouvez voir aussi cette page et ma dernière carte, illustrées avec d'autres réas DT dont celles de mon amie Sylvie sur le blog de Crafty Individuals aujourd'hui.
I'm entering this into the challenge A Vintage Journey: stencil It! This is my second entry since I love stencils!! :)
And also, for the first time, into Moo-Mania and More challenge on the theme Nature's Beauty (thank you Chris!) and Art-Journal-Journey challenge: Nature's Wonders (thank you Susi! :D).

Materials
Tampons/Stamps Crafty Individuals: CI-456 Sweet Robin Redbreast, CI-012 Believe Calligraphy
Pochoirs/Stencils Giogiocraft 'Penta Flore', 'Foglie Zen', 'Spiral'

Distress inks: Cracked Pistachio, Moved Lawn, Picked Raspberry, Wild Honey, Tea Dye, Tumbled Glass, Black Soot
Papiers Imprimés/Patterned papers: Basic Grey (collection Curio)
Clear Gesso, Glossy Accents
'Small Talk' Tim Holtz Stickers
DecoArt Chalky Finish light satin Varnish, DecoArt Tinting Base, DecoArt Media Fluid Acrylics
**********
Have a great end of summer, thank you very much for looking xx
Merci de votre visite, bises et à bientôt !!
Coco
Commentaires sur Art Journal - 'Peace and Freedom'