26 septembre 2016
Coucou,
Tout d'abord merci pour vos derniers petits mots qui m'ont réjouie. Je souhaite aussi la bienvenue à mes nouvelles abonnées, si vous avez un blog, n'hésitez pas à vous faire connaître afin que je puisse vous rendre une petite visite.
Je cours après le temps en ce moment et cela risque de durer encore quelques semaines.
J'essaie de continuer malgré tout de mettre un peu à jour mon blog... Je vous montre une grande page d'AJ terminée il y déjà un bon moment, avec un fond réalisé en démonstration (sur une page aquarelle A3) au cours d'un atelier avec une copine qui m'avait demandé de l'aider à créer quelque chose pour une célébration. Nous avons eu l'idée de partir sur un fond floral, afin que les invités puissent tamponner leur index sur les pétales... Je crois savoir que pendant la fête, il y a eu malheureusement quelques râtés - à savoir pâtés, aie aie aie.. !! - Dommage car son fond d'origine était très réussi !
Hello and happy Monday. It's a quick post from me today, I'd love to update my blog will a lot of projects completed (with as much instructions or details as I can) waiting in the pipe, but I don't seem to find anymore the time to do it!!
I'm sharing a large page - an A3 sheet of good-quality 300 gsm watercolour paper - I really enjoyed doing, just for fun and for the pleasure to ink for the first time some very lovely new flowers stamps from Rubber Dance designed by Suzanne Rose. I've discovered this stamps brand thanks to my friend Christine, and they are great!!
So here, just a lovely page made by playing with stamps, stencils (Mini Flower 4 by BalzerDesigns, from The Crafter's workshop), various paints, some Faber Castell brushes and Polychromos pencils, also Neocolor II.. I found my quote on internet (maybe thanks to my friend Kay Wallace?... She has always great quotes!) this one was perfect to illustrate my feelings. I simply printed it and added at the end.

Pour ma part, je me suis bien amusée. J'ai joué avec un pochoir fleurs de The Crafter's workshop (Mini Flower 4 de BalzerDesigns), et mes nouveaux tampons Rubber Dance dessinés par Suzanne Rose, sur lesquels j'avais craqué après avoir découverts cette marque de tampons sur le blog de mon amie Christine, un blog que je vous encourage à visiter aussi !
Donc un fond et une page faite pour le plaisir. A base de différentes peintures acryliques, crayons néocolors II, feutres brushes et crayons Polychromos de Faber-Castell...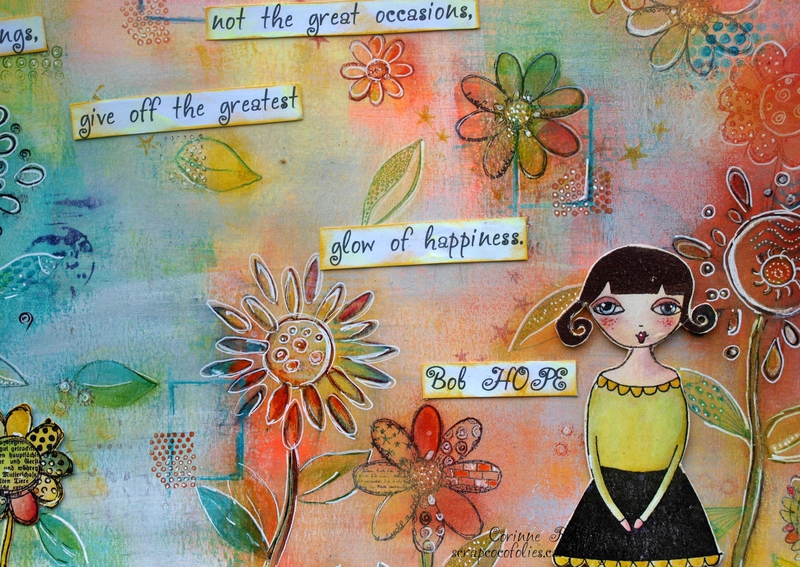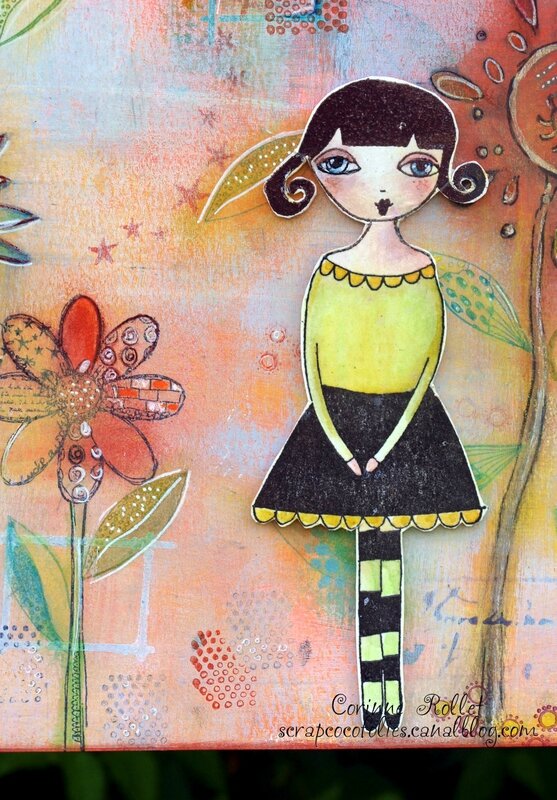 Cette adorable poupée est un tampon Unity Stamp Co de Suzi Blu, il s'appelle Party Girl!
I am entering this into the following challenges: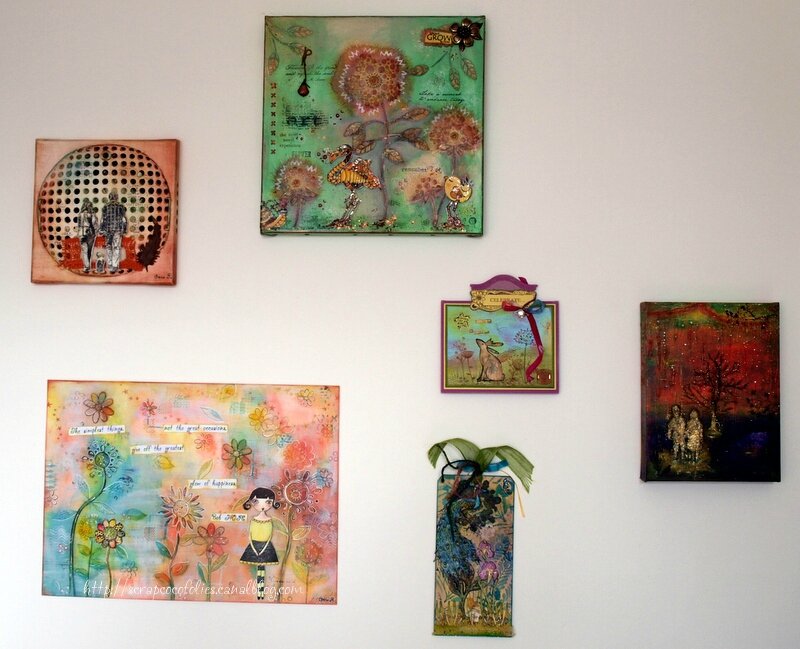 Loving this lovely page.. So on my wall now, under my eyes!
Une réa que j'aime beaucoup beaucoup, du coup je l'ai sous les yeux, elle est accrochée au mur !

Have a wonderful week whatever you are doing, and thanks very much for looking! xox
Très belle semaine à tous !!
Coco
Commentaires sur Une grande page d'Art Journal pour le plaisir / Large Art Journal page for fun