06 octobre 2016
Coucou, Hi Everyone.
This week-end many of us have celebrated the World Card Making Day! At first I thought I would not have enough time to create anything, but finally remembering the Halloween challenge of my friend Sylvie/Nefertiti I decided to have a little play after my twins' birthday party with their buddies on Satursday... :)

So Boo... it's October, the month for spooky goings on... and I love so much this theme which makes me giggle! I managed to create several cards and also a little canvas during the weekend, I will share the whole production during the coming posts. Stay tuned :)
Ce weekend, beaucoup d'entre nous j'imagine se sont fait plaisir à créer une ou deux cartes (ou plus !) à l'occasion de la journée mondiale de la carterie.
Je ne pensais pas en avoir le temps moi-même, mais finalement je n'ai pas fait exception à la règle, le rappel du challenge Halloween de mon amie Sylvie/Nefertiti m'a boosté un peu pour m'y mettre en fin d'après-midi samedi après la petite fête d'anniversaire de mes jumelles... Un super moment de détente !!
Et vous verrez dans les posts à venir, j'aime tellement ce thème qui me fait beaucoup rire pour ma part que j'ai été plutôt efficace sur ce coup-ci !! :-)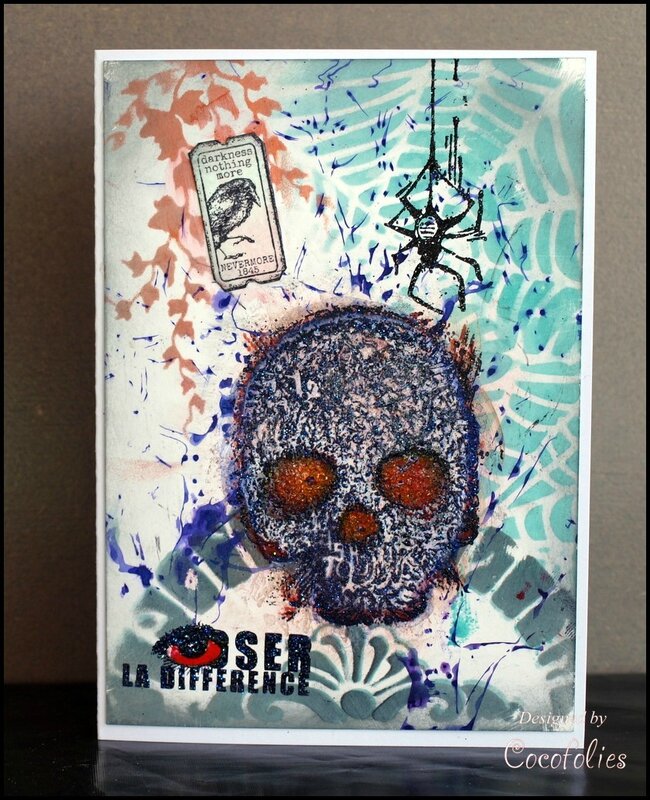 Voici ma première carte, fond "fait maison" à base d'encres Distress et de pochoirs (The Crafter's Workshop et Dutch Doobadoo pour la toîle d'araignée), d'embossage en noir légèrement pailleté de l'araignée (un superbe tampon Stampers Anonymous - Tim Holtz offert par mon amie Gisou) et avec ce set de tampons 'Oser la différence' de Carabelle Studio que j'adore... J'ai aussi ajouté un petit ticket Halloween d'une marque que j'ai découverte seulement il y a peu mais que j'adore: RedLeads Paperworks...
ça ne se voit pas trop sur la photo, mais mon crâne est très travaillé, embossé à chaud en noir et peint par en dessous et sur les orbites.... J'ai aussi craquelé ces dernières.
I made my background with Distress inks (especially the new Lucky Clover and Carved Pumpkin colours, so yummy!) and stencils from Dutch Doobadoo and The Crafter's Workshop.. then I played with the wonderful stamp set 'Oser la Difference' by Carabelle Studio. Wow, I love this skull!! You probably don't see and catch well the dimension and the texture on it on my photo sadly, but the orbits are also crackled and painted beneath with several layers of paint and ink, and it is embossed with black glitter EP.
The little tag is a leftover stamped image from another project by RedLeads Paperworks. I've discovered this brand recently and I love their stamps and stencils, so you should see much more with their stamps soon on my blog!
Entering the SSS Monday: Halloween challenge and also SSS Wednesday (theme this week is Halloween Inspiration!) and finally Nefertiti's FIRST challenge, don't miss her blog, she's one uber-talented stamper!
Bonne journée à toutes! Bises.

Je reviens peut-être tout à l'heure avec une seconde carte... ou toute une série si je n'ai pas le temps de faire des posts séparés !!! ^^
Thanks for looking. Have a lovely day! xx
Commentaires sur It's time for... Halloween!! (1)