11 mai 2017
Coucou !!
Je tiens à remercier encore une fois toutes les personnes qui continuent à m'encourager en me laissant des petits mots, et notamment sur mes ateliers; Que ce soit régulier ou occasionnel, je les apprécie beaucoup. Et pour celles qui n'ont pas le temps d'en laisser, merci de vos simples coups d'oeil... Moi même, je n'ai pas toujours la possibilité de vous répondre ou de vous laisser de petits mots pour celles qui ont un blog, car le temps me manque réellement simplement pour tout voir !
Avant de vous montrer l'ensemble de mes créations réalisés pour HOCHANDA (la chaîne TV anglaise qui vient de diffuser deux shows avec les tampons Crafty Individuals !), et de partager avec vous aussi quelques très belles cartes reçues dernièrement, je vous offre un petit post de rattrapage.
Je vous montre ce matin quelques réas inpirées par les pochoirs large feuilles et fleurs de mon amie Giovanna Zara (Gio). Je ne montre pas assez tout ce qu'on peut en faire, de ces superbes pochoirs ! Ils sont malheureusement en rupture. Si jamais ils vous plaisent vraiment, n'hésitez pas à envoyer un petit mot à Gio en anglais, italien ou même en français, elle sera sûrement heureuse de le traduire !
Hi everyone, thought I'd squeeze in a post before sharing my makes for the recent HOCHANDA shows featuring some seaside Crafty Individuals stamps. Sharing first a large panel that I've made in the past but hadn't posted yet. A make inspired by my artist friend Giovanna Zara aka Gio, and her gorgeous masks and stencils! She's someone I really admire for her wonderful (coloured) artworks and her amazing recycled art. I also appreciate her much. I encourage you to see hop over at her blog if you don't know her yet!
I am now wanting to play with Gelli and Gio's stencils again... :)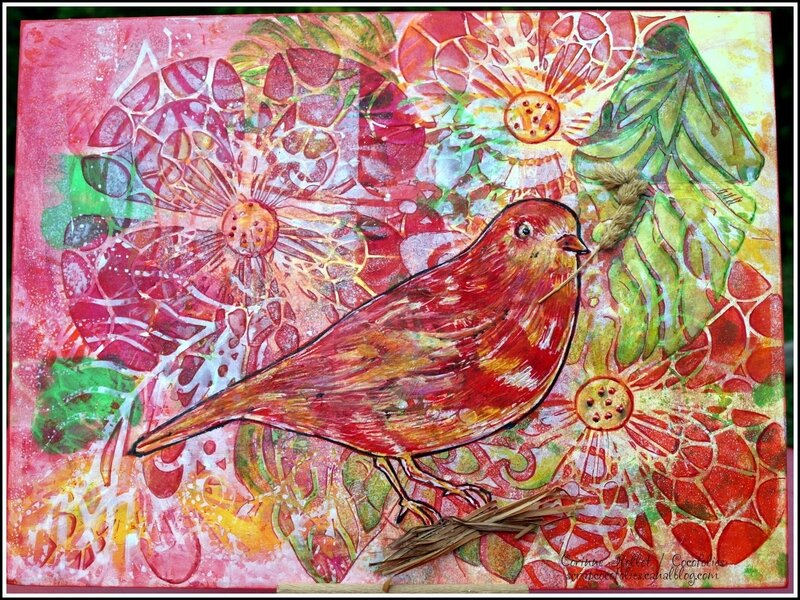 Tout d'abord, une réa en grand format faite depuis longtemps. Le format est plus proche du A3 que du A4... J'ai joué avec des peintures acryliques, ma Gelliplate, un grand pochoir oiseau (initiallement pour tissu je crois !), des encres aux accents iridescents Smooch, et deux grand pochoirs fleurs et feuilles de Gio... Comme le résultat me plaisait bien, je l'ai monté sur du carton épais, que j'ai peint en rouge.
I had the best time in my space a few weeks ago, playing with my Gelliplate in conjunction with some beautiful flowers and leaves stencils by Gio, a lovely (large) bird one I got at a low price (sold as to be used on fabric), and some acrylic paints...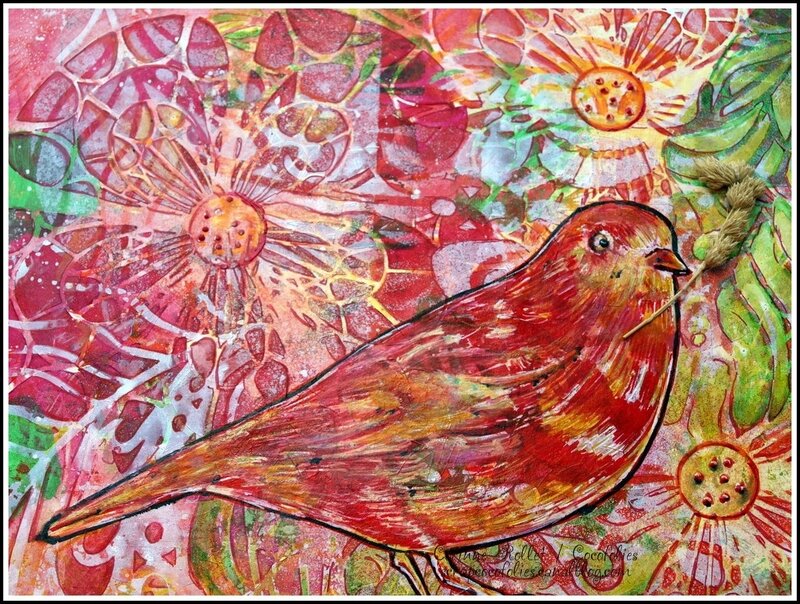 Le voici sur une grille à la médiathèque, il faisait partie de mes oeuvres exposées...
At my recent exhibition in the library of my town...

Ensuite, voici une série de tags faites avec ces mêmes pochoirs, qui m'avaient été inspirés par la toute première classe en ligne d'une autre artiste que j'aime beaucoup, Anna-Karin Evaldsson (Layers of Ink). Elle offrait généreusement cette première classe. Je pense que j'en referai d'autres car j'adore ce qu'elle fait !
Then, a set of lovely tags inspired by a fabulous SkillShare class from Anna-Karin Evaldsson of Layers of Ink. I had been being very playful with her class! I was in time to take advantage of her generous gift of taking the class for free, but it's still a bargain. Do come and visit Skillshare to discover her videos and classes if same as me, you love this artist.
Here just one quickly matted on a black card sent some time ago to a friend loving little cats... I kept the others preciously for other projects!
Et pour finir, je vous montre encore deux pages d'art journal commencées avec ces mêmes pochoirs (les feuilles que j'adore !!). Je ne sais pas encore ce que j'y mettrai dessus... Mais je les trouve déjà belles telles quelles, on voit bien les possibilités offerte par ce pochoir et sa taille ! C'est inachevé bien sûr, mais je partage avec plaisir :)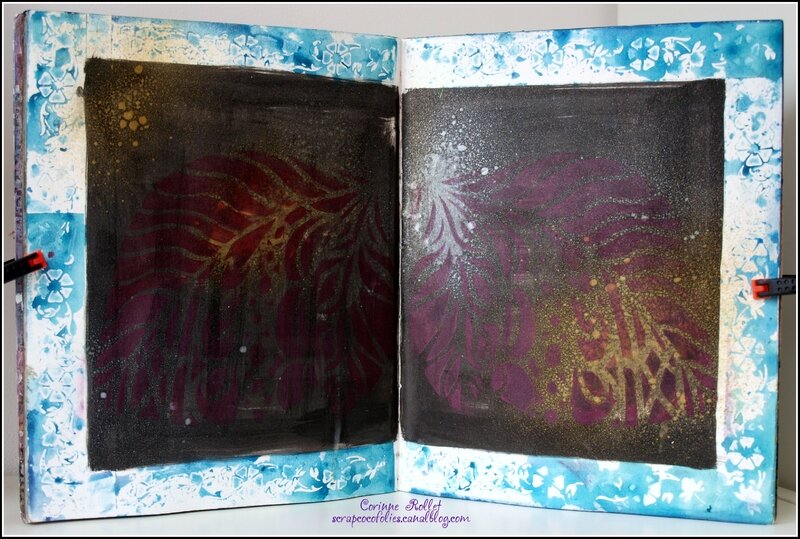 Merci de votre visite, je reviens très vite... Bises et belle journée ensoleillée et créative à vous toutes !!
Thanks very much for looking, and have a creative day! xx
Commentaires sur Un peu de rattrapage... / A bit of catch-up... inspired by some crafty artist friends