24 mai 2017
Hi Everyone
I hope you are all well. This is a really quick post to share a card made using the new May stamp releases from Crafty Individuals. I played with the CI-474 on this one. It's still at an introductory great offer price, so do check it out on CI's website!

I chose to do what is becoming one of my favourite styles, scenic stamping. I created a lovely scene, starting from one of my messy backgrounds with brushos and pearl acrylic paint on top of it, made during one of my classes. I hope you will like it, as I really love this stamp set.
Coucou,
Je vous montre aujourd'hui une carte que j'aime beaucoup, avec un nouveau tampon que j'adore !!! J'ai encré pour la première fois le nouveau tampon CI-474.
J'ai créé une jolie scène... que j'ai colorisé ensuite, suivant mon habitude et mon goût. Si vous me connaissez un peu, vous devez connaître maintenant mon penchant pour les cartes scéniques !!!
Je suis partie d'un simple fond réalisé lors de l'un de mes ateliers, à base de brushos et peinture perle iridescente.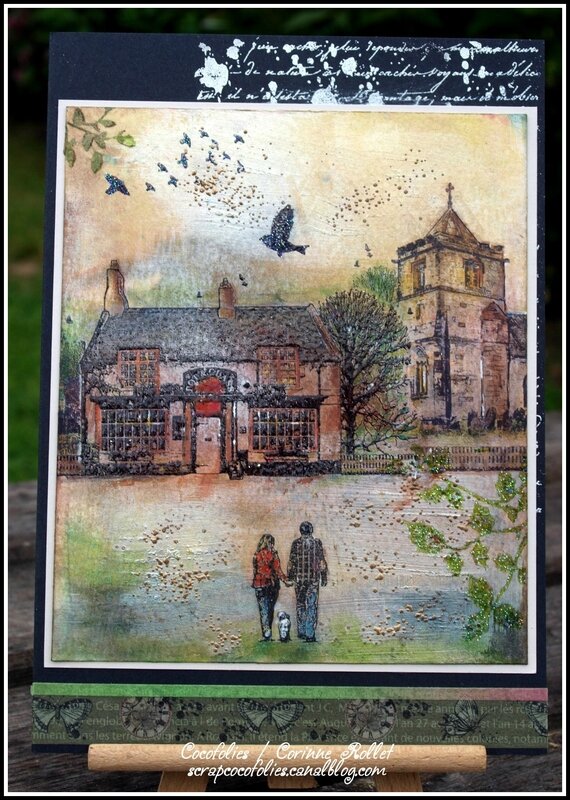 J'ai complété mon décor avec un oiseau et des branchages, de la planche de tampons CI-234.
I completed the scene with some leaves and a bird from CI-234.
J'ai aussi introduit le très beau tampon de fond CI-436 (l'un de mes favoris !) sur mon fond de carte noire... Je l'ai embossé partiellement en blanc.
I also inked with Versamark the wonderful background script stamp CI-436 (one of my fave for long now!) at the top and on one edge of my black card, and heat embossed it in white.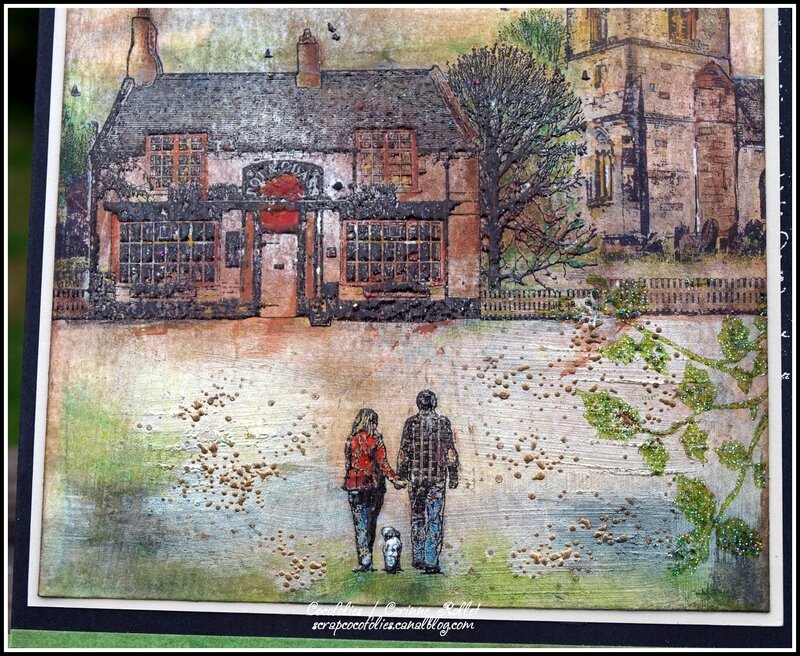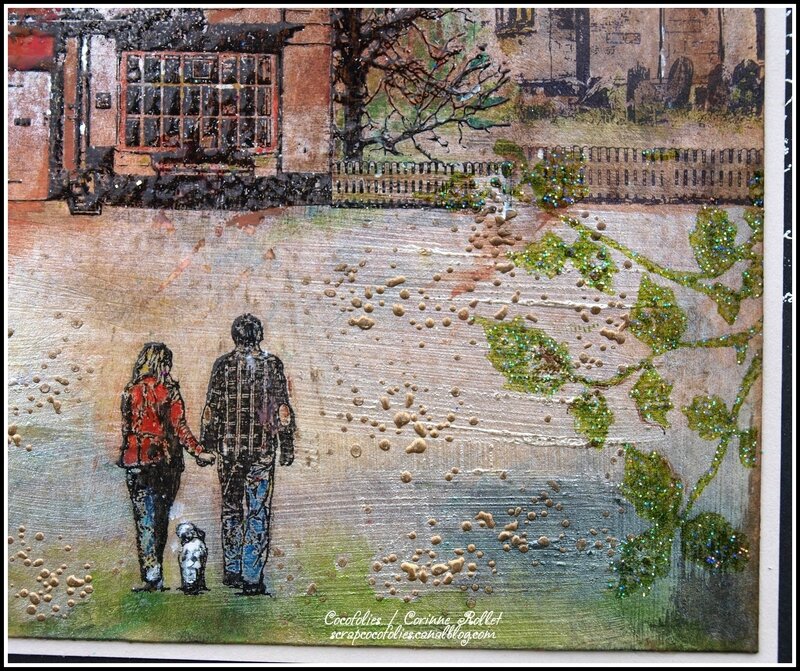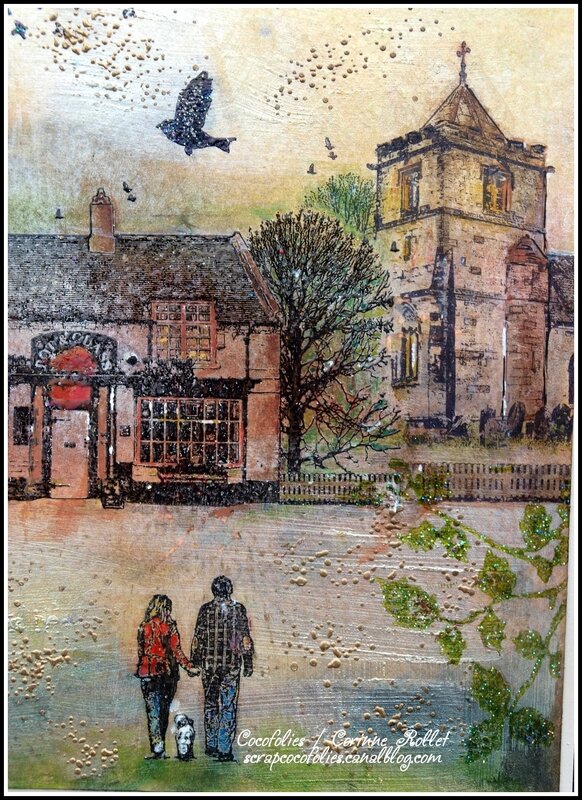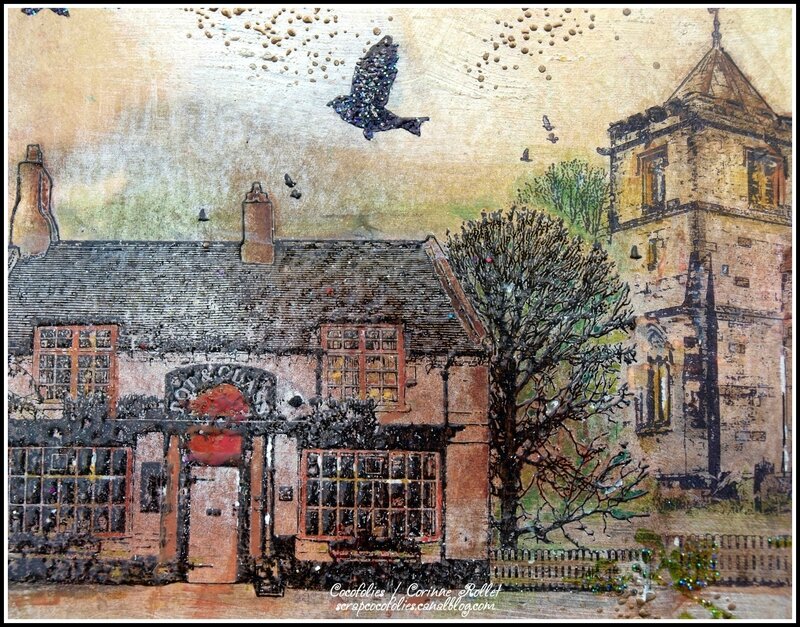 Tampons Crafty Individuals utilisés / CI stamps used
- CI-474 'The village Inn and Church'
- CI-436 'Inky Script Background'
- CI-234 'Birds, Branches and Cage'
Autres produits / Other products
EP/ Poudres à embosser: ZING! (Aqua, Lavender), Cosmic Shimmer (Navy Vioa Blaze), Wow! (Neutral Shimmer), Stampendous (Detail White, Chunky Bronze), Artemio (Clear)
Feutres Brush et Big Brushes (Faber-Castell), feutres Posca fins
Peinture acrylique Iridescente Perle (Abstract Sennelier)
Brushos (Colourcraft)
Encres Archival (Ranger)
Versamark
Papier aquarelle satiné 300 g/m2 / Smooth watercolour paper 300 gsm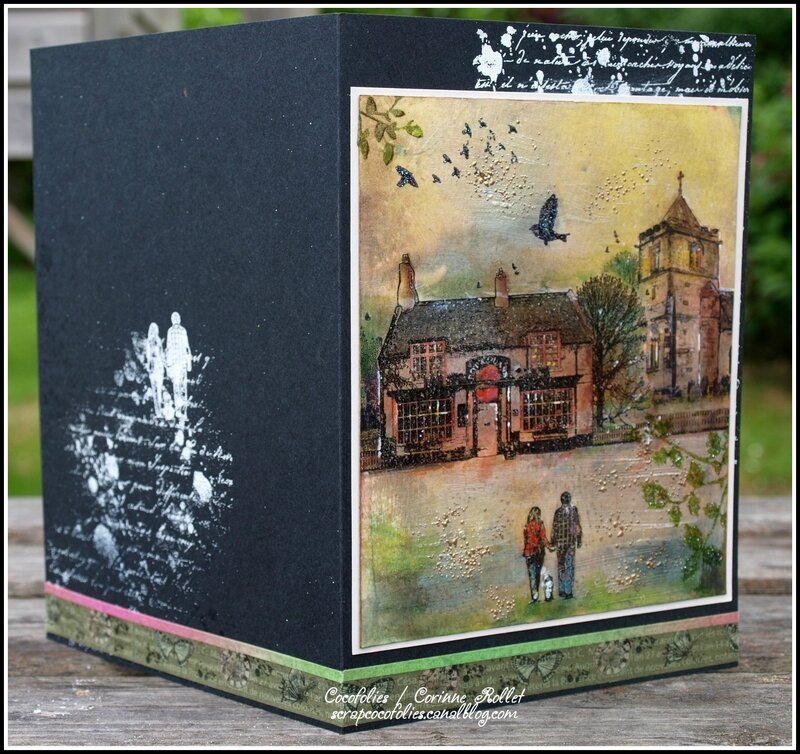 You can see it and much more done by my teamies and myself with the beautiful new release on Crafty Individuals's blog.

I'm entering it into the Take It Make It challenge: May 'Anything Goes' challenge and in
The Mixed Media Monthly Challenge: # 36 Put a stamp on it.

Voilà, j'espère vous avoir donné l'envie d'acquérir l'un ou l'autre de ces magnifiques tampons. En particulier les nouveautés, qui sont vraiment craquantes... :)
N'hésitez pas à aller sur le blog de la DT, vous y verrez bien d'autres exemples fait par l'équipe et moi-même illustrant l'ensemble des nouveautés. Et sur le dernier post, vous pourrez apercevoir aussi les tableaux réalisés par les participantes de ma journée d'atelier à Epannes ! avec un gros plan sur le très beau tableau de mon amie Lys d' Impressionscrap... Jean Hardy l'a repéré sur son blog, et l'a mis à l'honneur, il le mérite bien !!! Je vous encourage vraiment à en admirer tous les détails sur son blog ICI, et à découvrir cette scrappeuse de grand talent que j'estime beaucoup.
***********
J'en profite pour vous communiquer une dernière INFO :
Pour les personnes qui aimeraient commander des tampons Crafty Individuals en France, en passant par Annie de la boutique Cooleurs
Elle n'a pas tout en boutique, et pas de visuels sur son site en ligne... En revanche, elle accepte les commandes et peut vous les livrer n'importe où en France. Il faut envoyer un mail à creacouleurs.rennes@orange.fr avec les références des produits désirés (les numéros des tampons par exemple), elle vous transmettra un devis de prix. Les frais de ports vous sont offerts à partir de 60 euros, et avec le code COCOFOLIES, vous aurez 5% de réduction !
Passez une bonne journée, bises à tous.
Thanks very much for looking, happy creative day!
Coco xx
Commentaires sur Une carte scénique - A scenic Card - DT Crafty Individuals