Today I would like to share a first "Christmas project" I made recently for Crafty Individuals. Jean Hardy from Crafty Individuals demonstrated some fabulous projects on the Hochanda Craft channel on the 14th of July 2017. The shows were shown at 3 p.m. and 7 p.m. UK time. I was enough lucky to have a few cards and one hanging panel samples featured among some others, this is such an honour! The demos by Jean and all samples created by the team were fabulous and if you missed the shows, then you can always watch them on Hochanda rewind for the next couple of weeks.
De mon côté, pas de vacances en vue avant mi-août; Priorité à des travaux prévus dans notre maison, et à la préparation de mes ateliers pour le second semestre 2017. Les enfants sont en vacances, après un mois de juin bien chargé côté planning... ça bouscule pas mal mon organisation, ce qui explique mon peu de posts ces dernières semaines alors que je continue bien sûr à créer !!

Le manque de temps est d'ailleurs la raison pour laquelle je n'ai pu malheureusement vous avertir à temps des 2 nouveaux passages télévisés de Crafty Individuals sur la chaîne anglaise Hochanda. Ils ont eu lieu le 14 juillet à 3pm = 15h chez eux = 16h chez nous, et 7pm = 19h chez eux = 20h chez nous ! Ils sont encore pour quelques jours accessibles sur Hochanda replay, avis aux amateurs !
Le thème en était.... Noël !!!
Voici un aperçu de toutes mes réalisations
Sneak-peek on all my makes sent to Crafty Individuals for the occasion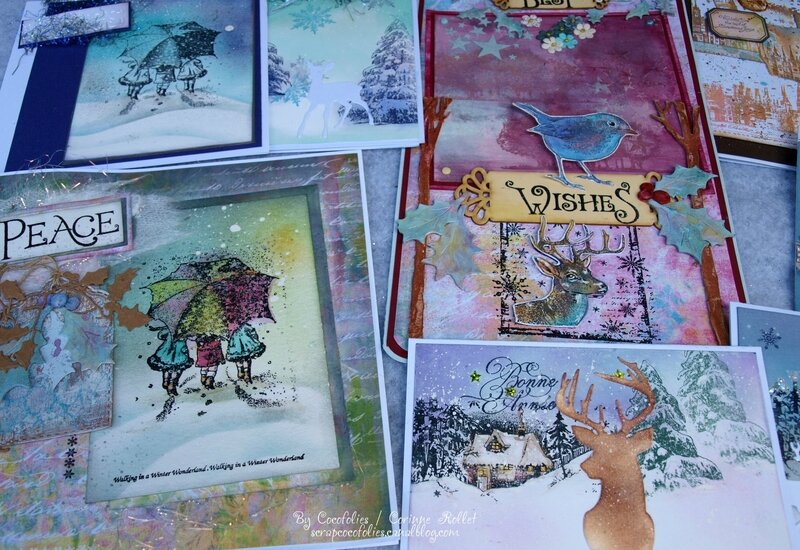 J'ai manqué de temps pour en faire davantage, mais ça forme un joli ensemble je trouve, qu'en pensez-vous ?...
A lovely collection with great stamps, what do you think?... :)

Pour aujourd'hui, je vous montre deux cartes pour commencer. Elles mettent en valeur un magnifique tampon, le CI-399 'Winter Wonderland' : trois petites filles en tenue d'hiver marchant dans la neige, unies sous un large parapluie...
Today, I show you two first cards featuring an exquisite stamp of three lovely little girls walking on the snow,
the CI-399 'Winter Wonderland'.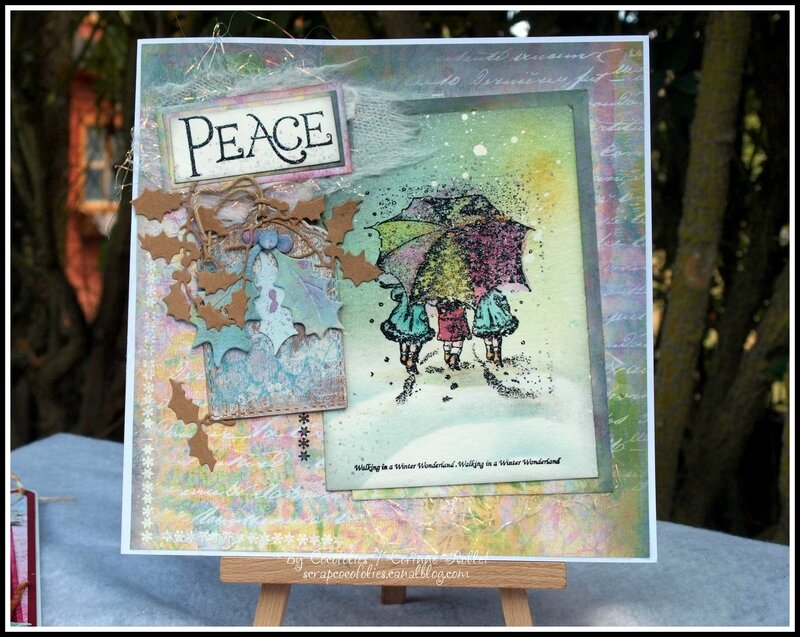 Sur cette carte, j'ai découpé et collé d'abord un papier imprimé de chez Crafty Individuals; Il s'agit de tout nouveaux papiers en taille A4, qui devraient sortir très bientôt !! Ici je me suis basée sur les couleurs du fond pour coloriser dans les mêmes teintes mon image, en jouant avec des encres Distress.
The base of this large card is a piece of beautitul new CI paper (A4 size yippee!!! Should be soon in the shop) which I trimmed to size to fit my double white card, as my starting point. I then stamped my main image on smooth watercolour paper, and played with my Distress inks to colour it and build the scene.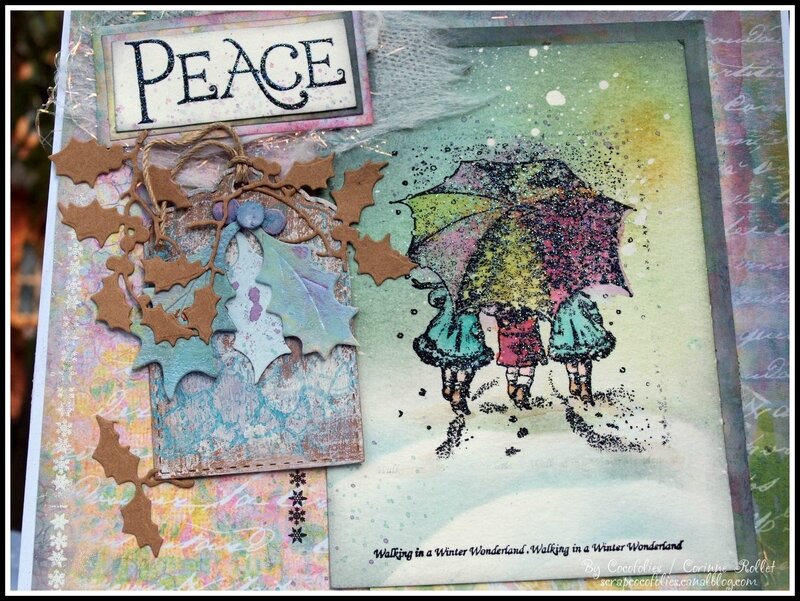 J'ai complété avec des découpes de houx Sizzix que j'ai peint pour une partie, pour les coordonner à ma carte. Ainsi que mon petit tag, sur lequel j'ai tamponné un fond craquelé... le CI-213 'Venetian Crackle'.
I used some Sizzix holly die-cuts to complete, some of the leaves were painted to go with my background, as well as the little tag on which I finally stamped also the beautiful CI-213 'Venetian Crackle'.
Le mot PEACE provient du CI-446 'Festively Cursive Words'.
The word PEACE comes from CI-446 'Festively Cursive Words'.


La seconde carte, plus simple mais que j'aime bien aussi !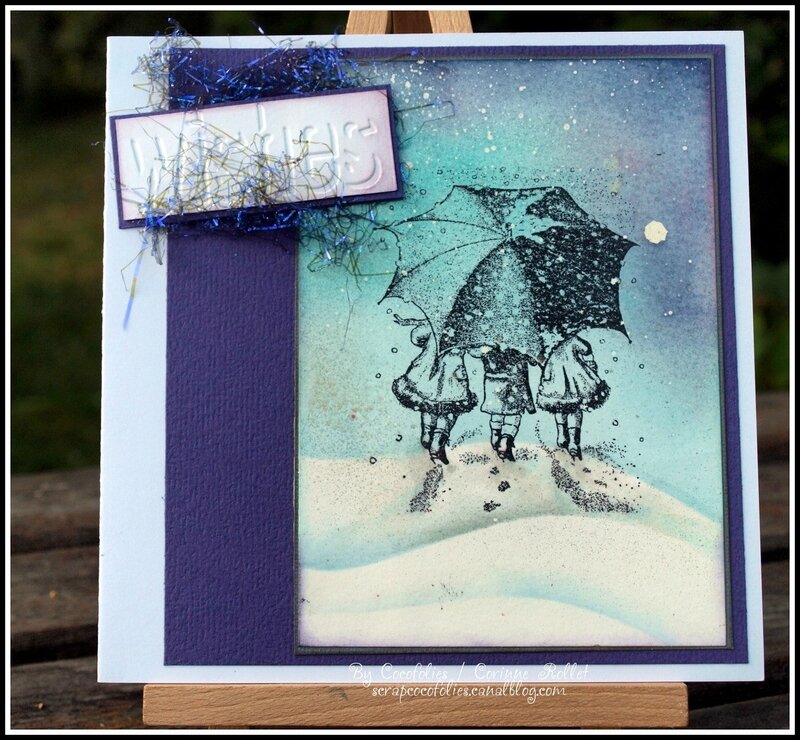 Ici encore, ma carte est colorisée aux encres Distress, mais j'ai volontairement travaillé mes encres simplement sur mon fond pour un paysage tout en douceur. J'ai aussi utilisé un peu de fluide de masquage, pour créer des flocons de neige suivant la technique que maîtrise parfaitement mon amie Patricia et qu'elle m'avait montrée l'an passé.
On this card - a bit more simple and easy to create I must confess! :o) - I also used my Distress inks, but only to create a soft snowy background.

Voilà, c'est tout pour ce soir même si je n'oublie pas tout ce qui me reste à partager... merci à vous toutes qui continuez à me laisser d'adorables messages. Ils me poussent à poursuivre l'aventure de ce blog, malgré la plus grande souplesse et facilité de partage qu'offre aujourd'hui les réseaux sociaux.
Sachez quand même qu'il peut m'arriver de poster sur IG ou FB quelques réas ou infos que je n'ai plus forcément le temps de poster sur mon blog dans des délais raisonnables... Ce sera pour moi probablement, dans les mois à venir, le moyen le plus sûr de partager avec toutes celles d'entre vous qui le souhaitent notamment les créations faites durant mes ateliers. Je me rends compte que je manque vraiment trop de temps pour publier régulièrement ici désormais, donc je n'ai pas vraiment le choix !!!
Aussi, n'hésitez pas à me rejoindre via mon compte IG ou ma page FB (Cocofolies).
Il me reste à vous souhaiter une très bonne fin de week-end.... et un JOYEUX NOEL !!!! :D