13 octobre 2017
Hi Everyone!
At the moment I'm working hard to finish in time all I have to do to provide some good Make&Take and demos on the stand of Carabelle Studio, as I will help them at the coming soon Version Scrap Rennes (next week, how exciting!!). This is the reason why I stopped visiting my regular friend blogs, sadly, and some others I'm interested in... But I should be able to catch-up with you all after the fair, slowly but surely, I don't forget you.
I'm back today to share the whole creation made for Rubber Dance as their guest this month, a booklet made with my heart during my last summer holidays.
To discover what this is and read the steps instructions, please click

here

and be transported as if by magic. You will find a detailed tutorial on the Rubber Dance blog, hope you enjoy reading it.
Thank you very much again to Bibi from

Rubber Dance Stamps

for her kindness and generosity, and for putting her trust in me; as well as to the rest of the team who chose my make as their favourite! I have been thrilled to Guest Design for this compagny this month!!!
Bonjour à tous!
En ce moment, je finalise les derniers détails de mes Make&Take et réas pour Version Scrap Rennes la semaine prochaine, que j'annoncerai plus précisément dans mon prochain post... tout ça en parallèle à mes ateliers réguliers, donc je déserte les blogs, impossible de faire autrement... Je devrais pouvoir reprendre mes visites à la fin de la semaine prochaine, tout doucement, mais je ne vous oublie pas.
Je reviens aujourd'hui vous montrer en détail le petit album réalisé pour la marque
Rubber Dance
, dont je suis l'invitée créative ce mois-ci.
Si vous voulez la voir en détails, rendez-vous sur le blog Rubber Dance. J'espère vous y lire, et peut-être aussi vous voir participer à leurs challenges !
J'essaierai de vous mettre en ligne le tuto en français aussi dans les prochains jours.
Merci encore à Bibi de Rubber Dance Stamps de sa gentillesse et générosité, et aussi de sa confiance; Merci également au reste de l'équipe pour avoir choisi ma réa comme leur favorite. J'ai été ravie de travailler avec ces superbes tampons !!!
Voilà, merci de votre visite, et n'oubliez pas d'aller voir sur le blog Rubber Dance les créations inspirantes de l'équipe pour le challenge du mois et celui qui sera en ligne d'ici 2 jours, auquel cette réa répond aussi vous verrez !
**********
Et pour finir, je partage avec vous une photo de l'atelier que j'ai donné à 2 reprises ce mois-ci dans l'association atelier créativités de Pont Péan, qui s'est achevé hier soir. Les filles ont été épatantes et vraiment adorables, au total 13 partcipantes et 13 boîtes métalliques recyclées (altérées aux panpastels, tampons, pochoirs et cires), il n'en manque que 2 sur la photo ! BRAVO à toutes si vous passez par mon blog !!!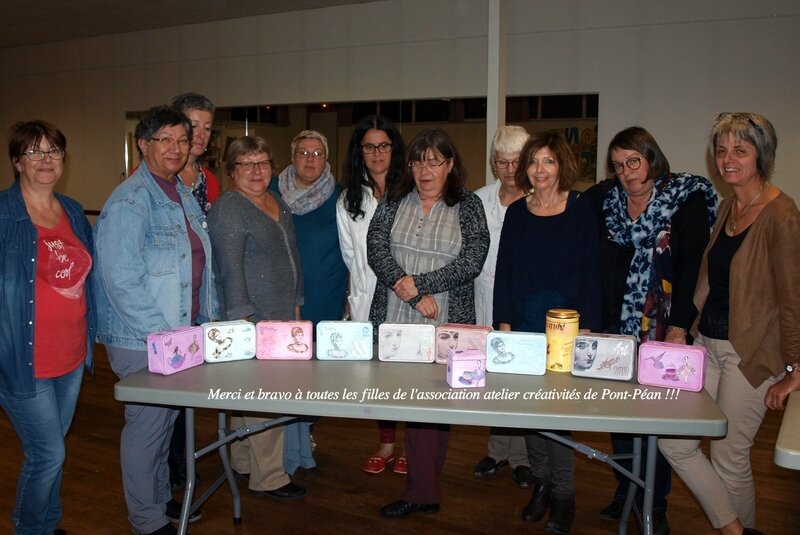 Sharing a little pic of my last project with some lovely ladies :)
Thanks for your visit, and don't forget to pop by Rubber Dance blog to see the inspiring creations of the Team for current combo challenge, and for the theme one at mid-october!
Have a great day, thanks very much for looking xx
Coco
Commentaires sur Create with your own imagination... Invitée créative pour Rubber Dance